Abstract
Background
As more surgeons choose to complete procedures robotically, validated training tools are needed so that they can acquire and maintain the technical skills required to proficiently use robotic systems. The purpose of this study was to show construct validity of nine new inanimate training exercises for robot-assisted surgery. The inanimate training exercises were designed to span several core technical skills required to use a robotic system.
Methods
New (n = 30) and experienced (n = 11) robotic surgeons participated in the study. New robotic surgeons had not yet completed their first robotic surgery case and participated in this study before attending their robotic certification course. Experienced robotic surgeons had completed more than 200 robotic surgery cases. The raw scores from the exercises were reported so that other research groups could easily define custom proficiency levels. Example normalized scores that could be used in proficiency-based curricula were computed. These normalized scores balanced efficiency (completion time) and accuracy (exercise-specific errors) to measure performance. Finally, the setup was standardized using a custom docking model, which enabled consistent and repeatable completion of the inanimate exercises across surgeons.
Results
For all nine exercises, experienced robotic surgeons completed the exercises significantly faster than new robotic surgeons (p < 0.01). Similarly, experienced robotic surgeons achieved higher normalized scores than new robotic surgeons for all nine exercises (p < 0.01). Finally, consistent robot setup was achieved using the custom docking model based on an analysis of the robot kinematic data.
Conclusions
In summary, all nine inanimate exercises showed construct validity. The results suggest that the inanimate exercises along with the custom docking model can be used as part of proficiency-based curricula to improve robotic surgeon training.
This is a preview of subscription content, log in to check access.
Access options
Buy single article
Instant unlimited access to the full article PDF.
US$ 39.95
Price includes VAT for USA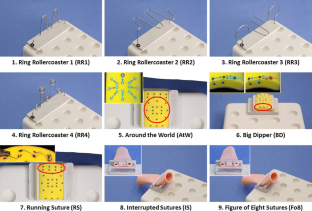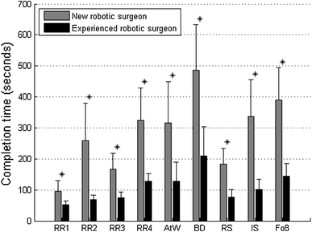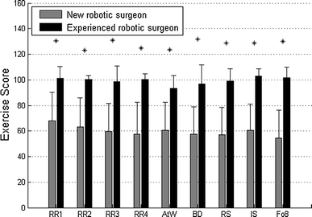 References
1.

Intuitive Surgical Inc. www.intuitivesurgical.com

2.

Finnegan KT, Meraney AM, Staff I, Shichman SJ (2012) da Vinci skills simulator construct validation study: correlation of prior robotic experience with overall score and time score simulator performance. Urology 80(2):330–335

3.

Hung AJ, Jayaratna IS, Teruya K, Desai MM, Gill IS, Goh AC (2013) Comparative assessment of three standardized robotic surgery training methods. BJU Int 112(6):864–871

4.

Hung AJ, Zehnder P, Patil MB, Cai J, Ng CK, Aron M, Gill IS, Desai MM (2011) Face, content and construct validity of a novel robotic surgery simulator. J Urol 186(3):1019–1024

5.

Seixas-Mikelus SA, Stegemann AP, Kesavadas T, Srimathveeravalli G, Sathyaseelan G, Chandrasekhar R, Wilding GE, Peabody JO, Guru KA (2011) Content validation of a novel robotic surgical simulator. BJU Int 107(7):1130–1135

6.

Fundamentals of laparoscopic surgery. www.flsprogram.org

7.

Derossis AM, Fried GM, Abrahamowicz M, Sigman HH, Barkun JS, Meakins JL (1998) Development of a model for training and evaluation of laparoscopic skills. Am J Surg 175(6):482–487

8.

Goova MT, Hollett LA, Tesfay ST, Gala RB, Puzziferri N, Kehdy FJ, Scott DJ (2008) Implementation, construct validity, and benefit of a proficiency-based knot-tying and suturing curriculum. J Surg Educ 65(4):309–315

9.

Satava R, Smith R, Patel V (2012) Fundamentals of robotic surgery: outcomes measures and curriculum development. In: SLS, Boston, MA

10.

Smith R, Chauhan S, Satava R (2013) Fundamentals of robotic surgery: outcomes measures and curriculum development. In: NextMed/MMVR 20, San Diego, CA

11.

Sroka G, Feldman LS, Vassiliou MC, Kaneva PA, Fayez R, Fried GM (2010) Fundamentals of laparoscopic surgery simulator training to proficiency improves laparoscopic performance in the operating room—a randomized controlled trial. Am J Surg 199(1):115–120

12.

Lee JY, Mucksavage P, Sundaram CP, McDougall EM (2011) Best practices for robotic surgery training and credentialing. J Urol 185(4):1191–1197

13.

Lyons C, Goldfarb D, Jones SL, Badhiwala N, Miles B, Link R, Dunkin BJ (2013) Which skills really matter? Proving face, content, and construct validity for a commercial robotic simulator. Surg Endosc 27(6):2020–2030

14.

Dulan G, Rege RV, Hogg DC, Gilberg-Fisher KM, Arain NA, Tesfay ST, Scott DJ (2012) Proficiency-based training for robotic surgery: construct validity, workload, and expert levels for nine inanimate exercises. Surg Endosc 26(6):1516–1521

15.

Gallagher A, Ritter E, Satava R (2003) Fundamental principles of validation, and reliability: rigorous science for the assessment of surgical education and training. Surg Endosc 17(10):1525–1529

16.

McDougall EM (2007) Validation of surgical simulators. J Endourol 21(3):244–247

17.

Van Nortwick SS, Lendvay TS, Jensen AR, Wright AS, Horvath KD, Kim S (2010) Methodologies for establishing validity in surgical simulation studies. Surgery 147(5):622–630

18.

Goh AC, Goldfarb DW, Sander JC, Miles BJ, Dunkin BJ (2012) Global evaluative assessment of robotic skills: validation of a clinical assessment tool to measure robotic surgical skills. J Urol 187(1):247–252

19.

Martin JA, Regehr G, Reznick R, MacRae H, Murnaghan J, Hutchison C, Brown M (1997) Objective structured assessment of technical skill (OSATS) for surgical residents. Br J Surg 84(2):273–278

20.

Rosen J, Brown JD, Chang L, Barreca M, Sinanan M, Hannaford B (2002) The BlueDRAGON—a system for measuring the kinematics and dynamics of minimally invasive surgical tools in-vivo. In: Proceedings of the ICRA'02 IEEE international conference on robotics and automation

21.

Gallagher AG, Ritter EM, Champion H, Higgins G, Fried MP, Moses G, Smith CD, Satava RM (2005) Virtual reality simulation for the operating room: proficiency-based training as a paradigm shift in surgical skills training. Ann Surg 241(2):364–372

22.

Dulan G, Rege RV, Hogg DC, Gilberg-Fisher KM, Arain NA, Tesfay ST, Scott DJ (2012) Developing a comprehensive, proficiency-based training program for robotic surgery. Surgery 152(3):477–488

23.

Ahmidi N, Hager GD, Ishii L, Fichtinger G, Gallia GL, Ishii M (2010) Surgical task and skill classification from eye tracking and tool motion in minimally invasive surgery. Med Image Comput Comput Assist Interv 13(Pt 3):295–302

24.

Tausch TJ, Kowalewski TM, White LW, McDonough PS, Brand TC, Lendvay TS (2012) Content and construct validation of a robotic surgery curriculum using an electromagnetic instrument tracker. J Urol 188(3):919–923
Disclosures
A. M. Jarc is a researcher in the Medical Research group at Intuitive Surgical Inc. M. Curet is the chief medical adviser at Intuitive Surgical Inc.
Electronic supplementary material
Below is the link to the electronic supplementary material.
Supplementary material 1 (MP4 6684 kb)
Supplementary material 2 (MP4 6946 kb)
Supplementary material 3 (MP4 7356 kb)
Supplementary material 4 (MP4 15107 kb)
Supplementary material 5 (MP4 7843 kb)
Supplementary material 6 (MP4 20602 kb)
Supplementary material 7 (MP4 6391 kb)
Supplementary material 8 (MP4 14154 kb)
Supplementary material 9 (MP4 18056 kb)
About this article
Cite this article
Jarc, A.M., Curet, M. Construct validity of nine new inanimate exercises for robotic surgeon training using a standardized setup. Surg Endosc 28, 648–656 (2014) doi:10.1007/s00464-013-3224-9
Received:

Accepted:

Published:

Issue Date:
Keywords
Construct validity

da Vinci

Inanimate exercises

Robotic surgery

Training