Abstract
Background
Although recent technological developments and improved endoscopic procedures have further spread the application of laparoscopic pancreatic resection, laparoscopic pancreaticoduodenectomy still presents major technical difficulties, such as when performing pancreatic–enteric anastomosis.
Methods
Laparoscopic dunking pancreaticojejunostomy using mattress sutures was performed in 15 consecutive patients with a soft pancreas and a nondilated pancreatic duct between October 2011 and December 2012.
Results
According to the International Study Group on Pancreatic Fistula criteria, 3 patients developed PF (grade A), whereas the remaining 12 patients did not.
Conclusions
Dunking pancreaticojejunostomy using mattress sutures is considered to be a feasible and safe method for performing pure laparoscopic pancreaticoduodenectomy.
This is a preview of subscription content, log in to check access.
Access options
Buy single article
Instant unlimited access to the full article PDF.
US$ 39.95
Price includes VAT for USA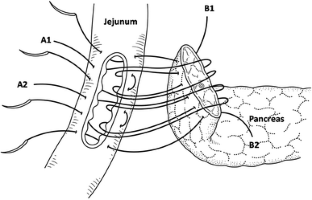 References
1.

Cameron JL, Pitt HA, Yeo CJ, Lillemoe KD, Kaufman HS, Coleman J (1993) One hundred and forty-five consecutive pancreaticoduodenectomies without mortality. Ann Surg 217:430–438

2.

Shankar S, Russell RCG (1989) Hemorrhage in pancreatic disease. Br J Surg 76:863–866

3.

Cullen JJ, Sarr MG, Ilstrup DM (1994) Pancreatic anastomotic leak after pancreaticoduodenectomy: Incidence, significance, and management. Am J Surg 168:295–298

4.

Rumstadt B, Schwab M, Korth P, Samman M, Trede M (1998) Hemorrhage after pancreatoduodenectomy. Ann Surg 227:236–241

5.

Bassi C, Dervenis C, Butturini G, Fingerhut A, Yeo C, Izbicki J, Neoptolemos J, Sarr M, Traverso W, Buchler M, International Study Group on Pancreatic Fistula Definition (2005) Postoperative pancreatic fistula: an international study group (ISGPF) definition. Surgery 138:8–13

6.

Cho A, Yamamoto H, Nagata M, Takiguchi N, Shimada H, Kainuma O, Souda H, Gunji H, Miyazaki A, Ikeda A, Tohma T (2009) A totally laparoscopic pylorus-preserving pancreaticoduodenectomy and reconstruction. Surg Today 39:359–362

7.

Cho A, Yamamoto H, Nagata M, Takiguchi N, Shimada H, Kainuma O, Souda H, Gunji H, Miyazaki A, Ikeda A, Tohma T, Matsumoto I (2009) Comparison of laparoscopy-assisted and open pylorus-preserving pancreaticoduodenectomy for periampullary disease. Am J Surg 198:445–449

8.

Gagner M, Pomp A (1994) Laparoscopic pylorus-preserving pancreatoduodenectomy. Surg Endosc 8:408–410

9.

Dulucq JL, Wintringer P, Mahajna A (2006) Laparoscopic pancreaticoduodenectomy for benign and malignant diseases. Surg Endosc 20:1045–1050

10.

Palanivelu C, Jani K, Senthilnathan P, Parthasarathi R, Rajapandian S, Madhankumar MV (2007) Laparoscopic pancreaticoduodenectomy: technique and outcomes. J Am Coll Surg 205:222–230

11.

Kendrick ML, Cusati D (2010) Totally laparoscopic pancreaticoduodenectomy: feasibility and outcome in an early experience. Arch Surg 145:19–23

12.

Kuroki T, Adachi T, Okamoto T, Ono S, Kanematsu T (2012) Laparoscopic single-branch resection of the pancreas for intraductal papillary mucinous neoplasm. Hepatogastroenterology 59:997–999

13.

Asbun HJ, Stauffer JA (2012) Laparoscopic vs. open pancreaticoduodenectomy: overall outcomes and severity of complications using the Accordion Severity Grading System. J Am Coll Surg 215:810–819

14.

Bassi C, Butturini G, Molinari E, Mascetta G, Salvia R, Falconi M, Gumbs A, Pederzoli P (2004) Pancreatic fistula rate after pancreatic resection. The importance of definitions. Dig Surg 21:54–59

15.

Akamatsu N, Sugawara Y, Komagome M, Shin N, Cho N, Ishida T, Ozawa F, Hashimoto D (2010) Risk factors for postoperative pancreatic fistula after pancreaticoduodenectomy: the significance of the ratio of the pancreatic duct to the pancreas body as a predictor of leakage. J Hepatobiliary Pancreat Sci 17:322–328

16.

Bassi C, Falconi M, Molinari E, Mantovani W, Butturini G, Gumbs AA, Salvia R, Pederzoli P (2003) Duct-to-mucosa versus end-to-side pancreaticojejunostomy reconstruction after pancreaticoduodenectomy: results of a prospective randomized trial. Surgery 134:766–771

17.

Berger AC, Howard TJ, Kennedy EP, Sauter PK, Bower-Cherry M, Dutkevitch S, Hyslop T, Schmidt CM, Rosato EL, Lavu H, Nakeeb A, Pitt HA, Lillemoe KD, Yeo CJ (2009) Does type of pancreaticojejunostomy after pancreaticoduodenectomy decrease rate of pancreatic fistula? A randomized, prospective, dual-institution trial. J Am Coll Surg 208:738–747
Disclosures
Drs. Akihiro Cho, Hiroshi Yamamoto, Osamu Kainuma, Yorihiko Muto, SeonJin Park, Hidehito Arimitsu, Mamoru Sato, Hiroaki Souda, Atsushi Ikeda, Yoshihiro Nabeya, Nobuhiro Takiguchi, and Matsuo Nagata have no conflicts of interest or financial ties to disclose.
Electronic supplementary material
Below is the link to the electronic supplementary material.
Supplementary material 1 (WMV 8573 kb)
About this article
Cite this article
Cho, A., Yamamoto, H., Kainuma, O. et al. Performing simple and safe dunking pancreaticojejunostomy using mattress sutures in pure laparoscopic pancreaticoduodenectomy. Surg Endosc 28, 315–318 (2014) doi:10.1007/s00464-013-3156-4
Received:

Accepted:

Published:

Issue Date:
Keywords
Laparoscopy

Pancreaticoduodenectomy

Laparoscopic pancreaticoduodenectomy

Pancreaticojejunostomy

Dunking

Mattress suture