Abstract
Background
Gastric submucosal tumors are often treated by laparoscopic wedge resection. This study aimed to examine the feasibility of gastric full-thickness resection through a totally endoscopic approach using the master and slave transluminal endoscopic robot (MASTER), and closure of the luminal defect with an endoscopic suturing device.
Methods
The operation was performed in two live porcine models under general anesthesia. First, the anterior wall of the stomach was slung to the abdominal wall using a percutaneous suturing device. An imaginary 5-cm lesion was marked using a needle knife. After the initial mucosal incision was made using an IT knife, the MASTER was introduced through a long overtube. A circumferential mucosal incision was completed with the MASTER to expose the muscularis propria which was grasped and incised to the serosal layer by electrocautery applied through the hook of the MASTER. The full-thickness resection of the gastric wall was completed with retraction using the grasper and dissection using the hook. While the defect was being created, the luminal space was maintained with traction of the percutaneous sutures. The defect was closed with suture plication using an Apollo Overstitch device.
Results
Two full-thickness gastric resections were performed in two nonsurvival porcine models (body weight = 30 and 35 kg, respectively) using the MASTER. The total procedure time was 56 min for the first model and 70 min for the second model. The luminal view was maintained during the whole procedure, and there was no damage to surrounding organs throughout the whole procedure. The gastric defects were closed successfully using Overstitch, with satisfactory gastric distension and no gas leakage afterward.
Conclusion
The current experiment demonstrated the feasibility and safety of a totally endoscopic approach for the treatment of gastric submucosal tumors: full-thickness resection with the MASTER and successful closure of the defect using Overstitch.
This is a preview of subscription content, log in to check access.
Access options
Buy single article
Instant unlimited access to the full article PDF.
US$ 39.95
Price includes VAT for USA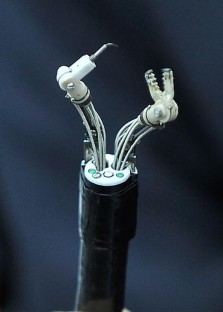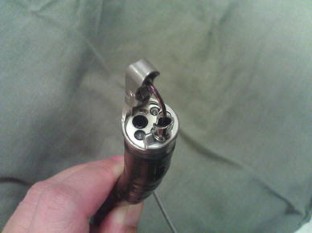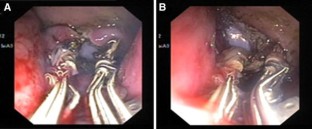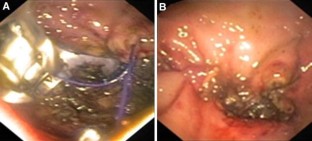 References
1.

Chiu PW, Chan KF, Lee YT, Sung JY, Lau JY, Ng EK (2008) Endoscopic submucosal dissection (ESD) for treatment of early neoplasia of the foregut using combination of knives. Surg Endosc 22(3):777–783

2.

Chiu PW (2006) Endoscopic submucosal resection: bigger piece, better outcome! Gastrointest Endosc 64(6):884–885

3.

Watanabe K, Ogata S, Kawazoe S, Watanabe K, Koyama T, Kajiwara T, Shimoda Y, Takase Y, Irie K, Mizuguchi M, Tsunada S, Iwakiri R, Fujimoto K (2006) Clinical outcomes of EMR for gastric tumors: historical pilot evaluation between endoscopic submucosal dissection and conventional mucosal resection. Gastrointest Endosc 63:776–782

4.

Oka S, Tanaka S, Kaneko I, Mouri R, Hirata M, Kawamura T, Yoshihara M, Chayama K (2006) Advantage of endoscopic submucosal dissection compared to EMR for early gastric cancer. Gastrointest Endosc 64:877–883

5.

Teoh AY, Chiu PW, Wong SK, Sung JJ, Lau JY, Ng EK (2009) Difficulties and outcomes in starting endoscopic submucosal dissection. Surg Endosc 24(5):1049–1054

6.

Spaun GO, Zheng B, Swanstrom LL (2009) A multitasking platform for natural orifice translumenal endoscopic surgery (NOTES): a benchtop comparison of a new device for flexible endoscopic surgery and a standard dual-channel endoscope. Surg Endosc 23(12):2720–2727

7.

Phee SJ, Low SC, Sun ZL, Ho KY, Huang WM, Thant ZM (2008) Robotic system for no-scar gastrointestinal surgery. Int J Med Robot 4:15–22

8.

Ho KY, Phee SJ, Shabbir A, Low SC, Huynh VA, Kencana AP, Yang K, Lomanto D, So BY, Wong YY, Chung SC (2010) Endoscopic submucosal dissection of gastric lesions by using a Master and Slave Transluminal Endoscopic Robotic (MASTER). Gastrointest Endosc 72(3):593–599

9.

Phee SJ, Ho KY, Lomanto D, Low SC, Huynh VA, Kencana AP, Yang K, Sun KL, Chung SC (2010) Natural orifice transgastric endoscopic wedge hepatic resection in an experimental model using an intuitively controlled master and slave transluminal endoscopic robot (MASTER). Surg Endosc 24(9):2293–2298

10.

Phee SJ, Reddy N, Chiu PW, Rebala P, Rao GV, Wang Z, Sun Z, Wong JY, Ho KY (2012) Robot-assisted endoscopic submucosal dissection is effective in treating patients with early-stage gastric neoplasia. Clin Gastroenterol Hepatol 10(10):1117–1121

11.

Kopelman Y, Siersema PD, Bapaye A, Kopelman D (2012) Endoscopic full-thickness GI wall resection: current status. Gastrointest Endosc 75(1):165–173

12.

Chiu PW, Lau JY, Ng EK, Lam CC, Hui M, To KF, Sung JJ, Chung SC (2008) Closure of a gastrotomy after transgastric tubal ligation by using the Eagle Claw VII: a survival experiment in a porcine model. Gastrointest Endosc 68(3):554–559

13.

Chiu PW, Hu B, Lau JY, Sun LC, Yamamoto T, Sung JJ, Chung SC (2006) Endoscopic plication of massively bleeding peptic ulcer by using Eagle Claw VII device: a feasibility study in a porcine model. Gastrointest Endosc 63(4):681–685

14.

Sakamoto T, Itani T, Okamoto Y, Adachi Y, Hayashi M, Mimura J, Inokuma T (2006) Percutaneous endoscopic gastrostomy by the "direct method" using transnasal endoscopy. Gastroenterol Endosc 48(10):2512–2517

15.

Ikeda K, Sumiyama K, Tajiri H, Yasuda K, Kitano S (2011) Evaluation of a new multitasking platform for endoscopic full-thickness resection. Gastrointest Endosc 73(1):117–122

16.

Minami S, Gotoda T, Ono H, Oda I, Hamanaka H (2006) Complete endoscopic closure of gastric perforation induced by endoscopic resection of early gastric cancer using endoclips can prevent surgery. Gastrointest Endosc 63:596–601

17.

Jirapinyo P, Watson RR, Thompson CC (2012) Use of a novel endoscopic suturing device to treat recalcitrant marginal ulceration. Gastrointest Endosc 76(2):435–439

18.

Technology Committee ASGE, Banerjee S, Barth BA, Bhat YM, Desilets DJ, Gottlieb KT, Maple JT, Pfau PR, Pleskow DK, Siddiqui UD, Tokar JL, Wang A, Song LM, Rodriguez SA (2012) Endoscopic closure devices. Gastrointest Endosc 76(2):244–251

19.

Walz B, von Renteln D, Schmidt A, Caca K (2011) Endoscopic full-thickness resection of subepithelial tumors with the use of resorbable sutures. Gastrointest Endosc 73(6):1288–1291
Disclosures
P. W. Y. Chiu served on the scientific advisory board of EndoMaster Ple Ltd. S. J. Phee and K. Y. Ho are cofounders of EndoMaster Ple Ltd.
Electronic supplementary material
Below is the link to the electronic supplementary material.
Electronic supplementary material The online version of this article (doi: 10.1007/s00464-013-3149-3) contains supplementary material which is available to authorized users. Abstract selected for oral presentation at the 2013 annual meeting of the Society of American Gastrointestinal and Endoscopic Surgeons, Baltimore, MD, 17–20 April 2013. (AVI 25208 kb)
Electronic supplementary material The online version of this article (doi:
10.1007/s00464-013-3149-3
) contains supplementary material which is available to authorized users. Abstract selected for oral presentation at the 2013 annual meeting of the Society of American Gastrointestinal and Endoscopic Surgeons, Baltimore, MD, 17–20 April 2013. (AVI 25208 kb)
About this article
Cite this article
Chiu, P.W.Y., Phee, S.J., Wang, Z. et al. Feasibility of full-thickness gastric resection using master and slave transluminal endoscopic robot and closure by overstitch: a preclinical study. Surg Endosc 28, 319–324 (2014). https://doi.org/10.1007/s00464-013-3149-3
Received:

Accepted:

Published:

Issue Date:
Keywords
Endoscopic full-thickness resection

MASTER endoscopic robot

Overstitch