Abstract
Background
Esophageal leiomyoma is benign and often asymptomatic, but if the tumor is too large or obstructive, it should be resected. The aim of this study was to compare a novel approach, endoscopic submucosal tunnel dissection (ESTD), with a more established method, endoscopic submucosal dissection (ESD).
Methods
This was a retrospective study of 39 patients in Chongqing Xinqiao Hospital, China, undergoing resection for leiomyoma >2 cm in diameter, or 1.5–2.0 cm in diameter with symptoms of obstructive dysphagia. Epidemiological data, presenting symptoms, diagnostic investigations, tumor location, histopathological findings, and safety and efficacy of surgical resection were analyzed.
Results
Mean tumor sizes in the ESTD (n = 18; mean age = 36.7 ± 6.3 years) and ESD (n = 21; age = 41.0 ± 4.4 years) groups were 3.3 ± 0.7 and 3.0 ± 0.4 cm, respectively. The male:female ratio was 25:14, with a distribution of lesions among the lower, middle, and upper esophagus of 22:14:3. Operating time was significantly shorter (p < 0.05) for ESTD (67.5 ± 9.5 min) than for ESD (87.2 ± 7.7 min), while incision healing was faster (p < 0.05) for ESTD (14.7 ± 2.5 days) than for ESD (57.9 ± 7.5 days). Hospital stay was also shorter (p < 0.05) for ESTD (2.3 ± 0.5 days) than for ESD (5.7 ± 1.0 days). Bleeding was the only complication with ESTD (3/18 patients), with no significant difference in the incidence of complications between groups. ESTD was rapidly learned by surgeons.
Conclusion
ESTD is a safe and effective treatment for esophageal leiomyoma, with advantages over ESD.
This is a preview of subscription content, log in to check access.
Access options
Buy single article
Instant unlimited access to the full article PDF.
US$ 39.95
Price includes VAT for USA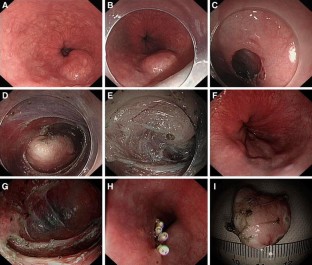 References
1.

Punpale A, Rangole A, Bhambhani N, Karimundackal G, Desai N, de Souza A, Pramesh CS, Jambhekar N, Mistry RC (2007) Leiomyoma of esophagus. Ann Thorac Cardiovasc Surg 13:78–81

2.

Luh SP, Hou SM, Fang CC, Chen CY (2012) Video-thoracoscopic enucleation of esophageal leiomyoma. World J Surg Oncol 10:52

3.

Seremetis MG, Lyons WS, deGuzman VC, Peabody JW Jr (1976) Leiomyomata of the esophagus. An analysis of 838 cases. Cancer 38:2166–2177

4.

Mutrie CJ, Donahue DM, Wain JC, Wright CD, Gaissert HA, Grillo HC, Mathisen DJ, Allan JS (2005) Esophageal leiomyoma: a 40-year experience. Ann Thorac Surg 79:1122–1125

5.

Asteriou C, Konstantinou D, Lalountas M, Kleontas A, Setzis K, Zafiriou G, Barbetakis N (2009) Nine years experience in surgical approach of leiomyomatosis of esophagus. World J Surg Oncol 7:102

6.

Choi SH, Kim YT, Han KN, Ra YJ, Kang CH, Sung SW, Kim JH (2010) Surgical management of the esophageal leiomyoma: lessons from a retrospective review. Dis Esophagus. doi:10.1111/j.1442-2050.2010.01144.x

7.

Fountain SW (1986) Leiomyoma of the esophagus. Thorac Cardiovasc Surg 34:194–195

8.

Bonavina L, Segalin A, Rosati R, Pavanello M, Peracchia A (1995) Surgical therapy of esophageal leiomyoma. J Am Coll Surg 181:257–262

9.

Wang Y, Zhang R, Ouyang Z, Zhang D, Wang L (2002) Diagnosis and surgical treatment of esophageal leiomyoma. Zhonghua Zhong Liu Za Zhi 24:394–396

10.

Jiang W, Rice TW, Goldblum JR (2012) Esophageal leiomyoma: experience from a single institution. Dis Esophagus 26:167–174

11.

Kantsevoy SV, Adler DG, Conway JD, Diehl DL, Farraye FA, Kwon R, Mamula P, Rodriguez S, Shah RJ, Wong Kee Song LM, Tierney WM (2008) Endoscopic mucosal resection and endoscopic submucosal dissection. Gastrointest Endosc 68:11–18

12.

Sun X, Wang J, Yang G (2012) Surgical treatment of esophageal leiomyoma larger than 5 cm in diameter: A case report and review of the literature. J Thorac Dis 4:323–326

13.

Rendina EA, Venuta F, Pescarmona EO, Facciolo F, Francioni F, Di Tolla R, Ricci C (1990) Leiomyoma of the esophagus. Scand J Thorac Cardiovasc Surg 24:79–82

14.

Samphire J, Nafteux P, Luketich J (2003) Minimally invasive techniques for resection of benign esophageal tumors. Semin Thorac Cardiovasc Surg 15:35–43

15.

Priego P, Lobo E, Alonso N, Gil Olarte MA, Perez de Oteyza J, Fresneda V (2006) Surgical treatment of esophageal leiomyoma: an analysis of our experience. Rev Esp Enferm Dig 98:350–358

16.

Zaninotto G, Portale G, Costantini M, Rizzetto C, Salvador R, Rampado S, Pennelli G, Ancona E (2006) Minimally invasive enucleation of esophageal leiomyoma. Surg Endosc 20:1904–1908

17.

Kent M, d'Amato T, Nordman C, Schuchert M, Landreneau R, Alvelo-Rivera M, Luketich J (2007) Minimally invasive resection of benign esophageal tumors. J Thorac Cardiovasc Surg 134:176–181

18.

Nguyen NT, Reavis KM, El-Badawi K, Hinojosa MW, Smith BR (2008) Minimally invasive surgical enucleation or esophagogastrectomy for benign tumor of the esophagus. Surg Innov 15:120–125

19.

Palanivelu C, Rangarajan M, Madankumar MV, John SJ, Senthilkumar R (2008) Minimally invasive therapy for benign tumors of the distal third of the esophagus–a single institute's experience. J Laparoendosc Adv Surg Tech A 18:20–26

20.

Jiang G, Zhao H, Yang F, Li J, Li Y, Liu Y, Liu J, Wang J (2009) Thoracoscopic enucleation of esophageal leiomyoma: a retrospective study on 40 cases. Dis Esophagus 22:279–283

21.

Li ZG, Chen HZ, Jin H, Yang LX, Xu ZY, Liu F, Yao F (2009) Surgical treatment of esophageal leiomyoma located near or at the esophagogastric junction via a thoracoscopic approach. Dis Esophagus 22:185–189

22.

Obuchi T, Sasaki A, Nitta H, Koeda K, Ikeda K, Wakabayashi G (2010) Minimally invasive surgical enucleation for esophageal leiomyoma: report of seven cases. Dis Esophagus 23:E1–E4

23.

Chiu PW, Lee YT, Ng EK (2006) Resection of esophageal leiomyoma using an endoscopic submucosal dissection technique. Endoscopy 38(Suppl 2):E4

24.

Koike Y, Obana T, Fujita N, Hirasawa D, Suzuki T, Sugawara T, Ohira T, Harada Y, Maeda Y, Suzuki K, Yamagata T, Noda Y, Oikawa M, Sawai T (2010) A case of giant esophageal leiomyoma successfully resected by endoscopic submucosal dissection followed by retrieval via laparotomy. Nihon Shokakibyo Gakkai Zasshi 107:1780–1785

25.

Jun W, Lu H, Lilin F, Ping L, Li L, Qingjun Y, Dongfeng C (2011) Endoscopic submucosal dissection for treating esophageal leiomyoma as in 40 cases. Chongqing Med 14–18

26.

Xu MD, Cai MY, Zhou PH, Qin XY, Zhong YS, Chen WF, Hu JW, Zhang YQ, Ma LL, Qin WZ, Yao LQ (2012) Submucosal tunneling endoscopic resection: a new technique for treating upper GI submucosal tumors originating from the muscularis propria layer (with videos). Gastrointest Endosc 75:195–199

27.

Ye LP, Zhang Y, Mao XL, Zhu LH, Zhou XB, He SQ, Chen JY, Jin X (2012) Submucosal tunnelling endoscopic resection for the treatment of esophageal submucosal tumours originating from the muscularis propria layer: an analysis of 15 cases. Dig Liver Dis 45:119–123

28.

Cai M, Chen J, Zhou P, Yao L (2012) The rise of tunnel endoscopic surgery: a case report and literature review. Case Rep Gastrointest Med 2012:847640

29.

Gong W, Xiong Y, Zhi F, Liu S, Wang A, Jiang B (2012) Preliminary experience of endoscopic submucosal tunnel dissection for upper gastrointestinal submucosal tumors. Endoscopy 44:231–235

30.

Inoue H, Ikeda H, Hosoya T, Onimaru M, Yoshida A, Eleftheriadis N, Maselli R, Kudo S (2012) Submucosal endoscopic tumor resection for subepithelial tumors in the esophagus and cardia. Endoscopy 44:225–230

31.

Wang L, Fan CQ, Ren W, Zhang X, Li YH, Zhao XY (2011) Endoscopic dissection of large endogenous myogenic tumors in the esophagus and stomach is safe and feasible: a report of 42 cases. Scand J Gastroenterol 46:627–633

32.

Miettinen M, Sarlomo-Rikala M, Sobin LH, Lasota J (2000) Esophageal stromal tumors: a clinicopathologic, immunohistochemical, and molecular genetic study of 17 cases and comparison with esophageal leiomyomas and leiomyosarcomas. Am J Surg Pathol 24:211–222

33.

Zhu X, Zhang XQ, Li BM, Xu P, Zhang KH, Chen J (2007) Esophageal mesenchymal tumors: endoscopy, pathology and immunohistochemistry. World J Gastroenterol 13:768–773

34.

Kang YN, Jung HR, Hwang I (2010) Clinicopathological and immunohistochemical features of gastrointestinal stromal tumors. Cancer Res Treat 42:135–143

35.

Stahl M, Kataja VV, Oliveira J (2005) ESMO minimal clinical recommendations for diagnosis, treatment and follow-up of esophageal cancer. Ann Oncol 16(Suppl 1):i26–i27

36.

Stahl M, Oliveira J (2009) Esophageal cancer: ESMO clinical recommendations for diagnosis, treatment and follow-up. Ann Oncol 20(Suppl 4):32–33
Disclosures
Drs. Lei Wang, Wei Ren, Zhimei Zhang, Jing Yu, Yihui Li and Yuankun Song have no conflicts of interest or financial ties to disclose.
Electronic supplementary material
Below is the link to the electronic supplementary material.
Supplementary material 1 (WMV 3415 kb)
About this article
Cite this article
Wang, L., Ren, W., Zhang, Z. et al. Retrospective study of endoscopic submucosal tunnel dissection (ESTD) for surgical resection of esophageal leiomyoma. Surg Endosc 27, 4259–4266 (2013) doi:10.1007/s00464-013-3035-z
Received:

Accepted:

Published:

Issue Date:
Keywords
Esophagus

Leiomyoma

Tumor

Endoscopic submucosal tunnel dissection

Endoscopic submucosal dissection