Abstract
Background
Laparoscopic adjustable gastric banding (LAGB) is a commonly performed bariatric procedure. Device-related morbidity is typically associated with the subcutaneous port or the band itself. Complications related to band tubing are unusual. Small bowel obstruction (SBO) after LAGB is a unique and serious complication; there is the potential of delayed diagnosis and the risk of closed-loop bowel obstruction. SBO secondary to internal hernia caused by band tubing is very rare, with only five cases reported in the literature.
Methods
In this article, we describe our experience and provide an illustrative video of a case of SBO related to band tubing. We also provide a detailed review of the few previously published case reports.
Results
Based on the common features of our case and other published case reports, we hypothesize some risk factors that might lead to this unique morbidity of adjustable gastric band tubing and provide potential solutions to prevent this problem.
Conclusion
Tubing-related SBO is a serious complication with the risk of closed-loop bowel obstruction. Urgent operative exploration is required to avoid bowel strangulation. To prevent recurrence we advise functionally shortening the tubing by tucking it to the right upper quadrant above the liver and also provide some omental coverage between the bowel and band tubing if possible.
This is a preview of subscription content, log in to check access.
We're sorry, something doesn't seem to be working properly.
Please try refreshing the page. If that doesn't work, please contact support so we can address the problem.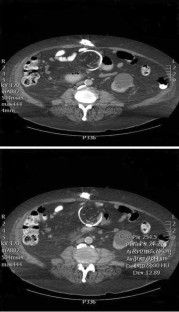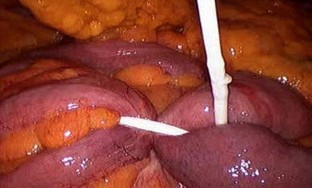 References
1.

Mitermair RP, Weiss H, Nehoda H, Kirchmayr W, Aigner F (2003) Laparoscopic Swedish adjustable gastric banding: 6-year follow up and comparison to other laparoscopic bariatric procedures. Obes Surg 13:412–417

2.

Ren CJ, Horgan S, Ponce J (2002) U.S. experience with the Lap-Band system. Am J Surg 184:46S–50S

3.

Deitel M, Shikora SA (2002) The development of the surgical treatment of morbid obesity. J Am Coll Nutr 21:365–371

4.

Susmallian S, Ezri T, Elis M, Charuzi I (2003) Access-port complications after laparoscopic gastric banding. Obes Surg 13:128–131

5.

Keidar A, Carmon E, Szold A, Abu-Abeid S (2005) Port complications following laparoscopic adjustable gastric banding for morbid obesity. Obes Surg 15:361–365

6.

Niville E, Dams A, Vlasselaers J (2001) Lap-Band erosion: incidence and treatment. Obes Surg 11:744–747

7.

Suter M (2001) Laparoscopic band repositioning for pouch dilatation/slippage after gastric banding: disappointing results. Obes Surg 11:507–512

8.

U.S. Food and Drug Administration, Center for Devices and Radiological Health (2008) LAP-BAND adjustable gastric banding (LAGB) system—P000008b. www.fda.gov/cdrh/pdf/p000008b.pdf. Accessed 1 Dec 2008

9.

Spivak H, Favretti F (2002) Avoiding postoperative complications with the LAP-BAND system. Am J Surg 184:31S–37S

10.

Favretti F, Cadiere GB, Segato G et al (2002) Laparoscopic banding: selection and technique in 830 patients. Obes Surg 12:385–390

11.

Zappa MA, Micheletto G, Lattuada E et al (2006) Prevention of pouch dilatation after laparoscopic adjustable gastric banding. Obes Surg 16:132–136

12.

Sathyanarayana S, Wylen EL, Baskaya MK, Nanda A (2000) Spontaneous bowel perforation after ventriculoperitoneal shunt surgery: case report and review of 45 cases. Surg Neurol 54:388–396

13.

Snow RB, Lavyne MH, Fraser RAR (1986) Colonic perforation by ventriculoperitoneal shunts. Surg Neurol 25:173–177

14.

Zengin K, Sen B, Ozben V, Taskin M (2006) Detachment of the connecting tube from the port and migration into jejunal wall. Obes Surg 16:206–207

15.

Hartmann J, Scharfenberg M, Paul M, Ablassmaier B (2006) Intracolonic penetration of the laparoscopic adjustable gastric banding tube. Obes Surg 16:203–205

16.

Campbell NA, Brown WA, Smith AI, Skinner S, Nottle P (2008) Small bowel obstruction creates a closed loop in patients with a laparoscopic adjustable gastric band. Obes Surg 18:1346–1349

17.

Catel L, Lefevre F, Lauren V et al (2003) Small bowel obstruction from adhesions: which CT severity criteria to research? J Radiol 84:27–31

18.

Egbeare DM, Myers AF, Lawrence RJ (2008) Small bowel obstruction secondary to intragastric erosion and migration of a gastric band. J Gastrointest Surg 12:983–984

19.

Bueter M, Thalheimer A, Meyer D, Fein M (2006) Band erosion and passage, causing small bowel obstruction. Obes Surg 16:1679–1682

20.

DeNino WF, Forgione PM (2010) Small bowel obstruction from small bowel volvulus and gram-positive peritonitis in laparoscopic adjustable gastric banding. Surg Obes Relat Dis 6:211–212

21.

Strobos E, Antanavicius G, Josloff R (2009) Unusual complication: small bowel obstruction caused by tubing of gastric band. Surg Obes Relat Dis 5:637–640

22.

Zappa MA, Lattuada E, Mozzi E et al (2006) An unusual complication of gastric banding: recurrent small bowel obstruction caused by the connecting tube. Obes Surg 16:939–941

23.

Shipkov CD, Uchikov AP, Uchikov EH (2004) Small bowel obstruction by the silicone tube of the gastric band. Obes Surg 9:1280–1282

24.

Mills JK, Zakon J, Hung Nguyen M (2008) Images for surgeons. Strangulation of the small bowel mesentery and internal hernia due to the connection tube of a gastric band. ANZ J Surg 78:1128–1129

25.

Ng KM, Thompson G (2009) Case report: laparoscopic adjustable gastric band tubing: unusual cause of an internal hernia. Surg Obes Relat Dis 5:517–518

26.

Agahi A, Harle R (2009) Case report: a serious but rare complication of laparoscopic adjustable gastric banding: bowel obstruction due to caecal volvulus. Obes Surg 19:1197–1200

27.

Consumer Guide to Bariatric Surgery, Adjustable Gastric Banding (2010). http://www.yourbariatricsurgeryguide.com/gastric-banding/. Accessed 8 July 2010
Disclosures
Drs. Hamed, Simpson, LoMenzo, and Kligman have no conflicts of interest or financial ties to disclose.
Additional information
This video was accepted for the Video Channel at SAGES 2012, San Diego CA, May 7–10, 2012 (abstract ID 36575).
Electronic supplementary material
Below is the link to the electronic supplementary material.
Supplementary material 1 (MPG 84080 kb)
About this article
Cite this article
Hamed, O.H., Simpson, L., LoMenzo, E. et al. Internal hernia due to adjustable gastric band tubing: review of the literature and illustrative case video. Surg Endosc 27, 4378–4382 (2013). https://doi.org/10.1007/s00464-013-3024-2
Received:

Accepted:

Published:

Issue Date:
Keywords
Band tubing

Internal hernia

Small bowel obstruction

Laparoscopic band