Abstract
Several techniques have been proposed to seal post-operative leaks endoscopicaly, however, chronic fibrosed fistulas remain a tenacious problem. We describe the success of a combination of minimally invasive peroral endoscopic techniques to seal and permanently close a chronic gastrocutaneous fistula complicating a laparoscopic gastric bypass, these techniques included: fistuloscopy, argon plasma coagulation, mucosal stripping and the novel over-the-scope clips.
This is a preview of subscription content, log in to check access.
Access options
Buy single article
Instant unlimited access to the full article PDF.
US$ 39.95
Price includes VAT for USA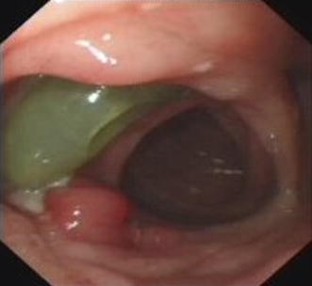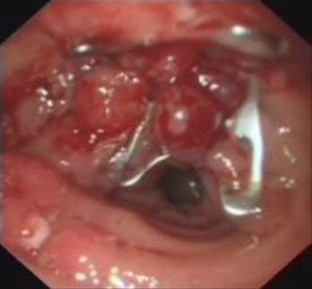 References
1.

Merrifield BF, Lautz D, Thompson CC (2006) Endoscopic repair of gastric leaks after Roux-en-Y gastric bypass: a less invasive approach. Gastrointest Endosc 63:710–714

2.

Higda KD, Boone KB, Ho T (2000) Complications of the laparoscopic Roux-en-Y gastric bypass: 1,040 patients. What have we learned? Obes Surg 10:509–513

3.

Fernandez AZ Jr, DeMaria EJ, Tichansky DS (2004) Experience with over 3,000 open and laparoscopic bariatric procedures: multivariate analysis of factors related to leak and resultant mortality. Surg Endosc 18:193–197

4.

Dudrick SJ, Maharaj AR, McKelvey AA (1999) Artificial nutritional support in patients with gastrointestinal fistulas. World J Surg 23:570–576

5.

Meguid MM, Campos ACL (1996) Preface: surgical management of gastrointestinal fistulas. Surg Clin North Am 76:1035–1080

6.

Chung MA, Wanebo HS (1996) Surgical management and treatment of gastric and duodenal fistulas. Surg Clin North Am 76:1137–1146

7.

Foster CE, Lefor AT (1996) General management of gastrointestinal fistulas: recognition, stabilization, and correction of fluid electrolyte imbalances. Surg Clin North Am 76:1019–1034

8.

Swinnen J, Eisendrath P, Rigaux J, Kahegeshe L, Lemmers A, Le Moine O, Devière J (2011) Self-expandable metal stents for the treatment of benign upper GI leaks and perforations. Gastrointest Endosc 73:890–899

9.

Bège T, Emungania O, Vitton V, Ah-Soune P, Nocca D, Noël P, Bradjanian S, Berdah SV, Brunet C, Grimaud JC, Barthet M (2011) An endoscopic strategy for management of anastomotic complications from bariatric surgery: a prospective study. Gastrointest Endosc 73:238–244

10.

van Boeckel PG, Sijbring A, Vleggaar FP, Siersema PD (2011) Systematic review: temporary stent placement for benign rupture or anastomotic leak of the oesophagus. Aliment Pharmacol Ther 33:1292–1301

11.

Von Renteln C, Vassilou MC, Rothstein RI (2009) Randomized controlled trial comparing endoscopic clips and over the scope clips for closure of natural orifice transluminal endoscopic surgery gastrostomies. Endoscopy 41:1056–1061

12.

Rabago LR, Ventosa N, Castro JL, Marco J, Herrera N, Gea F (2002) Endoscopic treatment of postoperative fistulas resistant to conservative management using biological fibrin glue. Endoscopy 34:632–638

13.

Raymer G, Sadana A, Campbell D, Rowe WA (2003) Endoscopic clip application as an adjunct to closure of mature esophageal perforation with fistulae. Clin Gastroenterol Hepatol 1:44–50

14.

Cellier C, Landi B, Faye A, Wind P, Frileux P, Cugnenc P-H et al (1996) Upper gastrointestinal tract fistulae: endoscopic obliteration with fibrin sealant. Gastrointest Endosc 4:731–733

15.

Kantsevoy SV, Thuluvath PJ (2012) Successful closure of a chronic refractory gastrocutaneous fistula with a new endoscopic suturing device (with video). Gastrointest Endosc 75:688–690

16.

Melmed GY, Kar S, Geft I, Lo SK (2009) A new method for endoscopic closure of gastrocolonic fistula: novel application of a cardiac septal defect closure device (with video). Gastrointest Endosc 70:542–545

17.

van Bodegraven AA, Kuipers EJ, Bonenkamp HJ, Meuwissen SG (1999) Esophagopleural fistula treated endoscopically with argon beam electrocoagulation and clips. Gastrointest Endosc 50:407–409

18.

von Renteln D, Denzer UW, Schachschal G, Anders M, Groth S, Rösch T (2010) Endoscopic closure of GI fistulae by using an over-the-scope clip (with videos). Gastrointest Endosc 72:1289–1296

19.

Parodi A, Repici A, Pedroni A, Blanchi S, Conio M (2010) Endoscopic management of GI perforations with a new over-the-scope clip device (with videos). Gastrointest Endosc 72:881–886

20.

Albert JG, Friedrich-Rust M, Woeste G, Strey C, Bechstein WO, Zeuzem S, Sarrazin C (2011) Benefit of a clipping device in use in intestinal bleeding and intestinal leakage. Gastrointest Endosc 74:389–397

21.

Martinez JL, Luque-de-Leon E, Mier J, Blanco-Benavides R, Robledo F (2008) Systematic management of postoperative enterocutaneous fistulas: factors related to outcomes. World J Surg 32:436–443
Disclosures
Hany M. Shehab and Hady M. Elasmar have no conflicts of interest or financial ties to disclose.
Electronic supplementary material
Below is the link to the electronic supplementary material.
Video 1. Detection of the fistula and a view inside the fistula showing its chronic nature with well-epithelialized walls. Next, argon plasma coagulation (APC) is applied to the proximal end of the fistula. The twin-grasper then is used to induce multiple small circumferential tears at the edges of the fistula followed by application of the over-the-scope clip (OTSC). (MPG 119414 kb)
About this article
Cite this article
Shehab, H.M., Elasmar, H.M. Combined endoscopic techniques for closure of a chronic post-surgical gastrocutaneous fistula: case report and review of the literature (with video). Surg Endosc 27, 2967–2970 (2013). https://doi.org/10.1007/s00464-013-2839-1
Received:

Accepted:

Published:

Issue Date:
Keywords
Fistula

Gastric fistula

Endoscopy

Natural orifice endoscopic surgery

Argon plasma coagulation

Bariatric

Complications

Over-the-scope clip