Abstract
Background
Decreased blood perfusion at an intestinal anastomosis may contribute to postoperative anastomotic leak (AL) resulting in substantial morbidity and mortality. Near-infrared (NIR) laparoscopy in conjunction with indocyanine green (ICG) allows for visualization of the microcirculation before formation of the anastomosis, thereby allowing the surgeon to choose the point of transection at an optimally perfused area.
Methods
This is a retrospective case-control analysis examining the effectiveness of NIR + ICG in reducing the rate of AL after low anterior resection (LAR) for rectal cancer. Records of patients undergoing robot-assisted LAR for rectal cancer with and without ICG were analyzed for the years 2011 and 2012.
Results
Among the 40 patients who underwent robotic LAR, NIR + ICG was used in 16 cases (41 %). Male patients accounted for the majority of cases in both groups (74 %). The median level of the anastomosis was 3.5 cm in the NIR + ICG group and 5.5 cm in the control group. There was no difference in the use of diverting ileostomy. In 3 patients (19 %), the use of NIR + ICG resulted in revision of the proximal bowel (colonic) transection point before formation of the anastomosis. The distal transection point was never revised. The rate of AL in the NIR + ICG group was 6 % versus 18 % in control group.
Conclusions
ICG fluorescence may play a role in anastomotic tissue perfusion assessment and affect the AL rate. Larger prospective studies are needed to further validate this novel technology.
This is a preview of subscription content, log in to check access.
Access options
Buy single article
Instant unlimited access to the full article PDF.
US$ 39.95
Price includes VAT for USA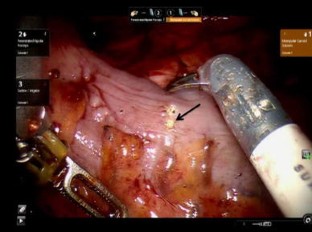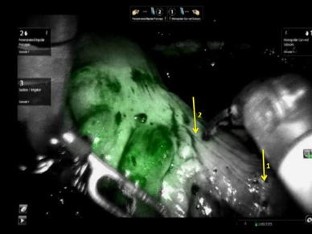 References
1.

Law WL, Chu KW (2004) Anterior resection for rectal cancer with mesorectal excision: a prospective evaluation of 622 patients. Ann Surg 240(2):260–268

2.

Matthiessen P, Hallböök O, Rutegård J, Simert G, Sjödahl R (2007) Defunctioning stoma reduces symptomatic anastomotic leakage after low anterior resection of the rectum for cancer: a randomized multicenter trial. Ann Surg 246(2):207–214

3.

Quirke P, Dixon MF (1988) The prediction of local recurrence in rectal adenocarcinoma by histopathological examination. Int J Colorectal Dis 3(2):127–131

4.

Quirke P, Durdey P, Dixon MF, Williams NS (1986) Local recurrence of rectal adenocarcinoma due to inadequate surgical resection. Histopathological study of lateral tumour spread and surgical excision. Lancet 2(8514):996–999

5.

Heald RJ, Husband EM, Ryall RD (1982) The mesorectum in rectal cancer surgery: the clue to pelvic recurrence? Br J Surg 69(10):613–616

6.

Montedori A, Cirocchi R, Farinella E, Sciannameo F, Abraha I (2010) Covering ileo- or colostomy in anterior resection for rectal carcinoma. Cochrane Database Syst Rev (5):CD006878

7.

Smedh K, Olsson L, Johansson H, Aberg C, Andersson M (2001) Reduction of postoperative morbidity and mortality in patients with rectal cancer following the introduction of a colorectal unit. Br J Surg 88(2):273–277

8.

Dehni N, Schlegel RD, Cunningham C, Guiguet M, Tiret E, Parc R (1998) Influence of a defunctioning stoma on leakage rates after low colorectal anastomosis and colonic J pouch-anal anastomosis. Br J Surg 85(8):1114–1117

9.

Enker WE, Merchant N, Cohen AM, Lanouette NM, Swallow C, Guillem J, Paty P, Minsky B, Weyrauch K, Quan SH (1999) Safety and efficacy of low anterior resection for rectal cancer: 681 consecutive cases from a specialty service. Ann Surg 230(4):544–552

10.

Karliczek A, Harlaar NJ, Zeebregts CJ, Wiggers T, Baas PC, van Dam GM (2009) Surgeons lack predictive accuracy for anastomotic leakage in gastrointestinal surgery. Int J Colorectal Dis 24(5):569–576

11.

Kingham TP, Pachter HL (2009) Colonic anastomotic leak: risk factors, diagnosis, and treatment. J Am Coll Surg 208(2):269–278

12.

Kudszus S, Roesel C, Schachtrupp A, Höer JJ (2010) Intraoperative laser fluorescence angiography in colorectal surgery: a noninvasive analysis to reduce the rate of anastomotic leakage. Langenbecks Arch Surg 395(8):1025–1030

13.

McArdle CS, McMillan DC, Hole DJ (2005) Impact of anastomotic leakage on long-term survival of patients undergoing curative resection for colorectal cancer. Br J Surg 92(9):1150–1154

14.

Choi HK, Law WL, Ho JW (2006) Leakage after resection and intraperitoneal anastomosis for colorectal malignancy: analysis of risk factors. Dis Colon Rectum 49(11):1719–1725

15.

Bell SW, Walker KG, Rickard MJ, Sinclair G, Dent OF, Chapuis PH, Bokey EL (2003) Anastomotic leakage after curative anterior resection results in a higher prevalence of local recurrence. Br J Surg 90(10):1261–1266

16.

Petersen S, Freitag M, Hellmich G, Ludwig K (1998) Anastomotic leakage: impact on local recurrence and survival in surgery of colorectal cancer. Int J Colorectal Dis 13(4):160–163

17.

Walker KG, Bell SW, Rickard MJ, Mehanna D, Dent OF, Chapuis PH, Bokey E (2004) Anastomotic leakage is predictive of diminished survival after potentially curative resection for colorectal cancer. Ann Surg 240(2):255–259

18.

Boyle NH, Manifold D, Jordan MH, Mason RC (2000) Intraoperative assessment of colonic perfusion using scanning laser Doppler flowmetry during colonic resection. J Am Coll Surg 191(5):504–510

19.

Vignali A, Gianotti L, Braga M, Radaelli G, Malvezzi L, Di Carlo V (2000) Altered microperfusion at the rectal stump is predictive for rectal anastomotic leak. Dis Colon Rectum 43(1):76–82

20.

Sheridan WG, Lowndes RH, Young HL (1987) Tissue oxygen tension as a predictor of colonic anastomotic healing. Dis Colon Rectum 30(11):867–871

21.

Kologlu M, Yorganci K, Renda N, Sayek I (2000) Effect of local and remote ischemia-reperfusion injury on healing of colonic anastomoses. Surgery 128(1):99–104

22.

Pigazzi A, Ellenhorn JD, Ballantyne GH, Paz IB (2006) Robotic-assisted laparoscopic low anterior resection with total mesorectal excision for rectal cancer. Surg Endosc 20(10):1521–1525

23.

Pigazzi A, Luca F, Patriti A, Valvo M, Ceccarelli G, Casciola L, Biffi R, Garcia-Aguilar J, Baek JH (2010) Multicentric study on robotic tumor-specific mesorectal excision for the treatment of rectal cancer. Ann Surg Oncol 17(6):1614–1620

24.

Cahill RA, Ris F, Mortensen NJ (2011) Near-infrared laparoscopy for real-time intra-operative arterial and lymphatic perfusion imaging. Colorectal Dis 13(Suppl 7):12–17

25.

Cahill RA, Mortensen NJ (2010) Intraoperative augmented reality for laparoscopic colorectal surgery by intraoperative near-infrared fluorescence imaging and optical coherence tomography. Minerva Chir 65(4):451–462

26.

Alander JT, Kaartinen I, Laakso A, Pätilä T, Spillmann T, Tuchin VV, Venermo M, Välisuo P (2012) A review of indocyanine green fluorescent imaging in surgery. Int J Biomed Imaging 2012:940585

27.

Chung RS (1987) Blood flow in colonic anastomoses. Effect of stapling and suturing. Ann Surg 206(3):335–339

28.

Foster ME, Brennan SS, Morgan A, Leaper DJ (1985) Colonic ischaemia and anastomotic healing. Eur Surg Res 17(3):133–139

29.

Jayne DG, Guillou PJ, Thorpe H, Quirke P, Copeland J, Smith AM, Heath RM, Brown JM, UK MRC CLASICC Trial Group (2007) Randomized trial of laparoscopic-assisted resection of colorectal carcinoma: 3-year results of the UK MRC CLASICC Trial Group. J Clin Oncol 25(21):3061–3068

30.

Sauer R, Fietkau R, Wittekind C, Rödel C, Martus P, Hohenberger W, Tschmelitsch J, Sabitzer H, Karstens JH, Becker H, Hess C, Raab R, German Rectal Cancer Group (2003) Adjuvant versus neoadjuvant radiochemotherapy for locally advanced rectal cancer: the German trial CAO/ARO/AIO-94. Colorectal Dis 5(5):406–415

31.

Höer J, Töns C, Schachtrupp A, Anurov M, Titkova S, Oettinger A, Wetter O, Schumpelick V (2002) Quantitative evaluation of abdominal wall perfusion after different types of laparotomy closure using laser-fluorescence videography. Hernia 6(1):11–16

32.

Still J, Law E, Dawson J, Bracci S, Island T, Holtz J (1999) Evaluation of the circulation of reconstructive flaps using laser-induced fluorescence of indocyanine green. Ann Plast Surg 42(3):266–274

33.

Waseda K, Ako J, Hasegawa T, Shimada Y, Ikeno F, Ishikawa T, Demura Y, Hatada K, Yock PG, Honda Y, Fitzgerald PJ, Takahashi M (2009) Intraoperative fluorescence imaging system for on-site assessment of off-pump coronary artery bypass graft. JACC Cardiovasc Imaging 2(5):604–612

34.

Shimada Y, Okumura T, Nagata T, Sawada S, Matsui K, Hori R, Yoshioka I, Yoshida T, Osada R, Tsukada K (2011) Usefulness of blood supply visualization by indocyanine green fluorescence for reconstruction during esophagectomy. Esophagus 8(4):259–266

35.

Holm C, Tegeler J, Mayr M, Becker A, Pfeiffer UJ, Mühlbauer W (2002) Monitoring free flaps using laser-induced fluorescence of indocyanine green: a preliminary experience. Microsurgery 22(7):278–287

36.

Hutteman M, van der Vorst JR, Mieog JS, Bonsing BA, Hartgrink HH, Kuppen PJ, Löwik CW, Frangioni JV, van de Velde CJ, Vahrmeijer AL (2011) Near-infrared fluorescence imaging in patients undergoing pancreaticoduodenectomy. Eur Surg Res 47(2):90–97
Disclosures
Dr. Alessio Pigazzi is a consultant for Intuitive Surgical. Dr. Steven Mills has received an Ethicon Educational grant paid to the department. Dr. Michael Stamos has had Ethicon, Olympus, NiTi/NovoGI, Adolor/GSK, and Covidien training support paid to UCI for clinical immersion courses for Lap colectomy. Dr. Joseph Carmichael, Dr. Mehraneh Jafari, Dr. Wissam Halabi, and Dr. Kang Hong Lee have no conflicts of interest or financial ties to disclose.
Electronic supplementary material
Below is the link to the electronic supplementary material.
Supplementary material 1 (MPG 39528 kb)
About this article
Cite this article
Jafari, M.D., Lee, K.H., Halabi, W.J. et al. The use of indocyanine green fluorescence to assess anastomotic perfusion during robotic assisted laparoscopic rectal surgery. Surg Endosc 27, 3003–3008 (2013) doi:10.1007/s00464-013-2832-8
Received:

Accepted:

Published:

Issue Date:
Keywords
Anastomosis

Colorectal cancer

Perfusion

Technical

Tissue