Abstract
Background
Differential diagnosis between gallbladder (GB) adenomas and cholesterol polyps based on ultrasonography or endoscopic ultrasonography (EUS) is challenging because they have similar echogenicity and morphology. We evaluated the usefulness of contrast-enhanced harmonic EUS (CEH-EUS) for differentiating between GB adenomas and cholesterol polyps.
Methods
Between June 2010 and December 2011, a total of 87 patients with GB polyps who underwent a CEH-EUS were reviewed retrospectively.
Results
Of the 87 patients, 57 had a cholecystectomy. Of these, 34 patients were diagnosed with adenoma, cholesterol polyp, adenocarcinoma, or adenomyomatosis pathology. The remaining 23 patients were not diagnosed with GB polyps because their lesions separated from the GB mucosal layer during pathological sampling. On CEH-EUS, homogeneous and heterogeneous enhancement was shown in 6 and 2 patients with adenoma and in 4 and 8 patients with cholesterol polyps, respectively. Sensitivity and specificity of CEH-EUS for differential diagnosis of GB adenomas from cholesterol polyps based on the enhancement pattern were 75.0 and 66.6 %, respectively.
Conclusion
CEH-EUS might be useful for distinguishing GB adenomas and cholesterol polyps based on enhancement patterns. However, an additional technique such as quantitative perfusion analysis is necessary because visual assessment of CEH-EUS images is subjective.
This is a preview of subscription content, log in to check access.
Access options
Buy single article
Instant unlimited access to the full article PDF.
US$ 39.95
Price includes VAT for USA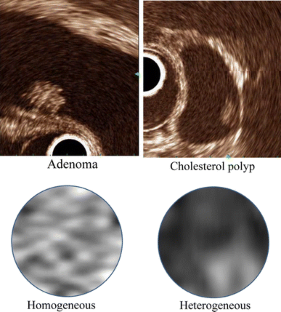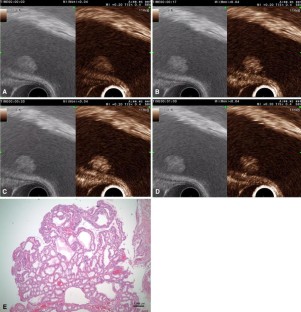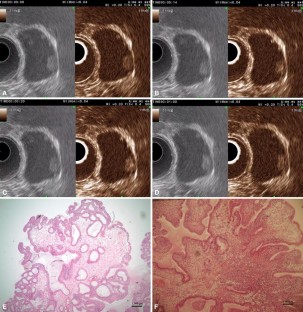 References
1.

Collett JA, Allan RB, Chisholm RJ, Wilson IR, Burt MJ, Chapman BA (1998) Gallbladder polyps: prospective study. J Ultrasound Med 17:207–211

2.

Okamoto M, Okamoto H, Kitahara F, Kobayashi K, Karikome K, Miura K, Matsumoto Y, Fujino MA (1999) Ultrasonographic evidence of association of polyps and stones with gallbladder cancer. Am J Gastroenterol 94:446–450

3.

Sugiyama M, Atomi Y, Yamato T (2000) Endoscopic ultrasonography for differential diagnosis of polypoid gall bladder lesions: analysis in surgical and follow up series. Gut 46:250–254

4.

Myers RP, Shaffer EA, Beck PL (2002) Gallbladder polyps: epidemiology, natural history and management. Can J Gastroenterol 16:187–194

5.

Gallahan WC, Conway JD (2010) Diagnosis and management of gallbladder polyps. Gastroenterol Clin North Am 39:359–367

6.

Feldman M, Friedman LS, Brandt LJ (2010) Sleisenger and Fordtran's gastrointestinal and liver disease. Saunders/Elsevier, Philadelphia

7.

Yang HL, Sun YG, Wang Z (1992) Polypoid lesions of the gallbladder: diagnosis and indications for surgery. Br J Surg 79:227–229

8.

Corwin MT, Siewert B, Sheiman RG, Kane RA (2011) Incidentally detected gallbladder polyps: is follow-up necessary? Long-term clinical and US analysis of 346 patients. Radiology 258:277–282

9.

Kubota K, Bandai Y, Noie T, Ishizaki Y, Teruya M, Makuuchi M (1995) How should polypoid lesions of the gallbladder be treated in the era of laparoscopic cholecystectomy? Surgery 117:481–487

10.

Shinkai H, Kimura W, Muto T (1998) Surgical indications for small polypoid lesions of the gallbladder. Am J Surg 175:114–117

11.

Terzi C, Sokmen S, Seckin S, Albayrak L, Ugurlu M (2000) Polypoid lesions of the gallbladder: report of 100 cases with special reference to operative indications. Surgery 127:622–627

12.

Cha BH, Hwang J, Lee SH, Kim JE, Cho JY, Kim H, Kim SY (2011) Pre-operative factors that can predict neoplastic polypoid lesions of the gallbladder. World J Gastroenterol 17:2216–2222

13.

Boulton RA, Adams DH (1997) Gallbladder polyps: when to wait and when to act. Lancet 349:817

14.

Mishra G, Conway JD (2009) Endoscopic ultrasound in the evaluation of radiologic abnormalities of the liver and biliary tree. Curr Gastroenterol Rep 11:150–154

15.

Rooholamini SA, Tehrani NS, Razavi MK, Au AH, Hansen GC, Ostrzega N, Verma RC (1994) Imaging of gallbladder carcinoma. Radiographics 14:291–306

16.

Yoon JH, Cha SS, Han SS, Lee SJ, Kang MS (2006) Gallbladder adenomyomatosis: imaging findings. Abdom Imaging 31:555–563

17.

Kumagai Y, Kotanagi H, Ishida H, Komatsuda T, Furukawa K, Yamada M, Ohuchi S, Seki H, Sakusabe M (2006) Gallbladder adenoma: report of a case with emphasis on contrast-enhanced US findings. Abdom Imaging 31:449–452

18.

Azuma T, Yoshikawa T, Araida T, Takasaki K (2001) Differential diagnosis of polypoid lesions of the gallbladder by endoscopic ultrasonography. Am J Surg 181:65–70

19.

Kitano M, Kudo M, Yamao K, Takagi T, Sakamoto H, Komaki T, Kamata K, Imai H, Chiba Y, Okada M, Murakami T, Takeyama Y (2012) Characterization of small solid tumors in the pancreas: the value of contrast-enhanced harmonic endoscopic ultrasonography. Am J Gastroenterol 107:303–310

20.

Sakamoto H, Kitano M, Matsui S, Kamata K, Komaki T, Imai H, Dote K, Kudo M (2011) Estimation of malignant potential of GI stromal tumors by contrast-enhanced harmonic EUS (with videos). Gastrointest Endosc 73:227–237

21.

Sakamoto H, Kitano M, Suetomi Y, Maekawa K, Takeyama Y, Kudo M (2008) Utility of contrast-enhanced endoscopic ultrasonography for diagnosis of small pancreatic carcinomas. Ultrasound Med Biol 34:525–532

22.

Melany ML, Grant EG (1997) Clinical experience with sonographic contrast agents. Semin Ultrasound CT MR 18:3–12

23.

Kim TK, Han JK, Kim AY, Choi BI (1999) Limitations of characterization of hepatic hemangiomas using a sonographic contrast agent (Levovist) and power Doppler ultrasonography. J Ultrasound Med 18:737–743

24.

Kitano M, Sakamoto H, Matsui U, Ito Y, Maekawa K, von Schrenck T, Kudo M (2008) A novel perfusion imaging technique of the pancreas: contrast-enhanced harmonic EUS (with video). Gastrointest Endosc 67:141–150

25.

Kitano M, Kudo M, Sakamoto H, Komaki T (2011) Endoscopic ultrasonography and contrast-enhanced endoscopic ultrasonography. Pancreatology 11(Suppl 2):28–33

26.

Schneider M, Arditi M, Barrau MB, Brochot J, Broillet A, Ventrone R, Yan F (1995) BR1: a new ultrasonographic contrast agent based on sulfur hexafluoride-filled microbubbles. Invest Radiol 30:451–457

27.

Raica M, Cimpean AM, Ribatti D (2009) Angiogenesis in pre-malignant conditions. Eur J Cancer 45:1924–1934

28.

Kersting S, Konopke R, Kersting F, Volk A, Distler M, Bergert H, Saeger HD, Grutzmann R, Bunk A (2009) Quantitative perfusion analysis of transabdominal contrast-enhanced ultrasonography of pancreatic masses and carcinomas. Gastroenterology 137:1903–1911

29.

Lutz H, Buscarini E, World Health Organization (2011) Manual of diagnostic ultrasound, 2nd edn. World Health Organization, Geneva
Disclosures
Chan Hyuk Park, Moon Jae Chung, Tak Geun Oh, Jeong Youp Park, Seungmin Bang, Seung Woo Park, Hyunki Kim, Ho Kyoung Hwang, Woo Jung Lee, and Si Young Song have no conflicts of interest or financial ties to disclose.
Electronic supplementary material
Below is the link to the electronic supplementary material.
Video 1 Video clip of gallbladder adenoma on CEH-EUS (MPG 10256 kb)
Video 2 Video clip of gallbladder cholesterol polyp on CEH-EUS (MPG 10256 kb)
About this article
Cite this article
Park, C.H., Chung, M.J., Oh, T.G. et al. Differential diagnosis between gallbladder adenomas and cholesterol polyps on contrast-enhanced harmonic endoscopic ultrasonography. Surg Endosc 27, 1414–1421 (2013). https://doi.org/10.1007/s00464-012-2620-x
Received:

Accepted:

Published:

Issue Date:
Keywords
Gallbladder

Polyp

CEH-EUS

Contrast agent

Endoscopic ultrasonography