Abstract
Background
To find the most efficacious method to minimize the side effects and maximize the advantages of laparoscopic surgery, this study aimed to define and document a gasless, single-incision abdominal access technique for the management of benign ovarian cysts.
Methods
During a 1½ year period, 55 women underwent surgery for a benign ovarian cyst. Conventional carbon dioxide (CO2) laparoscopy was used for 33 of the women, and 22 of the women underwent a novel, gasless, single-incision laparoscopic surgery. An abdominal access pathway through a single intraabdominal incision was used to place transabdominal sutures that elevated the abdominal wall, and the operations were performed through the intra-umbilical entry without the use of trocars. Thus, the new technique was called keyless abdominal rope-lifting surgery (KARS). Two operative groups were compared to assess the feasibility of the new technique.
Results
All the operations could be performed by KARS without conversion to CO2 laparoscopy or laparotomy. However, for two patients in the conventional laparoscopy group, minilaparotomy had to be performed for tissue retrieval. Although the two techniques had many similar results, the total operative times and the abdominal access times in the KARS group were significantly longer than in the conventional laparoscopy group (p < 0.05). Simple oral analgesics were adequate for postoperative pain relief in both groups.
Conclusions
The KARS technique is a gasless, single-incision laparoscopic procedure that can be performed safely and effectively in terms of cosmesis, postoperative pain, and fertility preservation for the management of benign adnexal pathologies.
This is a preview of subscription content, log in to check access.
Access options
Buy single article
Instant unlimited access to the full article PDF.
US$ 39.95
Price includes VAT for USA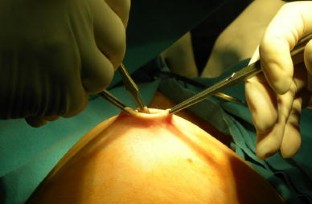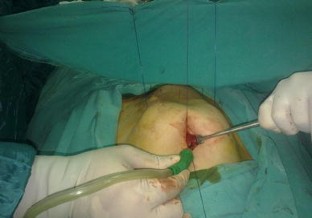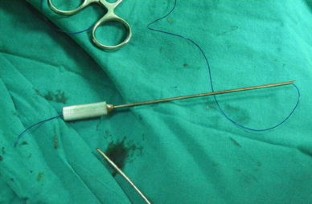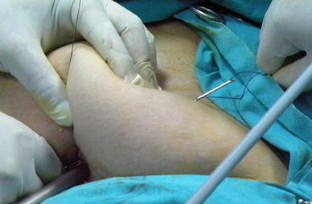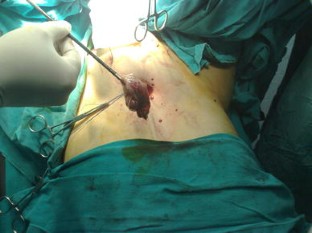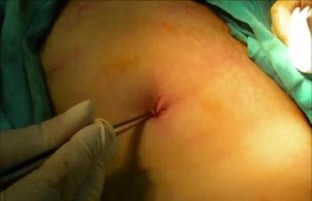 References
1.

Vagenas K, Spyrakopoulos P, Karanikolas M, Sakelaropoulos G, Maroulis I, Karavias D (2006) Minilaparotomy cholecystectomy versus laparoscopic cholecystectomy: which way to go? Surg Laparosc Endosc Percutan Tech 16:321–324

2.

Joris JL, Hinque VL, Laurent PE, Desaive CJ, Lamy ML (1998) Pulmonary function and pain after gastroplasty performed via laparotomy or laparoscopy in morbidly obese patients. Br J Anaesth 80:283–288

3.

Karabacak O, Tiras MB, Taner MZ, Guner H, Yildiz A, Yildirim M (1997) Small diameter versus conventional laparoscopy: a prospective, self-controlled study. Hum Reprod 12:2399–2401

4.

Busacca M, Fedele L, Bianchi S, Candiani M, Agnoli B, Raffaelli R, Vignali M (1998) Surgical treatment of recurrent endometriosis: laparotomy versus laparoscopy. Hum Reprod 13:2271–2274

5.

Casati A, Valentini G, Ferrari S, Senatore R, Zangrillo A, Torri G (1997) Cardiorespiratory changes during gynaecological laparoscopy by abdominal wall elevation: comparison with carbon dioxide pneumoperitoneum. Br J Anaesth 78:51–54

6.

Schulze S, Lyng KM, Bugge K, Perner A, Bendtsen A, Thorup J, Nielsen HJ, Rasmussen V, Rosenberg J (1999) Cardiovascular and respiratory changes and convalescence in laparoscopic colonic surgery: comparison between carbon dioxide pneumoperitoneum and gasless laparoscopy. Arch Surg 134:1112–1118

7.

Bouvy ND, Giuffrida MC, Tseng LN, Steyerberg EW, Marquet RL, Jeekel H, Bonjer HJ (1998) Effects of carbon dioxide pneumoperitoneum, air pneumoperitoneum, and gasless laparoscopy on body weight and tumor growth. Arch Surg 133:652–656

8.

Chapron C, Pierre F, Harchaoui Y, Lacroix S, Béguin S, Querleu D, Lansac J, Dubuisson JB (1999) Gastrointestinal injuries during gynaecological laparoscopy. Hum Reprod 14:333–337

9.

Chapron C, Querleu D, Bruhat MA, Madelenat P, Fernandez H, Pierre F, Dubuisson JB (1998) Surgical complications of diagnostic and operative gynaecological laparoscopy: a series of 29,966 cases. Hum Reprod 13:867–872

10.

Koivusalo AM, Kellokumpu I, Scheinin M, Tikkanen I, Mäkisalo H, Lindgren L (1998) A comparison of gasless mechanical and conventional carbon dioxide pneumoperitoneum methods for laparoscopic cholecystectomy. Anesth Analg 86:153–158

11.

Bickel A, Arzomanov T, Ivry S, Zveibl F, Eitan A (2004) Reversal of adverse hemodynamic effects of pneumoperitoneum by pressure equilibration. Arch Surg 139:1320–1325

12.

Cevrioglu AS, Yilmaz S, Koken T, Tokyol C, Yilmazer M, Fenkci IV (2004) Comparison of the effects of low intraabdominal pressure and ischaemic preconditioning on the generation of oxidative stress markers and inflammatory cytokines during laparoscopy in rats. Hum Reprod 19:2144–2151

13.

Koivusalo AM, Kellokumpu I, Lindgren L (1996) Gasless laparoscopic cholecystectomy: comparison of postoperative recovery with conventional technique. Br J Anaesth 77:576–580

14.

Desai MM, Rao PP, Aron M, Pascal-Haber G, Desai MR, Mishra S, Kaouk JH, Gill IS (2008) Scarless single-port transumbilical nephrectomy and pyeloplasty: first clinical report. BJU Int 101:83–88

15.

Park S, Bergs RA, Eberhart R, Baker L, Fernandez R, Cadeddu JA (2007) Trocar-less instrumentation for laparoscopy: magnetic positioning of intraabdominal camera and retractor. Ann Surg 245:379–384

16.

Chapron C, Guibert J, Fauconnier A, Viera M, Dubuisson JB (2001) Adhesion formation after laparoscopic resection of uterosacral ligaments in women with endometriosis. J Am Assoc Gynecol Laparosc 8:368–873

17.

Bablekos GD, Michaelides SA, Roussou T, Charalabopoulos KA (2006) Changes in breathing control and mechanics after laparoscopic vs open cholecystectomy. Arch Surg 141:16–22

18.

Koivusalo AM, Kellokumpu I, Ristkari S, Lindgren L (1997) Splanchnic and renal deterioration during and after laparoscopic cholecystectomy: a comparison of the carbon dioxide pneumoperitoneum and the abdominal wall lift method. Anesth Analg 85:886–891

19.

de Souza AM, Wang CC, Chu CY, Lam PM, Rogers MS (2003) The effect of intraabdominal pressure on the generation of 8-iso prostaglandin F2alpha during laparoscopy in rabbits. Hum Reprod 18:2181–2188

20.

Mishra RK (2009) Textbook of practical laparoscopic surgery. Jaypee Brothers Medical Publishers Ltd., New Delhi

21.

Fader AN, Levinson KL, Gunderson CC, Winder AD, Escobar PF (2011) Laparoendoscopic single-site surgery in gynaecology: a new frontier in minimally invasive surgery. J Minim Access Surg 7:71–77

22.

Chin AK, Moll FH, McColl MB, Reich H (1993) Mechanical peritoneal retraction as a replacement for carbon dioxide pneumoperitoneum. J Am Assoc Gynecol Laparosc 1:62–66. doi:10.1016/S1074-3804(05)80762-5

23.

Smith RS, Fry WR, Tsoi EK, Henderson VJ, Hirvela ER, Koehler RH, Brams DM, Morabito DJ, Peskin GW (1993) Gasless laparoscopy and conventional instruments: the next phase of minimally invasive surgery. Arch Surg 128:1102–1107

24.

Chang FH, Soong YK, Cheng PJ, Lee CL, Lai YM, Wang HS, Chou HH (1996) Laparoscopic myomectomy of large symptomatic leiomyoma using airlift gasless laparoscopy: a preliminary report. Hum Reprod 11:1427–1432

25.

Damiani A, Melgrati L, Marziali M, Sesti F (2003) Gasless laparoscopic myomectomy: indications, surgical technique, and advantages of a new procedure for removing uterine leiomyomas. J Reprod Med 48:792–798

26.

Sesti F, Melgrati L, Damiani A, Piccione E (2006) Isobaric (gasless) laparoscopic uterine myomectomy: an overview. Eur J Obstet Gynecol Reprod Biol 129:9–14. doi:10.1016/j.ejogrb.2006.04.027

27.

Kruschinski D, Homburg S, Wockel A, Kapur A, Reich H (2004) Lift-laparoscopic total hysterectomy as a routine procedure. Surg Technol Int 13:147–156

28.

Tintara H, Choobun T (2004) Laparoscopic adnexectomy for benign tubo-ovarian disease using abdominal wall lift: a comparison to laparotomy. Int J Gynaecol Obstet 84:147–155. doi:10.1016/S0020-7292(03)00261-3

29.

Davila GW, Stanford E, Korn A (2004) Prospective trial of gasless laparoscopic Burch colposuspension using conventional surgical instruments. J Am Assoc Gynecol Laparosc 11:197–203. doi:10.1016/S1074-3804(05)60199-5

30.

Bojahr B, Lober R, Straube W, Kohler G (1996) Gasless laparoscopic-assisted radical vaginal hysterectomy with lymphadenectomy for cervical carcinoma. J Am Assoc Gynecol Laparosc 3:S4–S5. doi:10.1016/S1074-3804(96)80141-1

31.

Fader AN, Escobar PF (2009) Laparoendoscopic single-site surgery (LESS) in gynecologic oncology: technique and initial report. Gynecol Oncol 114:157–161

32.

Fader AN, Rojas-Espaillat L, Ibeanu O, Grumbine F, Escobar PF (2010) Laparoendoscopic single-site surgery (LESS) in gynecology: a multi-institutional evaluation. Am J Obstet Gynecol 203:501.e1–501.e6

33.

Lee YY, Kim TJ, Kim CJ, Kang H, Choi CH, Lee JW, Kim BG et al (2009) Single-port access laparoscopic-assisted vaginal hysterectomy: a novel method with a wound retractor and a glove. J Minim Invasive Gynecol 16:450–453

34.

Yim GW, Jung YW, Paek J (2010) Transumbilical single-port access versus conventional total laparoscopic hysterectomy: surgical outcomes. Am J Obstet Gynecol 203:26.e1–26.e6

35.

Savaris RF, Cavazzola LT (2009) Ectopic pregnancy: laparoendoscopic single-site surgery—laparoscopic surgery through a single cutaneous incision. Fertil Steril 92:1170-e5–1170-e7

36.

Yoon BS, Park H, Seong S (2010) Single-port laparoscopic salpingectomy for the surgical treatment of ectopic pregnancy. J Minim Invasive Gynecol 17:26–29

37.

Cuschieri A (2011) Single-incision laparoscopic surgery. J Minim Access Surg 7:3–5

38.

Takeda A, Imoto S, Mori M, Nakano T, Nakamura H (2011) Early experience with isobaric laparoendoscopic single-site surgery using a wound retractor for the management of ectopic pregnancy. Eur J Obstet Gynecol Reprod Biol 154:209–214

39.

Fagotti A, Fanfani F, Marocco F, Rossitto C, Gallotta V, Scambia G (2009) Laparoendoscopic single-site surgery (LESS) for ovarian cyst enucleation: report of first three cases. Fertil Steril 92:116

40.

Kim TJ, Lee YY, Kim MJ, Kim CJ, Kang H, Choi CH et al (2009) Single-port-access laparoscopic adnexal surgery. J Minim Invasive Gynecol 16:612–615

41.

Ülker K, Ersöz M, Hüseyinoğlu H (2011) Management of a giant ovarian cyst by keyless abdominal rope-lifting surgery (KARS). Kafkas J Med Sci 1:25–29. doi:10.5505/kjms.2011.21931

42.

Bayat A, McGrouther DA, Ferguson MWJ (2003) Skin scarring. BMJ 326:88–92
Acknowledgments
We thank Dr. R. K. Mishra for his kindness and gracious efforts in teaching us the skills needed for laparoscopic surgery.
Disclosures
Kahraman Ülker, Ürfettin Hüseyinoğlu, and Nergiz Kılıç have no conflicts of interest or financial ties to disclose.
Electronic supplementary material
Below is the link to the electronic supplementary material.
Supplementary material 1 (WMV 35324 kb)
Supplementary material 2 (WMV 33710 kb)
Supplementary material 3 (WMV 14405 kb)
About this article
Cite this article
Ülker, K., Hüseyinoğlu, Ü. & Kılıç, N. Management of benign ovarian cysts by a novel, gasless, single-incision laparoscopic technique: keyless abdominal rope-lifting surgery (KARS). Surg Endosc 27, 189–198 (2013). https://doi.org/10.1007/s00464-012-2419-9
Received:

Accepted:

Published:

Issue Date:
Keywords
Abdominal

CO2

Gynecology and obstetrics

Pneumoperitoneum

Surgical (technical)

Technical (endoscopy)