Abstract
Introduction
Endoscopic submucosal dissection (ESD) has become a standard therapy for early gastric neoplasia, particularly in Asian countries. From a safety and efficacy standpoint, simulation training may empower the endoscopist to be able to learn the basic tenets of ESD in a safe, controlled and supervised setting before attempting first in humans.
Methods and Procedures
This study was designed as a prospective ex vivo study. Ex vivo porcine organs were utilized in the EASIE-R endoscopic simulator. A total of 150 artificial lesions, each 2 × 2 cm in size, were created in fresh ex vivo porcine stomachs at six different anatomical sites (fundus anterior and posterior, body anterior and posterior, antrum anterior and posterior). Three examiners (2 beginners, 1 expert) participated in this study. All parameters (procedure time, specimen size, en-bloc resection status, perforation) were recorded by an independent observer for each procedure.
Results
All 150 lesions were successfully resected using the ESD technique by the three endoscopists. After 30 ESD cases, the two novices performed ESD with a 100 % en-bloc resection rate and without perforation. For the procedures performed by the novices, the total procedure time and perforation rate in the last 30 cases were significantly lower than during the first 30 cases (p < 0.05).
Conclusions
Our study suggests that performing 30 ESD resections in an ex vivo simulator leads to a significant improvement in safety and efficiency of performing the ESD technique.
This is a preview of subscription content, log in to check access.
Access options
Buy single article
Instant unlimited access to the full article PDF.
US$ 39.95
Price includes VAT for USA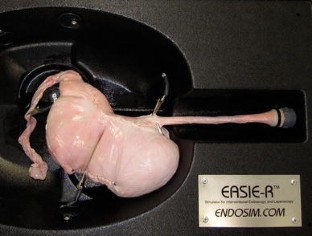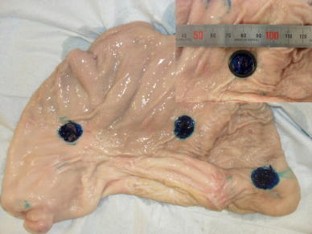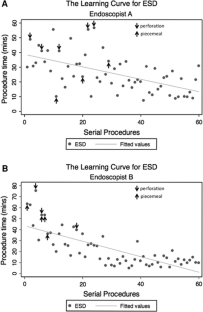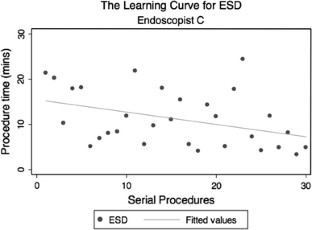 References
1.

Ono H, Kondo H, Gotoda T et al (2001) Endoscopic mucosal resection for treatment of early gastric cancer. Gut 48:225–229

2.

Ohkuwa M, Hosokawa K, Boku N, Ohtu A, Tajiri H, Yoshida S (2001) New endoscopic treatment for intramucosal gastric tumors using an insulated-tip diathermic knife. Endoscopy 33:221–226

3.

Hirao M, Masuda K, Asanuma T et al (1988) Endoscopic resection of early gastric cancer and other tumors with local injection of hypertonic saline-epinephrine. Gastrointest Endosc 34:264–269

4.

Yamamoto H, Kawata H, Sunada K et al (2003) Successful en bloc resection of large superficial tumors in the stomach and colon using sodium hyaluronate and small-caliber-tip transparent hood. Endoscopy 35:690–694

5.

Fujishiro M, Yahagi N, Kakushima N et al (2006) Endoscopic submucosal dissection of esophageal squamous cell neoplasms. Clin Gastroenterol Hepatol 4:688–694

6.

Saito Y, Emura F, Matsuda T et al (2005) A new sinker-assisted endoscopic submucosal dissection for colorectal cancer. Gastrointest Endosc 62:297–301

7.

Jouret A, Sempoux C (2006) Superficial oesogastric cancer and endoscopic mucosal resection: the pathologist's approach. Acta Gastroenterol Belg 69:299–303

8.

Kojima T, Parra-Blanco A, Takahashi H, Fujita R (1998) Outcome of endoscopic mucosal resection for early gastric cancer: review of the Japanese literature. Gastrointest Endosc 48:550–554 discussion 4–5

9.

Ferlay J, Shin HR, Bray F, Forman D, Mathers C, Parkin DM (2010) Estimates of worldwide burden of cancer in 2008: GLOBOCAN 2008. Int J Cancer 127:2893–2917

10.

Hon SS, Ng SS, Lee JF, Li JC, Lo AW (2010) In vitro porcine training model for colonic endoscopic submucosal dissection: an inexpensive and safe way to acquire a complex endoscopic technique. Surg Endosc 24:2439–2443

11.

Gotoda T, Friedland S, Hamanaka H, Soetikno R (2005) A learning curve for advanced endoscopic resection. Gastrointest Endosc 62:866–867

12.

Parra-Blanco A, Arnau MR, Nicolas-Perez D et al (2010) Endoscopic submucosal dissection training with pig models in a Western country. World J Gastroenterol 16:2895–2900

13.

Figueroa-Barojas P, Sobrino-Cossio S, Hernandez-Guerrero A et al (2010) Endoscopic inanimate biological simulators for training in endoscopic mucosal dissection. Rev Gastroenterol Mex 75:380–388

14.

Berr F, Ponchon T, Neureiter D et al (2011) Experimental endoscopic submucosal dissection training in a porcine model: learning experience of skilled western endoscopists. Dig Endosc 23:281–289

15.

Deprez PH, Bergman JJ, Meisner S et al (2010) Current practice with endoscopic submucosal dissection in Europe: position statement from a panel of experts. Endoscopy 42:853–858

16.

Kakushima N, Fujishiro M, Kodashima S, Muraki Y, Tateishi A, Omata M (2006) A learning curve for endoscopic submucosal dissection of gastric epithelial neoplasms. Endoscopy 38:991–995

17.

Teoh AY, Chiu PW, Wong SK, Sung JJ, Lau JY, Ng EK (2010) Difficulties and outcomes in starting endoscopic submucosal dissection. Surg Endosc 24:1049–1054

18.

Tanimoto MA, Torres-Villalobos G, Fujita R, et al. (2011) Learning curve in a Western training center of the circumferential en bloc esophageal endoscopic submucosal dissection in an in vivo animal model. Diagn Ther Endosc 2011:847831

19.

Matthes K, Cohen J (2006) The Neo-Papilla: a new modification of porcine ex vivo simulators for ERCP training (with videos). Gastrointest Endosc 64:570–576

20.

Lee SH, Gromski MA, Derevianko A et al (2010) Efficacy of a prototype endoscope with two deflecting working channels for endoscopic submucosal dissection: a prospective, comparative, ex vivo study. Gastrointest Endosc 72:155–160

21.

Maiss J, Prat F, Wiesnet J et al (2006) The complementary Erlangen active simulator for interventional endoscopy training is superior to solely clinical education in endoscopic hemostasis–—the French training project: a prospective trial. Eur J Gastroenterol Hepatol 18:1217–1225

22.

Matthes K (2006) Simulator training in endoscopic hemostasis. Gastrointest Endosc Clin North Am 16:511–527 viii

23.

Kato M, Jung Y, Gromski MA, Chuttani R, Matthes K (2012) Prospective, randomized comparison of 3 different hemoclips for the treatment of acute upper GI hemorrhage in an established experimental setting. Gastrointest Endosc 75:3–10

24.

Gromski MA, Alkhoury F, Lee SH, Matthes K (2010) Evaluation of NOTES hands-on courses by surgeons at the SAGES Annual Meeting Learning Center. In: 12th World Congress of Endoscopic Surgery (WCES), National Harbor, MD. Surg Endosc 24:229

25.

Takahashi H, Arimura Y, Masao H, et al. (2010) Endoscopic submucosal dissection is superior to conventional endoscopic resection as a curative treatment for early squamous cell carcinoma of the esophagus (with video). Gastrointest Endosc 72:255–264, 64 e1–e2

26.

Isomoto H, Shikuwa S, Yamaguchi N et al (2009) Endoscopic submucosal dissection for early gastric cancer: a large-scale feasibility study. Gut 58:331–336

27.

Saito Y, Matsuda T, Fujii T (2010) Endoscopic submucosal dissection of nonpolypoid colorectal neoplasms. Gastrointest Endosc Clin North Am 20:515–524

28.

Kim EY, Jeon SW, Kim GH (2011) Chicken soup for teaching and learning ESD. World J Gastroenterol 17:2618–2622

29.

Yamamoto S, Uedo N, Ishihara R et al (2009) Endoscopic submucosal dissection for early gastric cancer performed by supervised residents: assessment of feasibility and learning curve. Endoscopy 41:923–928
Acknowledgments
Both Endosim, LLC, Berlin, MA, USA and Olympus America Inc., PA, USA provided material support.
Disclosures
Masayuki Kato, Mark Gromski, Yunho Jung, Ram Chuttani, and Kai Matthes have no conflicts of interest or financial ties to disclose.
Electronic supplementary material
Below is the link to the electronic supplementary material.
The ESD procedure by the inexperienced endoscopist after performing over 60 cases (MPG 116568 kb)
About this article
Cite this article
Kato, M., Gromski, M., Jung, Y. et al. The learning curve for endoscopic submucosal dissection in an established experimental setting. Surg Endosc 27, 154–161 (2013) doi:10.1007/s00464-012-2402-5
Received:

Accepted:

Published:

Issue Date:
Keywords
Education

Endoscopy

ESD

Learning curve

Educational cost

Ex-vivo

EASIE-R