Abstract
Background
Fully covered self-expandable metal stents (FCSEMS) have been used as a rescue therapy for several benign biliary tract conditions (BBC). Long-term stent placement commonly occurs, and prolonged FCSEMS placement is associated with the majority of the complications reported. This study evaluated the duration of stenting and the efficacy and safety of temporary FCSEMS placement for three BBCs: refractory biliary leaks, postsphincterotomy bleeding, and perforations.
Methods
This was a retrospective case series with long-term follow-up of 25 patients who underwent FCSEMS placement for BBCs. This study included 17 patients with postcholecystectomy refractory biliary leaks who had previously undergone unsuccessful sphincterotomy and plastic stent placement, 4 patients with difficult-to-control postsphincterotomy bleeding, and 4 patients with a perforation following endoscopic sphincterotomy. Stents were removed according to clinical evidence of problem resolution. The review included stenting duration, safe FCSEMS removal, clinical efficacy, complications, and long-term outcomes. During the follow-up period, ERCP and cholangioscopy procedures were performed to exclude the possibility of bile duct lesion development.
Results
Complete resolution of the initial condition was achieved in all patients. Patients with biliary leaks had a median stent duration time of 16 days (range 7–28 days). Patients with bleeding had stents removed after a median time of 6 days (range 3–15 days). Patients with perforations had their stents removed after a median time of 29.5 days (range 21–30 days). There were no complications related to stenting.
Conclusions
Temporary placement of a FCSEMS for 30 days or less is an effective rescue therapy for refractory biliary leaks, difficult-to-control post-endoscopic sphincterotomy bleeding, and perforations. Duration of stenting should be different for each type of condition. Stents can be safely removed, and short-term stenting is associated with the absence of early and late complications.
This is a preview of subscription content, log in to check access.
Access options
Buy single article
Instant unlimited access to the full article PDF.
US$ 39.95
Price includes VAT for USA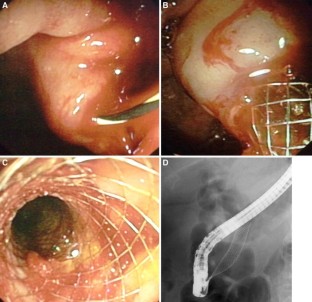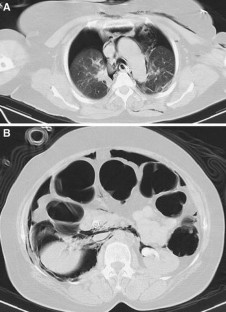 References
1.

McCune WS, Shorb PE, Moscovitz H (1968) Endoscopic cannulation of the ampulla of Vater: a preliminary report. Ann Surg 167:752–756

2.

Huibregtse K, Tytgat GN (1982) Palliative treatment of obstructive jaundice by transpapillary introduction of large bore bile duct endoprosthesis. Gut 23:371–375

3.

Garcia-Cano J, Taberna-Arana L, Jimeno-Ayllón C, Martínez-Fernández R, Serrano-Sanchez L, Reyes-Guevara A, Viñuelas-Chicano M, Gómez-Ruiz C, Morillas-Ariño M, Pérez-Garcia J, Pérez-Vigara G, Pérez-Sola A (2010) Use of fully-covered self-expandable metallic stents for the management of benign biliary conditions. Rev Esp Enferm Dig 102:526–532

4.

Sandha GS, Bourke MJ, Haber GB, Kortan PP (2004) Endoscopic therapy for bile leak based on a new classification: results in 207 patients. Gastrointest Endosc 60:567–574

5.

Kaffes AJ, Hourigan L, De Luca N, Byth K, Williams S, Bourke M (2005) Impact of endoscopic intervention in 100 patients with suspected postcholecystectomy bile leak. Gastrointest Endosc 61:269–275

6.

Katsinelos P, Kontouras J, Paroutoglou G, Chatzimavroudis G, Germanidis G, Zavos C, Pilpilidis I, Paikos D, Papaziogas B (2008) A comparative study of 10-Fr vs. 7-Fr straight plastic stents in the treatment of postcholecystectomy bile leak. Surg Endosc 22:101–106

7.

Costamagna G, Pandolfi M, Mutignani M, Perri V, Spada C, Pandolfi M, Galasso D (2001) Long-term results of endoscopic management of postoperative bile duct strictures with increasing number of stents. Gastrointest Endosc 54:162–168

8.

Ferreira LE, Baron TH (2007) Post-sphincterotomy bleeding: who, what, when, and how. Am J Gastroenterol 102:2850–2858

9.

Andriulli A, Loperfido S, Napolitano G, Niro G, Valvano M, Spirito F, Pilotto A, Forlano R (2007) Incidence rates of Post-ERCP complications: a systematic survey of prospective studies. Am J Gastroenterol 102:1781–1788

10.

Enns R, Eloubeidi M, Mergener K, Jowell P, Branch M, Pappas T, Baillie J (2002) ERCP-related perforations: risk factors and management. Endoscopy 34:293–298

11.

Coté GA, Ansstas M, Shah S, Keswani RN, Alkade S, Jonnalagadda SS, Edmundowicz SA, Azar RR (2010) Findings at endoscopic retrograde cholangiopancreatography after endoscopic treatment of postcholecystectomy bile leaks. Surg Endosc 24:1752–1756

12.

Simmons DT, Petersen BT, Goustout CJ, Levy MJ, Topazian MD, Baron TH (2008) Risk of pancreatitis following endoscopically placed large-bore biliary plastic stents with and without biliary sphincterotomy for management of postoperative bile leaks. Surg Endosc 22:1459–1463

13.

Cozzi G, Severini A, Civelli E, Millela M, Pulvirenti A, Salvetti M, Romito R, Suman L, Chiaraviglio F, Mazzaferro V (2006) Percutaneous transhepatic biliary drainage in the management of postsurgical biliary leaks in patients with nondilated intrahepatic bile ducts. Cardiovasc Intervent Radiol 29:380–388

14.

Tsalis KG, Christoforidis EC, Dimitriadis CA, Kalfadis SC, Botsios DS, Dadoukis JD (2003) Management of bile duct injury during and after laparoscopic cholecystectomy. Surg Endosc 17:31–37

15.

Leung J, Chan F, Sung J, Chung S (1995) Endoscopic sphincterotomy-induced hemorrhage: a study of risk factors and the role of epinephrine injection. Gastrointest Endosc 42:550–554

16.

Cotton PB, Lehman G, Vennes J, Geenen JE, Russell RC, Meyers WC, Liguory C, Nickl N (1991) Endoscopic sphincterotomy complications and their management: an attempt at consensus. Gastrointest Endosc 37:383–393

17.

Masci E, Toti G, Mariani A, Curioni S, Lomazzi A, Dinelli M, Minoli G, Crosta C, Comin U, Fertitta A, Prada A, Passoni GR, Testoni PA (2001) Complications of diagnostic and therapeutic ERCP: a prospective multicenter study. Am J Gastroenterol 96:417–423

18.

Dumonceau J, Deviere J, Delhaye M, Baize M, Cremer M (1996) Plastic and metal stents for postoperative benign bile duct strictures: the best and the worst. Gastrointest Endosc 47:8–17

19.

Baron T (2011) Covered self-expandable metal stents for benign biliary tract diseases. Curr Opin Gastroenterol 2:262–267

20.

Kahaleh M, Sundaram V, Condron S, De La Rue S, Hall J, Tokar J, Friel C, Foley E, Adams R, Yeaton P (2007) Temporary placement of covered self-expandable metallic stents in patients with biliary leak: midterm evaluation of a pilot study. Gastrointest Endosc 66:52–59

21.

Kahaleh M, Behm B, Clarke B, Brock A, Shami V, De La Rue S, Sundaram V, Tokar J, Adams R, Yeaton P (2008) Temporary placement of covered self-expandable metal stents in benign biliary strictures: a new paradigm? (with video). Gastrointest Endosc 67:446–454

22.

Baron T, Poterucha J (2006) Insertion and removal of covered expandable metal stents for closure of complex biliary leaks. Clin Gastroenterol Hepatol 4:381–386

23.

Ho H, Mahajan A, Gosain S, Jain A, Brock A, Rehan ME, Ellen K, Shami VM, Kahaleh M (2010) Management of complications associated with partially covered biliary metal stents. Dig Dis Sci 55:516–522

24.

Mahajan A, Ho H, Sauer B, Phillips MS, Shami VM, Ellen K, Rehan M, Schmitt TM, Kahaleh M (2009) Temporary placement of fully covered self-expandable metal stents in benign biliary strictures: midterm evaluation (with video). Gastrointest Endosc 70:303–309

25.

Wang A, Ellen K, Berg C, Schmitt TM, Kahaleh M (2009) Fully covered self-expandable metallic stents in the management of complex biliary leaks: preliminary data—a case series. Endoscopy 41:781–786

26.

Shah J, Marson F, Binmoeller K (2010) Temporary self-expandable metal stent placement for treatment of post-sphincterotomy bleeding. Gastrointest Endosc 72:1274–1278

27.

Park D, Lee S, Lee T, Ryu C, Kim H, Seo DW, Park SH, Lee SK, Kim MH, Kim SJ (2011) Anchoring flaps versus flared end, fully covered self-expandable metal stents to prevent migration in patients with benign biliary strictures: a multicenter, prospective, comparative pilot study (with videos). Gastrointest Endosc 73:64–70

28.

Hwang JC, Kim JH, You BM, Kim JH, Kim HW, Kim MW (2011) Temporary placement of a newly designed, fully covered, self-expandable metal stent for refractory bile leaks. Gut liver 5:96–99

29.

Phillips MS, Bonatti H, Sauer BG, Smith L, Javaid M, Kahaleh M, Schmitt T (2011) Elevated stricture rate following the use of fully covered self-expandable metal biliary stents for biliary leaks following liver transplantation. Endoscopy 43:512–517

30.

van Boeckel P, Vleggar F, Siersema P (2009) Plastic or metal stents for benign extrahepatic biliary strictures: a systematic review. BMC Gastroenterol 9:96

31.

Shah JN, Ahmad NA, Shetty K, Kockman ML, Long WB, Brensinger CM, Pfau PR, Olthoff K, Markmann J, Shaked A, Reddy KR, Ginsberg GG (2004) Endoscopic management of biliary complications after adult living donor liver transplantation. Am J Gastroenterol 99:1291–1295
Disclosures
Jorge Canena is a consultant for Boston Scientific but did not receive any financial arrangements related to this research or assistance with manuscript preparation. The remaining authors disclose no conflicts.
Electronic supplementary material
Below is the link to the electronic supplementary material.
Video 1. Normal cholangiography and normal cholangioscopy 24 weeks after fully covered self-expandable metal stent removal, used to treat a cystic-stump leak after unsuccessful endoscopic treatment with sphincterotomy and plastic stent placement. Note clear endoscopic image of cystic stump after visualization of hilar bifurcation (MPG 3388 kb)
Video 2. Cholangiography and cholangioscopy 90 weeks after fully covered self-expandable metal stent removal, used to treat a common bile duct/common hepatic duct leak with associated stricture. Note the endoscopic appearance of a minor stricture (fibrous ring) and the normality of the bile duct above the stricture (MPG 2950 kb)
About this article
Cite this article
Canena, J., Liberato, M., Horta, D. et al. Short-term stenting using fully covered self-expandable metal stents for treatment of refractory biliary leaks, postsphincterotomy bleeding, and perforations. Surg Endosc 27, 313–324 (2013) doi:10.1007/s00464-012-2368-3
Received:

Accepted:

Published:

Issue Date:
Keywords
Fully covered self-expandable metal stents

Refractory biliary leaks

Benign biliary tract conditions

Endoscopic retrograde cholangiopancreatography

Postsphincterotomy bleeding

Duodenal perforations