Abstract
Background
Intraductal papillary mucinous neoplasm (IPMN) is characterized by intraductal proliferation of neoplastic mucinous cells with a variable extent along the main duct or its branches. The lesion may be continuous or discontinuous. Skip lesions have been described in about 6–19 % of cases. Complete resection without leaving behind any skip lesions is important, to such an extent that many groups suggest even total pancreatectomy, a major and morbid surgery.
Methods
A 40 year-male patient with chronic pancreatitis presented with recent-onset diabetes mellitus and weight loss. Ultrasound and computed tomography (CT) scan showed a cystic lesion in the head and uncinate process of pancreas. Peroral pancreatoscopy showed villous projections with dilated tortuous vessel in the head, suspicious of IPMN. The duct beyond pancreatic head could not be visualized and remained unassessed. At pancreatoduodenectomy, pancreatoscopy with narrow band imaging (NBI) was done using flexible pancreatoscope through the cut end of the duct at the neck to assess the duct in the body and tail.
Results
Pancreatoscopy with NBI showed a normal-looking resection margin and a skip lesion 1 cm beyond it. The revised resection margin confirmed the skip lesion on frozen section and also that the fresh cut margin was negative. The remaining duct in the body and tail was normal on pancreatoscopy. Total clearance of the disease could be achieved without a major procedure such as total pancreatectomy.
Conclusions
Intraoperative pancreatoscopy, especially with NBI, is a good diagnostic tool for IPMN and also helps in intraoperative decision-making of the resection margins.
This is a preview of subscription content, log in to check access.
Access options
Buy single article
Instant unlimited access to the full article PDF.
US$ 39.95
Price includes VAT for USA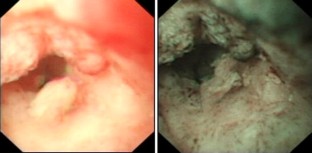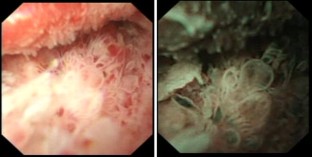 References
1.

Andrejevic-Blant S, Kosmahl M, Sipos B, Klöppel G (2007) Pancreatic intraductal papillary-mucinous neoplasms: a new and evolving entity. Virchows Arch 451:863–869

2.

Alain S, Anne C, Jacques B (2010) Role of frozen section assessment for intraductal papillary and mucinous tumor of the pancreas. World J Gastrointest Surg 2(10):352–358

3.

Hidetoshi E, Osamu I, Hiroaki O, Sasaki Yo, Terumasa Y, Akihiko N, Hiroyuki U, Akemi T, Tsutomu K, Shingi I (2006) Role of intraoperative cytology combined with histology in detecting continuous and skip type intraductal cancer existence for intraductal papillary mucinous carcinoma of the pancreas. Cancer 107:2567–2575

4.

Lai ECH, Lau WY (2005) Intraductal papillary mucinous neoplasms of the pancreas. Surgeon 3(5):317–324

5.

Sakorafas GH, Sarr MG (2007) Primary cystic neoplasms of the pancreas. In: Yeo CJ, Dempsey DT, Klein AS, Pemberton JH, Peters JH (eds) Shackelford's surgery of the alimentary tract, 6th edn. Saunders Elsevier, Philadelphia, pp 1387–1399

6.

Kaneko Tetsuya, Nakao Akimasa, Nomoto Shuji, Furukawa Tsuyoshi, Hirooka Yoshiki, Nakashima Nobuo, Nagasaka Tetsuro (1998) Intraoperative pancreatoscopy with the ultrathin pancreatoscope for mucin-producing tumors of the pancreas. Arch Surg 133:263–267

7.

Song LM, Adler DG, Conway JD (2008) Narrow band imaging and multiband imaging, ASGE Technology Committee. Gastrointest Endosc 67:581–589

8.

Yoshifumi A, Daisuke M, Ken K, Katsuhiko M, Ken-Ichi K (2007) Peroral pancreatoscopy: current status and future expectations using narrow band imaging. Dig Endosc 19:79–86

9.

Yoshinori I, Tomihiro M, Naoki O, Ken I, Kazumasa M (2007) Endoscopic diagnosis of intraductal papillary mucinous neoplasm using peroral pancreatoscopy with narrow band imaging. Dig Endosc 19:105–108

10.

Akihiro I, Yoshiki H, Hiroki K, Yasumasa N, Hidemi G (2007) Endoscopic approach to the pancreatobiliary tract using narrow band imaging. Dig Endosc 19:115–120

11.

Tomihiro M, Yoshinori I, Naoki O, Kazumasa M, Yoichiro O (2010) Endoscopic diagnosis of intraductal papillary/mucinous neoplasm of the pancreas by means of peroral pancreatoscopy using a small/diameter videoscope and narrow/band imaging. Dig Endosc 22:119–123
Acknowledgement
Disclosures
Dr. Arun Yelamali, Dr. Magnus Jayaraj Mansard, Dr. Rohit Dama, Dr. Pradeep Rebela, Dr. Guduru Venkat Rao, and Dr. Duvvuru Nageshwar Reddy have no conflicts of interest or financial ties to disclose.
Electronic supplementary material
Below is the link to the electronic supplementary material.
Supplementary material 1 (MPG 30576 kb)
Supplementary material 2 (MPG 32868 kb)
About this article
Cite this article
Yelamali, A., Mansard, M.J., Dama, R. et al. Intraoperative pancreatoscopy with narrow band imaging: a novel method for assessment of resection margins in case of intraductal papillary mucinous neoplasm. Surg Endosc 26, 3682–3685 (2012). https://doi.org/10.1007/s00464-012-2365-6
Received:

Accepted:

Published:

Issue Date:
Keywords
Pancreatic Duct

Resection Margin

Main Pancreatic Duct

Intraductal Papillary Mucinous Neoplasm

Narrow Band Imaging