Abstract
Background
Preoperative radiological diagnosis and evaluation of limited peritoneal carcinomatosis (PC) is suboptimal. Triangle laparoscopy is considered a noncarcinologic option due to the risk of tumoral spreading through the lateral ports into the abdominal wall muscles. Open surgery is therefore often needed to characterize PC. A minimally invasive approach would be progress.
Methods
We aimed to compare access rates to elective sites of PC using natural orifice transluminal endoscopic surgery (NOTES) with those using single-port laparoscopic surgery (SPLS). Sixteen acute experiments were performed in a live porcine model. Back-to-back NOTES and SPLS standardized peritoneoscopy were conducted in a cross-over design. Access rates to 11 elective sites of PC were considered as end points based on operators' consensus and necropsy verification.
Results
Access to the targets was successful in 89 % with NOTES and 80 % with SPLS (p = 0.27). NOTES and SPLS achieved a 100 % access rate to the diaphragmatic domes and paracolic gutters, to the splenic area, to the pelvic floor, and to the trigonal bladder (p > 0.99). Access rates of NOTES versus SPLS to other elective sites of PC were the following: mesentery root (94 % vs. 0 %, p < 0.001), inferior mesenteric vein origin (88 % vs. 0 %, p < 0.001), inferior vena cava (88 % vs. 75 %, p = 0.85), and hepatic pedicle (8 % vs. 100 %, p < 0.001).
Conclusions
Both transgastric NOTES and SPLS provided quick and easy access to most elective sites of PC, except for the mesenteric vessel root (better achieved by NOTES) and the hepatic pedicle (better achieved by SPLS). Both techniques could be improved or combined to overcome their specific drawbacks.
This is a preview of subscription content, log in to check access.
Access options
Buy single article
Instant unlimited access to the full article PDF.
US$ 39.95
Price includes VAT for USA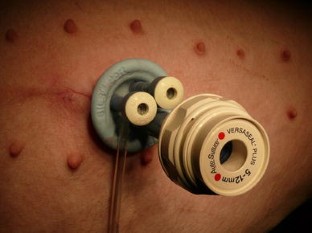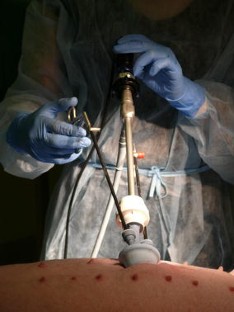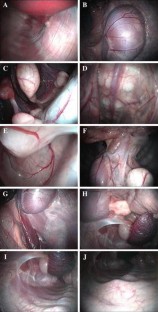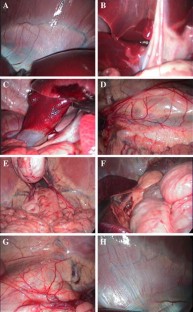 Abbreviations
CT:

Computed tomography

HIPEC:

Hyperthermic intraperitoneal chemotherapy

NOTES:

Natural orifice transluminal endoscopic surgery

PC:

Peritoneal carcinomatosis

SPLS:

Single-port laparoscopic surgery
References
1.

Cao C, Yan TD, Black D, Morris DL (2009) A systematic review and meta-analysis of cytoreductive surgery with perioperative intraperitoneal chemotherapy for peritoneal carcinomatosis of colorectal origin. Ann Surg Oncol 16:2152–2165

2.

Verwaal VJ (2009) Long-term results of cytoreduction and HIPEC followed by systemic chemotherapy. Cancer J 15:212–215

3.

Glehen O, Kwiatkowski F, Sugarbaker PH, Elias D, Levine EA, De Simone M, Barone R, Yonemura Y, Cavaliere F, Quenet F, Gutman M, Tentes AA, Lorimier G, Bernard JL, Bereder JM, Porcheron J, Gomez-Portilla A, Shen P, Deraco M, Rat P (2004) Cytoreductive surgery combined with perioperative intraperitoneal chemotherapy for the management of peritoneal carcinomatosis from colorectal cancer: a multi-institutional study. J Clin Oncol 22:3284–3292

4.

Glehen O, Osinsky D, Cotte E, Kwiatkowski F, Freyer G, Isaac S, Trillet-Lenoir V, Sayag-Beaujard AC, Francois Y, Vignal J, Gilly FN (2003) Intraperitoneal chemohyperthermia using a closed abdominal procedure and cytoreductive surgery for the treatment of peritoneal carcinomatosis: morbidity and mortality analysis of 216 consecutive procedures. Ann Surg Oncol 10:863–869

5.

Dromain C, Leboulleux S, Auperin A, Goere D, Malka D, Lumbroso J, Schumberger M, Sigal R, Elias D (2008) Staging of peritoneal carcinomatosis: enhanced CT vs. PET/CT. Abdom Imaging 33:87–93

6.

Brun JL, Rouzier R, Uzan S, Darai E (2008) External validation of a laparoscopic-based score to evaluate resectability of advanced ovarian cancers: clues for a simplified score. Gynecol Oncol 110:354–359

7.

Fagotti A, Ferrandina G, Fanfani F, Ercoli A, Lorusso D, Rossi M, Scambia G (2006) A laparoscopy-based score to predict surgical outcome in patients with advanced ovarian carcinoma: a pilot study. Ann Surg Oncol 13:1156–1161

8.

Kantsevoy SV, Jagannath SB, Niiyama H, Isakovich NV, Chung SS, Cotton PB, Gostout CJ, Hawes RH, Pasricha PJ, Kalloo AN (2007) A novel safe approach to the peritoneal cavity for per-oral transgastric endoscopic procedures. Gastrointest Endosc 65:497–500

9.

Remzi FH, Kirat HT, Kaouk JH, Geisler DP (2008) Single-port laparoscopy in colorectal surgery. Colorectal Dis 10:823–826

10.

Saber AA, Elgamal MH, Itawi EA, Rao AJ (2008) Single incision laparoscopic sleeve gastrectomy (SILS): a novel technique. Obes Surg 18:1338–1342

11.

Sugarbaker PH (1999) Management of peritoneal-surface malignancy: the surgeon's role. Langenbecks Arch Surg 384:576–587

12.

Box G, Bessler M, Clayman R (2009) Transvaginal access: current experience and potential implications for urologic applications. J Endourol 23:753–757

13.

Watrelot A (2007) Place of transvaginal fertiloscopy in the management of tubal factor disease. Reprod Biomed Online 15:389–395

14.

Zornig C, Mofid H, Emmermann A, Alm M, von Waldenfels HA, Felixmuller C (2008) Scarless cholecystectomy with combined transvaginal and transumbilical approach in a series of 20 patients. Surg Endosc 22:1427–1429

15.

Zornig C, Mofid H, Siemssen L, Emmermann A, Alm M, von Waldenfels HA, Felixmuller C (2009) Transvaginal NOTES hybrid cholecystectomy: feasibility results in 68 cases with mid-term follow-up. Endoscopy 41:391–394

16.

Asakuma M, Perretta S, Allemann P, Cahill R, Con SA, Solano C, Pasupathy S, Mutter D, Dallemagne B, Marescaux J (2009) Challenges and lessons learned from NOTES cholecystectomy initial experience: a stepwise approach from the laboratory to clinical application. J Hepatobiliary Pancreat Surg 16:249–254

17.

Nau P, Anderson J, Yuh B, Muscarella PJ, Christopher Ellison E, Happel L, Narula V, Melvin W, Hazey J (2010) Diagnostic transgastric endoscopic peritoneoscopy: extension of the initial human trial for staging of pancreatic head masses. Surg Endosc 24:1440–1446

18.

Ujiki MB, Martinec DV, Diwan TS, Denk PM, Dunst CM, Swanstrom LL (2010) Video: natural orifice translumenal endoscopic surgery (NOTES): creation of a gastric valve for safe and effective transgastric surgery in humans. Surg Endosc 24(1):220

19.

Fader AN, Escobar PF (2009) Laparoendoscopic single-site surgery (LESS) in gynecologic oncology: technique and initial report. Gynecol Oncol 114:157–161

20.

Froghi F, Sodergen M, Darzi A, Paraskeva P (2010) Single incision laparoscopic surgery (SILS) in gastrointestinal surgery: a systematic review. Surg Laparosc Endosc Percutan Tech 20:191–204

21.

Saber AA, El-Ghazaly TH (2009) Early experience with single incision transumbilical laparoscopic adjustable gastric banding using the SILS port. Int J Surg 7(5):456–459

22.

Ninomiya S, Inomata M, Tajima M, Ali AT, Ueda Y, Shiraishi N, Kitano S (2009) Effect of bevacizumab, a humanized monoclonal antibody to vascular endothelial growth factor, on peritoneal metastasis of MNK-45P human gastric cancer in mice. J Surg Res 154:196–202

23.

Fong DG, Ryou M, Pai RD, Tavakkolizadeh A, Rattner DW, Thompson CC (2007) Transcolonic ventral wall hernia mesh fixation in a porcine model. Endoscopy 39:865–869

24.

Scott DJ, Tang SJ, Fernandez R, Bergs R, Goova MT, Zeltser I, Kehdy FJ, Cadeddu JA (2007) Completely transvaginal NOTES cholecystectomy using magnetically anchored instruments. Surg Endosc 21:2308–2316

25.

Garofalo A, Valle M (2003) Staging video laparoscopy of peritoneal carcinomatosis. Tumori 89(4 Suppl):70–77

26.

Pomel C, Appleyard T, Gouy S, Rouzier R, Elias D (2005) The role of laparoscopy to evaluate candidates for complete cytoreduction of peritoneal carcinomatosis and hyperthermic intraperitoneal chemotherapy. Eur J Surg Oncol 31:540–543

27.

Yan T, Sugarbaker P (2008) Rectus abdominis muscle resection for abdominal wall recurrence of mucinous adenocarcinoma or peritoneal mesothelioma. Tumori 94:309–313

28.

Voermans RP, van Berge Henegouwen MI, Bemelman WA, Fockens P (2009) Feasibility of transgastric and transcolonic natural orifice transluminal endoscopic surgery peritoneoscopy combined with intraperitoneal EUS. Gastrointest Endosc 69:e61–e67

29.

Voermans RP, Sheppard B, van Berge Henegouwen MI, Fockens P, Faigel DO (2009) Comparison of transgastric NOTES and laparoscopic peritoneoscopy for detection of peritoneal metastases. Ann Surg 250:255–259

30.

Ladjici Y, Pocard M, Marteau P, Valleur P, Dray X (2009) Transgastric NOTES for the detection of peritoneal carcinomatosis: more targets needed for a thorough evaluation. Ann Surg 251(6):1193–1194 author reply 1194–1195; comment on Ann Surg 2009; 250(2):255–259

31.

Ladjici Y, Dray X, Marteau P, Valleur P, Pocard M (2012) Flexible versus rigid single-port peritoneoscopy: a randomized controlled trial in a live porcine model followed by initial experience in human cadavers. Surg Endosc. doi:10.1007/s00464-012-2218-3
Acknowledgments
The authors thank Karl Storz Endoscopy (Tuttlingen, Germany) which provided the endoscopic and laparoscopic equipment free of charge, and Covidien (Mansfield, MA, USA) which provided the SILS™ port free of charge. This work was funded by a grant by the EuroNOTES Ethicon Endo-Surgery Research Fund Project.
Disclosures
Yamina Ladjici received a grant from the association Benoit Malassagne, Paris, France, to support her research on minimally invasive surgical and endoscopic techniques. M. Pocard, P. Marteau, P. Valleur, and X. Dray have no conflicts of interest or financial ties to disclose.
Electronic supplementary material
Below is the link to the electronic supplementary material.
Video 1 Transgastric NOTES for access to elective sites of peritoneal carcinomatosis (MPG 10064 kb)
Video 2 Single-port laparoscopic surgery for access to sites of peritoneal carcinomatosis (MPG 10300 kb)
About this article
Cite this article
Ladjici, Y., Pocard, M., Marteau, P. et al. No-incision (NOTES) versus single-incision (single-port) surgery for access to sites of peritoneal carcinomatosis: a back-to-back animal study. Surg Endosc 26, 2658–2666 (2012). https://doi.org/10.1007/s00464-012-2251-2
Received:

Accepted:

Published:

Issue Date:
Keywords
Minimally invasive surgery

NOTES

Single-port laparoscopic surgery

Peritoneal carcinomatosis