Abstract
Background
Total pancreatectomy is recommended for intraductal papillary mucinous tumors with widespread involvement of the entire pancreas. Organ-preserving and minimally invasive surgery should be applied in benign and borderline pancreatic lesions.
Methods
Pylorus- and spleen-preserving total pancreatoduodenectomy (PpSpTPD) with segmental resection of both splenic vessels was attempted for five patients. The technique was based on the concepts of two surgical procedures: pylorus-preserving pancreatoduodenectomy and distal pancreatectomy with segmental resection of splenic vessels ("extended" Warshaw's procedure).
Results
Three patients underwent laparoscopic-assisted PpSpTPD and two underwent open surgery. No mortality was noted. Short-term follow-up (median, 28 months) suggested that all patients tolerated the insulin therapy and showed relatively good nutritional status. Only minimal to moderate perigastric fundal varices were noted without gastrointestinal bleeding.
Conclusions
PpSpTPD with segmental resection of both splenic vessels is feasible and safe. Even a minimally invasive approach can be indicated in selected patients.
This is a preview of subscription content, log in to check access.
Access options
Buy single article
Instant unlimited access to the full article PDF.
US$ 39.95
Price includes VAT for USA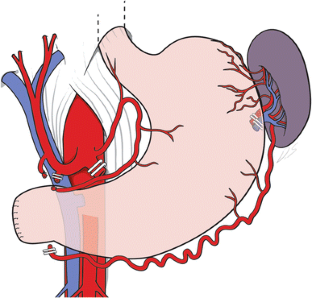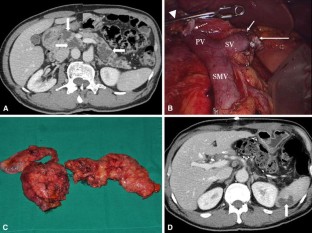 References
1.

Tanaka M, Chari S, Adsay V, Fernandez-del Castillo C, Falconi M, Shimizu M, Yamaguchi K, Yamao K, Matsuno S (2006) International consensus guidelines for management of intraductal papillary mucinous neoplasms and mucinous cystic neoplasms of the pancreas. Pancreatology 6:17–32

2.

Sohn TA, Yeo CJ, Cameron JL, Hruban RH, Fukushima N, Campbell KA, Lillemoe KD (2004) Intraductal papillary mucinous neoplasms of the pancreas: an updated experience. Ann Surg 239:788–797 discussion 797–789

3.

Yang AD, Melstrom LG, Bentrem DJ, Ujiki MB, Wayne JD, Strouch M, Bell RH, Rao SM, Talamonti MS (2007) Outcomes after pancreatectomy for intraductal papillary mucinous neoplasms of the pancreas: an institutional experience. Surgery 142:529–534 discussion 534–527

4.

Maire F, Hammel P, Terris B, Paye F, Scoazec JY, Cellier C, Barthet M, O'Toole D, Rufat P, Partensky C, Cuillerier E, Levy P, Belghiti J, Ruszniewski P (2002) Prognosis of malignant intraductal papillary mucinous tumours of the pancreas after surgical resection. Comparison with pancreatic ductal adenocarcinoma. Gut 51:717–722

5.

Kim SC, Park KT, Lee YJ, Lee SS, Seo DW, Lee SK, Kim MH, Jang SJ, Byun JH, Han DJ (2008) Intraductal papillary mucinous neoplasm of the pancreas: clinical characteristics and treatment outcomes of 118 consecutive patients from a single center. J Hepatobiliary Pancreat Surg 15:183–188

6.

Winter JM, Cameron JL, Campbell KA, Arnold MA, Chang DC, Coleman J, Hodgin MB, Sauter PK, Hruban RH, Riall TS, Schulick RD, Choti MA, Lillemoe KD, Yeo CJ (2006) 1423 pancreaticoduodenectomies for pancreatic cancer: a single-institution experience. J Gastrointest Surg 10:1199–1210 discussion1210–1191

7.

Rodriguez JR, Madanat MG, Healy BC, Thayer SP, Warshaw AL, Fernandez-del Castillo C (2007) Distal pancreatectomy with splenic preservation revisited. Surgery 141:619–625

8.

White SA, Sutton CD, Weymss-Holden S, Berry DP, Pollard C, Rees Y, Dennison AR (2000) The feasibility of spleen-preserving pancreatectomy for end-stage chronic pancreatitis. Am J Surg 179:294–297

9.

Kang CM, Lee JM, Kim MW, Yoon DS, Park JS, Lee WJ (2011) Experiences in central pancreatectomy. Dig Surg 28:57–62

10.

Hirono S, Tani M, Kawai M, Ina S, Nishioka R, Miyazawa M, Fujita Y, Uchiyama K, Yamaue H (2009) Treatment strategy for intraductal papillary mucinous neoplasm of the pancreas based on malignant predictive factors. Arch Surg 144:345–349 discussion 349–350

11.

Billings BJ, Christein JD, Harmsen WS, Harrington JR, Chari ST, Que FG, Farnell MB, Nagorney DM, Sarr MG (2005) Quality-of-life after total pancreatectomy: is it really that bad on long-term follow-up? J Gastrointest Surg 9:1059–1066 discussion 1066–1057

12.

Sugiyama M, Atomi Y (2000) Pylorus-preserving total pancreatectomy for pancreatic cancer. World J Surg 24:66–70 discussion 70–61

13.

Agnifili A, Marino M, Verzaro R, Carducci G, Mancini E, Ibi I, Gianfelice F, Poccia G, De Bernardinis G (1997) Pylorus-preserving pancreatoduodenectomy allows a better maintenance of glucose homeostasis. Minerva Gastroenterol Dietol 43:135–142

14.

Kozuschek W, Reith HB, Waleczek H, Haarmann W, Edelmann M, Sonntag D (1994) A comparison of long term results of the standard Whipple procedure and the pylorus preserving pancreatoduodenectomy. J Am Coll Surg 178:443–453

15.

Naito H, Sasaki I, Takahashi M, Rahman MM, Matsuno S (1992) An experimental study on the gastric acid and gut hormone secretion after pylorus preserving duodenectomy in dogs. Gastroenterol Jpn 27:317–326

16.

Fatouros M, Bourantas K, Bairaktari E, Elisaf M, Tsolas O, Cassioumis D (1995) Role of the spleen in lipid metabolism. Br J Surg 82:1675–1677

17.

Robinette CD, Fraumeni JF Jr (1977) Splenectomy and subsequent mortality in veterans of the 1939–1945 war. Lancet 2:127–129

18.

Linet MS, Nyren O, Gridley G, Mellemkjaer L, McLaughlin JK, Olsen JH, Adami HO, Fraumeni JF Jr (1996) Risk of cancer following splenectomy. Int J Cancer 66:611–616

19.

Crippa S, Bassi C, Warshaw AL, Falconi M, Partelli S, Thayer SP, Pederzoli P, Fernandez-del Castillo C (2007) Middle pancreatectomy: indications, short- and long-term operative outcomes. Ann Surg 246:69–76

20.

Sa Cunha A, Rault A, Beau C, Laurent C, Collet D, Masson B (2008) A single-institution prospective study of laparoscopic pancreatic resection. Arch Surg 143:289–295 discussion 295

21.

Kimura Y, Hirata K, Mukaiya M, Mizuguchi T, Koito K, Katsuramaki T (2005) Hand-assisted laparoscopic pylorus-preserving pancreaticoduodenectomy for pancreas head disease. Am J Surg 189:734–737

22.

Casadei R, Marchegiani G, Laterza M, Ricci C, Marrano N, Margiotta A, Minni F (2009) Total pancreatectomy: doing it with a mini-invasive approach. JOP 10:328–331

23.

Jacobs JE, Birnbaum BA, Shapiro MA, Langlotz CP, Slosman F, Rubesin SE, Horii SC (1998) Diagnostic criteria for fatty infiltration of the liver on contrast-enhanced helical CT. AJR Am J Roentgenol 171:659–664
Acknowledgments
A part of this paper was presented under the title of "Laparoscopic pancreatectomy: techniques and indication" at the 23rd Meeting of the Japanese Society of Hepato-Biliary-Pancreatic Surgery, Tokyo (Japan), June 8–10, 2011. The authors thank Dong-Soo Jang (Medical illustrator, Yonsei University College of Medicine, Department of Research Affairs) for the illustrations and Jou-Hua Chen (Medical University of Silesia School of Medicine, Katowice, Poland) for her valuable devotion and contribution in preparing an English narration in the video.
Disclosures
Drs. Choi SH, Kang CM, Hwang HK, Yoon CI, and Lee WJ have no conflicts of interest or financial ties to disclose.
Electronic supplementary material
Below is the link to the electronic supplementary material.
Supplementary material 1 (WMV 76969 kb)
About this article
Cite this article
Choi, S.H., Hwang, H.K., Kang, C.M. et al. Pylorus- and spleen-preserving total pancreatoduodenectomy with resection of both whole splenic vessels: feasibility and laparoscopic application to intraductal papillary mucin-producing tumors of the pancreas. Surg Endosc 26, 2072–2077 (2012). https://doi.org/10.1007/s00464-011-2113-3
Received:

Accepted:

Published:

Issue Date:
Keywords
Intraductal papillary mucinous tumor

Total pancreatectomy

Pylorus-preserving

Spleen-preserving