Abstract
Background
Recently, the number of laparoscopic procedures for gastric cancer has increased rapidly. Laparoscopic surgery is reported to have many advantages over open gastrectomy with oncologic safety in early gastric cancer. However, there were few reports on long-term outcomes of laparoscopy-assisted gastrectomy (LAG) for advanced gastric cancer (AGC). The aim of this study was to investigate long-term survival outcomes after LAG for AGC.
Methods
The data of 1,485 patients who underwent LAG between April 1998 and December 2005 by ten surgeons at ten hospitals were collected retrospectively. Among them, 239 patients who were diagnosed with AGC on final pathologic examination were enrolled in the present study to investigate long-term clinical outcomes.
Results
The ratio of male to female patients was 151:88 and the mean age was 57.1 years. One hundred ninety-three subtotal gastrectomies, 41 total gastrectomies, and 5 proximal gastrectomies were performed. D1 + α, D1 + β, and D2 lymph node dissections were performed for 14, 62, and 163 cases, respectively. The median follow-up period was 55.4 months. The overall 5-year survival rate of the 239 AGC patients was 78.8% and the disease-specific 5-year survival rate was 85.6%. The 5-year survival rates of the TNM staging system's (7th ed.) stages were 90.5% (stage Ib, n = 86), 86.4% (stage IIa, n = 53), 78.3% (stage IIb, n = 44), 52.8% (stage IIIa, n = 24), 52.9% (stage IIIb, n = 24), and 37.5% (stage IIIc, n = 8) (p < 0.001).
Conclusion
The long-term survival outcome rates of LAG for AGC in the present study were comparable to those previously reported for open gastrectomy. Based on the present results, a well-designed phase III trial comparing LAG and open gastrectomy for AGC will be needed to affirm the validity of LAG for AGC.
This is a preview of subscription content, log in to check access.
Access options
Buy single article
Instant access to the full article PDF.
US$ 39.95
Price includes VAT for USA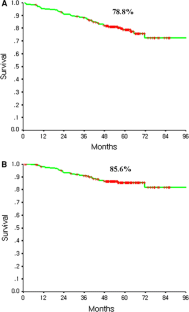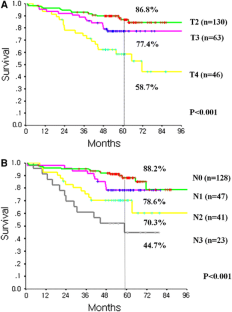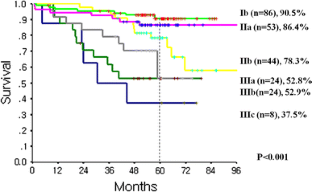 References
1.

Kitano S, Iso Y, Moriyama M, Sugimachi K (1994) Laparoscopy-assisted Billroth I gastrectomy. Surg Laparosc Endosc 4:146–148

2.

Kim HH, Kim KH, Kim DH, Korean Laparoscopic Gastrointestinal Surgery Study Group (2005) Nationwide survey of laparoscopic gastric surgery in Korea, 2004. J Korean Gastric Cancer Assoc 5:295–303

3.

Lee JH, Han HS, Lee JH (2005) A prospective randomized study comparing open vs laparoscopy-assisted distal gastrectomy in early gastric cancer: early results. Surg Endosc 19:168–173

4.

Kitano S, Shiraishi N, Fujii K, Yasuda K, Inomata M, Adachi Y (2002) A randomized controlled trial comparing open vs laparoscopy-assisted distal gastrectomy for the treatment of early gastric cancer: an interim report. Surgery 131:S306–S311

5.

Hayashi H, Ochiai T, Shimada H, Gunji Y (2005) Prospective randomized study of open versus laparoscopy-assisted distal gastrectomy with extraperigastric lymph node dissection for early gastric cancer. Surg Endosc 19:1172–1176

6.

Lee SI, Choi YS, Park DJ, Kim HH, Yang HK, Kim MC (2006) Comparative study of laparoscopy-assisted distal gastrectomy and open distal gastrectomy. J Am Coll Surg 202:874–880

7.

Kim YW, Baik YH, Yun YH, Nam BH, Kim DH, Choi IJ, Bae JM (2008) Improved quality of life outcomes after laparoscopy-assisted distal gastrectomy for early gastric cancer: results of a prospective randomized clinical trial. Ann Surg 248:721–727

8.

Kitano S, Shiraishi N, Uyama I, Sugihara K, Tanigawa N, Japanese Laparoscopic Surgery Study Group (2007) A multicenter study on oncologic outcome of laparoscopic gastrectomy for early cancer in Japan. Ann Surg 245:68–72

9.

Huscher CG, Mingoli A, Sgarzini G, Sansonetti A, Di Paola M, Recher A, Ponzano C (2005) Laparoscopic versus open subtotal gastrectomy for distal gastric cancer: five-year results of a randomized prospective trial. Ann Surg 241:232–237

10.

Hwang SI, Kim HO, Yoo CH, Shin JH, Son BH (2009) Laparoscopic-assisted distal gastrectomy versus open distal gastrectomy for advanced gastric cancer. Surg Endosc 23:1252–1258

11.

Lee J, Kim W (2009) Long-term outcomes after laparoscopy-assisted gastrectomy for advanced gastric cancer: analysis of consecutive 106 experiences. J Surg Oncol 100:693–698

12.

Edge SB, Byrd DR, Compton CC, Fritz AG, Greene FL, Trotti A (2010) AJCC cancer staging manual, 7th edn. Springer, New York

13.

Hwang SH, Park J, Jee YS, Kim MC, Kim HH, Lee HJ, Yang HK, Lee KU (2009) Actual 3-year survival after laparoscopy-assisted gastrectomy for gastric cancer. Arch Surg 144:559–564

14.

Japanese Gastric Cancer Association (1998) Japanese classification of gastric carcinoma, 2nd english Edition. Gastric Cancer 1:10–24

15.

Nakajima T (2002) Gastric cancer treatment guidelines in Japan. Gastric Cancer 5:1–5

16.

Kim MC, Kim KH, Kim HH, Jung GJ (2005) Comparison of laparoscopy-assisted by conventional open distal gastrectomy and extraperigastric lymph node dissection in early gastric cancer. J Surg Oncol 91:90–94

17.

Kim HH, Hyung WJ, Cho GS, Kim MC, Han SU, Kim W, Ryu SW, Lee HJ, Song KY (2010) Morbidity and mortality of laparoscopic gastrectomy versus open gastrectomy for gastric cancer: an interim report—a phase III multicenter, prospective, randomized Trial (KLASS Trial). Ann Surg 251:417–420

18.

Park DJ, Lee HJ, Kim HH, Yang HK, Lee KU, Choe KJ (2005) Predictors of operative morbidity and mortality in gastric cancer surgery. Br J Surg 92:1099–1102

19.

Lee SW, Nomura E, Bouras G, Tokuhara T, Tsunemi S, Tanigawa N (2010) Long-term oncologic outcomes from laparoscopic gastrectomy for gastric cancer: a single-center experience of 601 consecutive resections. J Am Coll Surg 211:33–40

20.

Moriguchi S, Maehara Y, Korenaga D, Sugimachi K, Nose Y (1992) Risk factors which predict pattern of recurrence after curative surgery for patients with advanced gastric cancer. Surg Oncol 1:341–346

21.

Park CH, Song KY, Kim SN (2008) Treatment results for gastric cancer surgery: 12 years' experience at a single institute in Korea. Eur J Surg Oncol 34:36–41

22.

Yoo CH, Noh SH, Shin DW, Choi SH, Min JS (2000) Recurrence following curative resection for gastric carcinoma. Br J Surg 87:236–242

23.

Ahn HS, Lee HJ, Hahn S, Kim WH, Lee KU, Sano T, Edge SB, Yang HK (2010) Evaluation of the Seventh American Joint Committee on Cancer/International Union Against Cancer Classification of gastric adenocarcinoma in comparison with the sixth classification. Cancer 116:5592–5598

24.

Saito H, Osaki T, Murakami D, Sakamoto T, Kanaji S, Tatebe S, Tsujitani S, Ikeguchi M (2006) Effect of age on prognosis in patients with gastric cancer. ANZ J Surg 76:458–461
Acknowledgment
This study was supported by a grant from the National R&D Program for Cancer Control, Ministry of Health & Welfare, Republic of Korea (grant No. 0520310).
Disclosure
Drs. Do Joong Park, Sang-Uk Han, Woo Jin Hyung, Min Chan Kim, Wook Kim, Seong Yeob Ryu, Seung-Wan Ryu, Kyo Young Song, Hyuk-Joon Lee, Gyu-Seok Cho, and Hyung-Ho Kim have no conflicts of interest or financial ties to disclose.
About this article
Cite this article
Park, D.J., Han, S., Hyung, W.J. et al. Long-term outcomes after laparoscopy-assisted gastrectomy for advanced gastric cancer: a large-scale multicenter retrospective study. Surg Endosc 26, 1548–1553 (2012). https://doi.org/10.1007/s00464-011-2065-7
Received:

Accepted:

Published:

Issue Date:
Keywords
Laparoscopy-assisted gastrectomy

Advanced gastric cancer

Long-term survival