Abstract
Background
Appropriate lymphatic assessment is a cornerstone of definitive surgical resection for colorectal cancer. Near-infrared (NIR) laparoscopy may allow real-time intraoperative identification of territorial lymphatic drainage and sentinel nodes in patients with early-stage disease prior to radical basin resection.
Methods
With IRB approval and individual consent, consecutive patients with radiologically localized neoplasia underwent peritumoral submucosal injection of indocyanine green (ICG, a fluorophore capable of injection site tattooing and efferent lymphatic migration) prior to standard laparoscopic oncological resection. Intraoperatively, a prototype NIR laparoscope provided both white light and, by switch activation, NIR irradiation with or without discrete spectral back-filtration. Fluorescence identification of sentinel nodes prior to formal specimen dissection allowed their identification for separate histopathological analysis by in situ clipping when found within the specimen or selective lymphadenectomy by "berry-picking" when such nodes lay outside of the standard resection field. Concordance with nonsentinel nodes was then analysed.
Results
Eighteen patients (mean age = 66.4 years [range = 47.9–80.1], mean BMI = 29.1 [range = 20.0–39.9]) were studied. Fourteen had biopsy-proven carcinoma and four had endoscopically unresectable dysplasia. Mesocolic sentinel nodes (mean = 4.1/patient) were rendered obvious by fluorescence either solely within the standard resection field (n = 14) or both within and without the planned field (n = 4) within minutes of dye injection in every case. Laparoscopic ultrasound (n = 5) as well as histopathological analysis demonstrated oncologic correlation of mesocolic sentinel with corresponding territory nonsentinel nodes, correctly confirming the presence of mesocolic disease in 3 patients and the absence of such lymphatic spread in the remaining 15 patients.
Conclusions
In this study, NIR laparoscopy with ICG mapping allowed ready and rapid confirmation of mesocolic lymphatic drainage patterns and sentinel node identification. With further validation, this technology and technique promises precise, tailored resection surgery by indicating basin pattern and status in advance of radical lymphadenectomy.
This is a preview of subscription content, log in to check access.
Access options
Buy single article
Instant unlimited access to the full article PDF.
US$ 39.95
Price includes VAT for USA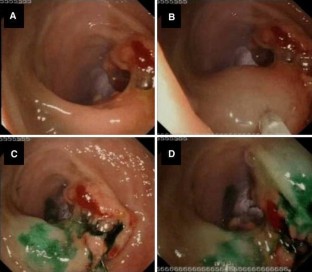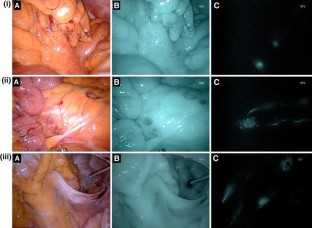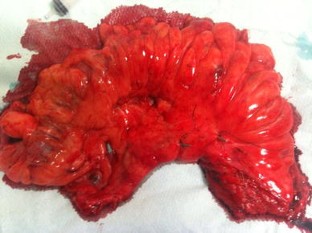 References
1.

Nakagoe T, Sawa T, Tsuji T, Jibiki M, Nanashima A, Yamaguchi H, Yasutake T, Ayabe H, Ishikawa H (2000) Carcinoma of the splenic flexure: multivariate analysis of predictive factors for clinicopathological characteristics and outcome after surgery. J Gastroenterol 35:528–535

2.

Lo Dico R, Lasser P, Goérè D, Malka D, Boige V, Pocard M (2010) Lymph road mapping obtained via blue sentinel node detection to avoid middle colic artery resection for highly selected colon cancer cases: proof of a concept? Tech Coloproctol 14:237–240

3.

Cahill RA, Bembenek A, Sirop S, Waterhouse DF, Schneider W, Leroy J, Wiese D, Beutler T, Bilchik A, Saha S, Schlag PM (2009) Sentinel node biopsy for the individualization of surgical strategy for cure of early-stage colon cancer. Ann Surg Oncol 16:2170–2180

4.

Cahill RA, Asakuma M, Perretta S, Leroy J, Dallemagne B, Marescaux J, Coumaros D (2009) Supplementation of endoscopic submucosal dissection with sentinel node biopsy performed by natural orifice transluminal endoscopic surgery (NOTES) (with video). Gastrointest Endosc 69:1152–1160

5.

Hohenberger W, Weber K, Matzel K, Papadopoulos T, Merkel S (2009) Standardized surgery for colonic cancer: complete mesocolic excision and central ligation—technical notes and outcome. Colorectal Dis 11:354–364

6.

West NP, Hohenberger W, Weber K, Perrakis A, Finan PJ, Quirke P (2010) Complete mesocolic excision with central vascular ligation produces an oncologically superior specimen compared with standard surgery for carcinoma of the colon. J Clin Oncol 28:272–278

7.

Meijerink WJ, van der Pas MH, van der Peet DL, Cuesta MA, Meijer S (2009) New horizons in colorectal cancer surgery. Surg Endosc 23:1–3

8.

Garcia-Aguilar J (2008) The future of surgical management of colorectal cancer. Dis Colon Rectum 51:1455–1458

9.

Price N, Gottfried MR, Clary E, Lawson DC, Baillie J, Mergener K, Westcott C, Eubanks S, Pappas TN (2000) Safety and efficacy of India ink and indocyanine green as colonic tattooing agents. Gastrointest Endosc 51:438–442

10.

Miyoshi N, Ohue M, Noura S, Yano M, Sasaki Y, Kishi K, Yamada T, Miyashiro I, Ohigashi H, Iishi H, Ishikawa O, Imaoka S (2009) Surgical usefulness of indocyanine green as an alternative to India ink for endoscopic marking. Surg Endosc 23:347–351

11.

Watanabe M, Tsunoda A, Narita K, Kusano M, Miwa M (2009) Colonic tattooing using fluorescence imaging with light-emitting diode-activated indocyanine green: a feasibility study. Surg Today 39:214–218

12.

van der Pas MH, van Dongen GA, Cailler F, Pèlegrin A, Meijerink WJ (2010) Sentinel node procedure of the sigmoid using indocyanine green: feasibility study in a goat model. Surg Endosc 24:2182–2187

13.

Murawa D, Hirche C, Dresel S, Hünerbein M (2009) Sentinel lymph node biopsy in breast cancer guided by indocyanine green fluorescence. Br J Surg 96:1289–1294

14.

Miyashiro I, Miyoshi N, Hiratsuka M, Kishi K, Yamada T, Ohue M, Ohigashi H, Yano M, Ishikawa O, Imaoka S (2008) Detection of sentinel node in gastric cancer surgery by indocyanine green fluorescence imaging: comparison with infrared imaging. Ann Surg Oncol 15:1640–1643

15.

Baker KJ (1966) Binding of sulfobromophthalein (BSP) sodium and indocyanine green (ICG) by plasma a1-lipoproteins. Proc Soc Exp Biol (NY) 122:957

16.

Leevy CM, Bender J, Silverberg M (1963) Physiology of dye extraction by the liver: comparative studies of sulfobromophthalein and indocyanine green. Ann NY Acad Sci 3:161

17.

Goresky CA (1964) Initial distribution and rate of uptake of sulfobromophthalein in the liver. Am J Physiol 207:13

18.

Paumgartner G (1975) The handling of indocyanine green by the liver. Schweiz Med Wochenschr 105:1

19.

Macular Photocoagulation Study Group (1990) Krypton laser photocoagulation for neovascularised lesions of age-related macular degeneration. Arch Ophthalmol 108:816–824

20.

Bourg-Heckly G, Blais J, Padilla JJ, Bourdon O, Etienne J, Guillemin F, Lafay L (2000) Endoscopic ultraviolet-induced autofluorescence spectroscopy of the esophagus: tissue characterization and potential for early cancer diagnosis. Endoscopy 32:756–765

21.

Yeung TM, Mortensen NJ (2011) Advances in endoscopic visualisation of colorectal polyps. Colorectal Dis 13:352–359

22.

Takeuchi Y, Uedo N, Higashino K, Ishihara R, Tatsuta M, Iishi H, Matsumura M (2010) Autofluorescence imaging of a diminutive, depressed-type early colon cancer invaded to the submucosal layer. Gastrointest Endosc 71:399–400

23.

Bilchik AJ, DiNome M, Saha S, Turner RR, Wiese D, McCarter M, Hoon DS, Morton DL (2006) Prospective multicenter trial of staging adequacy in colon cancer: preliminary results. Arch Surg 141:527–533

24.

Lim SJ, Feig BW, Wang H, Hunt KK, Rodriguez-Bigas MA, Skibber JM, Ellis V, Cleary K, Chang GJ (2008) Sentinel lymph node evaluation does not improve staging accuracy in colon cancer. Ann Surg Oncol 15:46–51

25.

Cahill RA (2007) What's wrong with sentinel node mapping in colon cancer? World J Gastroenterol 13:6291–6294

26.

Nissan A, Protic M, Bilchik A, Eberhardt J, Peoples GE, Stojadinovic A (2010) Predictive model of outcome of targeted nodal assessment in colorectal cancer. Ann Surg 251:265–274

27.

Cahill RA, Leroy J, Marescaux J (2008) Could lymphatic mapping and sentinel node biopsy provide oncological providence for local resectional techniques for colon cancer? A review of the literature. BMC Surg 8:17

28.

Bembenek AE, Rosenberg R, Wagler E, Gretschel S, Sendler A, Siewert JR, Nährig J, Witzigmann H, Hauss J, Knorr C, Dimmler A, Gröne J, Buhr HJ, Haier J, Herbst H, Tepel J, Siphos B, Kleespies A, Koenigsrainer A, Stoecklein NH, Horstmann O, Grützmann R, Imdahl A, Svoboda D, Wittekind C, Schneider W, Wernecke KD, Schlag PM (2007) Sentinel lymph node biopsy in colon cancer: a prospective multicenter trial. Ann Surg 245:858–863

29.

Hünerbein M, Totkas S, Ghadimi BM, Schlag PM (2000) Preoperative evaluation of colorectal neoplasms by colonoscopic miniprobe ultrasonography. Ann Surg 232:46–50

30.

Takeuchi H, Kitagawa Y (2008) Sentinel node biopsy without scars: Does natural orifice transluminal endoscopic surgery herald a new era for early GI cancer? Ann Surg Oncol 15:2639–2640

31.

Nordgård O, Oltedal S, Kørner H, Aasprong OG, Tjensvoll K, Gilje B, Heikkilä R (2009) Quantitative RT-PCR detection of tumor cells in sentinel lymph nodes isolated from colon cancer patients with an ex vivo approach. Ann Surg 249:602–607

32.

Cahill RA, Asakuma M, Trunzo J, Schomisch S, Wiese D, Saha S, Dallemagne B, Marks J, Marescaux J (2010) Intraperitoneal virtual biopsy by fibered optical coherence tomography (OCT) at natural orifice transluminal endoscopic surgery (NOTES). J Gastrointest Surg 14:732–738
Acknowledgments
Ronan Cahill received the Career Development Award from the Society of American Gastrointestinal and Endoscopic Surgeons (SAGES) for the purpose of advancing this work. In addition, all authors gratefully acknowledge the support of the Oxford Colon Cancer Trust (OCCTOPUS) and the Pharsalia Trust. The laparoscopic NIR system was provided under an unrestricted use agreement from Olympus, with the first author acting as consultant for the company from this perspective. No right of review of the data or manuscript was requested or provided. The authors greatly appreciate the interest and support of Mr. Glynn Burt and Mr. Ian Bennett (Olympus UK), Mr. Manocher Ganghlosi and Mr. Hulbert Baltes (Olympus Europa), and Mr Taniguchi (Olympus Tokyo). The authors also recognize the endeavour and contributions of Mr. Shaqil Ahmed, Dr. James East, Mr. Bruce George, Mr. Richard Guy, Mr. Roel Hoempes, and Mr. Oliver Jones in addition to those of Ms. Lian Lee, RN, and all of the Colorectal Department, Oxford Radcliffe Hospitals.
Disclosure
The laparoscopic NIR system was provided under an unrestricted use agreement from Olympus with Dr. Cahill acting as consultant for the company from this perspective. Drs. Anderson, Wang, Lindsey, Cunningham, and Mortensen have no conflicts of interest or financial ties to disclose.
Electronic supplementary material
Below is the link to the electronic supplementary material.
ICG injection technique by on-table sigmoidoscopy at the time of definitive laparoscopic resection (WMV 2568 kb)
NIR laparoscopic images in the same patient in Video 1 (WMV 80968 kb)
Further NIR laparoscopic images in another patient illustrating ICG tracing to the lateral iliac nodes (WMV 25896 kb)
Further case showing NIR laparoscopic images in a patient who underwent peritumoral ICG injection 24 h preoperatively (WMV 2817 kb)
ICG injection technique by on-table sigmoidoscopy at the time of definitive laparoscopic resection (WMV 2568 kb)
NIR laparoscopic images in the same patient in Video 1 (WMV 80968 kb)
Further NIR laparoscopic images in another patient illustrating ICG tracing to the lateral iliac nodes (WMV 25896 kb)
Further case showing NIR laparoscopic images in a patient who underwent peritumoral ICG injection 24 h preoperatively (WMV 2817 kb)
About this article
Cite this article
Cahill, R.A., Anderson, M., Wang, L.M. et al. Near-infrared (NIR) laparoscopy for intraoperative lymphatic road-mapping and sentinel node identification during definitive surgical resection of early-stage colorectal neoplasia. Surg Endosc 26, 197–204 (2012). https://doi.org/10.1007/s00464-011-1854-3
Received:

Accepted:

Published:

Issue Date:
Keywords
Laparoscopic colorectal cancer surgery

Early-stage colorectal cancer

Near-infrared (NIR) laparoscopy

Indocyanine green (ICG)

Lymphatic mapping

Sentinel node biopsy