Abstract
Background
The authors report a single-access transumbilical laparoscopic splenectomy (SATLS) performed with curved reusable instruments.
Methods
A 23-year-old female consulted for steroid-resistant idiopathic thrombocytopenic purpura and clinical evidence of secondary Cushing syndrome. Preoperative workup showed a normal-sized spleen and thrombocytopenia. The umbilicus was incised and a purse-string suture was applied. A reusable 11-mm trocar was inserted for a 10-mm, 30° angled scope. Curved reusable instruments (Karl Storz-Endoskope, Tuttlingen, Germany) were advanced without trocars transumbilically. After opening the splenocolic and gastrosplenic ligaments, the main splenic artery and vein were dissected off at the level of the hilum, clipped with 5-mm clips introduced transumbilically, and sectioned. Posterior splenic attachments were freed at the hilum cranially and caudally. The spleen was finally retrieved transumbilically in a plastic bag.
Results
Addition of supplementary trocars or incisions was not necessary. Operative time was 180 min and final umbilical scar 16 mm. The patient was discharged on postoperative day 3, and after 6 months she was doing well.
Conclusions
SATLS was feasible and safe to be performed using curved reusable instruments. The curves of the instruments permitted the surgeon to work in an ergonomic position, without the instruments clashing thanks to the obtained triangulation. Since only reusable instruments were used, the cost of SATLS remained similar to that of standard laparoscopy.
This is a preview of subscription content, log in to check access.
Access options
Buy single article
Instant unlimited access to the full article PDF.
US$ 39.95
Price includes VAT for USA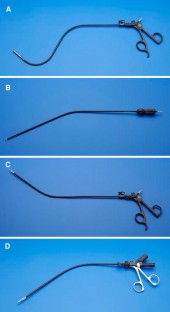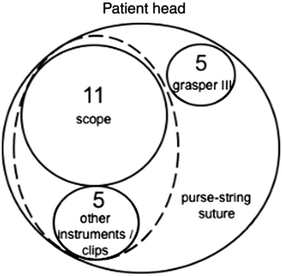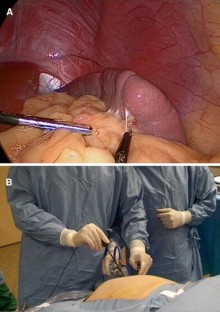 References
1.

Gill IS, Advincula AP, Aron M, Cadeddu J, Canes D, Curcillo PG II, Desai MM, Evanko JC, Falcone T, Fazio V, Gettman M, Gumbs AA, Haber GP, Kaouk JH, Kim F, King SA, Ponsky J, Remzi F, Rivas H, Rosemurgy A, Ross S, Schauer P, Sotelo R, Speranza J, Sweeney J, Teixeira J (2010) Consensus statement of the consortium for laparoendoscopic single-site surgery. Surg Endosc 24:762–768

2.

Barbaros U, Dinccag A (2009) Single incision laparoscopic splenectomy: the first two cases. J Gastrointest Surg 13:1520–1523

3.

Tam YH, Lee KH, Chan KW, Sihoe JD, Cheung ST, Pang KK (2010) Technical report on the initial cases of single-incision laparoscopic combined cholecystectomy and splenectomy in children, using conventional instruments. Surg Innnov 17:264–268

4.

Rottman SJ, Podolsky ER, Kim E, Kern J, Curcillo PG II (2010) Single port access (SPA) splenectomy. JSLS 14:48–52

5.

Hansen EN, Muensterer OJ (2010) Single incision laparoscopic splenectomy in a 5-year-old with hereditary spherocytosis. JSLS 14:286–288

6.

Hanna GB, Drew T, Clinch P, Hunter B, Cuschieri A (1998) Computer-controlled endoscopic performance assessment system. Surg Endosc 12:997–1000

7.

Dutta S (2009) Early experience with single incision laparoscopic surgery: eliminating the scar from abdominal operations. J Pediatr Surg 44:1741–1745

8.

Ponsky TA, Diluciano J, Chwals W, Parry R, Boulanger S (2009) Early experience with single-port laparoscopic surgery in children. J Laparoendosc Adv Surg Tech 19:551–553

9.

Malladi P, Hungness E, Nagle A (2009) Single access laparoscopic splenectomy. JSLS 13:601–604

10.

Romanelli JR, Earle DB (2009) Single-port laparoscopic surgery: an overview. Surg Endosc 23:1419–1427

11.

Targarona EM, Pallares JL, Balague C, Luppi CR, Marinello F, Hernandez P, Martinez C, Trias M (2010) Single incision approach for splenic diseases: a preliminary report on a series of 8 cases. Surg Endosc 24:2236–2240

12.

Kang CM, Lee JG, Kim KS, Choi JS, Lee WJ, Kim BR (2006) What we learned from the experience of laparoscopic splenectomy in patients with idiopathic thrombocytopenic purpura (ITP)—single surgeon experieces. Surg Laparosc Endosc Percutan Tech 16:151–155

13.

Targarona EM, Balague C, Martinez C, Pallares L, Estalella L, Trias M (2009) Single-port access: a feasible alternative to conventional laparoscopic splenectomy. Surg Innov 16:348–352
Disclosures
Giovanni Dapri is a consultant for Karl Storz-Endoskope (Tuttlingen, Germany). Dominique Bron, Jacques Himpens, Lorenzo Casali, Pietro Carnevali, Pavlos Koustas, and Guy-Bernard Cadière have no conflicts of interest or financial ties to disclose.
Additional information
This paper was a video presentation at the Annual Meeting of the Society of American Gastrointestinal Endoscopic Surgeons (SAGES), San Antonio, TX, March 30-April 2, 2011.
Electronic supplementary material
Below is the link to the electronic supplementary material.
Supplementary material 1 (MPG 59824 kb)
About this article
Cite this article
Dapri, G., Bron, D., Himpens, J. et al. Single-access transumbilical laparoscopic splenectomy using curved reusable instruments. Surg Endosc 25, 3419 (2011). https://doi.org/10.1007/s00464-011-1678-1
Received:

Accepted:

Published:
Keywords
Single access

Single port

Single incision

Laparoscopy

Splenectomy

Idiopathic thrombocytopenic purpura