Abstract
Background
Experience with advanced techniques has increased the indications for laparoscopic liver resection. This video demonstrates technical aspects of a pure laparoscopic mesohepatectomy using intrahepatic Glissonian technique. To the best of our knowledge, this is the first case of anatomic laparoscopic mesohepatectomy using the Glissonian approach published in the English literature.
Methods
A 62-year-old man with colorectal liver metastasis occupying central liver segments was referred for surgical treatment. The first step is the control of segment 4 pedicle. Using the round ligament as a guide, one incision is performed on its right margin and another is made at the bottom of segment 4. A vascular clamp is introduced through those incisions to occlude segment 4 Glissonian sheath. The next step is to control the right anterior pedicle. The first incision is made in front of the hilum and another is performed on the right edge of gallbladder bed. Laparoscopic clamp is introduced through these incisions and closed producing ischemic discoloration of segments 5 and 8. Vascular clamp is replaced by an endoscopic vascular stapling device and stapler is fired. Line of liver transection is marked along the liver surface following ischemic area. Liver transection is accomplished with bipolar vessel sealing device and endoscopic stapling device as appropriate. Specimen was extracted through a suprapubic incision. Liver raw surfaces were reviewed for bleeding and bile leaks.
Results
Operative time was 200 min with minimum blood loss and no need for blood transfusion. Recovery was uneventful, and the patient was discharged on the fifth postoperative day. Histological examination revealed clear surgical margins.
Conclusions
Mesohepatectomy can be safely performed laparoscopically in selected patients and by surgeons with expertise in both liver surgery and laparoscopic techniques. The use of the intrahepatic Glissonian approach may help to identify the exact limits of the mesohepatectomy to avoid ischemic injury of the remnant liver.
This is a preview of subscription content, log in to check access.
Access options
Buy single article
Instant unlimited access to the full article PDF.
US$ 39.95
Price includes VAT for USA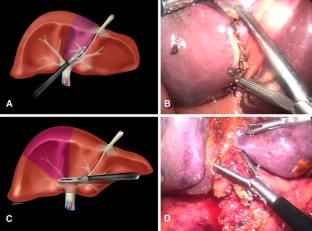 References
1.

Fong Y, Fortner J, Sun RL, Brennan MF, Blumgart LH (1999) Clinical score for predicting recurrence after hepatic resection for metastatic colorectal cancer: analysis of 1001 consecutive cases. Ann Surg 230:309–318

2.

Koffron AJ, Auffenberg G, Kung R, Abecassis M (2007) Evaluation of 300 minimally invasive liver resections at a single institution: less is more. Ann Surg 246:385–392

3.

Machado MA, Makdissi FF, Galvão FH, Machado MC (2008) Intrahepatic Glissonian approach for laparoscopic right segmental liver resections. Am J Surg 196:e38–e42

4.

Machado MA, Makdissi FF, Surjan RC, Herman P, Teixeira AR, Machado MC (2009) Laparoscopic resection of left liver segments using the intrahepatic Glissonian approach. Surg Endosc 23:2615–2619

5.

Gumbs AA, Gayet B (2008) Totally laparoscopic central hepatectomy. J Gastrointest Surg 12:1153

6.

Dagher I, Giuro GD, Dubrez J, Lainas P, Smadja C, Franco D (2009) Laparoscopic versus open right hepatectomy: a comparative study. Am J Surg 198:173–177

7.

Machado MA, Makdissi FF, Surjan RC, Oliveira AC, Pilla VF, Teixeira AR (2009) Intrahepatic Glissonian approach for laparoscopic right trisectionectomy. J Laparoendosc Adv Surg Tech A 19(6):777–778

8.

Machado MA, Herman P, Machado MC (2007) Intrahepatic Glissonian approach for pedicle control during anatomic mesohepatectomy. Surgery 141(4):533–537
Disclosures
Drs. Machado and Kalil have no conflicts of interest or financial ties to disclose.
Electronic supplementary material
Below is the link to the electronic supplementary material.
Supplementary material 1 (WMV 56086 kb)
About this article
Cite this article
Machado, M.A., Kalil, A.N. Glissonian approach for laparoscopic mesohepatectomy. Surg Endosc 25, 2020–2022 (2011). https://doi.org/10.1007/s00464-010-1483-2
Received:

Accepted:

Published:

Issue Date:
Keywords
Liver

Surgery

Laparoscopy

Metastasis

Colorectal

Technique

Glissonian