This is a preview of subscription content, log in to check access.
Access options
Buy single article
Instant unlimited access to the full article PDF.
US$ 39.95
Price includes VAT for USA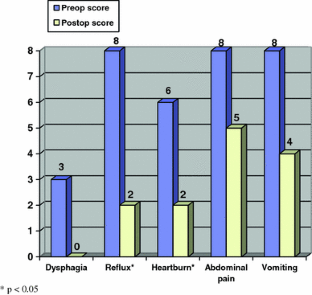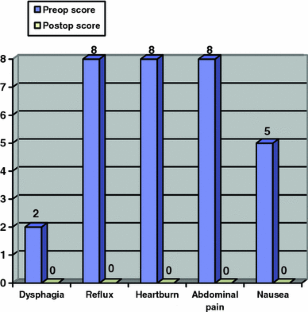 References
1.

Christou NV, Sampalis JS, Liberman M, Look D, Auger S, McLean AP, MacLean LD (2004) Surgery decreases long-term mortality, morbidity, and health care use in morbidly obese patients. Ann Surg 240:416–423

2.

Busetto L, Mirabelli D, Petroni ML, Mazza M, Favretti F, Segato G, Chiusolo M, Merletti F, Balzola F, Enzi G (2007) Comparative long term mortality after laparoscopic adjustable gastric banding versus nonsurgical controls. Surg Obes Relat Dis 3:496–502

3.

Radecke K, Gerken G, Treichel U (2005) Impact of a self-expanding, plastic esophageal stent on various esophageal stenoses, fistulas, and leakages: a single-center experience in 39 patients. Gastrointest Endosc 61:812–818

4.

Song GA, Kang DH, Kim TO, Heo J, Kim GH, Cho M, Heo JH, Kim JY, Lee JS, Jeoung YJ, Jeon TY, Kim DH, Sim MS (2007) Endoscopic stenting in patients with recurrent malignant obstruction after gastric surgery: uncovered versus simultaneously deployed uncovered and covered (double) self-expandable metal stents. Gastrointest Endosc 65:782–787

5.

Thompson AM, Rapson T, Gilbert FJ, Park KG (2004) Endoscopic palliative treatment for esophageal and gastric cancer: techniques, complications, and survival in a population-based cohort of 948 patients. Surg Endosc 18:1257–1262

6.

Kim GH, Kang DH, Lee DH, Heo J, Song GA, Cho M, Yang US (2004) Which types of stent, uncovered or covered, should be used in gastric outlet obstructions? Scand J Gastroenterol 39:1010–1014

7.

Ko HK, Song HY, Shin JH, Lee GH, Jung HY, Park SI (2007) Fate of migrated esophageal and gastroduodenal stents: experience in 70 patients. J Vasc Interv Radiol 18:725–732

8.

Salinas A, Baptista A, Santiago E, Antor M, Salinas H (2006) Self-expandable metal stents to treat gastric leaks. Surg Obes Relat Dis 2:570–572

9.

Eubanks S, Edwards CA, Fearing NM, Ramaswamy A, de la Torre RA, Thaler KJ, Miedema BW, Scott JS (2008) Use of endoscopic stents to treat anastomotic complications after bariatric surgery. J Am Coll Surg 206:935–938

10.

Fukumoto R, Orlina J, McGinty J, Teixeira J (2007) Use of polyflex stents in treatment of acute esophageal and gastric leaks after bariatric surgery. Surg Obes Relat Dis 3:68–72

11.

Langer FB, Wenzl E, Prager G, Salat A, Miholic J, Mang T, Zacherl J (2005) Management of postoperative esophageal leaks with the polyflex self-expanding covered plastic stent. Ann Thorac Surg 79:398–403

12.

Hünerbein M, Stroszczynski C, Moesta KT, Schlag PM (2004) Treatment of thoracic anastomotic leaks after esophagectomy with self-expanding plastic stents. Ann Surg 240:801–807

13.

Schubert D, Scheidbach H, Kuhn R, Wex C, Weiss G, Eder F, Lippert H, Pross M (2005) Endoscopic treatment of thoracic esophageal anastomotic leaks by using silicone-covered, self-expanding polyester stents. Gastrointest Endosc 61:897–900

14.

Eisendrath P, Cremer M, Himpens J, Cadière GB, Le Moine O, Devière J (2007) Endotherapy including temporary stenting of fistulas of the upper gastrointestinal tract after laparoscopic bariatric surgery. Endoscopy 39:625–630

15.

Song HY, Park SI, Do YS, Yoon HK, Sung KB, Sohn KH, Min YI (1997) Expandable metallic stent placement in patients with benign esophageal strictures: results of long-term follow-up. Radiology 203:131–136
Disclosures
Authors Atif Iqbal, Brent Miedema, Archana Ramaswamy, Nicole Fearing, Roger DeLaTorre, Youngju Pak, Caleb Steffen, and Klaus Thaler have no conflicts of interest or financial ties to disclose.
Electronic supplementary material
Below is the link to the electronic supplementary material.
Supplementary material 1 (WMV 22631 kb)
Supplementary material 2 (WMV 17459 kb)
About this article
Cite this article
Iqbal, A., Miedema, B., Ramaswamy, A. et al. Long-term outcome after endoscopic stent therapy for complications after bariatric surgery. Surg Endosc 25, 515–520 (2011). https://doi.org/10.1007/s00464-010-1203-y
Received:

Accepted:

Published:

Issue Date:
Keywords
Bariatric Surgery

Sleeve Gastrectomy

Stent Placement

Migration Rate

Stent Migration