Peritoneal changes due to laparoscopic surgery
Abstract
Background
Laparoscopic surgery has been incorporated into common surgical practice. The peritoneum is an organ with various biologic functions that may be affected in different ways by laparoscopic and open techniques. Clinically, these alterations may be important in issues such as peritoneal metastasis and adhesion formation.
Methods
A literature search using the Pubmed and Cochrane databases identified articles focusing on the key issues of laparoscopy, peritoneum, inflammation, morphology, immunology, and fibrinolysis.
Results
Laparoscopic surgery induces alterations in the peritoneal integrity and causes local acidosis, probably due to peritoneal hypoxia. The local immune system and inflammation are modulated by a pneumoperitoneum. Additionally, the peritoneal plasmin system is inhibited, leading to peritoneal hypofibrinolysis.
Conclusion
Similar to open surgery, laparoscopic surgery affects both the integrity and biology of the peritoneum. These observations may have implications for various clinical conditions.
Keywords
Fibrinolysis 
Growth factors 
Immune system 
Inflammation 
Laparoscopy 
Mesothelial cells 
Peritoneum 
Plasmin 
In recent decades, laparoscopic techniques have been integrated into common surgical practices. The rationale for the acceptance of these techniques is evident. Laparoscopic procedures have been associated with a shorter hospital stay and an earlier return to normal activities and work [1, 2]. The avoidance of a median laparotomy reduces the incidence of cicatricial hernia, and by minimizing surgical trauma, likely decreases the incidence of postoperative adhesions [3]. Moreover, endoscopic surgery is associated with superior cosmesis.
The abdominal cavity is lined by the peritoneum, which comprises a single layer of mesothelial cells supported by a basement membrane and an underlying sheet of connective tissue. The peritoneal organ has multiple biologic functions including regulation of inflammation, fibrinolysis, angiogenesis, and tissue remodeling processes [4, 5, 6, 7]. Surgical trauma results in mesothelial damage and elicits an inflammatory response. Mesothelial cells balloon and detach from the basal membrane, thereby creating denuded areas. The inflammatory reaction is accompanied by the production and release of a broad spectrum of biologically active proteins and the exudation of protein-rich fluid. The peritoneal fibrinolytic response is rapidly disturbed [8, 9].
The minimal invasive character of laparoscopic surgery may reduce surgical trauma to the peritoneum. Laparoscopic procedures, however, introduce novel entities in the abdominal cavity such as increased abdominal pressure, insufflation gases, and temperature shifts, all of which may affect peritoneal integrity and biology. The current study was performed to review the literature concerning the biologic repercussions of laparoscopic surgery to the peritoneal organ.
Methods
A search of the MEDLINE and Cochrane databases was conducted to identify reports describing peritoneal changes due to laparoscopy. The following MeSH search terms were used: "laparoscopy," "peritoneum," "inflammation," "morphology," "immunology" and "fibrinolysis." These terms were applied in various combinations in addition to the use of the "related articles" function. A total of 113 articles were selected and assessed. Manual cross-referencing was performed, and relevant references from selected papers were reviewed. The articles were restricted to those in the English language.
Discussion
The current review shows that laparoscopic surgery has a profound effect on both peritoneal integrity and its biology. The immune system is altered and the plasmin system inhibited. Moreover, laparoscopy induces peritoneal acidosis, probably due to decreased local oxygen pressure. Many of the available data have been derived from experimental studies. It is unclear how these experimental data can be translated clinically (Fig. 
1
).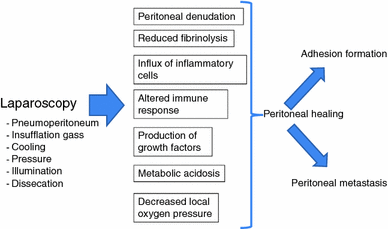 The described changes may have been induced by various factors of laparoscopic surgery. Which effect is induced by which component of laparoscopic surgery is not obvious. First, the abdominal temperature may be important. A decreased temperature has been shown to inhibit the plasmin system and affect local cytokine concentrations. Second, the intense illumination of the peritoneum may affect the peritoneum, either directly or indirectly, by causing local dissecation. Local TGF-β levels were affected by the intensity of light. Other components are intraabdominal pressure, duration of procedure, choice of dissection devices, dissecation, and the insufflation gas. Carbon dioxide, the most frequently used insufflation gas, has been shown to affect the peritoneal morphology and to cause local hypoxia, leading to acidosis. Moreover, CO2 affects the local inflammatory response and disturbs peritoneal fibrinolysis. Other gases, such as helium or air, do not always induce similar effects. Additional studies are needed to elucidate the individual effects of all the described components.
The effects of laparoscopy on peritoneal integrity and biology may have repercussions for the occurrence of peritoneal metastasis. Although dissemination of tumor cells to the peritoneum is not exceptional, mechanisms of action have not been fully elucidated. Only when the mesothelial cell layer has been breached may tumor cells infiltrate and proliferate within the submesothelial connective tissue matrix. The early bulging of mesothelial cells during laparoscopic procedures may facilitate this phenomenon. Some experimental studies have suggested a prominent role of neutrophils in the occurrence of peritoneal metastasis. Others have proposed that tumor-conditioned media or exogenous inflammatory cytokines may induce mesothelial retraction and disaggregation to gain access to the submesothelial connective tissue.
The results from the current review show a remarkable effect of laparoscopic surgery on peritoneal immunology and inflammation. Adhesion molecules may play an important role as well. Tumor cells have been shown to adhere rapidly to the mesothelial cell layer and play a role for the cell adhesion molecule CD44 and the integrins β1, α2, α3, and α5 in mesothelial invasion [77]. Studies focusing on the effects that laparoscopic surgery has on the expression of these adhesion molecules are therefore indicated.
Postsurgical adhesion formation remains a major concern because it may cause severe and life-threatening complications such as small bowel obstruction. The economic burden of adhesions is high [78]. Despite the observations that the incidence of adhesions after laparoscopic surgery may be lower than after open surgery, efforts to reduce their occurrence still appear to be indicated.
There is considerable evidence that the plasmin system plays a key role in the pathophysiology of intraabdominal adhesions. Clinical studies on the peritoneal fibrinolytic response to conventional surgery using sequential biopsies taken during the procedure have shown a progressive peritoneal hypofibrinolysis. During laparoscopic procedures, a prolonged period of surgery was needed before tPA levels decreased, a finding in contrast to the situation during open surgery, in which a rapid decline in tPA levels has been shown in several studies. This might be due to a less intensive or a different peritoneal trauma during laparoscopic surgery, compared with open surgery. These observations warrant further research focused on various components of laparoscopic surgery and the peritoneal healing process.
Laparoscopic procedures are regularly indicated for various infectious diseases such as perforated appendicitis and diverticulitis. Laparoscopic peritoneal lavage is frequently performed under these circumstances. Animal studies have suggested that microbial adherence to the peritoneum is high, which may negatively affect the results of the lavage. Whether the effects of laparoscopic surgery on peritoneal biology affect this microbial adherence either positively or negatively compared with open lavage remains to be investigated. This may be clinically important because lavage-resistant bacteria may be a source of persistent infection and may cause, through translocation, septic complications.
In conclusion, the results of the current review show that laparoscopic surgery affects the integrity of the peritoneum and its biologic activity. Information about separate components of laparoscopic surgery and their specific effects remains to be elucidated.
Notes
Disclosures
W. J. A. Brokelman, M. Lensvelt, I. H. M. Borel Rinkes, J. H. G. Klinkenbijl, and M. M. P. J. Reijnen have no conflicts of interest or financial ties to disclose.
Open Access
This article is distributed under the terms of the Creative Commons Attribution Noncommercial License which permits any noncommercial use, distribution, and reproduction in any medium, provided the original author(s) and source are credited.