Abstract
Background
External dissection of Calot's triangle and the gallbladder associated with complete cholecystectomy is considered the gold standard technique to achieve a safe cholecystectomy. However, in severe acute or chronic cholecystitis, the laparoscopic application of this standard technique may be technically difficult, with an increased risk of bile duct injury, even in the hands of an experienced surgeon.
Methods
In a consecutive series of 552 cholecystectomies, 39 patients (7.1%) with difficult local conditions within Calot's triangle, such as gangrenous cholecystitis (three patients), severe scleroatrophic cholecystitis with or without anomalous right hepatic duct (24 and 10 patients, respectively), or Mirizzi syndrome (seven patients), underwent a routine exclusive "endovesicular approach" as an alternative to dissection of Calot's triangle prior to further subtotal cholecystectomy. All patients were examined by control cholangiography 3 months postoperatively to confirm the safety of the technique.
Results
The operation was well tolerated by all patients with only 15.4% minor complications. Intraoperative cholangiography was feasible in 79.5%. There were no postoperative biliary or infectious complications. At 4.3 months follow-up, all patients were symptom-free, except for two patients (5.1%) with residual common bile duct stones which were successfully treated by endoscopic sphincterotomy.
Conclusions
An endovesicular approach for gallbladder dissection followed by subtotal cholecystectomy is a safe alternative to the classic Calot's dissection in the case of severe cholecystitis or difficult local conditions. This technique is recommended as an attractive solution to prevent bile duct injury, particularly when severe inflammation is associated to extrahepatic anatomic variants of the biliary tree.
This is a preview of subscription content, log in to check access.
Access options
Buy single article
Instant unlimited access to the full article PDF.
US$ 39.95
Price includes VAT for USA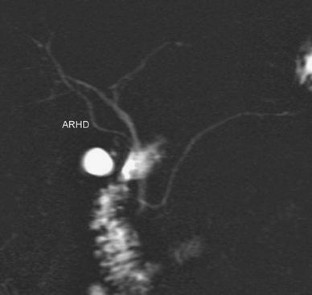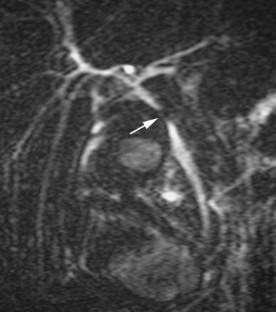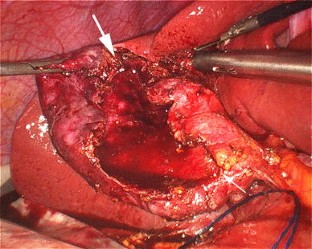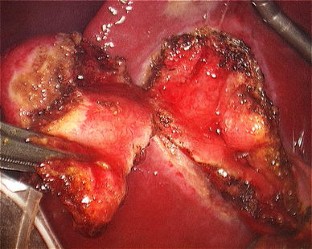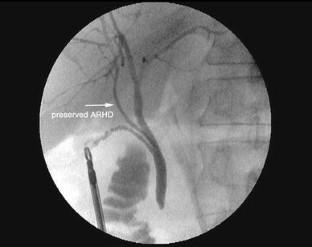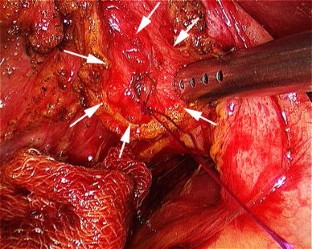 Abbreviations
ARHD:

Anomalous right hepatic duct

BDI:

Bile duct injury

CBDS:

Common bile duct stones

IOC:

Intraoperative cholangiography

LC:

Laparoscopic cholecystectomy

MRC:

Magnetic resonance cholangiography

SC:

Subtotal cholecystectomy
References
1.

National Institutes of Health Consensus Conference (1993) Gallstones and laparoscopic cholecystectomy. JAMA 269:1018–1024

2.

Neugebauer E, Troidl H, Kum CK, Eypasch E, Miserez M, Paul A (1995) The EAES Consensus Development Conferences on laparoscopic cholecystectomy, appendectomy, and hernia repair. Consensus statements—The Educational Committee of the European Association for Endoscopic Surgery. Surg Endosc 9:550–563

3.

Neugebauer E, Sauerland S, Troidl H (2000) Recommendations for evidence-based endoscopic surgery. The updated EAES Consensus Development Conferences. Springer, Berlin

4.

Kiviluoto T, Siren J, Luukkonen P, Kivilaakso E (1998) Randomised trial of laparoscopic versus open cholecystectomy for acute and gangrenous cholecystitis. Lancet 351:321–325

5.

Calvete J, Sabater L, Camps B, Verdu A, Gomez-Portilla A, Martin J, Torrico MA, Fior B, Cassinello N, Liedo S (2000) Bile duct injury during laparoscopic cholecystectomy. Myth or reality of the learning curve? Surg Endosc 14:608–611

6.

Gigot J, Etienne J, Aerts R, Wibin E, Dallemagne B, Deweer F, Fortunati D, Legrand M, Vereecken L, Doumont J, Van reepinghen P, Beguin C (1997) The dramatic reality of biliary tract injury during laparoscopic cholecystectomy. An anonymous multicenter Belgian survey of 65 patients. Surg Endosc 11:1171–1178

7.

Kum CK, Eypasch E, Lefering R, Paul A, Neugebauer E, Troidl H (1998) Laparoscopic cholecystectomy for acute cholecystitis: is it really safe? World J Surg 20:43–49

8.

Bornman PC, Terblanche J (1985) Subtotal cholecystectomy: for the difficult gallbladder in portal hypertension and cholecystitis. Surgery 98:1–6

9.

Bickel A, Shtamler B (1993) Laparoscopic subtotal cholecystectomy. J Laparoendosc Surg 3:365–367

10.

Palanivelu C, Rajan PS, Jani K, Shetty AR, Sendhilkumar K, Senthilnathan P, Parthasarthi R (2006) Laparoscopic cholecystectomy in cirrhotic patients: the role of subtotal cholecystectomy and its variants. J Am Coll Surg 203:145–151

11.

American Society of Anaesthesiologists (1963) New classification of physical status. Anesthesiology 24:111

12.

Dindo D, Demartines N, Clavien PA (2004) Classification of surgical complications: a new proposal with evaluation in a cohort of 6336 patients and results of a survey. Ann Surg 240:205–213

13.

Mouiel J, Katkhouda N (1991) La cholécystectomie par laser en coeliochirurgie. In: Testas P, Delaitre B (eds) Chirurgie Digestive par Voie Coelioscopique. Maloine, Paris, pp 113–119

14.

Strasberg SM, Hertl M, Soper NJ (1995) An analysis of the problem of biliary injury during laparoscopic cholecystectomy. J Am Coll Surg 180:101–125

15.

McMahon AJ, Fullarton G, Baxter JN, O'Dwyer PJ (1995) Bile duct injury and bile leakage in laparoscopic cholecystectomy. Br J Surg 82:307–313

16.

Taniguchi Y, Ido K, Kimura K, Yoshida Y, Ohtani M, Kawamoto C, Isoda N, Suzuki T, Kumagai M (1993) Introduction of a "Safety Zone" for the safety of laparoscopic cholecystectomy. Am J Gastroenterol 88:1258–1261

17.

Ido K, Isoda N, Kawamoto C, Suzuki T, Ioka T, Nagamine N, Taniguchi Y, Kumagai M, Kimura K (1996) Confirmation of a "safety zone" by intraoperative cholangiography during laparoscopic cholecystectomy. Surg Endosc 10:798–800

18.

Varotti G, Gondolesi GE, Goldman J, Wayne M, Florman SS, Schwartz ME, Miller CM, Emre S (2004) Anatomic variations in right liver living donors. J Am Coll Surg 198:577–582

19.

Webb M, Puig R, Khan F, Nery J, Russell E, Tzakis A (1998) Intraoperative donor cholangiography. Liver Transpl Surg 4:297–299

20.

Uchiyama K, Tani M, Kawai M, Ueno M, Hama T, Yamaue H (2006) Preoperative evaluation of the extrahepatic bile duct structure for laparoscopic cholecystectomy. Surg Endosc 20:1119–1123

21.

Ausch C, Hochwarter G, Taher M, Holzer B, Rosen HR, Urban M, Sebesta C, Hruby W, Schiessel R (2005) Improving the safety of laparoscopic cholecystectomy: the routine use of preoperative magnetic resonance cholangiography. Surg Endosc 19:574–580

22.

Ibrarullah MD, Kacker LK, Sikora SS, Saxena R, Kapoor VK, Kaushik SP (1993) Partial cholecystectomy—safe and effective. HPB Surg 7:61–65

23.

Bickel A, Lunsky I, Mizrahi S, Shtamler B (1990) Modified subtotal cholecystectomy for high risk patients. Can J Surg 33:13–14

24.

Soleiman M, Mehrabi A, Mood ZA, Fonouni H, Kashfi A, Büchler M, Schmidt J (2007) Partial cholecystectomy as a safe and viable option in the emergency treatment of complex acute cholecystitis: a case series and review of the literature. Am Surg 5:498–507

25.

Crosthwaite G, McKay C, Anderson JR (1995) Laparoscopic subtotal cholecystectomy. J R Coll Surg Edinb 40:20–21

26.

Michalowski K, Bornman PC, Krige JE, Gallagher PJ, Terblanche J (1998) Laparoscopic subtotal cholecystectomy in patients with complicated acute cholecystitis or fibrosis. Br J Surg 85:904–906

27.

Chowbey PK, Sharma A, Khullar R, Mann V, Baijal M, Vashistha A (2000) Laparoscopic subtotal cholecystectomy: a review of 56 procedures. J Laparoendosc Adv Surg Tech 10:31–34

28.

Beldi G, Glattli A (2003) Laparoscopic subtotal cholecystectomy for severe cholecystitis. Surg Endosc 17:1437–1439

29.

Rohatgi A, Singh KK (2006) Mirizzi syndrome: laparoscopic management by subtotal cholecystectomy. Surg Endosc 20:1477–1481

30.

Misra M, Schiff J, Rendon G, Rothschild J, Schwaitzberg S (2005) Laparoscopic cholecystectomy after the learning curve. What should we expect? Surg Endosc 19:1266–1271

31.

Navez B, Gigot JF (2005) La cholécystectomie. In: Gigot JF (ed) Techniques chirurgicales: la chirurgie des voies biliaires. Masson, Paris
Disclosures
Drs. Hubert, Annet, van Beers, and Gigot have no conflicts of interest or financial ties to disclose.
Electronic supplementary material
Below is the link to the electronic supplementary material.
Supplementary material 1 (MPG 190172 kb)
About this article
Cite this article
Hubert, C., Annet, L., van Beers, B.E. et al. The "inside approach of the gallbladder" is an alternative to the classic Calot's triangle dissection for a safe operation in severe cholecystitis. Surg Endosc 24, 2626–2632 (2010). https://doi.org/10.1007/s00464-010-0966-5
Received:

Accepted:

Published:

Issue Date:
Keywords
Laparoscopic cholecystectomy

Subtotal cholecystectomy

Mirizzi syndrome

Cholecystitis

Biliary anomaly

Bile duct injury