Abstract
Background
Gastric band erosion is a well-reported complication after laparoscopic adjustable gastric banding (LAGB). The published literature is limited and inconclusive with regard to its management. The authors therefore reviewed all band erosions detected during a 5-year period in a high-volume bariatric practice. Because a significant proportion of the band insertions (65%) were undertaken by an operator beyond his learning curve, the authors hoped to gain a mature, comprehensive understanding of this significant complication.
Methods
The authors retrospectively reviewed the operative log of the operating theaters in their obesity surgery unit to find all the operations performed on LAGB patients for erosion from January 2003 to December 2007. The clinical notes and electronic records for each patient were reviewed. These data were cross-referenced against the authors' obesity surgery database, and denominator data such as the total number operations performed and demographics were found. Finally, postoperative outcomes were collated from the outpatient follow-up data and telephonic interviews, and the results were analyzed.
Results
From January 2003 to December 2007, a single surgeon performed 865 LAGBs in the authors' unit. The authors identified 18 operations performed for LAGB erosions. The 18 patients (one referred from elsewhere, 14 women) formed the final study cohort (median preoperative body mass index [BMI], 46 kg/m2). Of the 17 erosions, 15 occurred relatively early in the series. The patients with the 213 Swedish adjustable gastric bands experienced 12 erosions (incidence, 5.6%) compared with 6 erosions with the 652 LAP-BANDs (incidence, 0.9%). The median time to presentation was 7 months (range, 1–60 months). However, 55% of the erosions (n = 10) occurred within the first year, and only 10% occurred after the second year. The most common presenting symptom was pain followed by weight regain. None of the patients experienced peritonitis. After surgical management of the erosion, three patients had a second LAGB and at this writing are well. Of the remaining patients, 11 are well, but 6 of these patients have returned to their previous weight (4 patients were lost to follow-up evaluation).
Conclusions
The overall incidence of LAGB erosions in our series was 1.96%. This incidence fell with increasing experience to 0.5% after the initial 300 bands were excluded from the analysis (3 band erosions in the last 565 band insertions). However, further increases in incidence are likely with a longer follow-up period. The most common presentation was abdominal pain followed by weight regain and port-site sepsis. In the authors' hands, laparoscopic omental plugging and band removal through a separate anterior gastrotomy appear to be effective methods for dealing with band erosions. Band erosion is a significant source of morbidity, with at least one-third of the erosion patients in our series not achieving their final goal of weight loss despite appropriate treatment. This study highlights the need for a future prospective randomized study to clarify the apparent strong influence of band design and construction on the etiopathogenesis of band erosion.
This is a preview of subscription content, log in to check access.
Access options
Buy single article
Instant access to the full article PDF.
US$ 39.95
Price includes VAT for USA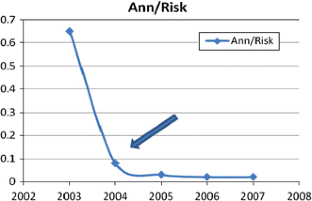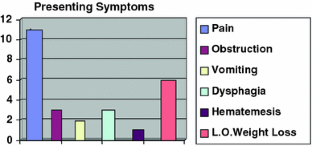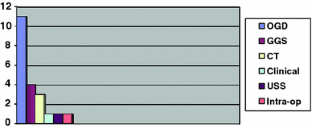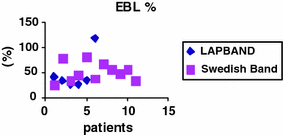 References
1.

James PT, Rigby N, Leach R (2004) The obesity epidemic, metabolic syndrome and future prevention strategies. Eur J Cardiovasc Prev Rehab 11:3–8

2.

Kaplan L (2003) Presentation at Digestive Disease Week 2003, Orlando, FL

3.

York DA, Rössner S, Caterson I, Chen CM, James WP, Kumanyika S, Martorell R, Vorster HH (2004) Prevention conference VII: obesity, a worldwide epidemic related to heart disease and stroke: group I: worldwide demographics of obesity. Circulation 110:463–470

4.

Rao AD, Ramalingam G (2006) Exsanguinating hemorrhage following gastric erosion after laparoscopic adjustable gastric banding. Obes Surg 16:1675–1678

5.

Bueter M, Thalheimer A, Mayer D, Fein M (2006) Band erosion and passage, causing small bowel obstruction. Obes Surg 16:1679–1682

6.

Bueter M, Maroske J, Thalheimer A, Gasser M, Stingl T, Heimbucher J, Meyer D, Fuchs KH, Fein M (2008) Short- and long-term results of laparoscopic gastric banding for morbid obesity. Langenbecks Arch Surg 393:199–205

7.

Abu-Abeid S, Szold A (2001) Laparoscopic management of lAP-BAND erosion. Obes Surg 11:87–89

8.

Westling A, Bjurling K, Ohrvall M, Gustavsson S (1998) Silicone-adjustable gastric banding: disappointing results. Obes Surg 8:467–474

9.

Mikhail S, Caiazzo R, Amalsteen L, Andrieux S, Maunoury V, Dezfoulian G, Boitard J, Verkindt H, Romon M, Pattou F (2009) Transgastric band migration after laparoscopic adjustable gastric banding: long-term incidence appears higher than expected. Abstract from the 3rd congress of the international federation for the surgery of obesity and metabolic disorders, Capri, Italy. Obes Surg 18(Suppl 1):110

10.

Cherian PT, Goususs G, Ashori F, Sigurdsson A (2009) Management of band erosion with omental plugging: case series of an operative technique from a 5-year laparoscopic gastric banding experience. Abstract from the 14th congress of the European association of endoscopic surgeons, Stockholm, Sweden. Surg Endosc 23(Suppl 1):840

11.

World Health Organisation (2000) Obesity: preventing and managing the global epidemic. World Health Organ Technical Report Series 894:i–xii, 1–253

12.

Favretti F, Segato G, Ashton D, Busetto L, De Luca M, Mazza M, Ceoloni A, Banzato O, Calo E, Enzi G (2007) Laparoscopic adjustable gastric banding in 1,791 consecutive obese patients: 12-year results. Obes Surg 17:168–175

13.

Lattuada E, Zappa MA, Mozzi E, Gazzano G, Francese M, Antonini I, Radaelli S, Roviaro G (2006) Histologic study of tissue reaction to the gastric band: does it contribute to the problem of band erosion? Obes Surg 16:1155–1159

14.

Forsell P, Hallerback B, Glise H, Hellers G (1999) Complications following Swedish adjustable gastric banding: a long-term follow-up. Obes Surg 9:11–16

15.

Meir E, Van Baden M (1999) Laparoscopic adjustable silicone gastric banding and band erosion: personal experience and hypothesis. Obes Surg 9:191–193

16.

Abu-Abeid S, Keidar A, Gavert N, Blanc A, Szold A (2003) The clinical spectrum of band erosion following laparoscopic adjustable silicone gastric banding for morbid obesity. Surg Endosc 17:861–863

17.

Mittermair RP, Weiss H, Nehoda H, Aigner F (2002) Uncommon intragastric migration of Swedish adjustable gastric band. Obes Surg 12:372–375

18.

Hainaux B, Agneessens E, Rubesova E, Muls V, Gaudissart Q, Moschopoulos C, Cadière GB (2005) Intragastric band erosion after laparoscopic gastric banding for morbid obesity: imaging characteristics of an underreported complication. AJR Am J Roentgenol 184:109–112

19.

Rojas-Ortegas S, Marin-Lopez E (2002) Gastric band complication in morbid obesity. Revista de Gastroenterología de México 67:214

20.

Dukhno O, Ovnat A, Levy I (2003) Our experience with 250 laparoscopic adjustable silicone gastric bandings. Surg Endosc 17:601–602

21.

Lucchese M, Alessio F, Valeri A, Cantelli G, Venneri F, Borrelli D (1999) Adjustable gastric banding: advantages and disadvantages. Obes Surg 9:269–271

22.

Baldinger R, Mluench R, Steffen R, Ricklin TP, Reidtmann HJ, Horber FF (2001) Conservative management of intragastric migration of Swedish adjustable gastric band by endoscopic retrieval. Gastrointest Endosc 53:98–101

23.

Campos J (2007) Hypovolemic shock due to intragastric migration of an adjustable gastric band. Obes Surg 17:562–564

24.

Egbeare DM, Myers AF, Lawrance RJ (2008) Small bowel obstruction secondary to intragastric erosion and migration of a gastric band. J Gastrointest Surg 12:983–984

25.

Lattuada E, Zappa MA, Mozzi E, Fichera G, Granilli P, De Ruberto F, Antonini I, Radaelli S, Rouiaro G (2007) Band erosion following gastric banding: how to treat it. Obes Surg 17:329–333

26.

Abu-Abeid S, Zohar DB, Sagie B, Klausner J (2005) Treatment of intragastric band migration following laparoscopic banding: safety and feasibility of simultaneous laparoscopic band removal and replacement. Obes Surg 15:849–852

27.

Cunneen SA, Phillips E, Fielding G, Banel D, Estok R, Fahrbach K, Sledge I (2008) Studies of Swedish adjustable gastric band and LAP-BAND: systematic review and meta-analysis. Surg Obes Rel Dis 4:174–185

28.

Fried M (2008) The current science of gastric banding: an overview of pressure-volume theory in band adjustments. Surg Obes Relat Dis 4:S14–S21
Disclosures
P. T. Cherian, G. Goussous, F. Ashori, A. Sigurdsson have no conflict of interests or financial ties to disclose.
About this article
Cite this article
Cherian, P.T., Goussous, G., Ashori, F. et al. Band erosion after laparoscopic gastric banding: a retrospective analysis of 865 patients over 5 years. Surg Endosc 24, 2031–2038 (2010). https://doi.org/10.1007/s00464-010-0899-z
Received:

Accepted:

Published:

Issue Date:
Keywords
Band erosion

Band migration

Gastric banding

Incidence

Laparoscopy

Management