Abstract
Introduction
Only a few authors have reported the technique of Ivor Lewis esophagectomy by minimally invasive means, and anastomosis was usually performed by a circular stapler. We report an Ivor Lewis esophagogastrectomy with manual esogastric anastomosis performed by thoracoscopy in the prone position.
Case report
An adenocarcinoma of the distal esophagus without lymph nodes invasion was diagnosed in a 51-year-old man. General anesthesia and double-lumen endotracheal tube intubation were used. First the patient was placed in the supine position, and five abdominal trocars were placed. Celiac lymphadenectomy was performed with section of the left gastric vessels. A wide Kocher maneuver and pyloroplasty were performed. A wide gastric tube was performed and advanced through the hiatus into the right chest. Subsequently the patient was placed in the prone position. Three trocars (two 5-mm and one 11-mm) were placed on the posterior axillary line in the fifth, seventh, and ninth right intercostal space. The intrathoracic esophagus was dissected. Mediastinal lymphadenectomy with en bloc resection of the left inferior mediastinal pleura was performed. The azygos vein was sectioned, and the esophagus was transected by scissors 1-cm cranial to the azygos vein. A completely thoracoscopic manual double-layer anastomosis was performed by using running sutures with PDS 2/0 externally and Maxon 4/0 internally. Finally the patient was replaced in the supine position to retrieve the specimen through a suprapubic incision, and the gastric tube was fixed to the hiatus.
Results
Thoracoscopy lasted 157′ (anastomosis 40′), laparoscopy 160′, and second laparoscopy 20′. Blood loss was estimated at 170 ml. The gastrograffin swallow on postoperative day 4 showed absence of stenosis and leak. The patient was discharged on postoperative day 6.
Conclusions
Thoracoscopy in the prone position allows the surgeon to perform a thoracoscopic esogastric anastomosis completely handsewn without selective lung desufflation, and using only three trocars.
This is a preview of subscription content, log in to check access.
Access options
Buy single article
Instant unlimited access to the full article PDF.
US$ 39.95
Price includes VAT for USA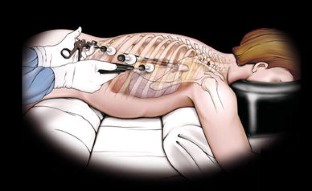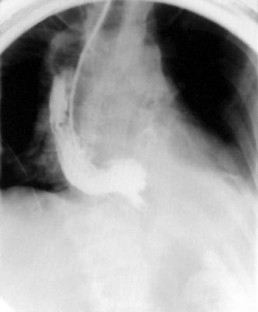 References
1.

Luketich JD, Alvelo-Rivera M, Buenaventura PO, Christie NA, McCaughan JS, Litle VR, Schauer PR, Close JM, Fernando HC (2003) Minimally invasive esophagectomy: outcomes in 222 patients. Ann Surg 238:486–494

2.

Cadière GB, Torres R, Dapri G, Capelluto E, Hainaux B, Himpens J (2006) Thoracoscopic and laparoscopic oesophagectomy improves the quality of extended lymphadenectomy. Surg Endosc 20:1308–1309

3.

Palanivelu C, Prakash A, Senthilkumar R, Senthilnathan P, Parthasarathi R, Rajan PS, Venkatachlam S (2006) Minimally invasive esophagectomy: thoracoscopic mobilization of the esophagus and mediastinal lymphadenectomy in prone position—experience of 130 patients. J Am Coll Surg 203:7–16

4.

Watson DI, Davies N, Jamieson GG (1999) Totally endoscopic Ivor Lewis esophagectomy. Surg Endosc 13:293–297

5.

Nguyen NT, Follette DM, Lemoine PH, Roberts PF, Goodnight Jr JE (2001) Minimally invasive Ivor Lewis esophagectomy. Ann Thorac Surg 72:593–596

6.

Bizekis C, Kent MS, Luketich JD, Buenaventura PO, Landreneau RJ, Schuchert MJ, Alvelo-Rivera M (2006) Initial experience with minimally invasive Ivor Lewis esophagectomy. Ann Thorac Surg 82:402–406

7.

Law S, Wong K, Kwok K, Chu K, Wong J (2004) Predictive factors for postoperative pulmonary complications and mortality after esophagectomy for cancer. Ann Surg 240:791–800

8.

Bailey S, Bull D, Harpole D, Rentz JJ, Neumayer LA, Pappas TN, Daley J, Henderson WG, Krasnicka B, Khuri SF (2003) Outcomes after esophagectomy: a ten-year prospective cohort. Ann Thorac Surg 75:217–222

9.

Atkins BZ, Shah AS, Hutcheson KA, Mangum JH, Pappas TN, Harpole DH Jr, D'Amico TA (2004) Reducing hospital morbidity and mortality following esophagectomy. Ann Thorac Surg 78:1170–1176

10.

Law S, Wong J (2002) Use of minimally invasive oesophagectomy for cancer of the oesophagus. Lancet Oncol 3:215–222

11.

Smithers BM, Gotley DC, Martin I, Thomas JM (2007) Comparison of the outcomes between open and minimally invasive esophagectomy. Ann Surg 245:232–240

12.

Ferguson MK, Durkin AE (2002) Preoperative prediction of the risk of pulmonary complications after esophagectomy for cancer. J Thorac Cardiovasc Surg 123:661–669

13.

Hulscher JB, Tijssen JG, Obertop H, Van Lanschot JJ (2001) Transthoracic versus transhiatal resection for carcinoma of the esophagus: a meta-analysis. Ann Thorac Surg 72:306–313

14.

Gockel I, Kneist W, Keilmann A, Junginger T (2005) Recurrent laryngeal nerve paralysis (RLNP) following esophagectomy for carcinoma. Eur J Surg Oncol 31:277–281

15.

Suggs WJ, Kouli W, Lupovici M, Chau WY, Brolin RE (2007) Complications at gastrojejunostomy after laparoscopic Roux-en-Y gastric bypass: comparison between 21- and 25-mm circular staplers. Surg Obes Relat Dis 5:508–514

16.

Luechakiettisak P, Kasetsunthorn S (2008) Comparison of hand-sewn and stapled in esophagogastric anastomosis after esophageal cancer resection: a prospective randomized study. J Med Assoc Thai 91:681–685

17.

Cuschieri A, Shimi S, Banting S (1992) Endoscopic oesophagectomy through a right thoracoscopic approach. J R Coll Surg Edinb 37:7–11
Disclosures
Drs. Guy Bernard Cadière, Giovanni Dapri, Jacques Himpens, Lisette Fodderie, and Amin Rajan have no conflicts of interest or financial ties to disclose.
Electronic supplementary material
Below is the link to the electronic supplementary material.
Supplementary material 1 (MPG 88382 kb)
About this article
Cite this article
Cadière, G.B., Dapri, G., Himpens, J. et al. Ivor Lewis esophagectomy with manual esogastric anastomosis by thoracoscopy in prone position and laparoscopy. Surg Endosc 24, 1482–1485 (2010). https://doi.org/10.1007/s00464-009-0777-8
Received:

Accepted:

Published:

Issue Date:
Keywords
Ivor Lewis esophagectomy

Thoracoscopy

Prone position

Laparoscopy

Manual anastomosis