Abstract
Background
Pharyngo-esophageal stenosis (PES) and upper esophageal stricture are common in patients who receive radiation therapy for laryngeal and hypopharyngeal cancers. In severe or complete stenosis, the patients generally have complete dysphagia with inability to swallow their saliva. Diagnostic and therapeutic esophagogastroduodenoscopy (EGD) plays an important role in investigating the dysphagia and in managing the underlying stenosis.
Methods and Results
We translate endoscopic retrograde cholangiopancreatography (ERCP) techniques and skills in approaching pancreaticobiliary obstruction in the management of severe and complete PES. We select and report three cases of severe or complete PES in which flexible endoscopic therapy was successfully provided by using fluoroscopy, ERCP wire guides, endoscopic balloons, and by performing pharyngo-esophageal puncture (PEP).
Conclusions
We propose the term PEP in managing complete PES. We believe this approach can offer safety and efficiency with very high success rate.
This is a preview of subscription content, log in to check access.
Access options
Buy single article
Instant unlimited access to the full article PDF.
US$ 39.95
Price includes VAT for USA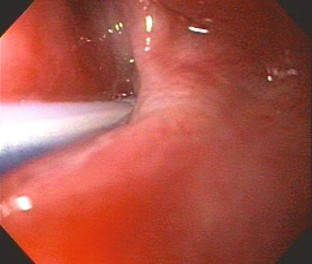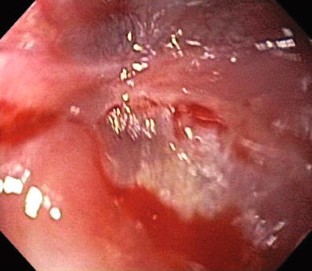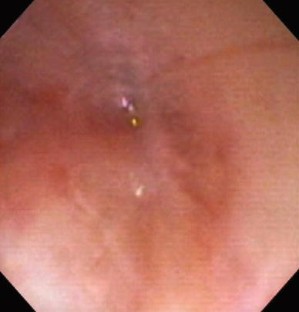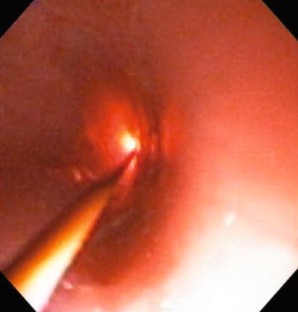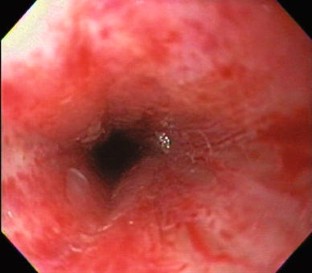 References
1.

Lee WT, Akst LM, Adelstein DJ, Saxton JP, Wood BG, Strome M, Butler RS, Esclamado RM (2006) Risk factors for hypopharyngeal/upper esophageal stricture formation after concurrent chemoradiation. Head Neck 28:808–812

2.

Tang SJ, Tang L, Jazrawi SF, Meyer D, Wait MA, Myers LL (2009) Iatrogenic esophageal submucosal dissection after attempted diagnostic gastroscopy (with videos). Laryngoscope 119:36–38

3.

Lew RJ, Shah JN, Chalian A et al (2004) Technique of endoscopic retrograde puncture and dilation of total esophageal stenosis in patients with radiation-induced strictures. Head Neck 26:179–183

4.

Bueno R, Swanson SJ, Jaklitsch MT et al (2001) Combined antegrade and retrograde dilation: a new endoscopic technique in the management of complex esophageal obstruction. Gastroenterol Endosc 54:368–372

5.

Baumgart D, Veltzke-Schlieker W, Wiedenmann B et al (2005) Successful recanalization of a completely obliterated esophageal stricture using an endoscopic rendezvous maneuver. Gastroenterol Endosc 6:473–476

6.

Moyer MT, Stack BC Jr, Mathew A (2006) Successful recovery of esophageal patency in 2 patients with complete obstruction by using combined antegrade retrograde dilation procedure, needle knife, and EUS needle. Gastrointest Endosc 64:789–792
Electronic supplementary material
Below is the link to the electronic supplementary material.
Video 1: Endotherapy in pharyngo-esophageal stenosis: case 1, voiced (WMV 4255 kb)
Video 2: Endotherapy in pharyngo-esophageal stenosis: case 2, voiced (WMV 4458 kb)
Video 3: Endotherapy in pharyngo-esophageal stenosis: case 3, PEP session 1, voiced (WMV 25257 kb)
Video 4: Endotherapy in pharyngo-esophageal stenosis: case 3, PEP session 2, voiced (WMV 20194 kb)
About this article
Cite this article
Tang, S., Singh, S. & Truelson, J.M. Endotherapy for severe and complete pharyngo-esophageal post-radiation stenosis using wires, balloons and pharyngo-esophageal puncture (PEP) (with videos). Surg Endosc 24, 210 (2010). https://doi.org/10.1007/s00464-009-0535-y
Received:

Revised:

Accepted:

Published:
Keywords
Esophagogastroduodenoscopy

Esophagus

Stricture

Radiation therapy

Pharyngo-esophageal puncture (PEP)

Endoscopic retrograde cholangiopancreatography (ERCP)