Abstract
Background
Esophageal perforation, whether spontaneous or more commonly as a result of instrumentation, is a life-threatening condition and carries high mortality despite recent advances. Outcome is dependent on etiology, location of injury, and interval between perforation and initiation of therapy. Successful management of esophageal perforation entails combination of: (1) control of the leakage site either surgically or endoscopically to prevent further contamination, (2) drainage of contamination, and (3) appropriate antibiotics along with nutritional support.
Methods
We report one case with a 5-cm-long iatrogenic mid-esophageal perforation. The perforation was successfully managed with esophageal tandem stenting above the lower esophageal sphincter (LES).
Results
The radial expansile force of the inner stent and its anchorage by LES holds the outer stent in place and prevents the tandem stents migrating distally.
Conclusions
Successful management of esophageal perforation depends on early diagnosis, control of site of leak, drainage of accompanying collections, and antibiotic and nutritional support.
This is a preview of subscription content, log in to check access.
Access options
Buy single article
Instant unlimited access to the full article PDF.
US$ 39.95
Price includes VAT for USA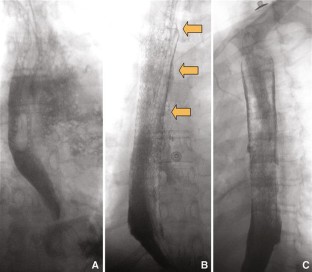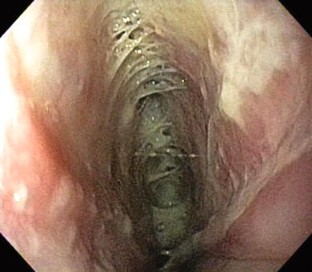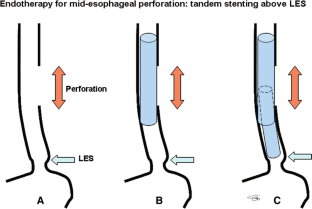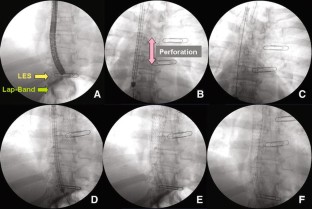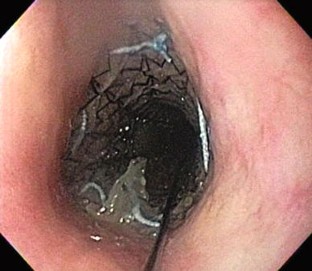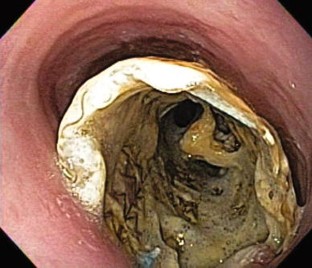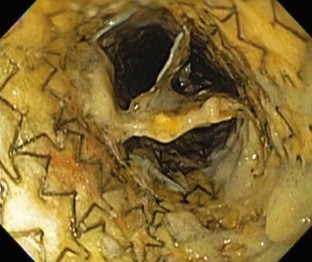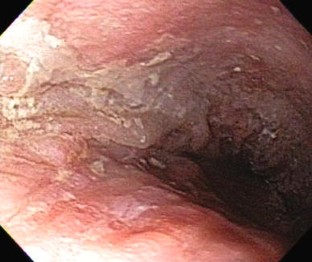 References
1.

DeMaria EJ (2007) Bariatric surgery for morbid obesity. N Engl J Med 356:2176–2183

2.

Perry CD, Hutter MM, Smith DB, Newhouse JP, McNeil BJ (2008) Survival and changes in comorbidities after bariatric surgery. Ann Surg 247:21–27

3.

Attar S, Hankins JR, Suter CM, Coughlin TR, Sequeira A, McLaughlin JS (1990) Esophageal perforation: a therapeutic challenge. Ann Thorac Surg 50:45–49

4.

Johnsson E, Lundell L, Liedman B (2005) Sealing of esophageal perforation or ruptures with expandable metallic stents: a prospective controlled study on treatment efficacy and limitations. Dis Esophagus 18:262–266

5.

Raju GS, Thompson C, Zwischenberger JB (2005) Emerging endoscopic options in the management of esophageal leaks (videos). Gastrointest Endosc 62:278–286

6.

Tuebergen D, Rijcken E, Mennigen R, Hopkins AM, Senninger N, Bruewer M (2008) Treatment of thoracic esophageal anastomotic leaks and esophageal perforations with endoluminal stents: efficacy and current limitations. J Gastrointest Surg 12:1168–1176

7.

Gelbmann CM, Ratiu NL, Rath HC, Rogler G, Lock G, Schölmerich J, Kullmann F (2004) Use of self-expandable plastic stents for the treatment of esophageal perforations and symptomatic anastomotic leaks. Endoscopy 36:695–699

8.

Sriram PV, Das G, Rao GV, Reddy DN (2001) Another novel use of endoscopic clipping: to anchor an esophageal endoprosthesis. Endoscopy 33:724–726

9.

Silva RA, Dinis-Ribeiro M, Brandão C, Mesquita N, Fernandes N, Lomba-Viana H, Moreira-Dias L (2004) Should we consider endoscopic clipping for prevention of esophageal stent migration? Endoscopy 36:369–370

10.

Kauer WK, Stein HJ, Dittler HJ, Siewert JR (2008) Stent implantation as a treatment option in patients with thoracic anastomotic leaks after esophagectomy. Surg Endosc 22:50–53
Electronic supplementary material
Below is the link to the electronic supplementary material.
Supplementary material 1 (MPG 30584 kb)
Supplementary material 2 (MPG 34690 kb)
About this article
Cite this article
Tang, S., Singh, S., Wait, M.A. et al. Endotherapy for a 5-cm mid-esophageal perforation with tandem stenting above the lower esophageal sphincter (with videos). Surg Endosc 23, 2836–2841 (2009). https://doi.org/10.1007/s00464-009-0485-4
Received:

Revised:

Accepted:

Published:

Issue Date:
Keywords
Esophagus

Perforation

Endoscopy

Esophageal tandem stenting

Stenting

Lower esophageal sphincter

Bariatrics

Gastric banding

Obesity

Surgery