Abstract
Background
The surgical robot (da Vinci S) is superior to conventional laparoscopy; it provides clearer, three-dimensional images and an extended range of motion for the instruments. We used this robot for laparoscopic surgery to perform a totally intracorporeal resection of the rectum and colorectal anastomosis, with transanal or transvaginal retrieval of specimens.
Methods
We prospectively collected data on 13 patients who underwent robot-assisted rectal surgery by a single surgeon from January to March 2008. For low anterior resection (LAR), the splenic flexure was mobilized laparoscopically, followed by robotic rectal resection and anastomosis, and transanal removal of specimens in both male and female patients. We retrieved the specimen through the vagina in some female patients.
Results
Eleven and two patients underwent LAR and anterior resection (AR), respectively. Mean operative time was 260.8 ± 62.9 (range 210–390) min with median robotic time of 118 ± 43.6 (range 122–186) min. There were three postoperative complications, in two patients. One patient had anastomotic bleeding and the other had anastomotic leakage following inferior mesenteric artery bleeding. The circumferential margins were clear. The tumor stage was I in four, II in two, and III in seven patients. In one patient, the distal resection margin was involved. The patients resumed an oral diet and were discharged on the third and seventh day after surgery.
Conclusion
Robotic-assisted laparoscopic methods were safe for AR in patients with colorectal cancer. This approach made it easier to perform a total mesorectal excision, anastomosis, and closure of the vaginal wall, and avoided the traditional abdominal incision.
This is a preview of subscription content, log in to check access.
Access options
Buy single article
Instant unlimited access to the full article PDF.
US$ 39.95
Price includes VAT for USA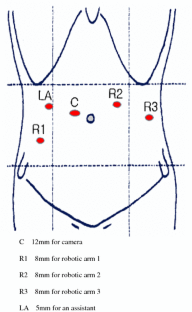 References
1.

Ballantyne GH (2002) Robotic surgery, telerobotic surgery, telepresence, and telementoring. Review of early clinical results. Surg Endosc 16:1389–1402

2.

Ballantyne GH (2002) The pitfalls of laparoscopic surgery: challenges for robotics and telerobotic surgery. Surg Laparosc Endosc Percutan Tech 12:1–5

3.

Ruurda JP, Broeders IA, Simmermacher RP, Rinkes IH, Van Vroonhoven TJ (2000) Feasibility of robot-assisted laparoscopic surgery: an evaluation of 35 robot-assisted laparoscopic cholecystectomies. Surg Laparosc Endosc Percutan Tech 12:41–45

4.

Cadière GB, Himpens J, Vertruyen M, Bruyns J, Germay O, Leman G, Izizaw R (2001) Evaluation of telesurgical (robotic) NISSEN fundoplication. Surg Endosc 15:918–923

5.

Aiono S, Gilbert JM, Soin B, Finlay PA, Gordan A (2002) Controlled trial of the introduction of a robotic camera assistant (EndoAssist) for laparoscopic cholecystectomy. Surg Endosc 16:1267–1270

6.

Satava RM (2001) Information age technologies for surgeons: overview. World J Surg 25:1408–1411

7.

Hashizume M, Konishi K, Tsutsumi N, Yamaguchi S, Shimabukuro R (2002) A new era of robotic surgery assisted by a computer-enhanced surgical system. Surgery 131(1 Suppl):330–333

8.

Jacobs S, Falk V (2001) Pearls and pitfalls: lessons learned in endoscopic robotic surgery—the da Vinci experience. Heart Surg Forum 4:307–310

9.

Falcone T, Goldberg JM, Margossian H, Stevens L (2000) Robotic-assisted laparoscopic microsurgical tubal anastomosis: a human pilot study. Fertil Steril 73:1040–1042

10.

Abbou CC, Hoznek A, Salomon L, Olsson LE, Lobontiu A, Saint F, Cicco A, Antiphon P, Chopin D (2001) Laparoscopic radical prostatectomy with a remote controlled robot. J Urol 165:1964–1966

11.

Talamini M, Chapman S, Horgan S, Melvin W (2003) A prospective analysis of 211 robotic-assisted surgical procedures. Surg Endosc 17:1521–1524

12.

Weber PA, Merola S, Wasielewski A, Ballantyne GH (2002) Telerobotic-assisted laparo-scopic right and sigmoid colectomies for benign disease. Dis Colon Rectum 45:1695–1696

13.

D'Annibale A, Morpurgo E, Fiscon V, Paolo Trevisan, Sovernigo, Orsini C, Guidolin D (2004) Robotic and laparoscopic surgery for treatment of colorectal disease. Dis Colon Rectum 47:2162–2168

14.

Pigazzi A, Ellenhorn JDI, Ballantyne GH, Paz IB (2006) Robotic-assisted laparoscopic low anterior resection with total mesorectal excision for rectal cancer. Surg Endosc 20:1521–1525

15.

Baik SH, Kang CM, Lee WJ, Kim NK, Sohn SK, Chi HS, Cho CH, Lee SK, Cheon JH, Ahn JB, Kim WH (2007) Robotic total mesorectal excision for rectal cancer using four robotic arms. Surg Endosc 22:792–797

16.

Giulianotti PC, Coratti A, Angelini M, Sbrana F, Cecconi S, Balestracci T, Caravaglios G (2003) Robotics in general surgery: personal experience in a large community hospital. Arch Surg 138:777–784

17.

Rawlings, Woodland JH, Crawford DL (2006) Telerobotic surgery for right and sigmoid colectomies: 30 consecutive cases. Surg Endosc 20:1713–1718

18.

Hellan M, Anderson C, Ellenhorn JD, Paz B, Pigazzi A (2007) Short-term outcomes after robotic-assisted total mesorectal excision fro rectal cancer. Ann Surg Oncol 14:3168–3173

19.

Horng SG, Huang KG, Lo TS, Soong YK (2004) Bladder injury after LAVH; a prospective, randomized comparison of vaginal and laparoscopic approaches to colpotomy during LAVH. J Am Assoc Gynecol Laparosc 11:42–46

20.

Ghezzi F, Raio L, Mueller MD, Gyr T, Buttarelli M, Franchi M (2002) Vaginal extraction of pelvic mass following operative laparoscopy. Surg Endosc 16:1691–1696

21.

Redwine DB, Koning M, Sharpe DR (1996) Laparoscopic assisted transvaginal segmental resection of the recto-sigmoid colon for endometriosis. Fertil Steril 65:193–197

22.

Abrao MS, Sagae UE, Gonzales M, Podgaec S, Dias JA Jr (2005) Treatment of recto-sigmoid endometriosis by laparoscopically assisted vaginal rectosigmoidectomy. Int J Gynaecol Obstet 91:27–31

23.

Ito M, Sugito M, Gobayashi A, Nishizawa Y, Tsunoda Y, Saito N (2008) Relationship between multiple number of stapler firings during rectal division and anastomotic leakage after laparoscopic rectal resection. Int J Colorectal Dis 23:703–707
Electronic supplementary material
Below is the link to the electronic supplementary material.
Supplementary material 1 (WMV 15006 kb)
About this article
Cite this article
Choi, G., Park, I.J., Kang, B.M. et al. A novel approach of robotic-assisted anterior resection with transanal or transvaginal retrieval of the specimen for colorectal cancer. Surg Endosc 23, 2831 (2009). https://doi.org/10.1007/s00464-009-0484-5
Received:

Revised:

Accepted:

Published:
Keywords
Robotic

Colorectal cancer

Transanal

Transvaginal