Abstract
Background
The upsurge of gastric bypass procedures has been accompanied by an increase in anastomotic strictures and marginal ulcers. According to the reported literature, the gastrojejunostomy strictures in 3–31% and ulcerates in 1–16% of cases. Several anastomotic techniques are used, however no study has specifically addressed whether choice of reinforcing suture affects rates of stricture or ulcer. We reviewed our case series to determine if a protocol change in suture choice altered the incidence of anastomotic strictures and marginal ulcers.
Methods
We performed a retrospective review of a prospectively collected database for 315 primary Roux-en-Y gastric bypass patients (7/2008 to 3/2008). Nearly all patients had a 25-mm circular stapled anastomosis with an outer suture layer for reinforcement. Before 5/31/06, interrupted permanent suture was used in 231 patients, and after 6/1/06 interrupted absorbable suture was used in 84 patients. We compared overall rates of stricture, marginal ulceration, and aggregate gastrojejunostomy complications between the two suture groups using a proportional hazards model and log-rank statistic. A p-value < 0.05 was used to assign statistical significance.
Results
We found statistically fewer gastrojejunostomy complications in the absorbable suture group (4.7%) than the permanent suture group (19.9%). Subgroup analysis showed that anastomotic strictures were less common in the absorbable suture group, but the difference was short of statistical confirmation. Use of absorbable suture did result in statistically fewer marginal ulcers (2.3%) compared with absorbable suture (13.4%).
Conclusions
Use of absorbable reinforcing sutures is associated with fewer gastrojejunostomy complications. We recommend absorbable sutures for the outer layer of stapled gastrojejunal anastomoses when performing isolated Roux-en-Y gastric bypass.
This is a preview of subscription content, log in to check access.
Access options
Buy single article
Instant access to the full article PDF.
US$ 39.95
Price includes VAT for USA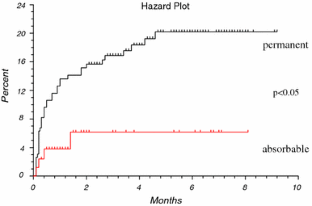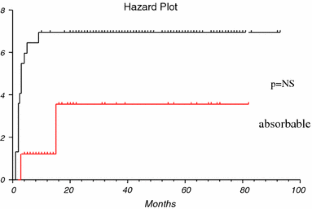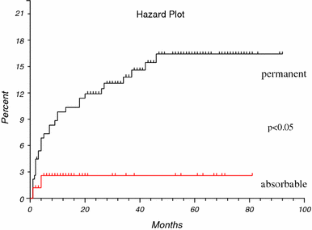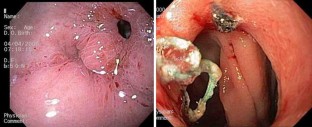 References
1.

Steinbrook R (2004) Surgery for severe obesity. N Engl J Med 350:1075–1079

2.

Wyatt HR (2003) The prevalence of obesity. Prim Care 30:267–279

3.

Zimmermann-Belsing T, Feldt-Rasmussen U (2004) Obesity, the new worldwide epidemic threat to general health and our complete lack of effective treatment. Endocrinology 145:1501–1502

4.

Willet WC, Dietz WH, Colditz GA (1999) Primary care: guidelines for healthy weight. N Engl J Med 341:427–434

5.

Buchwald H, Avidar Y, Braunwald E (2004) Bariatric surgery: a systematic review and meta-analysis. JAMA 292:1724–1737

6.

Sjostrom L, Lindroos AK, Peltonen M (2004) Lifestyle, diabetes, and cardiovascular risk factors years after bariatric surgery. N Engl J Med 351:2683–2693

7.

National Institutes of Health (1991) Gastrointestinal surgery for severe obesity. Consensus development conference panel. Ann Intern Med 115:956–961

8.

Sugermann HJ, Kellum JM, Engle KM (1992) Gastric bypass for treating severe obesity. Am J Clin Nutr 55:560–566

9.

Ali MR, Fuller WD, Choi MP, Wolfe BM (2005) Bariatric surgical outcomes. Surg Clin North Am 4:835–852

10.

Schauer PR, Ikramuddin S (2001) Laparoscopic surgery for morbid obesity. Surg Clin North Am 81:1145–1179

11.

Eisenberg D, Duffy AJ, Bell RL (2006) Update on obesity surgery. World J Gastroenterol 12:3196–3203

12.

Wittgrove AC, Clark GW (2000) Laparoscopic gastric bypass, Roux-en-Y in 500 patients: technique and results, with 3 to 60 month follow-up. Obes Surg 10:233–239

13.

Gonzalez R, Lin E, Venkatesh KR (2003) Gastrojejunostomy during laparoscopic gastric bypass: analysis of 3 techniques. Arch Surg 138:181–184

14.

Podnos YD, Jimenez JC, Wilson SE, Stevens CM, Nguyen NT (2003) Complications after laparoscopic gastric bypass. Arch Surg 138:957–961

15.

Ahmad J, Martin J, Ikramuddin S, Schauer P, Slivka A (2003) Endoscopic balloon dilation of gastroenteric anastomotic stricture laparoscopic gastric bypass. Endoscopy 35:725–728

16.

Printen KJ, Scott D, Mason EE (1980) Stomal ulcers after gastric bypass. Arch Surg 115:525–527

17.

MacLean LD, Rhode BM, Nohr C (1997) Stomal ulcer after gastric bypass. J Am Coll Surg 185:1–7

18.

Higa KD, Boone KB, Ho T (2000) Complications of the laparoscopic Roux-en-Y gastric bypass: 1,040 patients—What have we learned? Obes Surg 10:509–513

19.

Matthews BD, Sing RF, DeLegge MH, Ponsky JL, Heniford BT (2000) Initial results with a stapled gastrojejunostomy for the laparoscopic isolated Roux-en-Y gastric bypass. Am J Surg 179:476–481

20.

Dresel A, Kuhn JA, Westmoreland MV, Talaasen LJ, McCarty TM (2002) Establishing a laparoscopic gastric bypass program. Am J Surg 184:617–620

21.

Nguyen NT, Stevens CM, Wolfe BM (2003) Incidence and outcome of anastomotic stricture after laparoscopic gastric bypass. J Gastrointest Surg 7:997–1003

22.

Schauer RP, Ikramuddin S, Gourash W (2000) Outcomes after laparoscopic Roux-en-Y gastric bypass for morbid obesity. Ann Surg 232:515–529

23.

Rasmussen JJ, Fuller W, Ali MR (2007) Marginal ulceration after laparoscopic gastric bypass: an analysis of predisposing factors in 260 patients. Surg Endosc 21:1090–1094

24.

Dallal RM, Bailey LA (2006) Ulcer disease after gastric bypass surgery. Surg Obes Relat Dis 2:455–459

25.

Sanyal AJ, Sugerman HJ, Kellum JM, Engle KM, Wolfe L (1992) Stomal complications of gastric bypass: incidence and outcome of therapy. Am J Gastroenterol 87:1165–1169

26.

Sapala JA, Wood MH, Sapala MA, Flake TM (1998) Marginal ulcer after gastric bypass: a prospective 3-year study of 173 patients. Obes Surg 8:505–516

27.

Goitein D, Papasavas PK, Gagne D, Ahmad S, Caushaj PF (2005) Gastrojejunal strictures following laparoscopic Roux-en-Y gastric bypass for morbid obesity. Surg Endosc 19:628–632

28.

Wilson JA, Romagnuolo J, Byrne TK, Morgan K, Wilson FA (2006) Predictors of endoscopic findings after Roux-en-Y gastric bypass. Am J Gastroenterol 101:2194–2199

29.

Blachar A, Federle MP, Pealer KM, Ikramuddin S, Schauer PR (2002) Gastrointestinal complications of laparoscopic Roux-en-Y gastric bypass surgery: clinical and imaging findings. Radiology 223:625–632

30.

Schwartz ML, Drew RL, Roiger RW (2004) Stenosis of the gastroenterostomy after laparoscopic gastric bypass. Obes Surg 14:484–491

31.

Go MR, Muscarella P 2nd, Needleman BJ, Cook CH, Melvin WS (2004) Endoscopic management of stomal stenosis after Roux-en-Y gastric bypass. Surg Endosc 18:56–59

32.

Abdel-Galil E, Sabry AA (2002) Laparoscopic Roux-en-Y gastric bypass—evaluation of three different techniques. Obes Surg 12:639–642

33.

Pope GD, Goodney PP, Burchard KW, Proia RR, Olafsson A, Lacy BE, Burrows LJ (2002) Peptic ulcer/stricture after gastric bypass: a comparison of technique and acid suppression variables. Obes Surg 12:30–33

34.

Capella JF, Capella RF (1999) Gastro-gastric fistulas and marginal ulcers in gastric bypass procedures for weight reduction. Obes Surg 9:22–27

35.

Sacks BC, Qureshi FG, Eid GM, Collins JL, Barinas-Mitchell EJ, Schauer PR, Ramanathan RC (2006) Incidence of marginal ulcers and the use of absorbable anastomotic sutures in laparoscopic Roux-en-Y gastric bypass. Surg Obes Relat Dis 2:11–16

36.

Jordan JH, Hocking MP, Rout WR, Woodward ER (1991) Marginal ulcer following gastric bypass for morbid obesity. Am Surg 57:286–288

37.

Papasavas PK, Hayetian FD, Caushaj PF (2002) Outcome analysis of laparoscopic Roux-en-Y gastric bypass for morbid obesity. Surg Endosc 16:1653–1657

38.

Campos GM, Ciovica R, Rogers SJ, Posselt AM, Vittinghoff E, Takata M, Cello JP (2007) Spectrum and risk factors of complications after gastric bypass. Arch Surg 142:969–975

39.

Hedberg J, Hedenstrom H, Nilsson S, Sundbom M, Gustavasson S (2005) Role of gastric acid in stomal ulcer after gastric bypass. Obes Surg 15:1375–1378

40.

Gumbs AA, Duffy AJ, Bell RL (2006) Incidence and management of marginal ulceration after laparoscopic Roux-Y gastric bypass. Surg Obes Relat Dis 4:460–463

41.

Capella JF, Capella RF (1996) Staple disruption and marginal ulcers in gastric bypass procedures for weight reduction. Obes Surg 9:22–27
About this article
Cite this article
Vasquez, J.C., Wayne Overby, D. & Farrell, T.M. Fewer gastrojejunostomy strictures and marginal ulcers with absorbable suture. Surg Endosc 23, 2011–2015 (2009). https://doi.org/10.1007/s00464-008-0220-6
Received:

Revised:

Accepted:

Published:

Issue Date:
Keywords
Gastric bypass

Roux-en-Y

Gastrojejunostomy

Stricture

Marginal ulcer

Reinforcing suture