Abstract
Background
Benign duodenal tumours are rare and less common than malignant tumours. They comprise a wide variety of pathologies. Schwannoma is an ectodermal neoplasm arising from the nerve sheath that envelops axons. A duodenal location is extremely rare. Therapy consists in the radical excision of the tumour. Our aim was to describe a minimally invasive technique used for the excision of duodenal schwannoma, so that a laparotomy has been avoided.
Methods
A laparoscopic operation under general anaesthesia was undertaken with the patient in supine position with the legs abducted. No macroscopic peritoneal seedling was found. Therefore, a laparoscopic Kocher maneuver was performed. The retroperitoneum was entered using the harmonic scalpel and the dissection extended beyond the vena cava and the duodenum. The location and the size of the lesion have been confirmed using an intraoperative endoscopic ultrasound examination. The excision of the lesion was performed by use the harmonic scalpel. Then, the duodenal wall was sutured by use endoscopic stitches. The resected lesion was then placed in a retrieval bag and extracted through the port incision. Operating time was 300 min and blood loss 200 ml.
Results
The postoperative course was uneventful. Histological findings showed a benign schwannoma.
Conclusions
The minimally invasive technique may be a valid alternative to open surgery in the treatment of benign duodenal tumors.
This is a preview of subscription content, log in to check access.
Access options
Buy single article
Instant unlimited access to the full article PDF.
US$ 39.95
Price includes VAT for USA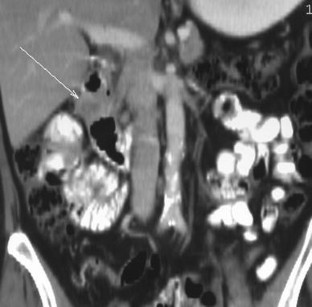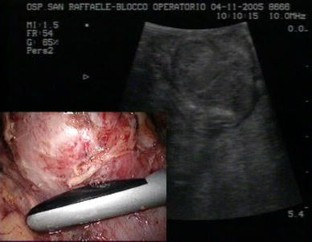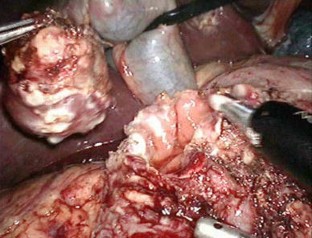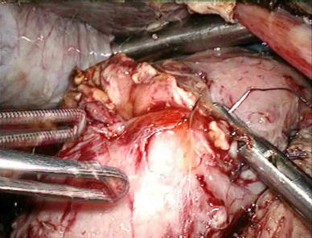 References
1.

Dette K, Bechstein WO, Lobeck H, Vogl T, Neuhaus P (1997) Intra-abdominal schwannoma. Diagnosis and surgical therapy. Chirurg 68:159–167

2.

Forones NM, Lourenco L, De Seixas MT, D'Ippolito G, Del Grande JC, Lobo EJ (1996) Schwannoma of duodenum: a case report. Arq Gastroenterol 33:221–224

3.

Fraipont G, Pettenazza P, Avanzi M, Romussi F, Magnani E, Visconti F, Bo F, Zonta A (1998) Duodenal schwannoma. Clinical considerations. Minerva Chir 53:419–426

4.

Maher MM, Yeo CJ, Lillemoe KD, Roberts JR, Cameron JL (1996) Pancreas-sparing duodenectomy for infra-ampullary duodenal pathology. Am J Surg 17:62–67

5.

Napolitano V, Russo G, Maffettone V, Rossetti G, Brusciano L, Sciaudone G, del Genio A (2004) Personal treatment of a case of gastrointestinal autonomic nerve tumour of the second duodenal segment. Chir Ital 56:443–448

6.

Spinardi A, Pederzoli P, Tenchini P, Modena S, Tessari L (1979) A case of duodenal schwannoma (clinical study). Chir Ital 31:1150–1161

7.

Sakamoto Y, Yamamoto J, Takahashi H, Norihiro Kokudo, Toshiharu Yamaguchi, Tetsuichiro Muto, Masatoshi Makuuchi (2003) Segmental resection of the third portion of the duodenum for a gastrointestinal stromal tumor: a case report. Jpn J Clin Oncol 33:364–366
Electronic supplementary material
464_2006_9073_MOESM1_ESM (MPG 8,207 KB)
About this article
Cite this article
Orsenigo, E., Palo, S.D., Vignali, A. et al. Laparoscopic excision of duodenal schwannoma. Surg Endosc 21, 1454–1456 (2007). https://doi.org/10.1007/s00464-006-9073-z
Received:

Revised:

Accepted:

Published:

Issue Date:
Keywords
Duodenal schwannoma

Excision

Laparoscopy