Abstract
Background
The aim of this study was to examine the advantages and risks of the Automated Endoscopic System for Optical Positioning (AESOP) 3000 robot system during uncomplicated laparoscopic cholecystectomies or laparoscopic hernioplasty.
Methods
In a randomized study, we examined two groups of 120 patients each with the diagnosis cholecystolithiasis respectively the unilateral inguinal hernia. We worked with the AESOP 3000, a robotic arm system that is voice-controlled by the surgeon. The subjective and objective comfort of the surgeon as well as the course and length of the operation were measured.
Results
The robot-assisted operations required significantly longer preparation and operation times. With regard to the necessary commands and manual camera corrections, the assistant group was favored. The same was true for the subjective evaluation of the surgical course by the surgeon.
Conclusions
Our study showed that the use of AESOP during laparoscopic cholecystectomy and hernioplasty is possible in 94% of all cases. The surgeon must accept a definite loss of comfort as well as a certain loss of time against the advantage of saving on personnel.
This is a preview of subscription content, log in to check access.
Access options
Buy single article
Instant access to the full article PDF.
US$ 39.95
Price includes VAT for USA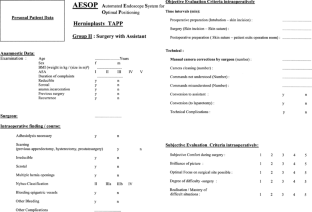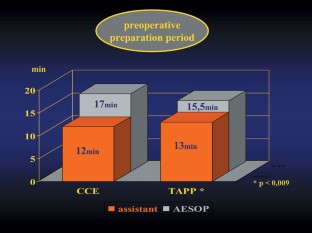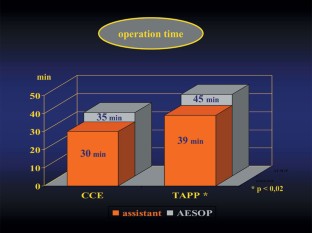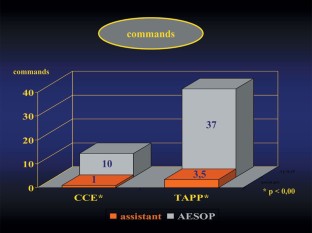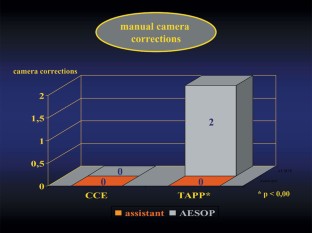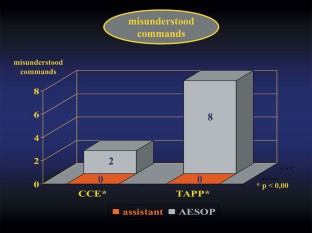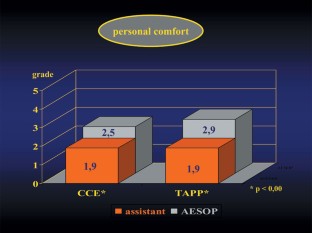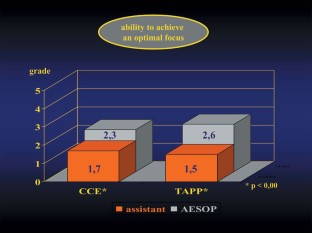 References
1.

S Aiono JM Gilbert B Soin PA Finlay A Gordan (2002) ArticleTitleControlled trial of the introduction of a robotic camera assistant (EndoAssist) for laparoscopic cholecystectomy Surg Endosc 16 1267–1270 Occurrence Handle10.1007/s00464-001-9174-7 Occurrence Handle1:STN:280:DC%2BD38vntlGrtw%3D%3D Occurrence Handle12235507

2.

ME Allaf SV Jackman PG Schulam JA Cadeddu BR Lee RG Moore LR Kavoussi (1998) ArticleTitleLaparoscopic visual field: voice vs foot pedal interfaces for control of the AESOP robot Surg Endosc 12 1415–1418 Occurrence Handle10.1007/s004649900871 Occurrence Handle1:STN:280:DyaK1M%2FktVWhtw%3D%3D Occurrence Handle9822469

3.

A Arezzo F Ulmer O Weiss MO Schurr M Hamad GF Buess (2000) ArticleTitleExperimental trial on solo surgery for minimally invasive therapy: comparison of different systems in a phantom model Surg Endosc 14 955–959 Occurrence Handle10.1007/s004640000106 Occurrence Handle1:STN:280:DC%2BD3M7gvFOqtw%3D%3D Occurrence Handle11080411

4.

I Baca (1997) ArticleTitleRoboterarm in der laparoskopischen Chirurgie Chirurg 68 837–839 Occurrence Handle10.1007/s001040050282 Occurrence Handle1:STN:280:ByiH2czksVU%3D Occurrence Handle9377999

5.

GH Ballantyne (2002) ArticleTitleRobotic surgery, telerobotic surgery, telepresence, and telemonitoring: review of early clinical results Surg Endosc 16 1389–1402 Occurrence Handle10.1007/s00464-001-8283-7 Occurrence Handle1:STN:280:DC%2BD38nktlWktQ%3D%3D Occurrence Handle12140630

6.

E Begin M Gagner R Hurteau S Santis Particlede A Pomp (1995) ArticleTitleA robotic camera for laparoscopic surgery: conception and experimental results Surg Laparosc Endosc 5 6–11 Occurrence Handle1:STN:280:ByqB2MzkvFE%3D Occurrence Handle7735544

7.

KT Boer Particleden M Bruijn JE Jaspers LP Stassen WF Erp A Jansen PM Go et al. (2002) ArticleTitleTime–action analysis of instrument positioners in laparoscopic cholecystectomie Surg Endosc 16 142–147 Occurrence Handle10.1007/s004640090127 Occurrence Handle11961625

8.

KD Dunlap L Wanzer (1998) ArticleTitleIs the robotic arm a cost-effective surgical tool? Aorn J 68 265–272 Occurrence Handle1:STN:280:DyaK1czntFGisA%3D%3D Occurrence Handle9706238

9.

G Esumi M Tomikawa M Hashizume K Konishi M Shimada K Sugimachi (2001) ArticleTitleCurrent status and future of surgical robotic systems Fukuoka Igaku Zasshi 92 315–318 Occurrence Handle1:STN:280:DC%2BD3Mrntl2ksA%3D%3D Occurrence Handle11680973

10.

A Imme P Caglia L Gandolfo G Cavallaro et al. (2002) ArticleTitleRobotic techniques in laparoscopic surgery Chir Ital 54 111–113 Occurrence Handle11942001

11.

LK Jacobs V Shayani JM Sackier (1997) ArticleTitleDetermination of the learning curve of the AESOP robot Surg Endosc 11 54–55 Occurrence Handle10.1007/s004649900294 Occurrence Handle1:STN:280:ByiC2cfjsFM%3D Occurrence Handle8994989

12.

MA Kasalicky J Svab M Fried D Melechovsky (2002) ArticleTitleAESOP 3000—computer-assisted surgery, personal experience Rozhl Chir 81 346–349 Occurrence Handle1:STN:280:DC%2BD38vjvFCisg%3D%3D Occurrence Handle12197168

13.

J Köninger M Butters (2001) ArticleTitleLaparoskopische Leistenhernienchirurgie mit dem Roboterarm Min Invas Chir 10 27–30

14.

GV Kondraske EC Hamilton DJ Scott CA Fischer ST Tesfay R Taneja RJ Brown et al. (2002) ArticleTitleSurgeon workload and motion efficiency with robot and human laparoscopic camera control Surg Endosc 16 1523–1527 Occurrence Handle10.1007/s00464-001-8272-x Occurrence Handle1:STN:280:DC%2BD38notlGgsg%3D%3D Occurrence Handle12098023

15.

L Mettler M Ibrahim W Jonat (1998) ArticleTitleOne year of experience working with the aid of a robotic assistant (the voice-controlled optic holder AESOP) in gynaecological endoscopic surgery Hum Reprod 13 2748–2750 Occurrence Handle1:STN:280:DyaK1M%2FhvFeluw%3D%3D Occurrence Handle9804224

16.

ME Moran (1993) ArticleTitleStationary and automated laparoscopically assisted technologies J Laparoendosc Surg 3 221–227 Occurrence Handle1:STN:280:ByyA2M%2FisV0%3D Occurrence Handle8347874

17.

H Niebuhr O Born (2000) ArticleTitleImage Tracking System Eine neue Technik für die sichere und kostensparende laparoskopische Operation Chirurg 71 580–584 Occurrence Handle10.1007/s001040050861 Occurrence Handle1:STN:280:DC%2BD3cvhtFyksw%3D%3D Occurrence Handle10875019

18.

S Okada Y Tanaba H Yamauchi S Sato (1998) ArticleTitleSingle-surgeon thorackoscopic surgery with a voice-controlled robot Lancet 351 1249 Occurrence Handle10.1016/S0140-6736(98)24017-7 Occurrence Handle1:STN:280:DyaK1czgsF2jsg%3D%3D

19.

H Reichenspurner DH Boehm A Welz C Schulze B Zwissler B Reichart (1998) ArticleTitle3D-video- and robot-assisted minimally invasive ASD closure using the port-access technique Heart Surg Forum 1 104–106 Occurrence Handle1:STN:280:DC%2BD3M3ksVWrsw%3D%3D Occurrence Handle11276447

20.

H Reichenspurner DH Boehm H Gulbins C Schulze S Wildhirt A Welz C Detter et al. (2000) ArticleTitleThree-dimensional video and robot-assisted port-access mitral valve operation Ann Thorac Surg 69 1176–1182 Occurrence Handle10.1016/S0003-4975(99)01561-1 Occurrence Handle1:STN:280:DC%2BD3c3lvVOmsQ%3D%3D Occurrence Handle10800815

21.

DJ Turner K Semm (2000) ArticleTitleThe role of computers and robotics in endoscopic surgery Surg Technol Int 8 23–27

22.

Y Yavuz B Ystgaard E Skogvoll R Marvik (2000) ArticleTitleA comparative experimental study evaluating the performance of surgical robots AESOP and Endosista Surg Laparosc Endosc Percutan Tech 10 163–167 Occurrence Handle10.1097/00019509-200006000-00013 Occurrence Handle1:STN:280:DC%2BD3cvpsVCqsA%3D%3D Occurrence Handle10872979
About this article
Cite this article
Kraft, B.M., Jäger, C., Kraft, K. et al. The AESOP robot system in laparoscopic surgery: Increased risk or advantage for surgeon and patient?. Surg Endosc 18, 1216–1223 (2004). https://doi.org/10.1007/s00464-003-9200-z
Received:

Accepted:

Published:

Issue Date:
Keywords
Robotics

AESOP robot system

Laparoscopic procedures

Transabdominal preperitoneal hernia repair

Laparoscopic cholecystectomy