Dysphagia After Eating Raw Fish
Clinical Conundrum
A 45-year-old woman visited emergency department. Her chief complain was swallowing difficulty for 3 days. The patient reported that swallowing difficulty occurred a day after having consumed several raw brackish fish, mullet, and had been getting worse for 3 days. A flexible nasopharyngoscopic examination of the pharynx and larynx was done (Fig.
1
).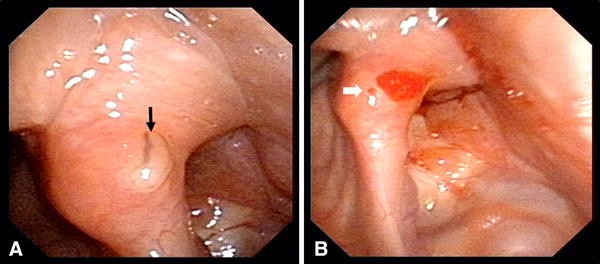 Keywords
Ventral Sucker 
Oral Sucker 
Fresh Water Fish 
Digenetic Trematode 
Laryngeal Mucosa 
These keywords were added by machine and not by the authors. This process is experimental and the keywords may be updated as the learning algorithm improves.
Notes
Compliance with Ethical Standards
Conflict of interest
The author has no conflicts of interest or financial ties to disclose.
Supplementary material
Supplementary material 1 (MP4 268124 kb)
References
1.

Kitagawa N, Oda M, Totoki T, Washizaki S, Oda M, Kifune T. Lidocaine spray used to capture a live

Clinostomum

parasite causing human laryngitis. Am J Otolaryngol. 2003;24:341–3.

CrossRef

PubMed

Google Scholar

2.

3.

Violante-Gonzalez J, Aguirre-Macedo ML, Vidal-Martinez VM. Temporal variation in the helminth parasite communities of the Pacific fat sleeper,

Dormitator latifrons

, from Tres Palos Lagoon, Guerrero, Mexico. J Parasitol. 2008;94:326–34.

CrossRef

PubMed

Google Scholar
Copyright information
© Springer Science+Business Media New York 2016