Abstract
We produce a spatial probability map of vent opening (susceptibility map) at Etna, using a statistical analysis of structural features of flank eruptions of the last 2 ky. We exploit a detailed knowledge of the volcano structures, including the modalities of shallow magma transfer deriving from dike and dike-fed fissure eruptions analysis on historical eruptions. Assuming the location of future vents will have the same causal factors as the past eruptions, we converted the geological and structural data in distinct and weighted probability density functions, which were included in a non-homogeneous Poisson process to obtain the susceptibility map. The highest probability of new eruptive vents opening falls within a N-S aligned area passing through the Summit Craters down to about 2,000 m a.s.l. on the southern flank. Other zones of high probability follow the North-East, East-North-East, West, and South Rifts, the latter reaching low altitudes (∼400 m). Less susceptible areas are found around the faults cutting the upper portions of Etna, including the western portion of the Pernicana fault and the northern extent of the Ragalna fault. This structural-based susceptibility map is a crucial step in forecasting lava flow hazards at Etna, providing a support tool for decision makers.
This is a preview of subscription content, log in to check access.
Access options
Buy single article
Instant access to the full article PDF.
US$ 39.95
Price includes VAT for USA
Subscribe to journal
Immediate online access to all issues from 2019. Subscription will auto renew annually.
US$ 199
This is the net price. Taxes to be calculated in checkout.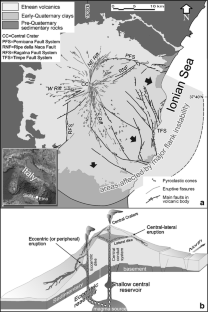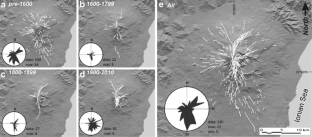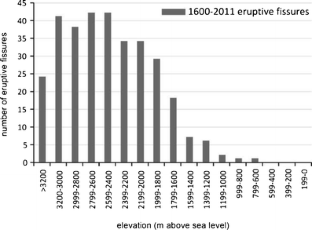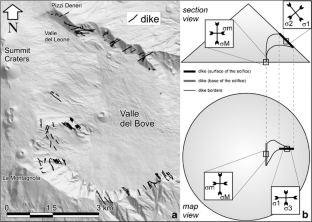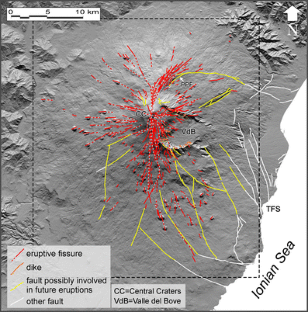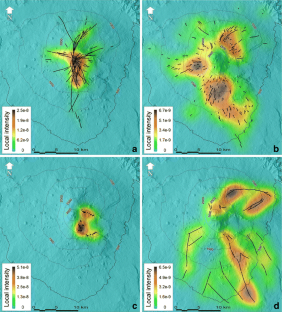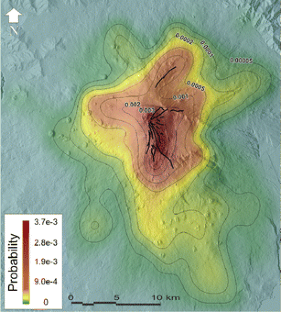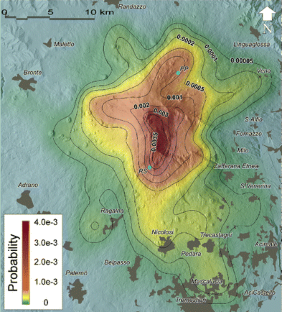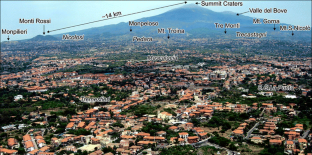 References
Acocella V, Neri M (2009) Dike propagation in volcanic edifices: overview and possible developments. Tectonophysics 471:67–77. doi:10.1016/j.tecto.2008.10.002

Acocella V, Neri M, Scarlato P (2006) Understanding shallow magma emplacement at volcanoes: orthogonal feeder dikes during the 2002–2003 Stromboli (Italy) eruption. Geophys Res Lett 33: L17310. doi:10.1029/2006GL026862

Acocella V, Neri M, Sulpizio R (2009) Dike propagation within active central volcanic edifices: constraints from Somma-Vesuvius, Etna and analogue models. Bull Volcanol 71:219–223. doi:10.1007/s00445-008-0258-2

Bebbington M (2007) Identifying volcanic regimes using Hidden Markov models. Geophys J Int 171:921–942

Behncke B, Neri M (2003) Cycles and trends in the recent eruptive behaviour of Mount Etna (Italy). Can J Earth Sci 40:1405–1411. doi:10.1139/E03-052

Behncke B, Neri M, Nagay A (2005) Lava flow hazard at Mount Etna (Italy): new data from a GIS-based study. In: Manga M, Ventura G (ed) Kinematics and dynamics of lava flows, Spec Pap Geol Soc Am 396, pp 189–208

Bonaccorso A, Bonforte A, Guglielmino F, Palano M, Puglisi G (2006) Composite ground deformation pattern forerunning the 2004–2005 Mount Etna eruption. J Geophys Res 111:B12207. doi:10.1029/2005JB004206

Bonaccorso A, Bonforte A, Calvari S, Del Negro C, Di Grazia G, Ganci G, Neri M, Vicari A, Boschi E (2011) The initial phases of the 2008-2009 Mt. Etna eruption: a multi-disciplinary approach for hazard assessment. J Geophys Res 116:B03203. doi:10.1029/2010JB007906

Bonforte A, Gambino S, Neri M (2009) Intrusion of eccentric dikes: the case of the 2001 eruption and its role in the dynamics of Mt. Etna volcano. Tectonophysics 471:78–86. doi:10.1016/j.tecto.2008.09.028

Bonforte A, Guglielmino F, Coltelli M, Ferretti A, Puglisi G (2011) Structural assessment of Mount Etna volcano from Permanent Scatterers analysis. Geochem Geophys Geosyst 12:Q02002. doi:10.1029/2010GC003213

Branca S, Coltelli M, Groppelli G (2004) In: Bonaccorso A, Calvari S, Coltelli M, Del Negro C, Falsaperla S (eds) Geological evolution of Etna volcano. Etna Volcano Laboratory, AGU 143, Washington DC, pp 49–63

Burton MR, Neri M, Andronico D, Branca S, Caltabiano T, Calvari S, Corsaro RA, Del Carlo P, Lanzafame G, Lodato L, Miraglia L, Salerno G, Spampinato L (2005) Etna 2004–2005: an archetype for geodynamically-controlled effusive eruptions. Geophys Res Lett 32:L09303. doi:10.1029/2005GL022527

Cappello A, Vicari A, Del Negro C (2011a) Assessment and modeling of lava flow hazard on Etna volcano. Boll Geofis Teor Appl 52(2):299–308

Cappello A, Vicari A, Del Negro C (2011b) Retrospective validation of a lava flow hazard map for Mount Etna volcano. Ann Geophys 54(5). doi:10.4401/ag-5345

Cardaci C, Coviello M, Lombardo G, Patané G, Scarpa R (1993) Seismic tomography of Etna volcano. J Volcanol Geotherm Res 56:357–368

Clark J, Evans FC (1954) Distance to nearest neighbour as a measure of spatial relationships in populations. Ecology 35:445–453

Connor CB, Hill BE (1995) Three nonhomogenous Poisson models for the probability of basaltic volcanism: application to the Yucca Mountain region, Nevada. J Geophys Res 100:10,107–10,125

Corsaro R, Neri M, Pompilio M (2002) Paleo-environmental and volcano-tectonic evolution of the south-eastern flank of Mt. Etna during the last 225 ka inferred from volcanic succession of the «Timpe», Acireale, Sicily. J Volcanol Geotherm Res 113:289–306. doi:10.1016/S0377-0273(01)00262-1

Crisci GM, Avolio MV, Behncke B, D'Ambrosio D, Di Gregorio S, Lupiano V, Neri M, Rongo R, Spataro W (2010) Predicting the impact of lava flows at Mount Etna, Italy. J Geophys Res 115:B04203. doi:10.1029/2009JB006431

Diggle PJ (1985) A kernel method for smoothing point process data. Applied Statistics. J R Stat Soc Ser C 34:138–147

Falsaperla S, Cara F, Rovelli A, Neri M, Behncke B, Acocella V (2010) Effects of the 1989 fracture system in the dynamics of the upper SE flank of Etna revealed by volcanic tremor data: the missing link? J Geophys Res 115:B11306. doi:10.1029/2010JB007529

Ganci G, Harris AJL, Del Negro C, Guehenneux Y, Cappello A, Labazuy P, Calvari S, Gouhier M (2012a) A year of lava fountaining at Etna: volumes from SEVIRI. Geophys Res Lett 39:L06305. doi:10.1029/2012GL051026

Ganci G, Vicari A, Cappello A, Del Negro C (2012b) An emergent strategy for volcano hazard assessment: from thermal satellite monitoring to lava flow modeling. Rem Sens Env 119:197–207. doi:10.1016/j.rse.2011.12.021

Holcomb RT (1987) Eruptive history and long-term behavior of Kilauea Volcano. US Geological Survey, Professional Papers 1350:261–350

Kiyosugi K, Connor CB, Zhao D, Connor LJ, Tanaka K (2010) Relationships between temporal-spatial distribution of monogenetic volcanoes, crustal structure, and mantle velocity anomalies: an example from the Abu Monogenetic Volcano Group, Southwest Japan. Bull Volcanol 72:331–340

Lutz TM, Gutmann JT (1995) An improved method for determining and characterizing alignments of point-like features and its implications for the Pinacate volcanic field, Sonoran, Mexico. J Geophys Res 100(B9):17,659–17,670

Marti J, Felpeto A (2010) Methodology for the computation of volcanic susceptibility: an example for mafic and felsic eruptions on Tenerife (Canary Islands). J Volcanol Geotherm Res 195:69–77

Martin AJ, Umeda K, Connor CB, Weller JN, Zhao D, Takahashi M (2004) Modeling long-term volcanic hazards through Bayesian inference: an example from the Tohuku volcanic arc Japan. J Geophys Res 109. doi:10.1029/2004JB003201

Monaco C, De Guidi G, Catalano S, Ferlito C, Tortorici G, Tortorici L (2008) Carta Morfotettonica del Monte Etna. Litografia Artistica Cartografica, Firenze

Neri M, Acocella V (2006) The 2004-2005 Etna eruption: implications for flank deformation and structural behaviour of the volcano. J Volcanol Geotherm Res 158:195–206. doi:10.1016/j.jvolgeores.2006.04.022

Neri M, Guglielmino F, Rust D (2007) Flank instability on Mount Etna: radon, radar interferometry and geodetic data from the southern boundary of the unstable sector. J Geophys Res 112: B04410. doi:10.1029/2006JB004756

Neri M, Lanzafame G, Acocella V (2008) Dike emplacement and related hazard in volcanoes with sector collapse: the 2007 Stromboli eruption. J Geol Soc London 165:883–886. doi:10.1144/0016-76492008-002

Neri M, Acocella V, Behncke B, Giammanco S, Mazzarini F, Rust D (2011a) Structural analysis of the eruptive fissures at Mount Etna (Italy). Ann Geophys 54(5):464–479. doi:10.4401/ag-5332

Neri M, Casu F, Acocella V, Solaro G, Pepe S, Berardino P, Sansosti E, Caltabiano T, Lundgren P, Lanari R (2009) Deformation and eruptions at Mt. Etna (Italy): a lesson from 15 years of observations. Geophys Res Lett 36:L02309. doi:10.1029/2008GL036151

Neri M, Giammanco S, Ferrera E, Patanè G, Zanon V (2011b) Spatial distribution of soil radon as a tool to recognize active faulting on an active volcano: the example of Mt. Etna (Italy). J Environm Rad 102:863–870. doi:10.1016/j.jenvrad.2011.05.002

Newhall CG (2000) Volcano warnings. In: Sigurdsson H (ed) Encyclopedia of volcanoes. Academic, San Diego, pp 1185–1197

Ruch J, Acocella V, Storti F, Neri M, Pepe S, Solaro G, Sansosti E (2010) Detachment depth of an unstable volcano revealed by rollover deformation: an integrated approach at Mt. Etna. Geophys Res Lett 37:L16304. doi:10.1029/2010GL044131

Salvi F, Scandone R, Palma C (2006) Statistical analysis of the historical activity of Mount Etna, aimed at the evaluation of volcanic hazard. J Volcanol Geotherm Res 154:159–168

Siniscalchi A, Tripaldi S, Neri M, Giammanco S, Piscitelli S, Balasco M, Behncke B, Magrì C, Naudet V, Rizzo E (2010) Insights into fluid circulation across the Pernicana Fault (Mt. Etna, Italy) and implications for flank instability. J Volcanol Geotherm Res 193:137–142. doi:10.1016/j.jvolgeores.2010.03.013

Siniscalchi A, Tripaldi S, Neri M, Balasco M, Romano G, Ruch J, Schiavone D (2012) Flank instability structure of Mt Etna inferred by a magnetotelluric survey. J Geophys Res 117:B03216. doi:10.1029/2011JB008657

Solaro G, Acocella V, Pepe S, Ruch J, Neri M, Sansosti E (2010) Anatomy of an unstable volcano through InSAR data: multiple processes affecting flank instability at Mt. Etna in 1994-2008. J Geophys Res 115:B10405. doi:10.1029/2009JB000820

Sparks RSJ (2003) Forecasting volcanic eruptions. Earth Planet Sci Lett 210:1–15. doi:10.1016/S0012-821X(03)00124-9

Tibaldi A, Groppelli G (2002) Volcano-tectonic activity along structures of the unstable NE flank of Mt. Etna (Italy) and their possible origin. J Volcanol Geotherm Res 115:277–302

Vicari A, Ganci G, Behncke B, Cappello A, Neri M, Del Negro C (2011) Near-real-time forecasting of lava flow hazards during the 12–13 January 2011 Etna eruption. Geophys Res Lett 38:L13317. doi:10.1029/2011GL047545

Wadge G, Young PAV, McKendrick IJ (1994) Mapping lava flow hazards using computer simulation. J Geophys Res 99(B1):489–504

Weller JN, Martin AJ, Connor CB, Connor LJ, Karakhanian A (2006) Modelling the spatial distribution of volcanoes: an example from Armenia. In: Mader HM, Coles SG, Connor CB, Connor LJ (eds) Statistics in volcanology. Spec Pub IAVCEI, Geol Soc London, pp 77–88

Worton BJ (1995) Using Monte Carlo simulation to evaluate kernel-based home range estimators. J Wild Manag 59:794–800
Acknowledgments
This study was performed with the financial support from the V3-LAVA project (DPC-INGV 2007–2009 contract). Comments by Editor Agust Gudmundsson and two anonymous reviewers greatly improved the manuscript.
Additional information
Editorial responsibility: A. Gudmundsson
About this article
Cite this article
Cappello, A., Neri, M., Acocella, V. et al. Spatial vent opening probability map of Etna volcano (Sicily, Italy). Bull Volcanol 74, 2083–2094 (2012). https://doi.org/10.1007/s00445-012-0647-4
Received:

Accepted:

Published:

Issue Date:
Keywords
Flank eruption

Dike

Volcano structure

Susceptibility map

Spatial clustering

Back analysis