This is a preview of subscription content, log in to check access.
We're sorry, something doesn't seem to be working properly.
Please try refreshing the page. If that doesn't work, please contact support so we can address the problem.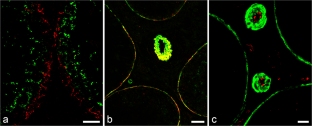 References
Domke LM, Rickelt S, Dörflinger Y, Kuhn C, Winter-Simanowski S, Zimbelmann R, Rosin-Arbesfeld R, Heid H, Franke WW (2014) The cell-cell junctions of mammalian testes: I. The adhering junctions of the seminiferous epithelium represent special differentiation structures. Cell Tissue Res 357:645–665

Domke LM (2018) Molecular and ultrastructural characteristics of adhering junctions and cytoskeletons in cells of the seminiferous tubules and the peritubular walls of mammalian testes. PhD Thesis. Combined Faculties for the Natural Sciences and for Mathematics, Ruperto-Carola University of Heidelberg, Heidelberg, Germany

Domke LM, Franke WW (2019) The cell-cell junctions of mammalian testes: II. The lamellar smooth muscle monolayer cells of the peritubular wall are laterally connected by vertical adherens junctions-a novel architectonic cell-cell junction system. Cell Tissue Res 375:451–482

Franke WW, Domke LM, Dörflinger Y, Zimbelmann R (2020) The cell–cell junctions of mammalian testes. III. Absence of an endothelial cell layer covering the peritubular wall of the seminiferous tubules–an immunocytochemical correction of a 50-year-old error in the literature. Cell Tissue Res. https://doi.org/10.1007/s00441-019-03116-5
Additional information
This commentary is dedicated to Werner W. Franke on the occasion of his 80th birthday.
Publisher's note
Springer Nature remains neutral with regard to jurisdictional claims in published maps and institutional affiliations.
About this article
Cite this article
Domke, L.M. The cell–cell junctions of mammalian testes—a summary. Cell Tissue Res 379, 73–74 (2020). https://doi.org/10.1007/s00441-019-03150-3
Keywords
Seminiferous tubules

Lamellar smooth muscle cells

Cell junctions