Abstract
Caspase (CASP) 3 is known as a representative effector CASP of apoptosis and recently as a mediator in inflammatory cell death called pyroptosis. Interestingly, homozygotes of Casp3 knockout (KO) mice with 129-background show complete embryonic lethality; however, some of those with C57BL/6 (B6)-background (B6.129S1-Casp3tm1Flv/J) survived at a lower rate (KO, 11%; WT, 22%), developing immune abnormality-associated renal phenotypes. Homozygotes of Casp3 KO mice with B6-background that survived for 8–12 months showed abnormality in the kidney and spleen but not in other organs. Briefly, these Casp3 KO kidneys showed proliferative glomerular lesions characterized by increased cells, matrices, immune complex depositions containing IgA and complement 3 in the mesangial area, podocyte injuries and inflammatory cell infiltrations in the tubulointerstitium. However, severe membranous lesion or renal dysfunction was not observed. Increased expression of inflammation-associated gene sets and inflammatory Casps, including Casp12, was observed in these Casp3 KO kidneys. Moreover, these Casp3 KO mice showed mild splenomegaly compared with WT mice. Thus, the long-surviving Casp3 KO mice with B6-background developed renal lesions with altered immune conditions. CASP3 deficiency and aging factors could affect this phenotype by altering the function and/or development of each cell in the kidney and immune organs.
This is a preview of subscription content, log in to check access.
Access options
Buy single article
Instant unlimited access to the full article PDF.
US$ 39.95
Price includes VAT for USA
Subscribe to journal
Immediate online access to all issues from 2019. Subscription will auto renew annually.
US$ 199
This is the net price. Taxes to be calculated in checkout.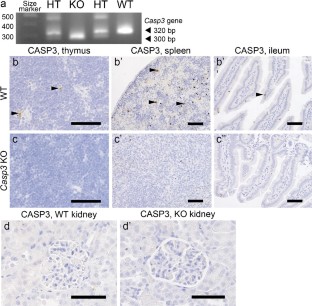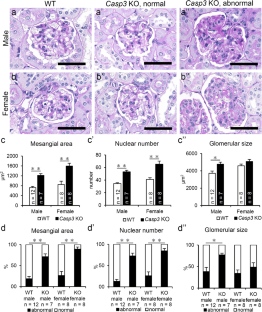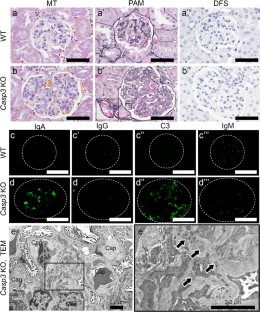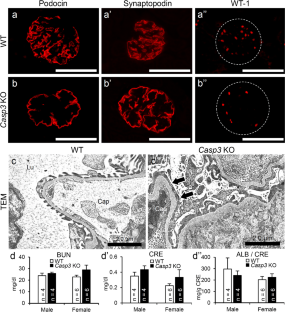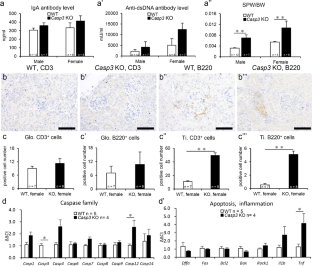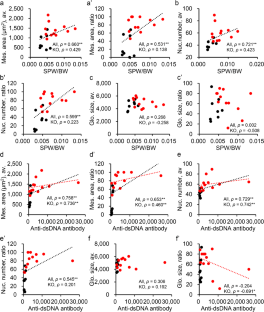 References
Aachoui Y, Sagulenko V, Miao EA, Stacey KJ (2013) Inflammasome-mediated pyroptotic and apoptotic cell death, and defense against infection. Curr Opin Microbiol 16:319–326. https://doi.org/10.1016/j.mib.2013.04.004

Abderrazak A, Syrovets T, Couchie D et al (2015) NLRP3 inflammasome: from a danger signal sensor to a regulatory node of oxidative stress and inflammatory diseases. Redox Biol 4:296–307. https://doi.org/10.1016/j.redox.2015.01.008

Aglietti RA, Dueber EC (2017) Recent insights into the molecular mechanisms underlying pyroptosis and gasdermin family functions. Trends Immunol 38:261–271. https://doi.org/10.1016/j.it.2017.01.003

Bergmann A, Steller H (2010) Apoptosis, stem cells, and tissue regeneration. Sci Signal 3:1–9

Bouillet P, Purton JF, Godfrey DI et al (2002) BH3-only Bcl-2 family member Bim is required for apoptosis of autoreactive thymocytes. Nature 415:922-926. https://doi.org/10.1038/415922a

Degterev A, Boyce M, Yuan J (2003) A decade of caspases. Oncogene 22:8543–8567. https://doi.org/10.1038/sj.onc.1207107

Fan TJ, Han LH, Cong RS, Liang J (2005) Caspase family proteases and apoptosis. Acta Biochim Biophys Sin Shanghai 37:719-727. https://doi.org/10.1111/j.1745-7270.2005.00108.x

Fernandes-Alnemri T, Wu J, Yu JW et al (2007) The pyroptosome: a supramolecular assembly of ASC dimers mediating inflammatory cell death via caspase-1 activation. Cell Death Differ 14:1590–1604. https://doi.org/10.1038/sj.cdd.4402194

Fink SL, Cookson BT (2007) Pyroptosis and host cell death responses during Salmonella infection. Cell Microbiol 9:2562–2570. https://doi.org/10.1111/j.1462-5822.2007.01036.x

Flores-Mendoza G, Sansón SP, Rodríguez-Castro S et al (2018) Mechanisms of tissue injury in lupus nephritis. Trends Mol Med 24:364–378. https://doi.org/10.1016/j.molmed.2018.02.003

González DA, Díaz BB, Rodríguez Pérez M d C et al (2010) Sex hormones and autoimmunity. Immunol Lett 133:6–13. https://doi.org/10.1016/j.imlet.2010.07.001

Günther C, Martini E, Wittkopf N et al (2011) Caspase-8 regulates TNF-α-induced epithelial necroptosis and terminal ileitis. Nature 477:335–339. https://doi.org/10.1038/nature10400

Gy ILO, Broz P, Khalil H et al (2017) Cleavage of DFNA5 by caspase-3 during apoptosis mediates progression to secondary necrotic/pyroptotic cell death. Nature 547:99–103. https://doi.org/10.1038/nature22393

He W, Wan H, Hu L et al (2015) Gasdermin D is an executor of pyroptosis and required for interleukin-1β secretion. Cell Res 25:1285–1298. https://doi.org/10.1038/cr.2015.139

Ho PK, Hawkins CJ (2005) Mammalian initiator apoptotic caspases. FEBS J 272:5436–5453. https://doi.org/10.1111/j.1742-4658.2005.04966.x

Kayagaki N, Stowe IB, Lee BL, et al (2015) Caspase-11 cleaves gasdermin D for non-canonical inflammasome signalling. doi: https://doi.org/10.1038/nature15541

Kulda K, Zheng TS, Na S et al (1996) Decreased apoptosis in the brain and premature lethality in CPP32-deficient mice. Nature 384:368–372. https://doi.org/10.1038/384368a0

Kuranaga E, Miura M (2007) Nonapoptotic functions of caspases: caspases as regulatory molecules for immunity and cell-fate determination. Trends Cell Biol 17:135–144. https://doi.org/10.1016/j.tcb.2007.01.001

Lamkanfi M, Festjens N, Declercq W et al (2007) Caspases in cell survival, proliferation and differentiation. Cell Death Differ 14:44–55. https://doi.org/10.1038/sj.cdd.4402047

Linder E, Pasternack A, Edgington TS (1972) Pathology and immunology of age-associated disease of mice and evidence for an autologous immune complex pathogenesis of the associated renal disease. Clin Immunol Immunopathol 1:104–121. https://doi.org/10.1016/0090-1229(72)90011-6

Mariathasan S, Hewton K, Monack DM et al (2004) Differential activation of the inflammasome by caspase-1 adaptors ASC and Ipaf. Nature 430:213–218. https://doi.org/10.1038/nature02664

Martínez-Feito A, Melero J, Mora-Díaz S et al (2016) Autoimmune lymphoproliferative syndrome due to somatic FAS mutation (ALPS-sFAS) combined with a germline caspase-10 (CASP10) variation. Immunobiology 221:40–47. https://doi.org/10.1016/J.IMBIO.2015.08.004

Matikainen T, Perez GI, Zheng TS et al (2001) Caspase-3 gene knockout defines cell lineage specificity for programmed cell death signaling in the ovary. Endocrinology 142:2468–2480. https://doi.org/10.1210/endo.142.6.8078

Mishra R, Emancipator SN, Kern T, Simonson MS (2005) High glucose evokes an intrinsic proapoptotic signaling pathway in mesangial cells. Kidney Int 67:82–93. https://doi.org/10.1111/j.1523-1755.2005.00058.x

Najafi CC, Korbet SM, Lewis EJ et al (2001) Significance of histologic patterns of glomerular injury upon long-term prognosis in severe lupus glomerulonephritis. Kidney Int 59:2156–2163. https://doi.org/10.1046/j.1523-1755.2001.0590062156.x

Porter AG, Ja RU (2015) Emerging roles of caspase-3 in apoptosis emerging roles of caspase-3 in apoptosis. Cell Death Differ:99–104. https://doi.org/10.1038/sj.cdd.4400476

Rieux-Laucat F, Magérus-Chatinet A, Neven B (2018) The autoimmune lymphoproliferative syndrome with defective FAS or FAS-ligand functions. J Clin Immunol 38:558–568. https://doi.org/10.1007/s10875-018-0523-x

Roos WP, Kaina B (2006) DNA damage-induced cell death by apoptosis. Trends Mol Med 12:440–450. https://doi.org/10.1016/j.molmed.2006.07.007

Sborgi L, Rühl S, Mulvihill E et al (2016) GSDMD membrane pore formation constitutes the mechanism of pyroptotic cell death. 35:1766–1778

Shi J, Zhao Y, Wang K et al (2015) Cleavage of GSDMD by inflammatory caspases determines pyroptotic cell death. Nature. https://doi.org/10.1038/nature15514

Shi J, Gao W, Shao F (2017) Pyroptosis: gasdermin-mediated programmed necrotic cell death. Trends Biochem Sci 42:245–254. https://doi.org/10.1016/j.tibs.2016.10.004

Shimamura H, Terada Y, Okado T et al (2003) The PI3-kinase-Akt pathway promotes mesangial cell survival and inhibits apoptosis in vitro via NF-κB and bad. J Am Soc Nephrol 14:1427–1434. https://doi.org/10.1097/01.ASN.0000066140.99610.32

Takahashi K, Kamiya K, Urase K et al (2001) Caspase-3-deficiency induces hyperplasia of supporting cells and degeneration of sensory cells resulting in the hearing loss. Brain Res 894:359–367. https://doi.org/10.1016/S0006-8993(01)02123-0

Wang J, Lenardo MJ (2000) Roles of caspases in apoptosis, development, and cytokine maturation revealed by homozygous gene deficiencies. J Cell Sci 113:753–757

Wang J, Zheng L, Lobito A et al (1999) Inherited human caspase 10 mutations underlie defective lymphocyte and dendritic cell apoptosis in autoimmune lymphoproliferative syndrome type II. Cell 98:47–58. https://doi.org/10.1016/S0092-8674(00)80605-4

Wang Y, Gao W, Shi X et al (2017) Chemotherapy drugs induce pyroptosis through caspase-3 cleavage of a gasdermin. Nature 547:99–103. https://doi.org/10.1038/nature22393

Woo M, Hakem R, Soengas MS et al (1998) Essential contribution of caspase 3/CPP32 to apoptosis and its associated nuclear changes. Genes Dev 12:806–819. https://doi.org/10.1101/gad.12.6.806

Xie Y, Chen X, Nishi S et al (2004) Relationship between tonsils and IgA nephropathy as well as indications of tonsillectomy. Kidney Int 65:1135–1144. https://doi.org/10.1111/j.1523-1755.2004.00486.x

Yabuki A, Matsumoto M, Nishinakagawa H, Suzuki S (2003) Age-related morphological changes in kidneys of SPF C57BL/6Cr mice maintained under controlled conditions. J Vet Med Sci 65:845–851. https://doi.org/10.1292/jvms.65.845

Yabuki A, Tanaka S, Matsumoto M, Suzuki S (2006) Morphometric study of gender differences with regard to age-related changes in the C57BL/6 mouse kidney. Exp Anim 55:399–404. https://doi.org/10.1538/expanim.55.399

Zheng TS, Hunot S, Kuida K, Flavell RA (1999) Caspase knockouts: matters of life and death. Cell Death Differ 6:1043–1053. https://doi.org/10.1038/sj.cdd.4400593
Acknowledgments
The research described in this manuscript was chosen for the Encouragement Award (undergraduate section) at the 161th Japanese Association of Veterinary Anatomists in Ibaraki (11–13 September 2018, Mr. Suzuki).
Funding
This work was supported by the research grant from KAC Co., Ltd (Dr. Ichii).
Ethics declarations
Conflict of interest
The authors have no conflicts of interest directly relevant to the content of this article.
Ethical approval
Animal experimentation was approved by the Institutional Animal Care and Use Committee of the Graduate School of Veterinary Medicine, Hokkaido University (approval No. 15-0079, 16-0124). Experimental animals were handled in accordance with the Guide for the Care and Use of Laboratory Animals, Graduate School of Veterinary Medicine, Hokkaido University (approved by the Association for Assessment and Accreditation of Laboratory Animal Care International).
Additional information
Publisher's note
Springer Nature remains neutral with regard to jurisdictional claims in published maps and institutional affiliations.
Electronic supplementary material
About this article
Cite this article
Suzuki, T., Ichii, O., Nakamura, T. et al. Immune-associated renal disease found in caspase 3-deficient mice. Cell Tissue Res 379, 323–335 (2020) doi:10.1007/s00441-019-03084-w
Received:

Accepted:

Published:

Issue Date:
Keywords
Kidney

Glomerulus

Caspase 3

Knockout

Immunity