Scarless wound healing: finding the right cells and signals
Abstract
From the moment we are born, every injury to the skin has the potential to form a scar, many of which can impair form and/or function. As such, scar management constitutes a billion-dollar industry. However, effectively promoting scarless wound healing remains an elusive goal. The complex interactions of wound healing contribute to our inability to recapitulate scarless wound repair as it occurs in nature, such as in fetal skin and the oral mucosa. However, many new advances have occurred in recent years, some of which have translated scientific findings from bench to bedside. In vivo lineage tracing has helped establish a variety of novel cellular culprits that may act as key drivers of the fibrotic response. These newly characterized cell populations present further targets for therapeutic intervention, some of which have previously demonstrated promising results in animal models. Here, we discuss several recent studies that identify exciting approaches for diminishing scar formation. Particular attention will also be paid to the canonical Wnt/β-catenin signaling pathway, which plays an important role in both embryogenesis and tissue repair. New insights into the differential effects of Wnt signaling on heterogeneous fibroblast and keratinocyte populations within the skin further demonstrate methods by which wound healing can be re-directed to a more fetal scarless phenotype.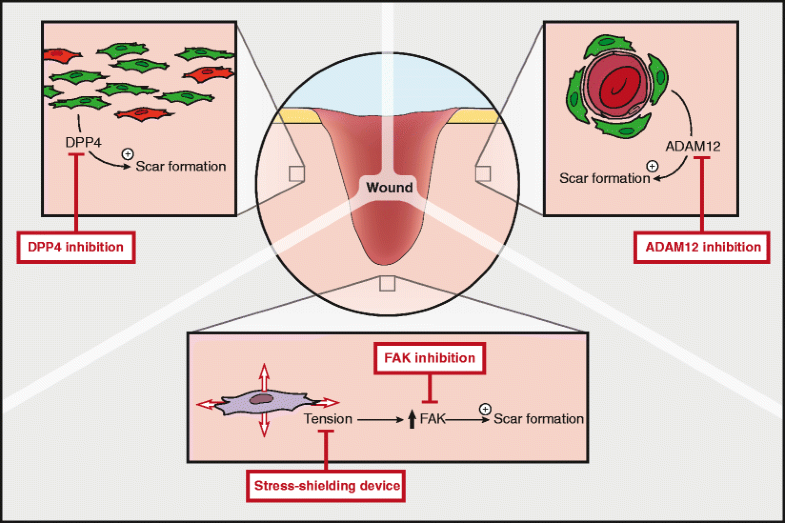 Keywords
Wound healing 
Fibroblast 
Scarless 
Wnt 
β-catenin 
Notes
Compliance with ethical standards
Financial disclosure
The authors have no conflicting financial interests to disclose.
Copyright information
© Springer-Verlag Berlin Heidelberg 2016