Planar stochastic hyperbolic triangulations
Abstract
Pursuing the approach of Angel and Ray (Ann Probab, 2015) we introduce and study a family of random infinite triangulations of the full-plane that satisfy a natural spatial Markov property. These new random lattices naturally generalize Angel and Schramm's uniform infinite planar triangulation (UIPT) and are hyperbolic in flavor. We prove that they exhibit a sharp exponential volume growth, are non-Liouville, and that the simple random walk on them has positive speed almost surely. We conjecture that these infinite triangulations are the local limits of uniform triangulations whose genus is proportional to the size.
Graphical abstract
An artistic representation of a random (3-connected) triangulation of the plane with hyperbolic flavor.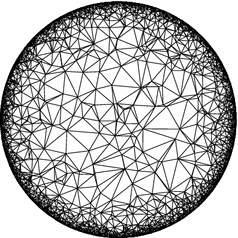 Mathematics Subject Classification
05C80 
05C81 
60J10 
Notes
Acknowledgments
I am grateful to Omer Angel, Itai Benjamini, Guillaume Chapuy and Gourab Ray for useful discussions on and around Conjecture 1. Thanks also go to two anonymous referees for a careful reading of this paper.
Copyright information
© Springer-Verlag Berlin Heidelberg 2015