Abstract
Molybdenum cofactor deficiency is an autosomal, recessively inherited metabolic disorder, which, in the absence of an effective therapy, leads to early childhood death due to neurological deterioration. In type A of the disease, cyclic pyranopterin monophosphate (cPMP) is missing, the first intermediate in the biosynthesis of the cofactor, and a biochemical substitution therapy using cPMP has been developed. A comparable approach for type B of the disease with a defect in the second step of the synthesis, formation of molybdopterin, so far has been hampered by the extreme instability of the corresponding metabolites. To explore avenues for a successful and safe gene therapy, knock-in mouse models were created carrying the mutations c.88C>T (p.Q30X) and c.726_727delAA, which are also found in human patients. Recombinant adeno-associated viruses (rAAVs) were constructed and used for postnatal intrahepatic injections of MoCo-deficient mice in a proof-of-concept approach. Singular administration of an appropriate virus dose in 60 animals prevented the otherwise devastating phenotype to a variable extent. While untreated mice did not survive for more than 2 weeks, some of the treated mice grew up to adulthood in both sexes.
This is a preview of subscription content, log in to check access.
Access options
Buy single article
Instant unlimited access to the full article PDF.
US$ 39.95
Price includes VAT for USA
Subscribe to journal
Immediate online access to all issues from 2019. Subscription will auto renew annually.
US$ 199
This is the net price. Taxes to be calculated in checkout.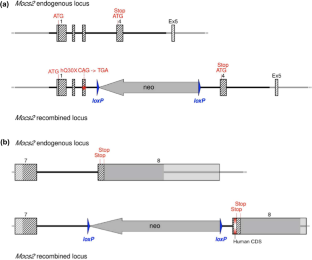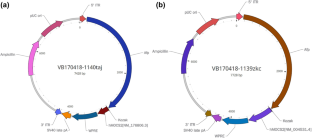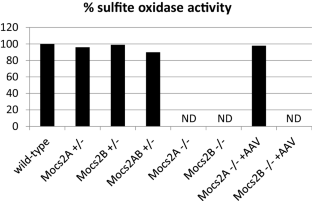 References
Atwal PS, Scaglia F (2016) Molybdenum cofactor deficiency. Mol Genet Metab 117:1–4

Hahnewald R, Leimkuhler S, Vilaseca A, Acquaviva-Bourdain C, Lenz U, Reiss J (2006) A novel MOCS2 mutation reveals coordinated expression of the small and large subunit of molybdopterin synthase. Mol Genet Metab 89:210–213

Hahnewald R, Wegner W, Reiss J (2009) AAV-mediated gene therapy for metabolic diseases: dosage and reapplication studies in the molybdenum cofactor deficiency model. Genet Vaccines Ther 7:9

Hinderhofer K, Mechler K, Hoffmann GF, Lampert A, Mountford WK, Ries M (2017) Critical appraisal of genotype assessment in molybdenum cofactor deficiency. J Inherit Metab Dis 40:801–811

Hitzert MM, Bos AF, Bergman KA, Veldman A, Schwarz G, Santamaria-Araujo JA, Heiner-Fokkema R, Sival DA, Lunsing RJ, Arjune S, Kosterink JG, van Spronsen FJ (2012) Favorable outcome in a newborn with molybdenum cofactor type A deficiency treated with cPMP. Pediatrics 130:e1005–e1010

Huijmans JGM, Schot R, de Klerk JBC, Williams M, de Coo RFM, Duran M, Verheijen FW, van Slegtenhorst M, Mancini GMS (2017) Molybdenum cofactor deficiency: identification of a patient with homozygote mutation in the MOCS3 gene. Am J Med Genet A 173:1601–1606

Jakubiczka-Smorag J, Santamaria-Araujo JA, Metz I, Kumar A, Hakroush S, Brueck W, Schwarz G, Burfeind P, Reiss J, Smorag L (2016) Mouse model for molybdenum cofactor deficiency type B recapitulates the phenotype observed in molybdenum cofactor deficient patients. Hum Genet 135:813–826

Johnson JL, Waud WR, Rajagopalan KV, Duran M, Beemer FA, Wadman SK (1980) Inborn errors of molybdenum metabolism: combined deficiencies of sulfite oxidase and xanthine dehydrogenase in a patient lacking the molybdenum cofactor. Proc Natl Acad Sci USA 77:3715–3719

Johnson JL, Hainline BE, Rajagopalan KV, Arison BH (1984) The pterin component of the molybdenum cofactor. Structural characterization of two fluorescent derivatives. J Biol Chem 259:5414–5422

Kins S, Betz H, Kirsch J (2000) Collybistin, a newly identified brain-specific GEF, induces submembrane clustering of gephyrin. Nat Neurosci 3:22–29

Kugler S, Hahnewald R, Garrido M, Reiss J (2007) Long-term rescue of a lethal inherited disease by adeno-associated virus-mediated gene transfer in a mouse model of molybdenum-cofactor deficiency. Am J Hum Genet 80:291–297

Lee HJ, Adham IM, Schwarz G, Kneussel M, Sass JO, Engel W, Reiss J (2002) Molybdenum cofactor-deficient mice resemble the phenotype of human patients. Hum Mol Genet 11:3309–3317

Macleod RM, Farkas W, Fridovich I, Handler P (1961) Purification and properties of hepatic sulfite oxidase. J Biol Chem 236:1841–1846

Matthies A, Rajagopalan KV, Mendel RR, Leimkuhler S (2004) Evidence for the physiological role of a rhodanese-like protein for the biosynthesis of the molybdenum cofactor in humans. Proc Natl Acad Sci USA 101:5946–5951

McLellan MA, Rosenthal NA, Pinto AR (2017) Cre-loxP-mediated recombination: general principles and experimental considerations. Curr Protoc Mouse Biol 7:1–12

Mechler K, Mountford WK, Hoffmann GF, Ries M (2015) Ultra-orphan diseases: a quantitative analysis of the natural history of molybdenum cofactor deficiency. Genet Med 17:965–970

Naso MF, Tomkowicz B, Perry WL, Strohl WR (2017) Adeno-associated virus (AAV) as a vector for gene therapy. BioDrugs. 31, 317–334

Reiss J, Hahnewald R (2011) Molybdenum cofactor deficiency: mutations in GPHN, MOCS1, and MOCS2. Hum Mutat 32:10–18

Reiss J, Johnson JL (2003) Mutations in the molybdenum cofactor biosynthetic genes MOCS1, MOCS2, and GEPH. Hum Mutat 21:569–76

Reiss J, Gross-Hardt S, Christensen E, Schmidt P, Mendel RR, Schwarz G (2001) A mutation in the gene for the neurotransmitter receptor-clustering protein gephyrin causes a novel form of molybdenum cofactor deficiency. Am J Hum Genet 68:208–213

Reiss J, Lenz U, Aquaviva-Bourdain C, Joriot-Chekaf S, Mention-Mulliez K, Holder-Espinasse M (2011) A GPHN point mutation leading to molybdenum cofactor deficiency. Clin Genet 80:598–599

Russell S, Bennett J, Wellman JA, Chung DC, Yu ZF, Tillman A, Wittes J, Pappas J, Elci O, McCague S, Cross D, Marshall KA, Walshire J, Kehoe TL, Reichert H, Davis M, Raffini L, George LA, Hudson FP, Dingfield L, Zhu X, Haller JA, Sohn EH, Mahajan VB, Pfeifer W, Weckmann M, Johnson C, Gewaily D, Drack A, Stone E, Wachtel K, Simonelli F, Leroy BP, Wright JF, High KA, Maguire AM (2017) Efficacy and safety of voretigene neparvovec (AAV2-hRPE65v2) in patients with RPE65-mediated inherited retinal dystrophy: a randomised, controlled, open-label, phase 3 trial. Lancet 390:849–860

Schwahn BC, Van Spronsen FJ, Belaidi AA, Bowhay S, Christodoulou J, Derks TG, Hennermann JB, Jameson E, Konig K, McGregor TL, Font-Montgomery E, Santamaria-Araujo JA, Santra S, Vaidya M, Vierzig A, Wassmer E, Weis I, Wong FY, Veldman A, Schwarz G (2015) Efficacy and safety of cyclic pyranopterin monophosphate substitution in severe molybdenum cofactor deficiency type A: a prospective cohort study. Lancet 386:1955–1963

Schwarz G, Santamaria-Araujo JA, Wolf S, Lee HJ, Adham IM, Grone HJ, Schwegler H, Sass JO, Otte T, Hanzelmann P, Mendel RR, Engel W, Reiss J (2004) Rescue of lethal molybdenum cofactor deficiency by a biosynthetic precursor from Escherichia coli. Hum Mol Genet 13:1249–1255

Schwarz G, Mendel RR, Ribbe MW (2009) Molybdenum cofactors, enzymes and pathways. Nature 460:839–847

Veldman A, Santamaria-Araujo JA, Sollazzo S, Pitt J, Gianello R, Yaplito-Lee J, Wong F, Ramsden CA, Reiss J, Cook I, Fairweather J, Schwarz G (2010) Successful treatment of molybdenum cofactor deficiency type A with cPMP. Pediatrics 125:e1249–e1254
Acknowledgements
This study was supported by the Deutsche Forschungsgemeinschaft (DFG RE768/18-1). Construction of knock-in mice and gene therapy vectors was performed by commercial entities as indicated in the text. Intellectual property rights are owned by the author, the Universitätsmedizin Göttingen and the Deutsche Forschungsgemeinschaft. I thank Christina Ahlbrecht for invaluable help with the animals and laboratory work.
Ethics declarations
Conflict of interest
The author declares no conflict of interest.
Statement of human/animal rights
This article does not contain any studies with human participants.
Ethical approval
All applicable international, national, and/or institutional guidelines for the care and use of animals were followed. All procedures performed in studies involving animals were in accordance with the ethical standards of the institution or practice at which the studies were conducted (Nds. Landesamt für Verbraucherschutz und Lebensmittelsicherheit (LAVES), Dezernat 33, Röverskamp 5, 26203 Wardenburg).
Additional information
Publisher's Note
Springer Nature remains neutral with regard to jurisdictional claims in published maps and institutional affiliations.
Electronic supplementary material
Below is the link to the electronic supplementary material.
Supplementary material 1 Untreated homozygous Mocs2A-deficient mouse (right) on day 8 after birth in comparison to heterozygous littermate (left) (AVI 28054 KB)
Supplementary material 2 Untreated homozygous Mocs2B-deficient mouse (right) on day 6 after birth in comparison to heterozygous littermate (left) (AVI 6835 KB)
Supplementary material 3 Homozygous Mocs2A-deficient mouse injected at day 4 after birth (left) at age of 4 months in comparison to age-matched control (right). The speed of the rotating rod is 20 rpm (AVI 65080 KB)
Supplementary material 4 Homozygous Mocs2B-deficient mouse injected at day 2 after birth on day 14 after birth (AVI 27926 KB)
About this article
Cite this article
Reiss, J. Molybdenum cofactor deficiency type B knock-in mouse models carrying patient-identical mutations and their rescue by singular AAV injections. Hum Genet 138, 355–361 (2019). https://doi.org/10.1007/s00439-019-01992-z
Received:

Accepted:

Published:

Issue Date: