The success of pharmacogenomics in moving genetic association studies from bench to bedside: study design and implementation of precision medicine in the post-GWAS era
Abstract
Pharmacogenomics is emerging as a popular type of study for human genetics in recent years. This is primarily due to the many success stories and high potential for translation to clinical practice. In this review, the strengths and limitations of pharmacogenomics are discussed as well as the primary epidemiologic, clinical trial, and in vitro study designs implemented. A brief discussion of molecular and analytic approaches will be reviewed. Finally, several examples of bench-to-bedside clinical implementations of pharmacogenetic traits will be described. Pharmacogenomics continues to grow in popularity because of the important genetic associations identified that drive the possibility of precision medicine.
Keywords
Electronic Health Record 
Abacavir 
Stevens Johnson Syndrome 
Precision Medicine 
National Human Genome Research Institute 
These keywords were added by machine and not by the authors. This process is experimental and the keywords may be updated as the learning algorithm improves.
Introduction
Personalized medicine, or more recently coined precision medicine (Khoury et al. 2012), has advanced as one of the predominant strategic initiatives and goals of the next decade for many pharmaceutical companies, biotech institutes, academic medical centers, and the National Institutes of Health. The primary goal of this type of initiative is to treat patients with the correct dose of the appropriate medication based on their individual demographic and genomic makeup (Khoury et al. 2012; Mirnezami et al. 2012; Garay and Gray 2012). Pharmacogenetics and pharmacogenomics have made the dreams of precision medicine a reality. Pharmacogenetics is the study of a single genetic variant with a drug response phenotype, such as treatment responders and non-responders (i.e. assessment of drug efficacy) or a serious adverse side effect (i.e. drug toxicity). As molecular technologies to assay the entire genome have developed and genome-wide association studies (GWAS) emerged, so did pharmacogenomics (surveying the entire genome for associations with drug response phenotypes). As with other genetic traits and diseases, it is hypothesized that variability in drug response is due to underlying individual variation in genetic architecture. This drug response can include efficacy, serious adverse events, toxicity, or variability in target or maintenance dose. In general, pharmacogenomic studies and analysis approaches for these types of studies are very similar to standard genetic epidemiology studies for complex diseases, however, there are some subtleties that should be considered and these will be described in this review.
Efforts in pharmacogenomics have been fruitful and as such, very satisfying to researchers for many reasons. When genetic or genomic associations are identified for a particular drug adverse event, such that an individual with a certain genotype has a significantly increased risk to develop such a reaction upon drug exposure, this result can immediately be useful to patients and physicians in a clinic; assuming of course that an alternative treatment is available. Similarly if the genotype of a patient can be useful to predict the proper dose of a medication, this association also has clinical utility whereby a physician can use this genotype information to guide their dosing. Associations such as these have the possibility to make an impact on human health much more rapidly than genomic associations with complex disease risk such as type II diabetes or Crohn's disease. It is not to say that such associations are not of critical importance to progress in the field and future drug development, diagnostics, or prevention strategies. However, translating complex disease risk associations into clinical practice requires additional years of research.
Another reason that pharmacogenomics has become a significant research area in human genetics is that the effect size for many identified genetic associations for pharmacogenomic traits are much larger than those for common, complex diseases. Table 
1
shows a selected number of genetic associations for complex diseases as well as pharmacogenomic traits extracted from the NHGRI GWAS catalog which captures most of the genome-wide associations identified in GWAS (Hindorff et al.
2009
) (
http://www.genome.gov/gwastudies/
). If one compares the odds ratio for the selected pharmacogenomic traits (the first four examples in Table 
1
) to those of the complex disease traits (the last three examples in Table 
1
), most of the effect sizes for the drug response phenotypes are much stronger. This allowed these pharmacogenomic associations to be identified with a smaller sample size (tens to hundreds of individuals in pharmacogenomics, where complex trait studies often need thousands to tens of thousands of individuals). Of course, this also means that the confidence intervals on the odds ratio estimates will be larger and the estimates may be biased and imprecise (Hosmer
2000
; Harrell et al.
2001
), however, many of these associations have been replicated. So while the effect estimates may not be precise, they are predominantly larger than those for complex disease phenotypes (the last three examples in Table 
1
). This difference in effect size may be due to the known, large environmental factor that is the drug exposure—which is not always present or known in complex traits.
Table 1
Comparison of common, complex disease associations with pharmacogenomics (PGx)
Trait

Chr

Gene

OR (CI)

Sample size

p value

References

PGx trait

 Response to tamoxifen in breast cancer

10q22.3

C10orf11

4.51 (2.72–7.51)

240 cases

6 × 10−8

Kiyotani et al. (2012)

 Response to statin treatment

12p12.1

SLCO1B1

4.5 (2.60–7.70)

85 cases, 90 controls

2 × 10−9

Link et al. (2008)

 Response to hepatitis C treatment

20p13

ITPA

25 (11.11–50.0)

303 cases

2 × 10−25

Tanaka et al. (2011)

 Nevirapine-induced rash

6p21.32

HLA-DRB1-DQB1

3.1 (2.30–4.20)

201 cases

5 × 10−14

Lucena et al. (2011)

Complex disease trait

 Type II diabetes

10q25.2

TCF7L2

1.46 (NR)

2,413 cases, 2,392 controls

2 × 10−15

Kho et al. (2012)

 Obesity

16q12.2

FTO

1.39 (1.27–1.51)

685 obese children, 685 lean children

1 × 10−28

Meyre et al. (2009)

 Age-related macular degeneration (AMD)

1q31.3

CFH

3.11 (2.76–3.51)

2,978 cases, 2,859 controls

2 × 10−76

Chen et al. (2010)
Finally, for some pharmacogenomics outcomes the study is relatively straight forward to design because the drug in question is well characterized and its mechanism of action is well known. This makes targeted genotyping or sequencing experiments feasible to design and implement. On the contrary, many drugs have an unknown mechanism of action and/or little is known about its metabolism or transport. This type of study lends itself to a dense, genome-wide assay (such as GWAS, exome sequencing, exome chips, or whole-genome sequencing). So prior knowledge about the drug can play a role as a strength or weakness for pharmacogenomic studies and it clearly plays an important role in the type of molecular approach selected for the study.
A limitation of pharmacogenomics research is the reality of study design constraints (Grady and Ritchie 2011). Because many pharmacologic agents exert great patient cost, both in terms of dollars as well as in disease treatment efficacy or risk of toxicity, it is not often the case that the study can be designed in an optimal way for genetic or genomic research. It is, for example, unethical to have a control group with disease who are denied drug treatment to compare to the disease group on drug. If the drug is FDA approved with proven patient benefits, it is not advisable to deny treatment to patients specifically to control the genomic study design. Therefore, it is more often the case that performing an exposed-versus-unexposed study is not possible. However, designs which included case-only on drug, with and without serious adverse events can be used. This is the most common design currently used (described more below). Another challenge related to study design is that most pharmacogenomic research studies are amended to existing projects. For example, many prospective clinical trials add a retrospective pharmacogenomics component. The limitation here is that pharmacogenomics researchers are confined to the original study design, which may or may not fulfill their research question.
Replication of effects is another significant challenge and limitation of pharmacogenomics studies, as compared to complex disease association studies. To replicate detected associations, one needs to have an independent study with the same drug treatment and phenotype outcome collected (adverse event, toxicity, etc.). For efficacy or dosing outcomes, one needs not only the same drug, but also the same dosing. For assessing drug–drug interaction associations, one needs the same drug cocktail observed in multiple patient cohorts. This presents a significant challenge. Often, because of this limitation, pharmacogenomics researchers focus on functional validation of associations in cell lines (Welsh et al. 2009; Duan et al. 2009; Huang et al. 2007; Matsson et al. 2012; Ingle et al. 2010) or model systems, rather than replication of effects.
Lastly, many pharmacogenomics traits or drug response studies have very limited sample size. Drugs that exhibit life-threatening adverse events, such as toxicity, are often pulled from the market. Even without intervention in this manner, many adverse events are quite rare. So while the effect size if often larger for pharmacogenomic traits, the available sample size may be appreciably smaller.
Regardless of the limitations described above, pharmacogenetic and pharmacogenomics studies have been extremely successful in human genetics. The ability to translate genetic associations from "bench to bedside", which is the promise of translational research, has been demonstrated for several pharmaceuticals and various drug-related phenotypes (described in this review). It is clear that in this GWAS era, with thousands of known genetic associations for hundreds of traits, a type of study that has forged ahead, with great success is pharmacogenomics. In this review, the most common study designs for pharmacogenomics will be described. Next, the molecular and analytic strategies suited for pharmacogenomics will be briefly discussed. Finally, a number of the translational success stories of pharmacogenomics traits will be reviewed. This manuscript will provide evidence for the impetus in pharmacogenomics as an emerging area for human genetics.
Epidemiologic study designs for pharmacogenomics
Pharmacogenomic studies are often performed on data collected for other pharmacologic research, although in some cases, prospective clinical trials have been designed specifically for pharmacogenomics testing. The three primary epidemiologic study designs used include clinical trials, retrospective case–control studies, or biobanks linked to electronic health records (EHR) as shown in Fig. 
1
. Each of these designs will be discussed briefly in the following sections, including strengths and limitations of each design. A summary of the strengths and limitations is presented in Table 
2
.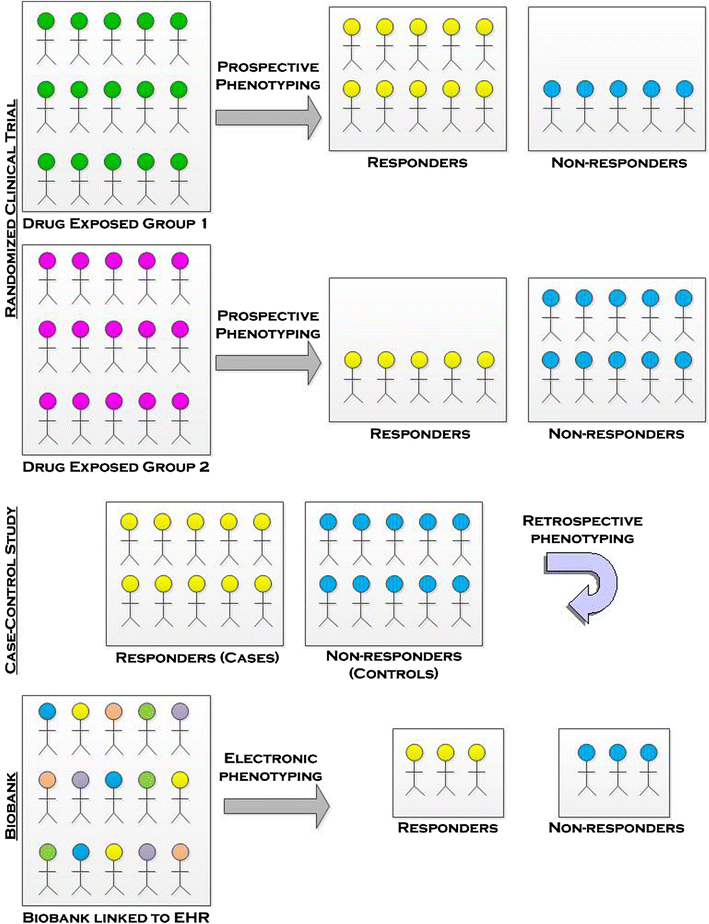 Table 2
Comparison of three study designs for pharmacogenomics
Randomized controlled trials

Observational case–control

Biobanks

Strengths

 Little confounding

Powerful analytic approach

Phenotypes can be selected after sample collection (from EHR)

 Little selection bias

Control recruitment sample size of cases and controls

Many phenotypes are possible

 Pristine phenotypes on short-term outcomes and toxicity

Can be prospective or retrospective

Patients are followed over time as they continue in clinic

Limitations

 Mid-trial changes due to toxicity can cause problems for research analysis

Bias from differential recall

Study design limited by what phenotypes/traits collected in the EHR

 Population stratification

Population stratification

Population stratification

 Potential for bias in DNA collection

Complications in phenotype collection (adherence, changes, multiple treatments)

Data collected for clinic purposes—not research

 Cost: expensive in terms of time and money to follow participants

Cost: most data collected at study initiation; subsequent cost in making the data useful for analysis

Cost: bioinformatics for phenotyping is significant in terms of time and money
Molecular techniques for pharmacogenomics
Pharmacogenomics studies are inherently quite similar to standard human genetic studies; however, the phenotype is related to treatment response rather than simply a quantitative trait or disease risk. Due to the similarity, standard molecular technologies and analytic approaches can be applied to these studies (Grady and Ritchie 2011). For example, in the post-GWAS era, any number of data generation techniques can be used, depending on the scientific questions and hypothesis being tested. For example, if it is hypothesized that rare, coding variants will be most important for the pharmacogenomics trait of interest, exome sequencing or exome chips would be the most likely methodology of choice. Conversely, if gene expression variation from eQTLs (expression quantitative trait loci) or epigenetic variation are hypothesized to be most relevant, next generation sequencing of either RNA (RNAseq) or methylation sites (methyl-seq) may be selected instead. With the rapid development of novel technologies, there are a number of assays that can be considered and these have been reviewed elsewhere (Krueger et al. 2012; Zhou et al. 2011; Zhang et al. 2011; Ku et al. 2011). An important consideration is also the type of tissue being collected and the appropriate molecular technique selected. For example, when assaying germline DNA variation, DNA from blood (i.e. lymphocytes) would be appropriate and sufficient. However, if DNA variation of interest is related to somatic changes, such as in cancer, DNA from the tumor would be more appropriate. In addition, the comparison would typically be tumor tissue compared to a healthy section from the same tissue; this adds additional effort to perform such an experiment. If gene expression or epigenetic variation in the liver is of interest, surrogate tissue, such as blood, may be inappropriate for this assessment as blood cells may or may not reflect the actual relationship between drug and the organ affected by toxicity (i.e. liver, if metabolized by liver; skin if skin toxicity; etc.). A full survey of these techniques is out of the scope of this review, thus readers should be encouraged to explore some of these references (Manolopoulos et al. 2011; Kacevska et al. 2011; Midorikawa et al. 2012).
As mentioned earlier, an additional benefit to some pharmacogenomics studies is the knowledge of the mechanism of action of the drug. This can make the initial design of the molecular study much more targeted. For example, several companies have designed genotyping arrays specifically focused on drug metabolism and transport genes, such as the Affymetrix DMET chip and the Illumina ADME chip. Platforms like this will allow for more targeted evaluation of genes known to be related to the drug and/or phenotype of interest. Alternatively, a targeted exome or genome capture experiment could be considered if there is a list of genes hypothesized to be relevant for the drug metabolism. This approach will most likely only be relevant until the cost of whole-genome sequencing drops. Once the cost of sequencing the entire genome is low enough, this will be the method of choice as it allows one to obtain the rare variants as well as the common variants and everything in between. Still, even if the genes/pathways which control drug mechanism are known, these may or may not explain variation in response. So while this knowledge may guide the initial molecular assays, subsequent genomic assays may be needed. This will result in genome-wide genotyping or whole-genome sequencing being selected as the assay of choice.
Analytic techniques for pharmacogenomics
Standard analysis techniques are typically implemented in pharmacogenomics studies. In general, the study design allows for standard regression methods, Chi-square tests, Cox-proportional hazard models for time to event analysis, or Wilcoxon tests, etc. and there is no need for specialized statistical methods. The only caveat to this is that the definition of case–control groups and the interpretation of results must be carefully considered. For example, if the case group is defined by a serious adverse side effect to statin treatment, and the control group is a population-based control group that includes a set of individuals who are not exposed to statins, associations identified may be more likely to be associated with the reason that the "cases" are prescribed statins, rather than the statin side effect. It is also possible that the association is important for the side effect. A mechanism to control for disease indication that led to treatment is needed for a study such as this.
Analysis techniques for pharmacogenomics have also been extensively reviewed (Motsinger et al. 2006a, 2007; Motsinger and Ritchie 2006; Flynn 2011; Rodin et al. 2011; Srinivasan et al. 2009). Briefly, for single SNP or variant analysis in pharmacogenomics association studies a large array of statistical methods can be utilized(Cantor et al. 2010) such as Chi-square test (Greenwood 1996; Zheng et al. 2004), Armitage trend test (Armitage 1955; Cree et al. 2010), Kaplan–Meier survival curves (Kaplan and Meier 1958; Huang et al. 2009), Bayesian statistics (Stephens and Balding 2009), or data mining methods (Coassin et al. 2010) but is commonly performed in the framework of regression (Woodahl et al. 2008). Most of these are performed in standard statistical analysis software such as STATA, SAS, R, PLINK, or others. Epistasis, or gene–gene interactions, and gene–environment interactions can be investigated through the use of many standard statistical methods (Motsinger et al. 2007; Cordell 2009), complex regression methods including lasso regression (Ayers and Cordell 2010) and logic regression (Kooperberg et al. 2001; Kooperberg and Ruczinski 2005), as well as data mining methods such as multifactor dimensionality reduction (MDR) (Hahn et al. 2003; Ritchie et al. 2001), tree-based methods such as classification and regression trees (CART) (Breiman et al. 1984) and Random Forests/Random Jungle (Breiman 2001; Schwarz et al. 2010), evolutionary algorithms designed for application to genetic data are grammatical evolution neural networks (GENN) (Turner et al. 2010a) and genetic programming neural networks (GPNN) (Motsinger et al. 2006b). The use of a wide variety of methods designed for gene–gene interaction analysis in pharmacogenomics studies is reviewed by Motsinger et al. (2007). For data integration methods, there are a number of methods emerging and more being developed all the time. For example, Huang et al. (2007) have been exploring the three-stage triangle method, where one investigates the association of SNPs with the trait to filter the SNP list, next these SNPs are tested for association with gene expression, and finally, those significant results are tested for association with the trait. Other approaches include using pathway analysis (Emilsson et al. 2008), Bayesian networks (Fridley et al. 2012), canonical correlation analysis (Chalise et al. 2012), and neural networks (Turner et al. 2010b; Holzinger and Ritchie 2012). We would direct readers to these manuscripts for a more in depth discussion of the different analytic methods appropriate for pharmacogenomics (Grady and Ritchie 2011; Motsinger et al. 2007; Holzinger and Ritchie 2012; Yan 2008).
Success stories of pharmacogenomics: translational pharmacogenetics
As shown in Table 1, pharmacogenomics studies have observed a number of great successes in recent years. An entire area of pharmacogenomics that was not highlighted in the current review is cancer pharmacogenomics. The difference in cancer is that both germline DNA variation and somatic mutations in the tumor are part of the investigation. This changes some of the study design considerations described above, thus cancer is not a major focus of this review. However, it is important to note that many of the successes in translation of pharmacogenomics to the clinic are in the treatment of cancer such as EGFR tyrosine kinase inhibitors (TKIs) in the treatment of lung cancer (Yi et al. 2009) and HER2-directed therapies in the treatment of HER2-positive early-stage breast cancer (Arteaga et al. 2012). The following sections will highlight some of the pharmacogenomics results that have translated into precision medicine. All of these particular associations have been replicated in multiple studies and are also evaluated by the Clinical Pharmacogenetics Implementation Consortium (CPIC) of the Pharmacogenomics Research Network (PGRN) (Relling and Klein 2011). CPIC was established in 2009 to address the need for interpretation of genetic association results and guidance for clinicians so that pharmacogenetic tests could be used wisely in clinical care (Relling and Klein 2011). CPIC comprises physicians and researchers who are experts in pharmacogenetics, pharmacogenomics, and laboratory medicine many of whom are from the Pharmacogenomics Research Network (PGRN) and PharmGKB. CPIC has established a framework for evaluating levels of evidence needed to justify the implementation of a pharmacogenetic finding into clinical care. Their systematic approach is described in Relling and Klein (2011). In this review, we describe several success stories in pharmacogenetics with reported associations, CPIC evaluation, and clinical implementation (Relling and Klein 2011).
Future directions in pharmacogenomics
Similar to all complex trait research in human genetics, pharmacogenomics is experiencing an explosion of data. The vast amount of data is extremely exciting for researchers, but brings with it significant challenges. Fortunately, as discussed previously, pharmacogenomics has a number of success stories to motivate and inspire future research endeavors. However, it is important to recognize that even for the traits with identified effects there is likely to be additional heritability that can be explained (Maher
2008
). While estimating this heritability in PGx precisely is challenging (as family studies are not always readily available), the proposed heritability of most PGx traits exceeds that which has been explained so far. Thus, considering alternatives to the common variant hypothesis are warranted. Much like other traits, this additional heritability will be explored in:
Rare variants, generated by genome sequencing experiments

Combinations of common and rare genetic variants in polygenic and or predictive models

Network and pathway analyses, including common and/or rare variants

mRNA gene expression integrated with DNA sequence variation

Gene–drug–environment interactions, including additional drugs and other environmental exposures
Fortunately, the barriers to data sharing are being reduced all the time, which makes it possible to assemble datasets with sufficient sample size to begin to consider effects like those listed above. The future of personalized medicine will likely involve predictive models composed of multiple variants and perhaps gene expression and environmental factors as well. We will learn the true complexity of pharmacogenomic traits.
Still, several success stories have been reported (described above) where pharmacogenomics discoveries have been made and many of these translated into the clinic. This process involves a significant amount of work, and the process has been slow for even the successful gene–drug relationships. This is due, in part, to a lack of specific guidelines on how to adjust medications on the basis of genetic testing results (Relling and Klein 2011). It is the goal of the CPIC (Relling and Klein 2011) to provide these guidelines to clinicians and laboratories. Important considerations that go into these guidelines include the results of pharmacogenomics studies, US Food and Drug Administration (FDA) label changes, and commercial sources release information for certain drugs (Relling and Klein 2011). It is certainly the case that personalized medicine, or precision medicine, is emerging in clinics around the world. However, best practices for making these translations are still in progress.
Summary
Pharmacogenomics continues to expand in popularity as more genetic associations are uncovered. The nature of the effects in pharmacogenomics has been predominantly stronger and more interpretable than common disease associations. This is partially due to the known mechanism of action, metabolism, and transport for many pharmaceuticals. Another reason, and perhaps the more important one, is that pharmacogenomics can be translated into patient care in a near immediate course of action. For example, if a polymorphism is identified to be associated with drug dosing, physicians can change clinical care using genotype in the dosing algorithm. Likewise, if a polymorphism is associated with a serious adverse event, an alternative treatment could be selected for such patients. Finally, if it is known that treatment efficacy is optimal for one certain genotype group, while a similar drug is most efficacious for another genotype group, therapy can be personalized to achieve maximal success in patient care.
Notes
Open Access
This article is distributed under the terms of the Creative Commons Attribution License which permits any use, distribution, and reproduction in any medium, provided the original author(s) and the source are credited.