Abstract
The purpose of this study was to perform a phylogenetic analysis of Hepatozoon spp. infecting Philodryas patagoniensis in Uruguay. Twenty-five road-killed specimens of P. patagoniensis from ten departments were obtained. Samples of blood and/or heart tissue were taken. Polymerase chain reaction (PCR) assay was carried out amplifying a specific target region of the 18S rRNA gene of Hepatozoon spp. Eighteen out of twenty-five samples were positive to Hepatozoon spp., which gave an overall prevalence of 72%. Phylogenetic analyses with the obtained sequences were carried out to determine the relationship with closely related species found in the region. The results revealed that samples were split into two clades with a high bootstrap support. Clade I was formed with Hepatozoon spp. sequences obtained in this study from P. patagoniensis, Hepatozoon cuestensis from Crotalus durissus terrificus and Hepatozoon musa from Philodryas nattereri, and Hepatozoon spp. retrieved from Cerdocyon thous, Hemidactylus mabouia, and Phyllopezus pollicaris from Brazil, respectively. Clade II was grouped with Hepatozoon cevapii and Hepatozoon massardii, both species described for C. d. terrificus from Brazil. This is the first report of Hepatozoon spp. in snakes from Uruguay.
This is a preview of subscription content, log in to check access.
Access options
Buy single article
Instant unlimited access to the full article PDF.
US$ 39.95
Price includes VAT for USA
Subscribe to journal
Immediate online access to all issues from 2019. Subscription will auto renew annually.
US$ 199
This is the net price. Taxes to be calculated in checkout.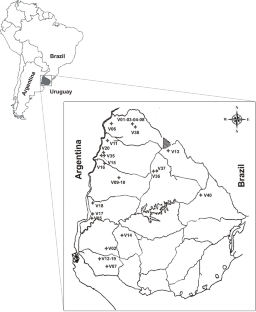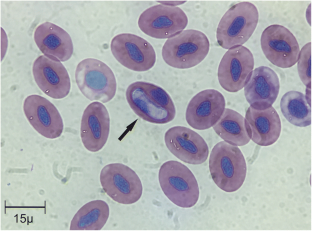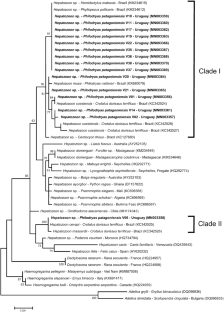 References
Ball GH (1958) A haemogregarine from a water snake, Natrix piscator taken in the vicinity of Bombay, India. J Protozool 5:274–281. https://doi.org/10.1111/j.1550-7408.1958.tb02566.x

Ball GH, Chao J, Telford SR (1967) The life history of Hepatozoon rarefaciens (Sambon and Seligmann 1907) from Drymarchon corais (Colubridae), and its experimental transfer to Constrictor constrictor (Boidae). J Parasitol 53:897–909. https://doi.org/10.2307/3276805

Baneth G, Mathew JS, Shkap V, Macintire DK, Barta JR, Ewing SA (2003) Canine hepatozoonosis: two disease syndromes caused by separate Hepatozoon spp. Trends Parasitol 19:27–31. https://doi.org/10.1016/S1471-4922(02)00016-8

Borges-Nojosa DM, Borges-Leite MJ, Maia JP, Zanchi-Silva D, da Rocha BR, Harris DJ (2017) A new species of Hepatozoon Miller, 1908 (Apicomplexa: Adelerina) from the snake Philodryas nattereri Steindachner (Squamata: Dipsadidae) in Northeastern Brazil. Syst Parasitol 94(1):65–72 https://doi.org/10.1007/s11230-016-9676-2

Carini A (1910) Sobre uma hemogregarina de Philodryas schottii. Rev Med S Paulo 23:339–340

Carreira S, Maneyro R (2013) Guía de Reptiles del Uruguay. Ediciones de la Fuga, Montevideo

Harris DJ, Maia JP, Perera A (2011) Molecular characterization of Hepatozoon species in reptiles from the Seychelles. J Parasitol 97(1):106–110. https://doi.org/10.1645/GE-2470.1

Hull RW, Camin JH (1960) Haemogregarine in snakes: the incidence and identity of the erythrocytic stages. J Parasitol 46:515–523 https://doi.org/10.2307/3275151

Kumar S, Stecher G, Tamura K (2016) MEGA7: molecular evolutionary genetics analysis version 7.0 for bigger datasets. Mol Biol Evol 33(7):1870–1874. https://doi.org/10.1093/molbev/msw054

Maia JP, Perera A, Harris DJ (2012) Molecular survey and microscopic examination of Hepatozoon Miller, 1908 (Apicomplexa: Adeleorina) in lacertid lizards from the western Mediterranean. Folia Parasit 59(4):241–248

Moço TC (2008) Prevalência de Hepatozoon spp. em serpentes e caracterização morfológica, morfométrica e molecular de Hepatozoon spp.(Apicomplexa, Hepatozoidae) de Crotalus durissus terrificus (Serpentes, Viperidae) naturalmente infectadas. Tesis de Maestría, Programa de PósGraduação em Biologia Geral e Aplicada, Área de concentração Biologia de Parasitas Instituto de Biociências, Câmpus de Botucatu, Universidade Estadual Paulista (UNESP)

Moço TC, O'Dwyer LH, Vilela FC, Barrella TH, Silva RJ (2002) Morphologic and morphometric analysis of Hepatozoon spp. (Apicomplexa, Hepatozoidae) of snakes. Mem Inst Oswaldo Cruz 97:1169–1176 https://doi.org/10.1590/S0074-02762002000800019

Morrison DA (2009) Evolution of the Apicomplexa: where are we now? Trends Parasitol 25(8):375–382. https://doi.org/10.1016/j.pt.2009.05.010

O'Dwyer LH, Moço TC, dos Santos PK, Spenassatto C, da Silva RJ, Ribolla PEM (2013) Description of three new species of Hepatozoon (Apicomplexa, Hepatozoidae) from rattlesnakes (Crotalus durissus terrificus) based on molecular, morphometric and morphologic characters. Exp Parasitol 135(2):200–207. https://doi.org/10.1016/j.exppara.2013.06.019

O'Dwyer LH, Moço TC, Barrella TH, Vilela FC, Silva RJ (2003) Prevalence of Hepatozoon spp. (Apicomplexa, Hepatozoidae) among recently captured Brazilian snakes. Arq Bras Med Vet Zootec 55(3):309–314 https://doi.org/10.1590/S0102-09352003000300010

Paperna I, Lainson R (2004) Hepatozoon cf. terzii (Sambon & Seligman, 1907) infection in the snake Boa constrictor constrictor from North Brazil: transmission to the mosquito Culex quinquefasciatus and the lizard Tropidurus torquatus. Parasite 11:175–181. https://doi.org/10.1051/parasite/2004112175

Perkins SL, Keller AK (2001) Phylogeny of nuclear small subunit rRNA genes of hemogregarines amplified with specific primers. J Parasitol 87:870–876. https://doi.org/10.1645/0022-3395(2001)087[0870:PONSSR]2.0.CO;2

Pessoa SB (1928) Contribuição ao estudo dos hemoparasitas dos ofídios. III. Haemogregarina butantanensis n. sp. Parasita do Philodryas aestivus. Bol Ins Hyg 35:56–61

Pessoa SB, Belluomini HE, De Biasi P, De Souza DM (1971) Notas sobre hemogregarinas de serpentes brasileiras. XIV - Esporogonia da hemogregarina da Bothrops moojeni Hoge, 1965 no Culex (Culex) dolosus, (L. Arribálzaga, 1891). Arq Inst Biol São Paulo 38:253–258

Pessoa SB, De Biasi P, Puorto G (1974) Transferência do Hepatozoon tupinambis, parasita do lagarto Tupinambis teguixin, para a serpente cascavel (Crotalus durissus terrificus) por intermédio de mosquito Culex fatigans. Mem Inst Oswaldo Cruz 72:295–299 https://doi.org/10.1590/S0074-02761974000200013

Smith TG (1996) The genus Hepatozoon (Apicomplexa: Adeleina). J Parasitol 82:565–585. https://doi.org/10.2307/3283781

Smith TG, Desser SS, Martin DS (1994) The development of Hepatozoon sipedon (Apicomplexa: Adeleina: Hepatozoidae) in its natural host, the northern water snake (Nerodia sipedon sipedon), the culicine vectors, Culex pipiens and Culex territans, and in an intermediate host, the northern leopard frog (Rana pipiens). Parasitol Res 80:559–568. https://doi.org/10.1007/BF00933003

Smith TG, Kim B, Desser SS (1999) Phylogenetic relationships among Hepatozoon species from snakes, frogs, and mosquitoes of Ontario, Canada, determined by ITS-1 nucleotide sequences and life-cycle, morphological and developmental characteristics. Int J Parasitol 29:293–304 https://doi.org/10.1016/S0020-7519(98)00198-2

Spolidorio MG, Labruna MB, Zago AM, Donatele DM, Caliari KM, Yoshinari NH (2009) Hepatozoon canis infecting dogs in the State of Espírito Santo, Southeastern Brazil. Vet Parasitol 163:357–361. https://doi.org/10.1016/j.vetpar.2009.05.002
Acknowledgments
We are grateful to Martín Martinicorena and Mauricio Burutarán for providing some of the samples. Thanks to the two anonymous reviewers for their comments and suggestions that greatly improve the quality of our manuscript.
Ethics declarations
Conflict of interest
The authors declare that they have no conflict of interest.
Additional information
Publisher's note
Springer Nature remains neutral with regard to jurisdictional claims in published maps and institutional affiliations.
Section Editor: Leonhard Schnittger
About this article
Cite this article
Bazzano, V., Félix, M.L., Parodi, P. et al. Phylogenetic analysis of Hepatozoon spp. (Apicomplexa: Hepatozoidae) infecting Philodryas patagoniensis (Serpentes: Dipsadidae) in Uruguay. Parasitol Res (2020) doi:10.1007/s00436-020-06605-7
Received:

Accepted:

Published:
Keywords
Hepatozoon
Philodryas patagoniensis

Phylogenetic analysis

Uruguay