Abstract
Giardia duodenalis is a zoonotic intestinal parasite infecting humans and mammals worldwide. In this study, we evaluated the prevalence of G. duodenalis in racehorses in China and genetically characterized it. In total, 621 fecal samples were collected from racehorses at 17 equestrian clubs in 15 cities in China. Forty-eight (7.7%) animals from 11 equestrian clubs were positive for G. duodenalis of assemblages A (n = 10), B (n = 36), and E (n = 2), based on the small subunit ribosomal RNA (SSU rRNA) gene. Statistically significant differences in the prevalence of this parasite were detected among the different equestrian clubs (χ2 = 49.55, df = 16, p < 0.01), whereas no significant differences were detected according to age (χ2 = 0.64, df = 1, p > 0.05) or sex (χ2 = 1.41, df = 2, p > 0.05). The G. duodenalis-positive samples were further subtyped based on three other genes, which identified 5, 4, and 4 genotypes at the triose phosphate isomerase (tpi), glutamate dehydrogenase (gdh), and β-giardin (bg) loci, respectively. Subassemblage BIV was the predominant genotype. A phylogenetic analysis of the concatenated sequences of subassemblage BIV showed that the multilocus genotypes from the horses were genetically different from those of humans and nonhuman primates, indicating the evolution of host separation in G. duodenalis subassemblage BIV. Our study extends our understanding of the transmission of G. duodenalis between animals and humans.
This is a preview of subscription content, log in to check access.
Access options
Buy single article
Instant unlimited access to the full article PDF.
US$ 39.95
Price includes VAT for USA
Subscribe to journal
Immediate online access to all issues from 2019. Subscription will auto renew annually.
US$ 199
This is the net price. Taxes to be calculated in checkout.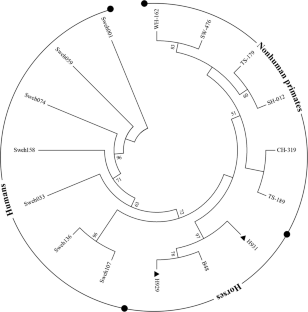 References
Appelbee AJ, Frederick LM, Heitman TL, Olson ME (2003) Prevalence and genotyping of Giardia duodenalis from beef calves in Alberta, Canada. Vet Parasitol 112:289–294. https://doi.org/10.1016/s0304-4017(02)00422-3

Atwill ER, McDougald NK, Perera L (2000) Cross-sectional study of faecal shedding of Giardia duodenalis and Cryptosporidium parvum among packstock in the Sierra Nevada Range. Equine Vet J 32(3):247–252. https://doi.org/10.2746/042516400776563545

Caccio SM, Beck R, Lalle M, Marinculic A, Pozio E (2008) Multilocus genotyping of Giardia duodenalis reveals striking differences between assemblages A and B. Int J Parasitol 38(13):1523–1531. https://doi.org/10.1016/j.ijpara.2008.04.008

Coklin T, Farber J, Parrington L, Dixon B (2007) Prevalence and molecular characterization of Giardia duodenalis and Cryptosporidium spp. in dairy cattle in Ontario, Canada. Vet Parasitol 150(4):297–305. https://doi.org/10.1016/j.vetpar.2007.09.014

de Souza PN, Bomfim TC, Huber F, Abboud LC, Gomes RS (2009) Natural infection by Cryptosporidium sp., Giardia sp. and Eimeria leuckarti in three groups of equines with different handlings in Rio de Janeiro, Brazil. Vet Parasitol 160(3–4):327–333. https://doi.org/10.1016/j.vetpar.2008.10.103

Deng L, Li W, Zhong Z, Liu X, Chai Y, Luo X, Song Y, Wang W, Gong C, Huang X, Hu Y, Fu H, He M, Wang Y, Zhang Y, Wu K, Cao S, Peng G (2017) Prevalence and molecular characterization of Giardia intestinalis in racehorses from the Sichuan province of southwestern China. PLoS One 12(12):e0189728. https://doi.org/10.1371/journal.pone.0189728

Epe C, Coati N, Schnieder T (2004) Results of parasitological examinations of faecal samples from horses, ruminants, pigs, dogs, cats, hedgehogs and rabbits between 1998 and 2002. Dtsch Tierarztl Wochenschr 111(6):243–247

Fantinatti M, Bello AR, Fernandes O, Da-Cruz AM (2016) Identification of Giardia lamblia assemblage E in humans points to a new anthropozoonotic cycle. J Infect Dis 214(8):1256–1259. https://doi.org/10.1093/infdis/jiw361

Feng Y, Xiao L (2011) Zoonotic potential and molecular epidemiology of Giardia species and giardiasis. Clin Microbiol Rev 24(1):110–140. https://doi.org/10.1128/CMR.00033-10

Foronda P, Bargues MD, Abreu-Acosta N, Periago MV, Valero MA, Valladares B, Mas-Coma S (2008) Identification of genotypes of Giardia intestinalis of human isolates in Egypt. Parasitol Res 103(5):1177–1181. https://doi.org/10.1007/s00436-008-1113-2

Heyworth MF (2016) Giardia duodenalis genetic assemblages and hosts. Parasite 23:13. https://doi.org/10.1051/parasite/2016013

Karim MR, Zhang S, Jian F, Li J, Zhou C, Zhang L, Sun M, Yang G, Zou F, Dong H, Li J, Rume FI, Qi M, Wang R, Ning C, Xiao L (2014) Multilocus typing of Cryptosporidium spp. and Giardia duodenalis from non-human primates in China. Int J Parasitol 44(13):1039–1047. https://doi.org/10.1016/j.ijpara.2014.07.006

Karim MR, Wang R, Yu F, Li T, Dong H, Li D, Zhang L, Li J, Jian F, Zhang S, Rume FI, Ning C, Xiao L (2015) Multi-locus analysis of Giardia duodenalis from nonhuman primates kept in zoos in China: geographical segregation and host-adaptation of assemblage B isolates. Infect Genet Evol 30:82–88. https://doi.org/10.1016/j.meegid.2014.12.013

Lalle M, Pozio E, Capelli G, Bruschi F, Crotti D, Caccio SM (2005) Genetic heterogeneity at the beta-giardin locus among human and animal isolates of Giardia duodenalis and identification of potentially zoonotic subgenotypes. Int J Parasitol 35:207–213. https://doi.org/10.1016/j.ijpara.2004.10.022

Lebbad M, Mattsson JG, Christensson B, Ljungström B, Backhans A, JO Andersson JO, Svärd SG (2010) From mouse to moose: Multilocus genotyping of Giardia isolates from various animal species. Vet Parasitol 168(3-4):231–239. https://doi.org/10.1016/j.vetpar.2009.11.003

Lebbad M, Petersson I, Karlsson L, Botero-Kleiven S, Andersson JO, Svenungsson B, Svärd SG (2011) Multilocus genotyping of human Giardia isolates suggests limited zoonotic transmission and association between assemblage B and flatulence in children. PLoS Negl Trop Dis 5(8):e1262. https://doi.org/10.1371/journal.pntd.0001262

Li J, Wang H, Wang R, Zhang L (2017) Giardia duodenalis infections in humans and other animals in China. Front Microbiol 8:2004. https://doi.org/10.3389/fmicb.2017.02004

Olson ME, Thorlakson CL, Deselliers L, Morck DW, McAllister TA (1997) Giardia and Cryptosporidium in Canadian farm animals. Vet Parasitol 68(4):375–381. https://doi.org/10.1016/s0304-4017(96)01072-2

Pavlasek I, Hess L, Stehlik I, Stika V (1995) The first detection of Giardia spp. in horses in the Czech Republic. Vet Med (Praha) 40(3):81–86

Qi M, Xi J, Li J, Wang H, Ning C, Zhang L (2015a) Prevalence of zoonotic Giardia duodenalis assemblage B and first identification of assemblage E in rabbit fecal samples isolates from Central China. J Eukaryot Microbiol 62(6):810–814. https://doi.org/10.1111/jeu.12239

Qi M, Zhou H, Wang H, Wang R, Xiao L, Arrowood MJ, Li J, Zhang L (2015b) Molecular identification of Cryptosporidium spp. and Giardia duodenalis in grazing horses from Xinjiang. China Vet Parasitol 209(3–5):169–172. https://doi.org/10.1016/j.vetpar.2015.02.030

Santín M, Cortes Vecino JA, Fayer R (2013) A large scale molecular study of Giardia duodenalis in horses from Colombia. Vet Parasitol 196(1–2):31–36. https://doi.org/10.1016/j.vetpar.2013.02.006

Sprong H, Caccio SM, van der Giessen JW, ZOOPNET network and partners (2009) Identification of zoonotic genotypes of Giardia duodenalis. PLoS Negl Trop Dis 3(12):e558. https://doi.org/10.1371/journal.pntd.0000558

Sulaiman IM, Fayer R, Bern C, Gilman RH, Trout JM, Schantz PM, Das P, Lal AA, Xiao L (2003) Triosephosphate isomerase gene characterization and potential zoonotic transmission of Giardia duodenalis. Emerg Infect Dis 9(11):1444–1452. https://doi.org/10.3201/eid0911.030084

Traub R, Wade S, Read C, Thompson A, Mohammed H (2005) Molecular characterization of potentially zoonotic isolates of Giardia duodenalis in horses. Vet Parasitol 130(3–4):317–321. https://doi.org/10.1016/j.vetpar.2005.02.011

Traversa D, Otranto D, Milillo P, Latrofa MS, Giangaspero A, Di Cesare A, Paoletti B (2012) Giardia duodenalis sub-assemblage of animal and human origin in horses. Infect Genet Evol 12(8):1642–1646. https://doi.org/10.1016/j.meegid.2012.06.014

Veronesi F, Passamonti F, Caccio SM, Diaferia M, Piergili Fioretti G (2010) Epidemiological survey on equine Cryptosporidium and Giardia infections in Italy and molecular characterization of isolates. Zoonoses Public Health 57(7–8):510–517. https://doi.org/10.1111/j.1863-2378.2009.01261.x
Acknowledgments
The authors thank all the workers at the racehorse clubs who helped with sampling. We thank Janine Miller, PhD, from Liwen Bianji, Edanz Editing China (www.liwenbianji.cn/ac), for editing the English text of a draft of this manuscript.
Funding information
This work was supported, in part, by the National Natural Science Foundation of China (31802181 and 31660712), and the Program for Young and Middle-aged Leading Science, Technology, and Innovation of Xinjiang Production & Construction Group (2018CB034).
Additional information
Publisher's note
Springer Nature remains neutral with regard to jurisdictional claims in published maps and institutional affiliations.
Section Editor: Xing-Quan Zhu
About this article
Cite this article
Qi, M., Ji, X., Zhang, Y. et al. Prevalence and multilocus analysis of Giardia duodenalis in racehorses in China. Parasitol Res (2020) doi:10.1007/s00436-019-06594-2
Received:

Accepted:

Published:
Keywords
Giardia duodenalis

Racehorse

Prevalence

Genotyping

Zoonotic

Host specificity