Abstract
Nowadays, snakes established as domestic exotic pets, harboring numerous (zoonotic) gastrointestinal parasites. In this parasitological survey, we used direct saline fecal smears (DSFS) to examine 586 stool samples from 71 different snake species either kept as pets in households or in zoological gardens in Germany. In addition to DSFS, carbol-fuchsin-fecal smears (n = 296), coproantigen ELISA tests (n = 98), and immunofluorescence assays (IFA; n = 77) for the detection reptile Cryptosporidium infections were conducted. Complete dissections of deceased snakes (n = 63) were also performed in order to gain data on endoparasite species burdens affecting domestic snakes. Overall, examined fecal samples contained 20 different parasite taxa: Ancylostomatid Kalicephalus spp. were the most prevalent nematode species (3.3%), followed by Strongyloides/Rhabdias (2.6%), flagellated protozoan trophozoites (e. g., Proteromonadida, Reteromonadida) (2.3%), Monocercomonas spp. (1.9%), Entamoeba spp. (1.4%), unsporulated coccidian oocysts (1.4%), Kapsulotaenia spp. (0.9%), Capillaria spp. (0.7%), indet. trematodes (0.5%), pentastomids (0.5%), spirurids (0.4%), Eimeria spp. (0.4%), ascarids (0.4%), Blastocystis sp. (0.2%), heterakids (0.2%), cestodes (Proteocephalidae) (0.2%), Plagiorchis spp. (0.2%), Cryptosporidium spp. (0.2%), Caryospora epicratesi (0.2%), and Sarcocystis spp. (0.2%). For Cryptosporidium, four carbol-fuchsin-stained smears (1.4%), 12 (12.2%) coproantigen ELISA-examined samples and 5.2% of examined samples were diagnosed with IFA. Fourteen (22.2%) of dissected snakes showed infections with various pathogenic nematode genera and 8 of them (12.7%) died due to protozoan parasitic infections. High prevalences of intestinal protozoan parasites resulting in severe pathological findings observed in dissected snakes call for more detailed investigations on gastrointestinal parasites.
This is a preview of subscription content, log in to check access.
Access options
Buy single article
Instant unlimited access to the full article PDF.
US$ 39.95
Price includes VAT for USA
Subscribe to journal
Immediate online access to all issues from 2019. Subscription will auto renew annually.
US$ 199
This is the net price. Taxes to be calculated in checkout.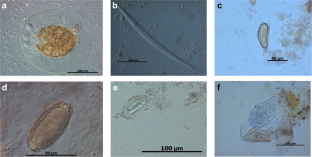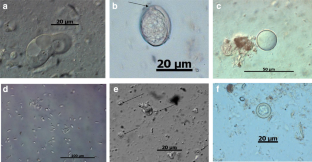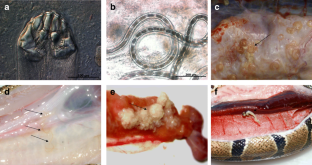 References
Barnard SM, Upton SJ (1994) A veterinary guide to the parasites of reptiles Vol I Protozoa. Krieger Publishing Company, Malabar, pp 1–98

Beck W, Pantchev N (2013) Parasitosen bei Reptilien (Schlangen, Schildkröten, Echsen). Praktische Parasitologie bei Heimtieren: Kleinsäuger-Vögel-Reptilien-Bienen, Zweite Auflage. Schültersche, Hannover, Germany, pp 283-339

Brownstein DG, Strandberg D, Montali RJ, Bush M, Fortner J (1977) Cryptosporidium in snakes with hypertrophic gastritis. Vet Pathol 14:606–617

Chang KH, Chi JG, Cho SY, Han MH, Han DH, Han MC (1992) Cerebral sparganosis: analysis of 34 cases with emphasis on CT features. Neuroradiology 34:1–8

Chen SH, Liu Q, Zhang YN, Chen JX, Li H, Chen Y, Steinmann P, Zhou XN (2010) Multi-host model-based identification of Armillifer agkistrodontis (Pentastomida), a new zoonotic parasite from China. PLoS Negl Trop Dis 4:1–9. https://doi.org/10.1371/journal.pntd.0000647

Duszynski DW, Upton SJ (2010) The biology of the Coccidia (Apicomplexa) of snakes of the world. A scholarly handbook for identification and treatment. CreateSpace Indepentent publishing platform, pp 9-311

Fayer R, Esposito DH, Dubey JP (2015) Human infections with Sarcocystis species. Clin Microbiol Rev 28(2):295–311

Frank W (1981) Endoparasites. In: Cooper JE, Jackson OF (eds) Diseases of the Reptilia, vol 1. Academic press, London, New York, Toronto, Sydney, San Francisco, pp 291–350

Frank W (1984) Non-haemoparasitic protozoans. In: Hoff GL, Frye FL, Jacobson ER (eds) Diseases of amphibians and reptiles. Plenum Press, New York, pp 259–384

Frank W (1985) Infektion (Invasionen) mit Parasiten (Parasitosen). In: Isenbügel E, Frank W (eds) Heimtierkrankheiten. Ulmer, Stuttgart, pp 226–320

Gong C, Liao W, Chineah A, Wang X, Hou BL (2012) Cerebral sparganosis in children: epidemiological, clinical and MR imaging characteristics. BMC Pediatr 12:155. https://doi.org/10.1186/1471-2431-12-155

Grego KF, Gardiner CH, Catão-Dias JL (2004) Comparative pathology of parasitic infections in free-ranging and captive pit vipers (Bothrops jararaca). Vet Rec 154:559–562. https://doi.org/10.1136/vr.154.18.559

Greiner EC (2003) Coccidiosis in reptiles. Semin Avian Exot Pet Med 12:49–56

Hallinger MJ, Taubert A, Hermosilla C, Mutschmann F (2018) Occurrence of health-compromising protozoan and helminth infections in tortoises kept as pet animals in Germany. Parasit Vectors 11:352

Heine J (1982) Eine einfache Nachweismethode für Kryptosporidien im Kot. Zbl Vet Med B 29:324–327

Hermosilla C, Silva LMR, Navarro M, Taubert A (2016) Anthropozoonotic endoparasites in free-ranging (Urban) South American sea lions (Otaria flavescens). J Vet Med:7507145. https://doi.org/10.1155/2016/7507145

Jakob W, Wesemeier HH (1995) Intestinal inflammation associated with flagellates in snakes. J Comp Pathol 112:417–421

Jensen-Jarolim E, Pali-Schöll I, SAF J, Robibaro B, Kinaciyan T (2015) Caution: reptile pets shuttle grasshopper allergy and asthma into homes. World Allergy Organ 8:1–5. https://doi.org/10.1186/s40413-015-0072-1

Ježková J, Horcicková M, Hlásková L, Sak B, Kvetonová D, Novák J, Hofmannová L, McEvoy J, Kvác M (2016) Cryptosporidium testudinis sp. n., Cryptosporidium ducismarci Traversa, 2010 and Cryptosporidium tortoise genotype III (Apicomplexa: Cryptosporidiidae) in tortoises. Folia Parasitol 63:035. https://doi.org/10.14411/fp.2016.035

Kavitha KT, Latha BR, Bino Sundar ST, Jayathangaraj MG, Senthil Kumar K, Sridhar R, Abdul Basit S (2014) Kalicephalus sp. in a captive Russell's viper: a case report. J Parasit Dis 38:293–296

Kleinertz S, Hermosilla C, Ziltener A, Kreicker S, Hirzmann J, Abdel-Ghaffar F, Taubert A (2014) Gastrointestinal parasites of free-living Indo-Pacific bottlenose dolphins (Tursiops aduncus) in the northern Red Sea, Egypt. Parasitol Res 113:1405–1415

Latif B, Omar E, Heo CC, Othman N, Tappe D (2011) Case report: human pentastomiasis caused by Armillifer moniliformis in Malaysian Borneo. Am J Trop Med Hyg 85:878–881

Marenzoni ML, Zicavo A, Veronesi F, Morganti G, Scuota S, Coletti M, Passamonti F, Santoni L, Natali M, Moretta I (2015) Microbiological and parasitological investigation on chelonians reared in Italian facilities. Vet Ital 51:173–178

Mihalca AD, Miclŭş V, Lefkaditis M (2010) Pulmonary lesions caused by the nematode Rhabdias fuscovenosa in a grass snake, Natrix natrix. J Wildl Dis 46:678–681

Mutschmann F (2006) Parasitosen der Reptilien. In: Boch J, Bauer C (eds) Veterinärmedizinische Parasitologie, 6. Auflage edn. Parey Verlag, Stuttgart, pp 736–764

Pantchev N (2015) Endoparasitosen. In: Kölle P (ed) Heimtier und Patient. Echsen und Schlangen. Enke Verlag, Stuttgart, pp 229–242

Pantchev N, Tappe D (2011) Pentastomiasis and other parasitic zoonoses from reptiles and amphibians. Berl Munch Tierarztl Wochenschr 124:528–535. https://doi.org/10.2376/0005-9366-124-528

Paré JA (2008) An overview of pentastomiasis in reptiles and other vertebrates. J Exot Pet Med 17:285–294

Parisi MT, Tierno PM (1995) Evaluation of new rapid commercial enzyme-immunoassay for detection of Cryptosporidium oocysts in untreated stool specimens. J Clin Microbiol 33:1963–1965

Pasmans F, Blahak S, Martel A, Pantchev N (2008) Introducing reptiles into a captive collection: the role of the veterinarian. Vet J 175:53–68

Purwaningsih E, Mumpuni (2011) New host and locality records of snake intestinal nematode Kalicephalus spp in Indonesia. Asian Pac J Trop Biomed 1:121–123

Radhakrishnan S, Kurup SP, Banerjee PS (2009) Endoparasitism in captive wild-caught snakes indigenous to Kerala, India. Zoo Biol 28:253–258

Rataj A, Lindtner-Knific R, Vlahović K, Mavri U, Dovč A (2011) Parasites in pet reptiles. Acta Vet Scand 53:33. https://doi.org/10.1186/1751-0147-53-33

Reichenbach-Klinke HH (1977) Krankheiten der Reptilien. Gustav Fischer Verlag, Jena, pp 42–150

Richter B, Kübber-Heiss A, Weissenböck H, Schmidt P (2008) Detection of Cryptosporidium spp., Entamoeba spp. and Monocercomonas spp. in the gastrointestinal tract of snakes by in-situ hybridization. J Comp Pathol 138:63–71

Riley J (1986) The biology of pentastomids. Adv Parasitol 25:45–128

Schad GA (1962) Studies on the genus Kalicephalus (Nematoda: Diaphanocephalidae) II. A taxonomic revision of the genus Kalicephalus Molin, 1861. Can J Zool 40(6):1035–1065

Schultz H (1975) Human infestation with Ophionyssus natricis snake mite. Brit J Dermatol 93:695–697

Scullion FT, Scullion MG (2009) Gastrointestinal protozoal diseases in reptiles. J Exot Pet Med 18:266–278. https://doi.org/10.1053/j.jepm.2009.09.004

Tappe D, Buettner DW (2009) Diagnosis of human visceral pentastomiasis. PLoS Negl Trop Dis 3. https://doi.org/10.1371/journal.pntd.0000320

Telford SR Jr (1997) Coccidian parasites (Apicomplexa: Eimeriidae) of the endemic Florida snake Tantilla relicta Telford (Serpentes: Colubridae). Syst Parasitol 36:17–25

Terrell SP, Stacy BA (2007) Reptile necropsy techniques. In: Jacobson ER (ed) Infectious diseases and pathology of reptiles: color atlas and text. CRC Press, Boca Raton, pp 219–256

Terrell SP, Uhl EW, Funk RS (2003) Proliferative enteritis in leopard geckos (Eublepharis macularius) associated with Cryptosporidium sp. infection. J Zoo Wildl Med 34:69–75

Wolf D, Vrhovec MG, Failing K, Rossier C, Hermosilla C, Pantchev N (2014) Diagnosis of gastrointestinal parasites in reptiles: comparison of two coprological methods. Acta Vet Scand 56:44

Yildirimhan HS, Bursey CR, Goldberg SR (2005) Helminth parasites of the grass snake, Natrix natrix, and the dice snake, Natrix tessellata (Serpentes: Colubridae), from Turkey. Comp Parasitol 72:75–87

Zwart P, Teunis SFM, Cornelissen JMM (1984) Monocercomoniasis in reptiles. J Zoo Anim Med 15:129–134
Acknowledgments
This research was supported by exomed laboratory and the Institute of Parasitology of the Justus Liebig University Giessen (Germany). We would like to extend our thanks to the colleagues Nina Heindorf, Kim Kwauka, Mathias Nolde, and Anna Dieudonne for aiding while working in the diagnosis and greatly improving research activities at exomed laboratory. We owe special debt of gratitude to Dr. Frank Mutschmann who sadly passed away recently and who was the mentor of MJH. Consequently, we dedicate this research to Dr. Frank Mutschmann and always remembering him as a passionate veterinary surgeon in the field of herpetology medicine.
Ethics declarations
Conflict of interest
The authors declare that they have no conflict of interest.
Additional information
All data generated or analyzed during this study are included in this published article (and its supplementary information file).
Publisher's note
Springer Nature remains neutral with regard to jurisdictional claims in published maps and institutional affiliations.
Handling Editor: Julia Walochnik
Electronic supplementary material
About this article
Cite this article
Hallinger, M.J., Taubert, A. & Hermosilla, C. Occurrence of Kalicephalus, Strongyloides, and Rhabdias nematodes as most common gastrointestinal parasites in captive snakes of German households and zoological gardens. Parasitol Res (2020). https://doi.org/10.1007/s00436-019-06526-0
Received:

Accepted:

Published:
Keywords
Snakes

Reptiles

Parasites

Endoparasites

Exotic pets

Serpentes