Leishmania donovani reduces the levels of retinoic acid–synthesizing enzymes in infected macrophages and favoring its own survival
Abstract
People suffering from malnutrition become susceptible to the infection like Leishmania sp., as it results in a compromised immune response. Retinoic acid (RA), an important constituent of nutrition, shows an immune-modulatory activity. However, its role in the containment of infection is not yet ascertained, particularly in case of visceral leishmaniasis (VL). VL patients (n = 10) and healthy endemic controls (n = 9) were recruited to measure the serum levels of RA. An in vitro model of Leishmania infection using the murine mφ cell line J774.1 was used to investigate the RA-synthesizing enzymes (RALDH-1 and RALDH-2). Parasite loads among infected mφ were measured by quantitative expression of kDNA in the presence of an inhibitor of the RALDH-2 enzyme. We found a significant decrease in the serum levels of RA in VL cases. Importantly, we observed decreased levels of RALDH-1 and RALDH-2 among L. donovani–infected mφ along with simultaneous decrease as well as increase in the Th-1 and Th-2-associated factors, respectively. Furthermore, the pretreatment of mφ with an RALDH-2 inhibitor improved parasite in vitro infection. Our findings show impaired RA pathway among infected mφ and indicate that an intact RA pathway is critical for anti-Leishmania immune response.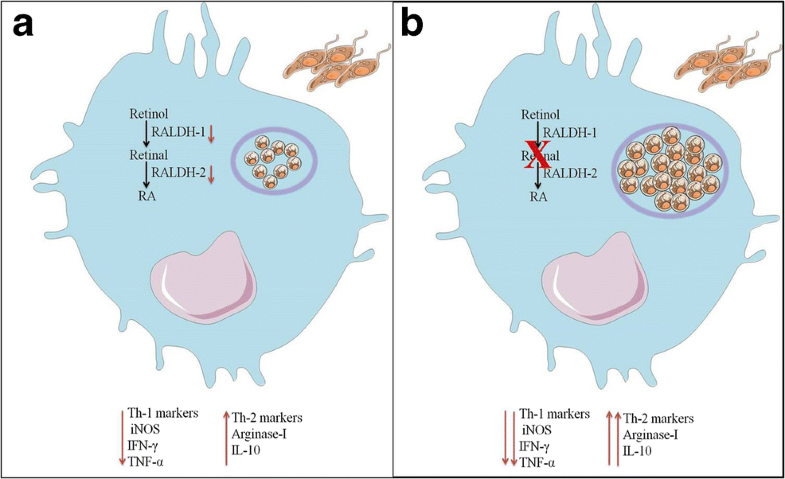 Keywords
Visceral leishmaniasis 
Leishmania
Retinoic acid 
Immune suppression 
Retinoic acid–synthesizing enzymes 
Abbreviations
RA

Retinoic acid

VitA

Vitamin A

RALDH

Retinal dehydrogenase

VL

Visceral leishmaniasis

ATRA

All trans-RA
Notes
Acknowledgements
We are thankful to Dr. Anuradha Dube and Dr. Amogh Sahasrabuddhe (Central Drug Research Institute, Lucknow, India) for providing promastigote culture of Leishmania donovani as well as J774A.1 mφ cell line. We also acknowledge the Central Facility of Department of Biotechnology, M.N.N.I.T., Allahabad, India, for allowing us to use real-time PCR (qPCR) and cell culture facility.
Authors' contributions
PV, AKK, SS1, and SP, executed all the experiments and helped in the interpretation as well as analysis of the data. They also prepared the first draft of the manuscript. SK maintained the macrophage and parasite culture. SKK, SKS, and MB executed the standardization of HPLC-based estimation of retinol and RA. This part of work was conceptualized and monitored by AKD. CPT recruited the kala-azar patients and provided samples. SS2 helped in lab facilities and manuscript preparation. AKR conceptualized, attracted funding, sought collaboration, monitored the experiment, and edited the manuscript.
Funding
This work was supported by the Motilal Nehru National Institute of Technology (M.N.N.I.T.), Allahabad, India [Ref. No. MNNIT/134/R&C/13-14, dated 23-08-2013].
Compliance with ethical standards
Conflict of interest
The authors declare that they have no conflict of interest.
Ethics approval and consent to participate
The study was approved by the Institute Ethics Committee (Ref. No.: MNNIT/IEC/2013-14/02).
Copyright information
© Springer-Verlag GmbH Germany, part of Springer Nature 2018