Abstract
New pesticides based on natural products are urgently needed, in consideration of their environmental care and lower collateral effects. Neem oil, the main product obtained from Azadiractha indica A. Juss, commonly known as neem tree, is mainly used in medical devices, cosmetics and soaps, as well as important insecticide. Manufacturing of neem oil first includes the collection of the neem seeds as raw material used for the extraction. Neem cake is the waste by-product remaining after extraction processes. The quality of the oil, as that of the cake, strictly depends from the quality of seeds as well as from the type of extraction processes used, which strongly influences the chemical composition of the product. Currently, the different types of commercial neem cake on the market are roughly identified as oiled and deoiled cake, but several other differences can be detected. The differences are relevant and must be determined, to obtain the necessary correlation between chemical constitution and larvicidal activities. Six different batches of neem cake, marketed by several Indian and European companies, were analyzed by HPLC and HPTLC, and their fingerprints compared, obtaining information about the different compositions, focusing in particular on nortriterpenes, considered as the main active components of neem oil. Therefore, the chemical composition of each cake was connected with the biological activitiy, i.e., the effects of the extracts of the six neem cakes were tested on eggs and larvae of Aedes albopictus (Stegomyia albopicta) (Diptera: Culicidae), commonly known as Asian tiger mosquito. The results confirmed the previously reported larvicide effects of neem cake that, however, can now be related to the chemical composition, in particular with nortriterpenes, allowing in that way to discriminate between the quality of the various marketed products, as potential domestic insecticides.
Access options
Buy single article
Instant access to the full article PDF.
US$ 39.95
Tax calculation will be finalised during checkout.
Subscribe to journal
Immediate online access to all issues from 2019. Subscription will auto renew annually.
US$ 119
Tax calculation will be finalised during checkout.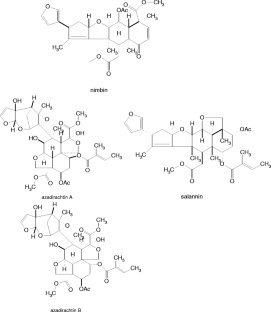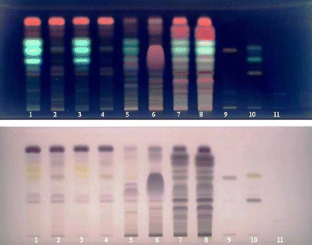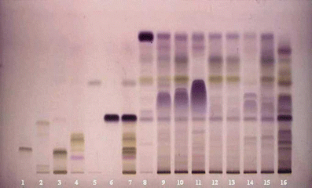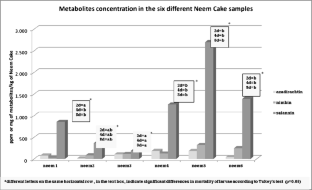 References
Agrawal H, Kaul N, Paradkor AR, Mahadite A (2005) Standardization of crude extracts of neem kernels (Azadirachta indica A. Juss) and commercial neem based formulations using HPTLC and extended length packed-column SFC methods. Chromatographia 62:180–195

Al-Quraishy S, Abdel-Ghaffar F, Al-Rasheid KAS, Mehlhorn J, Mehlhorn H (2011) Effects of a neem seed extract (MiteStop®) on mallophages (featherlings) of chicken: in vivo and in vitro studies. Parasitol Res. doi:10.1007/s00436-011-2613-z

Amorose T (1995) Larvicidal efficacy of neem (Azadirachta indica) oil and defatted cake on Culex quinquefasciatus Say. Geobios 22:169–173

Boeke SJ, Boersma MG, Alink GM, van Loon JJ, van Hnis A, Dicke M, Rietjens IM (2004) Safety evaluation of neem (Azadirachta indica) derived pesticides. J Ethnopharmacol 94:25–41

Biswas K, Chattopadhayay J, Banerjee RM, Bandyopdyodhyay U (2002) Biological activities and medical properties of neem (Azadirachta indica). Curr Sci India 82:1336–1345

Cernia E, Palocci E, D'Andrea A, Ferri D, Maccioni O, van der Esch SA, Vitali F (1994) Fractionation by SFE of active substances from Azadirachta indica (A. Juss) seeds. Proceedings of the 3rd International symposium on "Supercritical Fluids". Strasbourg, France, 317–322

D'Andrea A, Ferri D, Maccioni O, van der Esch SA, Vitali F (1994) Application of SFE technology to the extraction of active substances from Azadirachta indica (A. Juss) seeds. Proceedings of the 3rd workshop "Practice Oriented Results on Use and Production of Neem Ingredients and Pheromones". Wetzlar, (22–25 November 1994) 115–124 ed. H. Kleberg

Gajalakshimi S, Abbasi SA (2004) Neem leaves as a source of fertilizer-cum-pesticide vermicompost. Bioresour Technol 92:291–296

Gandhi M, Lal R, Sarkaranarayaman A, Baneyel CK, Sharma PL (1988) Acute toxicity of the oil from Azadirachta indica seed (neem oil). J Ethnopharmacol 23:39–51

Gopal M, Gupta A, Arunachalam V, Maga SP (2007) Impact of azadirachtin, an insecticidal allelochemical from neem on soil microflora, enzyme and respiratory activities. Bioresour Technol 98:3154–3158

Gratz NG (2004) Critical review of the vector status of Aedes albopictus. Med Vet Entomol 18:215–227

Gunaseraken S, Anita B (2010) Analysis of phytochemical variations in neem formulations. Indian J Nat Prod Resour 1(3):291–295

Howard AFV, Adongo EA, Hassanali A, Omlin AX, Wanjoys A, Zhou G, Vulule J (2009) Laboratory evaluation of the aqueous extract of Azadirachta indica (neem) wood chippings on Anopheles gambiae s.s. (Diptera; Culicidae) Mosquitoes. J Med Entomol 46(1):107–114

Isman MB (2006) Botanical insecticides, deterrents, and repellents in modern agriculture and an increasingly regulated world. Annu Rev Entomol 51:45–66

Mehlhorn H, Walldorf V, Abdel-Ghaffar F, Al-Quraishy S, Al-Rasheid KAS, Mehlhorn J (2011a) Biting and bloodsucking lice of dogs—treatment by means of a neem seed extract (MiteStop®, Wash Away Dog). Parasitol Res. doi:10.1007/s00436-011-2613-z

Mehlhorn H, Abdel-Ghaffar F, Al-Rasheid KAS, Schmidt J, Semmler M (2011b) Ovicidal effects of a neem seed extract preparation on eggs of body and head lice. Parasitol Res 109:1299–1302

Mulla MS, Su T (1999) Activity and biological effects of neem products against arthropods of medicinal and veterinary importance. J Am Mosq Control Assoc 15:133–152

Mordue AJ, Blackwell A (2003) Azadirachtin: an update. J Insect Physiol 39:903–924

Morgan ED, Thornton MD (1973) Azadirachtin in the fruit of Melia azedarach. Phytochemistry 12:391–392

Naqvi SN, Ahmed SO, Mohamed FA (1991) Toxicity and IGR (insect regularity effect) of two neem products against Aedes aegypti (PCSIR strain). Pak J Pharm Sci 4:71–76

National Research Council (1992) Neem: a tree for solving global problems. Academic, Washington

Ndione RD, Faye O, Ndiaye M, Afoutou JM (2007) Toxic effects of neem products (Azadirachta indica A. Juss) on Aedes aegypti Linnaeus 1763 larvae. Afr J Biotechnol 6:2846–2854

Nicoletti M, Serafini M, Aliboni A, D'Andrea A, Mariani S (2010) Toxic effects of neem cake extracts on Aedes albopictus larvae. Parasitol Res 107:89–84

Okumu FO, Knols BGJ, Fillinger U (2007) Larvicidal effects of a neem (Azadirachta indica) oil formulation on the malaria vector Anopheles gambiae. Malar J 6:63–67

Rao DR, Reuben R, Venugopel MS, Nagesampagi BA, Schumetterer H (1992) Evaluation of neem, Azadirachta indica, with and without water management, for the control of culicine mosquito larvae in rice-fields. Med Vet Entomol 6:315–324

Rao VK, Kowale BN, Verna AK (2003) Effect of feeling washed neem (Azadirarachta indica) seed kernel cake on the quality, lipid profile and fatty acid composition of goat meat. Small Ruminant Res 47:213–219

Reich E, Schibli A (2007) High-performance thin-layer chromatography for analysis of medicinal plants. Thieme Medical Publishers Inc., New York

Sidhu OP, Behl HM (1996) Seasonal variations in azadirachtins in seeds of Azadirachta indica. Curr Sci India 70(12):1084–1086

Sidhu OP, Kumar V, Behl HM (2003) Variability of neem (Azadirachta indica) with respect to azadirachtins content. J Agric Food Chem 51(4):910–915

Silva JCT, Gulab NJ, Oliveira RD, Brown L (2007) Purification of the seven tetranortriterpenoids in neem (Azadirachta indica) seed by counter-current chromatography sequentially followed by isocratic preparative reversed-phase high-performance liquid chromatography. J Chromatogr A 1151:203–210

Su T, Mulla AS (1999) Oviposition bioassay responses of Culex tarsalis and Culex quinquefasciatus to neem products containing azadirachtin. Entomol Exp Appl 91:337–345

Wandscheer CB, Duque JE, da Silva MAN, Fukuyama Y, Wohlke JL, Adelmann J, Fontana JD (2004) Larvicidal action of ethanolic extracts from fruit endocarps of Melia azedarach and Azadirachta indica against the dengue mosquito Aedes aegypti. Toxicon 8:829–835

World Health Organization (1991) Guidelines for the assessment of herbal medicine, Munich. World Health Organization, Geneva

Vazeille M, Jeannin C, Martin E, Schaffner F, Failloux AB (2008) Chikungunya: a risk for Mediterranean countries? Acta Trop 105:200–202

Verna AK, Sastry VRB, Agrawal DK (1994) Feeding of water neem (Azadirachta indica) seed kernel cake to growing goats. Small Ruminant Res 15:105–111
Acknowledgments
Thanks to the producers and distributors for providing the neem cake products used. A special thank to Dr. Maurizio Calvitti and Dr. Riccardo Moretti of the UTAGRI Technical Unit of ENEA-CR CASACCIA who provided the eggs and larvae for all the tests.
About this article
Cite this article
Nicoletti, M., Mariani, S., Maccioni, O. et al. Neem cake: chemical composition and larvicidal activity on Asian tiger mosquito. Parasitol Res 111, 205–213 (2012). https://doi.org/10.1007/s00436-012-2819-8
Received:

Accepted:

Published:

Issue Date:
Keywords
Azadirachtin

Larvicidal Activity

Synthetic Insecticide

Neem Seed

Neem Extract