Abstract
Today molecular data recover three higher taxa in nemerteans, Palaeonemertea, Pilidiophora and Hoplonemertea. Hubrechtella dubia, a former palaeonemertean taxon was excluded from palaeonemerteans and is now supported as the sister group to heteronemerteans. This taxon is called Pilidiophora, because H. dubia and Heteronemertea share a pilidium larva. To find additional morphological evidence for Pilidiophora, the nervous system of 13 species of this taxon were investigated using different histological techniques. The central or medullated nervous system of nemerteans consists of a ring-shaped brain and lateral branching medullary cords. While the brain of basally branching nemerteans shows no or only slightly posterior enlargement, the brain of Pilidiophora expands caudally. Pilidiophora possess a conspicuous sensory organ, the cerebral organ. Although this organ is also found in hoplonemerteans and certain palaeonemertean species, only in Pilidiophora this organ is directly connected to the dorsal lobe of the brain. Additionally, this organ terminates in a layer of neurons close to the blood vessel in all pilidiophoran species. The analysis indicates that although in H. dubia some characters of the nervous system show the plesiomorphic state, the morphology of the cerebral organ provides an apomorphic character for a taxon Pilidiophora.
This is a preview of subscription content, log in to check access.
Access options
Buy single article
Instant unlimited access to the full article PDF.
US$ 39.95
Price includes VAT for USA
Subscribe to journal
Immediate online access to all issues from 2019. Subscription will auto renew annually.
US$ 199
This is the net price. Taxes to be calculated in checkout.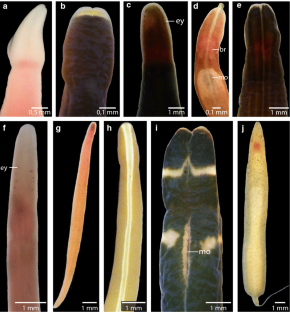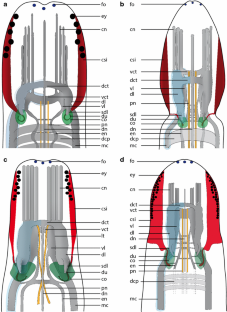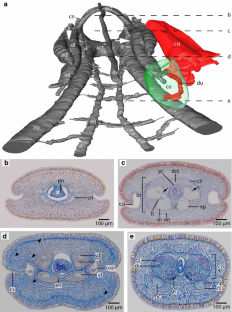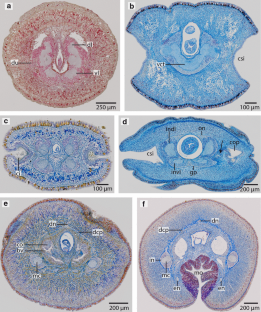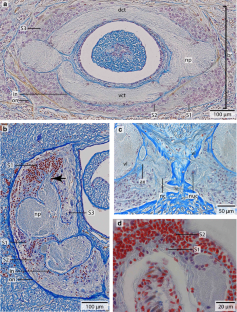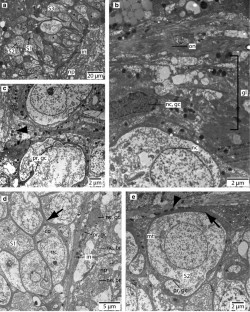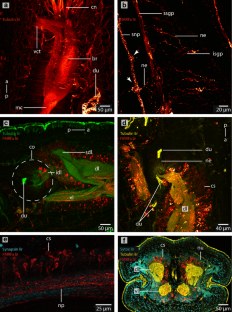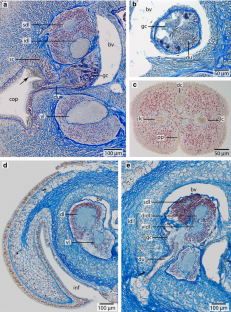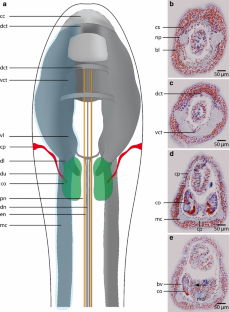 References
Amerongen HM, Chia FS (1982) Behavioral evidence for a chemoreceptive function of the cerebral organs in Paranemertes peregrina Coe (Hoplonemertea: Monostilifera). J Exp Mar Biol Ecol 64:11–16

Andrade S, Strand M, Schwartz M, Chen H, Kajihara H, von Döhren J, Sun S, Junoy J, Thiel M, Norenburg JL, Turbeville JM, Giribet G, Sundberg P (2012) Disentangling ribbon worm relationships: multi-locus analysis supports traditional classification of the phylum Nemertea. Cladistics 28:141–159

Andrade S, Montenegro H, Strand M, Schwartz M, Kajihara H, Norenburg JL, Giribet G (2014) A transcriptomic approach to ribbon worm systematics (Nemertea): resolving the Pilidiophora problem. Mol Biol Evol msu 253

Beckers P (2012) Nemertean nervous system: a comparative analysis. Phd thesis. Rheinische Friedrich-Wilhelm Universität Bonn, Mathematisch, Naturwissenschaftliche Fakultät

Beckers P, Faller S, Loesel R (2011) Lophotrochozoan neuroanatomy: an analysis of the brain and nervous system of Lineus viridis (Nemertea) using different staining techniques. Front Zool 8:17. doi:10.1186/1742-9994-8-17

Beckers P, Loesel R, Bartolomaeus T (2013) The nervous systems of basally branching Nemertea (Palaeonemertea). PLoS One 8(6):e66137. doi:10.1371/journal.pone.0066137

Bianchi S (1969a) On the neurosecretory system of Cerebratulus marginatus (Heteronemertini). Gen Comp Endocrinol 12:541–548

Bianchi S (1969b) The histochemistry of the neurosecretory system in Cerebratulus marginatus (Heteronemertini). Gen Comp Endocrinol 13:206–210

Bullock TH, Horridge GA (1965) Structure and function of the nervous system of invertebrates, vol 2. Freeman and company, San Francisco

Bürger O (1895) Die Nemertinen des Golfes von Neapel und der angrenzenden Meeres-Abschnitte. In: Friedländer, Sohn R (eds) Fauna und Flora des Golfes von Neapel und der angrenzenden Meeres-Abschnitte, Berlin

Cardona A, Saalfeld S, Schindelin J, Arganda-Carreras I, Preibisch S et al (2012) TrakEM2: software for neural circuit reconstruction. PLoS One 7(6):e38011

Chernyshev AV, Magarlamov TY, Turbeville JM (2013) Morphology of the proboscis of Hubrechtella Juliae (Nemertea, Pilidiophora): implications for Pilidiophoran monophyly. J Morphol 274:1397–1414

Döhren VJ, Bartolomaeus T (2007) Ultrastructure and development of the rhabdomeric eyes in Lineus viridis (Heteronemertea, Nemertea). Zoology 110:430–438

Faller S, Loesel R (2008) Immunohistochemistry of the polyplacophora (mollusca) nervous system. J Morphol 269:1482

Fernández-Álvarez FA, Anadón N (2012) Oligodendrorhynchus hesperides gen. et sp. n. (Heteronemertea) from the Bellingshausen Sea. Pol Polar Res 33:81–98. doi:10.2478/v10183-012-0006-3

Ferraris JD (1985) Putative neuroendrocrine devices in the Nemertina: an overview of structure and function. Amer Zool 25:73–85

Gibson R (1972) Nemerteans. Hutchinson University Library, London

Gibson R (1977) A new genus and species of Lineid Heteronemertean from South Africa, Polybrachiorhynchus dayi (Nemertea: Anopla), possessing a multibranched proboscis. Bull Mar Sci 27:552–571

Golding DW (1992) Polychaeta nervous system. In: Harrison FW, Gardiner SL (eds) Microscopic anatomy of invertebrates Vol 7, Annelida. Wiley-Liss, New York, pp 153–179

Grobe P, Vogt L (2008) MorphDBase-A: morphological description database. J Morphol 269:1478–1479

Grobe P, Vogt L (2014) Documenting morphology: Morph D base. In: Wägele JW, Bartolomaeus T (eds) Deep Metazoan phylogeny: The backbone of the tree of life. DeGruyter, Berlin, pp 475–503

Harrel R, Tanzer ML (1993) Extracellular matrix 3: evolution of the extracellular matrix in invertebrates. FASEB J 12:1115–1123

Heuer CM, Loesel R (2008) Immunofluorescence analysis of the internal brain anatomy of Nereis diversicolor (Polychaeta, Annelida). Cell Tissue Res 331:713–724

Heuer CM, Loesel R (2009) Three-dimensional reconstruction of mushroom body neuropils in the polychaete species Nereis diversicolor and Harmothoe areolata (Phyllodocida, Annelida). Zoomorphology 128:219–226

Kremer JR, Mastronarde DN, McIntosh JR (1996) Computer visualization of three-dimensional image data using IMOD. J Struct Biol 116:71–76

Kvist S, Laumer C, Junoy J, Giribet G (2014) A further contribution to the phylogeny, systematics and DNA barcoding of Nemertea. Inverteb Syst 28:287–308

Ling EA (1969) The structure and function of the cephalic organ of a nemertine Lineus ruber. Tissue Cell 3:503–524

Ling EA (1970) Further investigations on the structure and function of cephalic organs of a nemertine Lineus ruber. Tissue Cell 2:569–588

Nicaise G (1973) The gliointerstitial system of molluscs. Int Rev Cytol 34:251–332

Richter S, Loesel R, Purschke G, Schmidt-Rhaesa A, Scholtz G et al (2010) Invertebrate neurophylogeny: suggested terms and definitions for a neuroanatomical glossary. Front Zool 7:29. doi:10.1186/1742-9994-7-29

Rothe BH, Schmidt-Rhaesa A (2008) Variation in the nervous system in three species of the genus Turbanella (Gastrotricha, Macrodasyida). Meiofauna Marina 16:175–184

Rutka JT, Apodaca G, Stren R, Rosenblum M (1988) The extracellular matrix of the central and peripheral nervous systems: structure and function. J Neurosurg 69:155–170

Scharrer B (1941) Neurosecretion. III. The cerebral organ of the nemerteans. J Comp Neurol 74:109–130

Schindelin J, Arganda-Carreras I, Frise E, Kaynig V, Longair M et al (2012) Fiji: an open-source platform for biological-image analysis. Nat Methods 7:676–682

Schmidt-Rhaesa A (2007) Evolution of organ systems. Oxford University Press

Schneider CA, Rasband WS, Eliceiri KW (2012) NIH Image to ImageJ: 25 years of image analysis. Nat Methods 9:671–675

Senz W (2000) Neue Nemertinen aus dem Golf von Arabien 1. Palaeonemertini. Ann Naturhist Mus Wien B 102:321–373

Senz W (2001) Neue Nemertinen aus dem Golf von Arabien 2. Heteronemertini und monostilifere Hoplonemertini. Ann Naturhist Mus Wien B 103:13–75

Thollesson M, Norenburg JL (2003) Ribbon worm relationships: a phylogeny of the phylum Nemertea. Proc R Soc Lond B 1513:407–415

Turbeville JM (1991) Nemertinea. In: Harrison FW, Bogitsh BJ (eds) Microscopic anatomy of invertebrates Vol 3, Platyhelminthes and Nemertinea. Wiley- Liss, New York, pp 258–328

Wollesen T, Loesel R, Wanninger A (2008) FMRFamide-like immunoreactivity in the central nervous system of the cephalopod mollusc, Idiosepius notoides. Acta Biol Hung 59:111–116
Acknowledgements
The author thanks two anonymous reviewers who helped to improve the manuscript. The author thanks Malin Strand for collecting Hubrechtella dubia, Daria Krämer for collecting Cerebratulus fuscus and Notospermus geniculatus. Alexej Chernyshev gently provided specimen of Baseodiscus hemprichii. Christiane Wallnisch for technical support and Thomas Bartolomaeus for discussions and suggestions on the manuscript.
Additional information
Communicated by Andreas Schmidt-Rhaesa.
About this article
Cite this article
Beckers, P. The nervous systems of Pilidiophora (Nemertea). Zoomorphology 134, 1–24 (2015). https://doi.org/10.1007/s00435-014-0246-3
Received:

Revised:

Accepted:

Published:

Issue Date:
Keywords
Lophotrochozoa

Spiralia

Neuroanatomy

Heteronemertea

Pilidiophora

Hubrechtella dubia

3D reconstruction