Abstract
This paper presents data obtained by questionnaires sent to local hospitals and metabolic centres in Germany, Austria, Italy and Switzerland concerning the survival and outcome of patients with urea cycle disorders treated between 1975 and 1986. A total of 130 questionnaires were sent out of which 88 questionnaires of patients were returned. This study compares results of conservative long-term management using protein restriction versus protein restriction combined with more extensive treatment (arginine/citrulline, essential amino acid supplements and sodium benzoate as alternate pathway therapy). While survival was improved in neonates receiving extensive therapy, there was an increased risk of mental retardation on long-term follow-up in this group. The time at which the first symptoms of hyperammonaemia appeared, the age at diagnosis, and the time of delay in diagnosis after the first symptom were not helpful in predicting outcome; however, when plasma ammonia concentrations exceeded 300 μmol/l initially or 480 μmol/l at its peak, none of the patients had a normal cognitive outcome. Conclusion: there is a need to establish improved treatment approaches and a network of "rare disease" centres to assure the rapid diagnosis and effective treatment and follow-up of affected children. This should precede any consideration of neonatal screening for urea cycle disorders.
This is a preview of subscription content, log in to check access.
Access options
Buy single article
Instant access to the full article PDF.
US$ 39.95
Price includes VAT for USA
Subscribe to journal
Immediate online access to all issues from 2019. Subscription will auto renew annually.
US$ 199
This is the net price. Taxes to be calculated in checkout.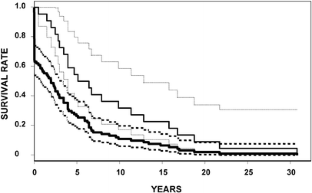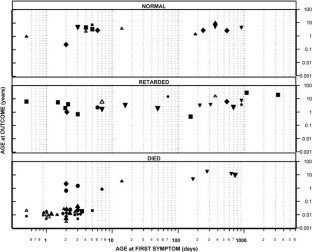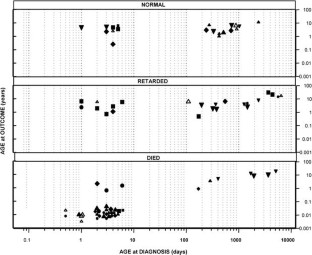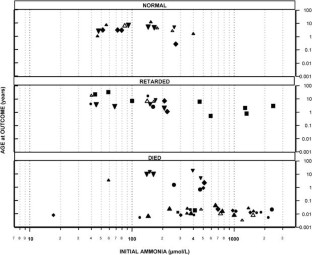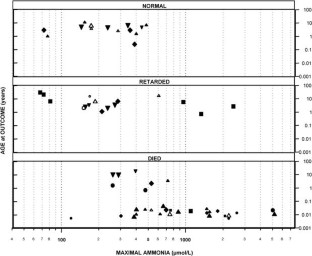 Abbreviations
UCD:

urea cycle disorders
References
1.

Bachmann C (1992) Ornithine carbamoyl transferase deficiency: findings, models and problems. J Inherit Metab Dis 15: 578–591

2.

Bachmann C (2003) Inherited hyperammonemias. In: Blau N, Duran M, Blaskovics M, Gibson K (eds) Physician's guide to the laboratory diagnosis of metabolic disease. Springer, Berlin Heidelberg New York, pp 261–276

3.

Bearn AG, Cusworth DC, Dean G, Frézal JP, Neifakh SA, Scheinberg IH, Scriver CR, Szeinberg A (1968) Screening for inborn errors of metabolism. World Health Organ Tech Rep Ser 401: 1–57

4.

Bickel H, Bachmann C, Beckers R, Brandt NJ, Clayton BE, Corrado G, Feingold HJ, Giardini O, Hammersen G, Schoenberg D (1981) Neonatal mass screening for metabolic disorders. Eur J Pediatr 137: 133–139

5.

Braissant O, Henry H, Villard AM, Zurich MG, Loup M, Eilers B, Parlascino G, Matter E, Boulat O, Honegger P, Bachmann C (2002) Ammonium-induced impairment of axonal growth is prevented through glial creatine. J Neurosci 22: 9810–9820

6.

Brusilow SW, Batshaw ML (1979) Arginine therapy of argininosuccinase deficiency. Lancet 1: 124–127

7.

Brusilow SW, Valle DL, Batshaw M (1979) New pathways of nitrogen excretion in inborn errors of urea synthesis. Lancet 2: 452–454

8.

Brusilow SW, Horwich AL (1995) Urea cycle enzymes. In: Scriver CR, Beaudet AL, Sly WS, Valle D (eds) The metabolic and molecular basis of inherited disease, vol I. McGraw-Hill, New York, pp 1187–1232

9.

Brusilow SW, Horwich AL (2001) Urea cycle enzymes. In: Scriver CR, Beaudet AL, Sly WS, Valle D (eds) The metabolic and molecular basis of inherited disease, vol II. McGraw-Hill, New York, pp 1909–1963

10.

Clague A, Thomas A (2002) Neonatal biochemical screening for disease. Clin Chim Acta 315: 99–110

11.

Maestri NE, Hauser ER, Bartholomew D, Brusilow SW (1991) Prospective treatment of urea cycle disorders. J Pediatr 119: 923–928

12.

Maestri NE, Clissold DB, Brusilow SW (1995) Long-term survival of patients with argininosuccinate synthetase deficiency. J Pediatr 127: 929–935

13.

Maestri NE, Brusilow SW, Clissold DB, Bassett SS (1996) Long-term treatment of girls with ornithine transcarbamylase deficiency. N Engl J Med 335: 855–859

14.

McQueen MJ (2002) Some ethical and design challenges of screening programs and screening tests. Clin Chim Acta 315: 41–48

15.

Msall M, Batshaw ML, Suss R, Brusilow SW, Mellits ED (1984) Neurologic outcome in children with inborn errors of urea synthesis. Outcome of urea-cycle enzymopathies. N Engl J Med 310: 1500–1505

16.

Picca S, Dionisi-Vici C, Abeni D, Pastore A, Rizzo C, Orzalesi M, Sabetta G, Rizzoni G, Bartuli A (2001) Extracorporeal dialysis in neonatal hyperammonemia: modalities and prognostic indicators. Pediatr Nephrol 16: 862–867

17.

Pollitt RJ, Green A, McCabe CJ, Booth A, Cooper NJ, Leonard JV, Nicholl J, Nicholson P, Tunaley JR, Virdi NK (1997) Neonatal screening for inborn errors of metabolism: cost, yield and outcome. Health Technol Assess 1: 1–202

18.

Saudubray JM, Touati G, Delonlay P, Jouvet P, Narcy C, Laurent J, Rabier D, Kamoun P, Jan D, Revillon Y (1999) Liver transplantation in urea cycle disorders. Eur J Pediatr 158[Suppl 2]: S55–S59

19.

Uchino T, Endo F, Matsuda I (1998) Neurodevelopmental outcome of long-term therapy of urea cycle disorders in Japan. J Inherit Metab Dis 21[Suppl 1]: 151–159

20.

Widhalm K, Koch S, Scheibenreiter S, Knoll E, Colombo JP, Bachmann C, Thalhammer O (1992) Long-term follow-up of 12 patients with the late-onset variant of argininosuccinic acid lyase deficiency: no impairment of intellectual and psychomotor development during therapy. Pediatrics 89: 1182–1184

21.

Wilson JMG, Jungner G (1968) Principles and practice of screening for disease. World Health Organ Public Health Papers 34: 26–39
Acknowledgements
I thank Prof. J.P. Colombo, Berne, for his support, all the colleagues in Europe who have contributed to this work by answering the questionnaire, and the reviewers of the manuscript for their constructive comments.
About this article
Cite this article
Bachmann, C. Outcome and survival of 88 patients with urea cycle disorders: a retrospective evaluation. Eur J Pediatr 162, 410–416 (2003). https://doi.org/10.1007/s00431-003-1188-9
Received:

Revised:

Accepted:

Published:

Issue Date:
Keywords
Hyperammonaemia

Inborn errors of metabolism

Neonatal screening

Urea cycle disorders