Interaction with the host: the role of fibronectin and extracellular matrix proteins in the adhesion of Gram-negative bacteria
Part of the following topical collections:
Abstract
The capacity of pathogenic microorganisms to adhere to host cells and avoid clearance by the host immune system is the initial and most decisive step leading to infections. Bacteria have developed different strategies to attach to diverse host surface structures. One important strategy is the adhesion to extracellular matrix (ECM) proteins (e.g., collagen, fibronectin, laminin) that are highly abundant in connective tissue and basement membranes. Gram-negative bacteria express variable outer membrane proteins (adhesins) to attach to the host and to initiate the process of infection. Understanding the underlying molecular mechanisms of bacterial adhesion is a prerequisite for targeting this interaction by "anti-ligands" to prevent colonization or infection of the host. Future development of such "anti-ligands" (specifically interfering with bacteria-host matrix interactions) might result in the development of a new class of anti-infective drugs for the therapy of infections caused by multidrug-resistant Gram-negative bacteria. This review summarizes our current knowledge about the manifold interactions of adhesins expressed by Gram-negative bacteria with ECM proteins and the use of this information for the generation of novel therapeutic antivirulence strategies.
Keywords
Gram-negative bacteria 
Adhesins 
Extracellular matrix proteins 
Fibronectin 
Collagen 
Laminin 
Introduction
The capacity to adhere to host cells and thereby avoid clearance by the host defense systems (e.g., via peristalsis, fluid flow or innate immunity) is an important determinant for a successful colonization by bacterial pathogens. Adhesion to the host cells can facilitate translocation of pathogenic bacteria across the cellular and tissue barriers by generating a stable starting point on which the microorganism can persist, replicate, and internalize into host cellular compartments. Once a stable adhesion to host cells is established, pathogens are able to spread within the host and express and/or release further virulence factors enabling subsequent steps of infections. Such virulence factors include, e.g., bacterial toxins (modulating host cell functions), cell surface carbohydrates or proteins (protecting the bacterium from host defense), and exoenzymes (contributing to bacterial dissemination).
A group of proteins exposed on the pathogen's surface called "adhesins" has been identified as the molecular basis for bacterial adherence to certain host molecules. The way that different bacterial populations take advantage of their adhesins and how they bind to their specific receptors within the host is decisive for the particular type of disease caused by a particular organism. Adhesins are involved in biofilm formation and have proven to undermine host strategies for pathogen clearance [1, 2]. Furthermore, bacterial adhesion to host cell surfaces activates both bacterial and host signaling, subsequently enabling bacterial spread and the evasion of innate and cellular immune responses [3]. On the host side, the extracellular matrix (ECM) is one of the most important proteinaceous tissue components, due to the wide distribution of ECM in the connective tissue and basement membranes [4]. Targeting of ECM proteins for adherence is, therefore, one of the major strategies for pathogen colonization and host invasion [4].
Bacterial binding capacity to ECM proteins was first described over 40 years ago, with the report of Staphylococcus aureus binding to fibronectin [5]. Since then, our knowledge about the mechanisms underlying host–pathogen interactions has increased significantly. This resulted in promising ideas for inhibiting such interactions for the future development of anti-bacterial therapeutics. In this review, we summarize the principal ECM proteins involved in the adhesion processes of Gram-negative bacteria, the impact on virulence and pathogenesis, and how to use this knowledge in terms of generating novel antivirulence-therapeutic strategies.
Extracellular matrix proteins involved in the adhesion of Gram-negative bacteria
The ECM is a highly dynamic structure having various functions. It consists of numerous macromolecules in charge of, e.g., the structural support and scaffolding of cellular barriers, cellular signaling, and the regulation of physiological processes. The ECM is composed of proteoglycans and glycoproteins secreted locally and brought together into an organized network. The main fibrous proteins forming parts of the ECM are collagen, elastin, fibronectin, laminin, and vitronectin [6], making these molecules a preferred target for bacterial adhesion.
Collagen
Collagen is the major glycoprotein representing 30% of the total protein content in the human body. Its presence is crucial for maintaining tissue structure, cell adhesion, embryonic development, and many other functions. Apart from mammals and some other vertebrates, collagen has been identified in many invertebrate organisms, evidencing the conservation and importance of the molecule throughout evolution [7, 8]. The latest report described a total of 28 collagen types encoded by more than 45 genes distributed in body tissue and organs [9, 10]. Initially, it was thought that all types of collagen were secreted by fibroblasts which are present in the connective tissue [11] but the production of certain types of collagen by epithelial cells indicates the broad distribution of the molecule in the human body [10]. Under normal conditions, collagen is degraded extracellularly by tissue collagenases, belonging to the class of matrix metalloproteinases [9].
Collagen consists of α-chains and the variability in the number of α-chains present in the molecule defines the different collagen types distributed in the human body. Despite the presence of multiple isoforms and tissue expression levels, all the different types of collagen share common structures [10]. The most significant structure is the presence of Gly-X-Y repeats located in the central part of the α-chain, known as the "collagenous domain". A triple helix structure is formed by regular hydrogen bonding between proline and glycine residues [12]. In addition to the collagenous domain, there are regions lacking the Gly-X-Y repeats named "non-collagenous domains". The presence of these long non-collagenous domains along the molecule creates breaks in the triple helix conformation, while the non-collagenous domains in the N-terminal and C-terminal ends are removed by procollagen N- and C-proteinases to allow the assembly into fibrils [13]. The supramolecular association occurs after extracellular release and further assembly into networks or fibrils including other ECM proteins.
The collagen protein family is widely present in skin (collagen type I in association with collagen types III, V, VII, XII, XIII and XIV), in bones (collagen type I in association with collagen types XXIV), in cartilage (collagen type II in association with IX, X, XI and XIII), and in basement membranes (collagen type IV in association with collagen type XVIII) [9, 10]. The presence of collagen-binding proteins (collagen-BPs) in pathogenic bacteria is, therefore, not incidental but has evolved because of the broad distribution of this ECM protein in organs and tissue. The majority of adhesin–host protein interactions observed in Gram-negative bacteria have been associated with collagen type I, IV, and V [4].
Fibronectin
Fibronectin (Fn) is a multidomain glycoprotein present in body fluids and on cell surfaces with the principal function of connecting the cell to the exterior ECM. Two major forms of Fn are present in the body: a soluble (plasma) and an insoluble (cellular) form. Plasmatic Fn is produced by hepatocytes and is, therefore, present in blood, saliva, and other fluids, playing important roles in blood clotting [14]. Cellular Fn is secreted by fibroblasts and endothelial cells and is incorporated on the cell surface into a fibrillar-type matrix [15, 16]. Turnover of ECM proteins is an important mechanism to remove biologically active proteins from the extracellular environment. Fn degradation occurs intracellularly after endocytosis of non-polymerized Fn molecules [17].
The Fn molecule is a heterodimer composed of two splice variants of about 230 and 270 kDa connected by a C-terminal disulfide bond (see Fig. 
1
). In general, the Fn structure is organized into 12 type I repeats (FnI), two type II repeats (FnII), and a variable number (between 15 and 18) of type III repeats (FnIII). Differences between the splice variants modify the number of modules in FnIII [
15
,
16
,
18
]. Additionally, cellular Fn can include EIIIA and EIIIB domains, which notably are not present in the soluble molecule [
19
,
20
].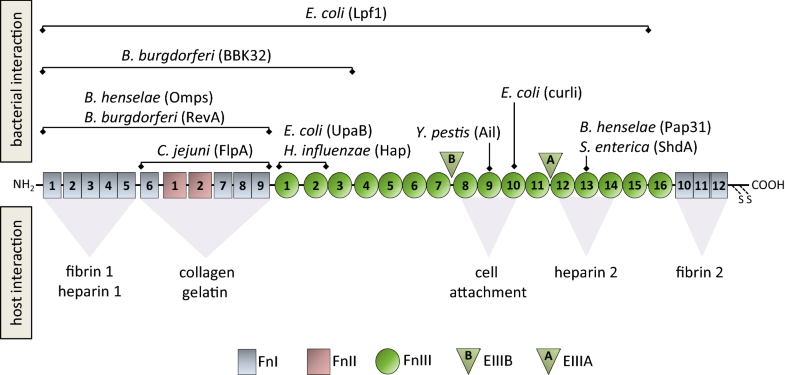 Fn mediates important human protein–protein and protein–oligosaccharide interactions during the formation of the ECM [21]. The FnI1–FnI5 components are the most conserved Fn region across vertebrates [21]. This domain is required for the proper assembly of the ECM and binds to heparin (lower affinity) and fibrin (stronger affinity). Moreover, this domain is also the major fibrin-binding site in the Fn molecule. The interaction between Fn and fibrin is important for cell adhesion, cell migration into fibrin clots, and for macrophage removal from circulation after a trauma or in the case of inflammation. Another region consisting of FnI6, FnII1–2, and FnI7–9, promotes collagen binding. This interaction has been suggested to occur either to mediate cell adhesion or to favor clearance of denatured collagenous material from blood and tissue. The FnIII domain mediates cell attachment via integrins (cell-surface heterodimeric receptors) in the RGD loop located at the FnIII8–10 area. The interaction via integrins allows the linkage of ECM with the intracellular cytoskeleton. The FnIII12–14 modules contain the strongest interaction site necessary for heparin-binding. It has been proposed that this region facilitates the formation of protein interactions for insoluble fibril assembly, whereas in some cell types the heparin-binding domain promotes cell adhesion. A second fibrin-binding site is located at the C-terminal FnI10–12 modules [18, 21, 22, 23].
The presence of bacterial Fn-binding proteins (FnBPs) was demonstrated by the inactivation of the respective FnBP genes and the observation of diminished or abolished bacterial adhesive characteristics in mutants lacking the expression of the protein. The observation of a Fn-binding repeat sequence within the adhesins (GGXXXXV(E/D)(F/I)XX(D/E)T(Xx15) EDT) has been described for certain bacterial proteins [24]. On the other hand, a canonical binding site in the Fn molecule located in the FnI2–FnI5 region has been identified due to the interaction of many FnBPs in this area [22, 25]. Notwithstanding, other non-canonical bacterial binding sites associated with positions FnI6, FnII1–2, FnI7–9, FnIII9–10, and FnIII12 have also been identified in the Fn molecule (see Fig. 1).
Laminin
Laminin (Ln) is a multifunctional molecule with a total of 15 heterotrimeric isoforms differentially distributed in basement membranes, connective tissue, cell surface, skin, and blood vessels. This ECM protein is in charge of maintaining the structural scaffold, cell migration, and signaling [4]. Plasmin degrades Ln that is located in the basement membrane at the dermal–epidermal junction and in the hippocampus [26, 27].
Ln consists of α-(400 kDa), β-(200 kDa), and γ-(200 kDa) chains, independently expressed and interconnected via disulfide bonds at their C-terminal regions (see Fig. 
2
). Ln trimerizes prior to its extracellular secretion and then forms networks cooperating with other ECM proteins. The first N-terminus (240–250 amino acid residues: LN domains) are well conserved among Ln isoforms and are involved in the polymerization of the molecule. The epidermal growth factor-like (LE) domains are associated with functions such as signaling, growth, and development and interconnect the globular domains of the Ln molecule. Finally, there is the coiled-coil region that consists of 600 amino acids and interacts with other proteins and receptors [
4
].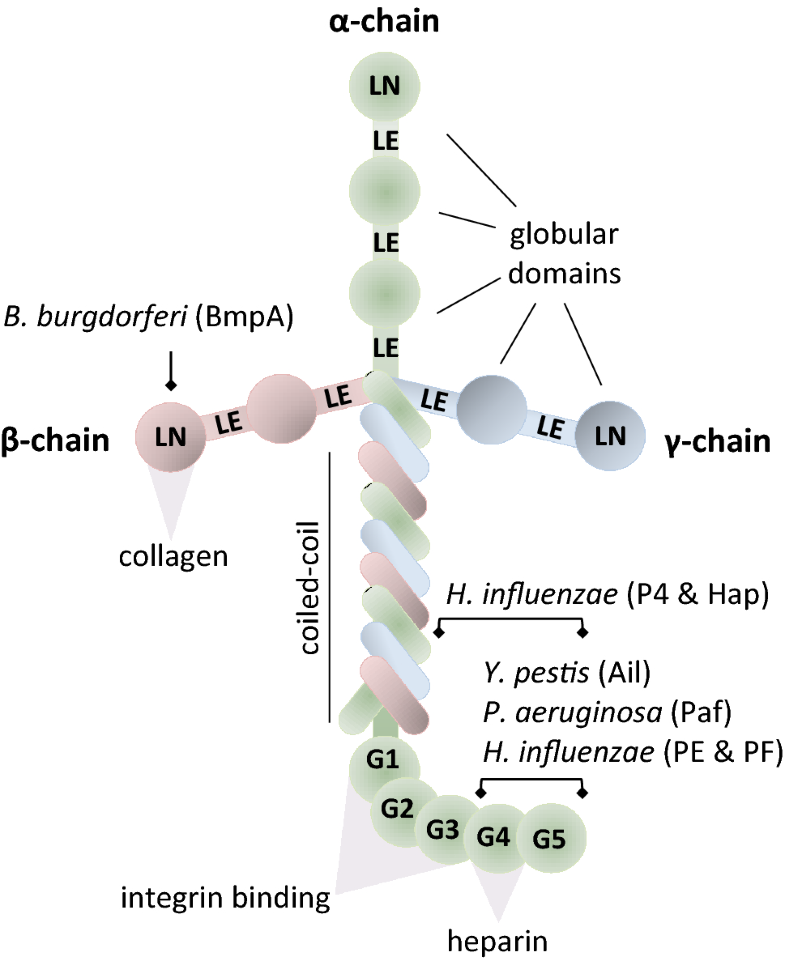 The Ln molecule has been found widely distributed in the renal parenchyma including glomeruli and tubules, and in gastric mucosa. The presence of Ln-Binding Proteins (LnBPs) has been demonstrated in Gram-negative pathogens such as Escherichia coli, Haemophilus influenzae, Neisseria meningitidis, Helicobacter pylori, Yersinia enterocolitica, and Borrelia burgdorferi [4] (see Fig. 2).
Adhesins of Gram-negative bacteria and cellular matrix protein interactions
Bacterial adherence to host tissues represents the first and decisive step in the infection process. Although bacterial attachment seems to be beneficial for microorganisms, it may become a double-edged sword if, after attachment, the host immune signaling is activated and impedes internalization and phagocytosis strategies. To overcome this problem, bacteria can express surface structures to protect themselves from immune recognition and might employ further traits, such as protein secretion systems to modulate and to evade the host´s immune system. Actually, tight adhesion can be an essential prerequisite to engage these important facilitators of infection [28]. A group of proteins, called adhesins, are in charge of keeping the pathogen in close contact with the host.
Adhesins are a highly diverse group of proteins with heterologous architecture and domain composition [29]. The complexity of the bacterial tools used for cell adhesion ranges from single monomeric proteins to intricate multimeric macromolecules. Among this group, Trimeric Autotransporter Adhesins (TAAs) are a type of adhesins presented on the outer membrane of many human pathogenic Gram-negative bacteria. These obligate homotrimeric proteins are secreted via the type Vc pathway and led across the inner membrane Sec-dependently by an N-terminal signal peptide. The C-terminal β-barrel domain interacts with the β-barrel assembly machinery (BAM) in order to be inserted into the outer membrane [30, 31, 32]. Most likely, concurrently with the β-barrel insertion facilitated by the BAM, the long passenger domain (N-terminal: head, neck and stalk domains) is translocated through the barrel in a hairpin-conformation and ends up exposed on the bacterial surface [33, 34]. So far, all the described TAAs have been functionally associated with adhesion properties [30, 35].
With a similar secretion mechanism, the classical autotransporters ("monomeric autotransporter adhesins") are secreted via the type Va pathway. Briefly, the autotransporter crosses the inner membrane by the Sec machinery and, once the protein is in the periplasm, distinct chaperone proteins maintain the unfolded structure of the autotransporter [
30
]. BAM recognizes the C-terminal membrane anchor; this step aids the insertion of the β-barrel membrane anchor into the outer membrane [
34
]. The linker region forms a hairpin inside the barrel while the passenger domain crosses the pore. For some autotransporters, the linker region will be cleaved releasing the passenger domain into the extracellular environment [
30
,
31
]. Monomeric autotransporters [e.g.,
Haemophilus
adhesion and penetration protein (Hap), MisL and ShdA of
Salmonella enterica
serotype Typhimurium and UpaB of uropathogenic
E. coli
; see Table 
1
] are the most ubiquitous class of secreted proteins in Gram-negative bacteria and accomplish varied functions including cell adhesion, biofilm formation, and resistance to host defenses [
36
].
Table 1
Adhesins of Gram-negative bacteria and their interactions with ECM proteins (examples)
Genus

Species

Adhesin

Estimated molecular weight of monomers

Protein data bank code

Class of bacterial adhesin

Binding to ECMa

Specific binding site in adhesin

Specific binding site in ECM

Estimated Kd valueb

References

Acinetobacter spp.

A. baumannii

Ata

189 kDa

NA

TAA

Collagen I, III, IV, V

Passenger domain four-SVAIG motifs (putative)

Not determined

NA

 
 
 
 
 
 

Ln

Not determined

Not determined

NA

[40]

 
 

OmpA (Omp38)

38 kDa

3TD3

3TD4

3TD5

4G4Y

4G4Z

4G88

Porin

Fn

Not determined

Not determined

NA

[42]

 
 

Omp33 (Omp 33-36)

31 kDa

6GIE

Porin

Fn

Not determined

Not determined

NA

Bartonella spp.

B. henselae

BadA

327 kDa

3D9X

TAA

Fn

Stalk domain

Not determined

NA

Collagen I, III, IV

Head and stalk domainc

Not determined

NA

Ln

Not determined

Not determined

NA

Pap31

31 kDa

NA

Porin

Fn

Not determined

Fn III13

NA

[46]

Omp43

43 kDa

NA

Porin

Fn

Not determined

Heparin and gelatin-binding domains of Fn

NA

[47]

Omp89

89 kDa

NA

Porin

Fn

Not determined

NA

B. quintana

VompA

101 kDa

NA

TAA

Collagen IV

Not determined

Not determined

NA

[48]

VompC

104 kDa

NA

 

B. bacilliformis

Brp (Bbad)

~130 kDa

NA

TAA

Fn and collagen binding (putative)

Not determined

Not determined

NA

[49]

Hbps

Not determined

NA

Hemin-binding proteins

Fn binding (putative)

Not determined

Not determined

NA

Borrelia

spp.

B. burgdorferi

BBK32

47 kDa

6N1L

4PZ5

Surface-exposed lipoprotein

Fn

N-terminal domain

70 kDa N-terminus, gelatin/collagen binding domain, Fn III1–3

10 nM (ELISA)

BBA33

17 kDa

NA

Surface-exposed lipoprotein

Collagen IV, VI

Not determined

Not determined

collagen VI 350 nM (ELISA)

[52]

BmpA

39 kDa

NA

Surface-exposed lipoprotein

Ln

Not determined

Collagen binding site (80 aa to C-terminus)

0.1 µM (ELISA)

[53]

BmpB

37.5 kDa

NA

Surface-exposed lipoprotein

Ln

Not determined

Not determined

NA

[53]

BmpC

40 kDa

NA

Surface-exposed lipoprotein

Ln

Not determined

Not determined

NA

[53]

BmpD

37 kDa

NA

Surface-exposed lipoprotein

Ln

Not determined

Not determined

NA

[53]

CspA (CRASP-1, BbCRASP-1, BBA68, ZS7.A68, FHBP)

25.9 kDa

4BL4

Surface-exposed lipoprotein

Collagen I, III, IV

Not determined

Not determined

NA

[54]

Fn

Not determined

Not determined

NA

Ln

Not determined

Not determined

NA

CspZ (CRASP-2, BbCRASP-2, BBH06)

23.2 kDa

6ATG

4BG0

4CBE

Surface-exposed lipoprotein

Fn

Not determined

Not determined

NA

Ln

Not determined

Not determined

NA

ErpX

40 kDa

NA

Surface-exposed lipoprotein

Ln

Region between N-terminus (30 aa) and C-terminus

(31 aa)

Not determined

NA

RevA

17 kDa

NA

Surface-exposed protein

Fn

60 aa at the N-terminus

70 kDa N-terminus not inhibited by heparin

12.5 nM (ELISA)

RevB

17.5 kDa

NA

Surface-exposed protein

Fn

Not determined

Not determined

NA

Campylobacter spp.

C. jejuni

CadF

37 kDa

NA

Porin

Fn

Residues 134-137

Not determined

NA

FlpA

46 kDa

NA

Surface-exposed lipoprotein

Fn

FNIII-like repeat D2 (residues 150–164)

Fn gelatin-binding domain

28.7 nM (ELISA)

Cj1349c

51 kDa

NA

Surface-exposed lipoprotein

Putative Fn and fibrinogen

Not determined

Not determined

NA

[63]

Escherichia

spp.

Enteropathogenic E. coli

Flagellin

50 kDa

NA

Flagella

Fn

YDVGGDAYTVNVDS (putative)

Not determined

NA

Collagen

Not determined

Not determined

NA

Ln

Not determined

Not determined

NA

Enteroaggregative E. coli

AaF II

Not determined

4OR1

Fimbriae

Collagen

Major subunit of AAF/II fimbria

Not determined

NA

[66]

Fn

Not determined

NA

Ln

Not determined

NA

E. coli (several strains)

Curli

15 kDa

6G8C

6G8D

6G8E

6G9G

Curli

Fn

NNS24 and VDQ26 peptides

RGD Motif

NA

Ln

Not determined

Not determined

NA

Enterohemorrhagic E. coli

Lpf1

18 kDa

NA

Fimbriae

Collagen IV

Not determined

Not determined

NA

[69]

Fn

Not determined

30-, 45-, 70-, and 120-kDa proteolytic fragments

NA

Ln

Not determined

Not determined

NA

 

Uropathogenic E. coli

UpaB

80 kDa

6BEA

Autotransporter

Fn

Residues D116, D119, N146, N175, D217, K245, D246, D281, R310 and D336

Fn III1–2 (putative)

45.2 µM (surface plasmon resonance)

 
 
 
 
 
 

Ln

Not determined

Not determined

NA

[71]

Haemophilus spp.

H. influenzae (NTHi)

Hap

155 kDa

3SYJ

Autotransporter

Fn

511 residues (526–1036) of C-terminal passenger domain

FnIII1–2

15 nM (ELISA)

 

Collagen IV

Same as above

Not determined

20 nM (ELISA)

 
 

Ln

Same as above

Heparin-binding site(s) mainly G-like domains 1-5

35 nM (ELISA)

 

PE

18 kDa

3ZH5 3ZH6 3ZH7

Surface-exposed protein

Ln

N-terminus (residues 41-68)

Heparin-binding site(s) mainly G-like domains 4 and 5

1.5 μM (surface plasmon resonance)

PF

30 kDa

NA

Surface-exposed protein

Ln

N-terminus (residues 23-48)

Heparin-binding site(s) mainly G-like domains 4 and 5

NA

[76]

P4

28 kDa

3OCU

3OCV 3OCW

3OCX

3OCY

3OCZ 3SF0

Surface-exposed protein

Fn

Core/α-helix domains

Not determined

10.2 nM (ELISA)

 

Ln

Same as above

Heparin-binding site(s) mainly G-like domains 1-5

9.3 nM (ELISA)

 

Helicobacter spp

H. pylori

AlpA

56 kDa

NA

Surface-exposed protein

Ln

Not determined

Not determined

NA

[81]

AlpB

55 kDa

NA

Surface-exposed protein

Ln

Not determined

Not determined

NA

Pseudomonas spp.

P. aeruginosa

OprQ

46 kDa

NA

Porin

Fn

Not determined

Not determined

NA

[82]

 
 

Paf

34 kDa

NA

Surface-exposed protein

Ln

Not determined

Heparin-binding site(s) mainly G-like domains 4 and 5

NA

[83]

Salmonella spp.

S. enterica

ShdA

200 kDa

NA

Autotransporter

Fn

Residues 470-1553 (passenger domain)

FnIII13

0.12 µM (ELISA)

MisL

101 kDa

NA

Autotransporter

Fn

Non-conserved region passenger domain

Not determined

0.17 µM (ELISA)

[87]

 

S. typhimurium

Rck

17 kDa

NA

Surface-exposed protein

Fn

Not determined

Not determined

NA

[88]

Ln

Not determined

Not determined

NA

 
 
 

PagC

20 kDa

NA

Surface-exposed protein

Ln

Not determined

Not determined

NA

[88]

Yersinia spp.

Y. enterocolitica

YadA

47 kDa

1P9H

3LT6

3LT7

2LME

TAA

Collagen

Trimeric form of YadA head domain

Not specific collagen binding sequence

0.28 µM (surface plasmon resonance)

Fn

Not determined

Not determined

NA

Ln

Not determined

Not determined

NA

Y. pestis

Ail

17 kDa

5VJ8

2N2L

2N2 M

3QRA

3QRC

Surface-exposed protein

Ln

Not determined

G-like domains 4 and 5

NA

[91]

Fn

Not determined

Fn III9

290 nM (ELISA)
Other types of adhesins described in Gram-negative bacteria are pili or fimbriae. These filamentous surface proteins comprise a scaffold-like domain anchored to the bacterial membrane with strong binding specificities. Interestingly, some pathogens (e.g., Bartonella bacilliformis) harbor both types of adhesins (TAA BrpA/BbadA [37] and flagellin [38]). This suggests that such adhesins might play important roles in different conditions or at distinct stages of the infection process. This diversity and variability of adhesins even between species from the same genus of bacteria make the task of deciphering the precise mode of bacteria–host interaction challenging [39]. In the following paragraphs, known ECM binding adhesins will be discussed in more detail in accordance with the Gram-negative pathogen they belong (see Table 1).
ECM interactions occurring in other Gram-negative bacteria
For some genera of Gram-negative bacteria, the interactions occurring between adhesins and Fn, Ln or collagen are not critical for bacterial attachment, but the description of bacterial-host receptor occurrence is vital for understanding the orchestrated process of infection.
Salmonella enterica serotype Typhimurium expresses adhesins such as ShdA, MisL, and SadA, of which the last one is a TAA. ShdA and MisL are type Va autotransporter adhesins that have proved to contribute to intestinal colonization possibly by binding to Fn. The interaction of ShdA and Fn happens between the passenger domain and the FnIII13 module, respectively [84, 85], while the interaction occurring between MisL and Fn has not been further described [87, 168]. Even though SadA shares structural similarities with YadA and BadA, current studies did not succeed in identifying any SadA-mediated interactions with ECM molecules. However, it was shown that SadA plays a role in biofilm formation and adhesion to human intestinal epithelial cells via a yet unknown mechanism [169]. Additionally, Rck and PagC, Salmonella-homologs of Ail of Y. pestis, have proved to induce bacterial binding to Ln and Fn, when these adhesins are expressed in E. coli [88, 91].
Pseudomonas aeruginosa is an opportunistic pathogen affecting mainly immunocompromised patients and also has demonstrated affinity to ECM proteins (Fn and Ln). The outer membrane porin Q (OprQ), known to play an important role in membrane permeability, antibiotic resistance, and virulence, was later identified as a FnBP. Based on the observation that the expression of Fn is positively correlated with the degree of injury in affected tissue from lung epithelial cells [170], it seems to be possible that overexpression of Fn favors the adherence and colonization of P. aeruginosa in patients promoted by OprQ [82]. Moreover, Ln is a ubiquitously expressed ECM protein in the respiratory tract and is a highly important target for Paf (orthologue protein of H. influenzae protein F) in P. aeruginosa also facilitating bacterial adherence [83].
Helicobacter pylori is the etiological agent of gastritis and malignant neoplasias, such as gastric cancer. The adherence to the gastric epithelium has been shown to enhance inflammation, yet only a few H. pylori adhesins have been paired with targets in host tissue. H. pylori was described as binding some ECM proteins with different affinity: vitronectin [171], collagen type IV, and Ln [172]. The binding capacity of H. pylori to collagen type IV and Ln was reduced when the bacteria was subjected to proteolytic enzymes, suggesting that the bacterial attachment to the basement membrane is mediated by bacterial surface proteins [172]. Later research demonstrated that H. pylori mutants lacking the adhesins AlpA and AlpB showed reduced binding to Ln, while expression of a plasmid containing the alpAB locus in E. coli conferred Ln-binding capacity. Surprisingly, such mutants did not show lesser inflammation capacity than the wild-type when gerbils were experimentally infected [81].
Other interactions related to ECM binding proteins: degradation of ECM proteins by bacterial proteases
In order to reach the host tissue, bacteria can make use of endogenous proteases to degrade the basement barrier protecting the ECM [4]. Presence of proteases has been more commonly described for fungi and parasites. However, the activity of a few bacterial proteases in the host ECM has also been observed. Examples are elastase and alkaline proteases produced by, e.g., P. aeruginosa; both enzymes target soluble Ln resulting in different cleavage products [173]. Another example is a chymotrypsin-like protease from Treponema denticola which allows bacterial invasion of the basement membrane after degradation of Ln, collagen IV, and fibrinogen [4, 174]. In H. pylori, proteases of the high-temperature requirement A (HtrA) family have ECM protein degradation activity. HtrA proteins cleave Fn in in vitro assays, suggesting implications of the secreted HtrA in the infection process and in the disruption of the epithelial barrier [175]. In Y. pseudotuberculosis, the Pla protein has protease activity degrading Ln and fibrin during the invasion of epithelial cells [176].
Inhibition of bacterial adhesion as a possible therapeutic strategy
The overwhelming increment of antibiotic resistance in many clinical bacterial isolates has stimulated the scientific and medical interest for the development of new approaches directed to combat serious infections. Many strategies designed against bacterial survival and growth pathways are already established; nevertheless, the selective pressure imposed by bactericidal promotes continuously the spread of resistant strains among clinical patients. This fact underlines the need for redirecting the focus to alternative therapeutic targets. Furthermore, the ambitious idea of blocking virulence factors associated with bacterial colonization and infection processes is an attractive strategy to possibly prevent infections, to attenuate already existing infections, and to promote the natural clearance of the pathogen [3, 29, 39, 177].
As stated before, adhesion plays a primordial role at distinct steps of the infection process; therefore, the attempt of targeting this interaction by the application of "anti-adhesion"-therapeutics is not new and has been approached previously. One example is the type I pili adhesin of uropathogenic E. coli (FimH), which binds to mannosylated receptors on the surfaces of mammalian bladder epithelial cells. Anti-adhesion agents targeting FimH-mannosylated interaction have been observed either disrupting the adhesin protein directly [178, 179] or interfering with the binding by fitting the binding pocket of the host receptor in FimH (FimH antagonists) [180, 181, 182]. In murine models, administration of a FimH antagonist has proven to decrease bacterial colonization to similar levels as by antibiotic treatment suggesting an attractive alternative to classical antibiotics [183, 184]. However, it is worth mentioning that no antivirulence agent against uropathogenic E. coli has been tested in humans so far.
Alternatively, the observation of mucus secretion as a natural defense mechanism against enteropathogens guided the scientific interest in studies of a variety of mucin glycoproteins mimicking the glycosylation patterns present in epithelial surface receptors. Mucins bind and immobilize bacteria, favoring the bacterial clearance by discharging the mucus layer from the gastrointestinal tract [185]. Purified bovine mucin (Muc1) extracted from cow milk inhibited the binding in vitro of Gram-negative pathogens (E. coli and S. enterica serovar Typhimurium) to intestinal epithelial cells [186].
Peptide-based adhesion inhibitors represent another attractive approach to interfere with bacterial adherence. The feasibility of large-scale production and effectiveness in in vitro assays makes them an attractive target for an antiadhesive therapy approach. A promising example is represented by the multivalent adhesion molecule (MAM7), a bacterial surface protein involved in the attachment of a range of Gram-negative bacteria (enteropathogenic E. coli, Y. pseudotuberculosis and Vibrio spp.) to the host cell membrane receptors (Fn, phosphatidic acid) [187, 188]. An in vitro assay using bead-coupled MAM7 successfully reduced the cytotoxicity of host cells. It should be noted that this approach was not interfering with the bacterial-host receptor binding process directly, but via a bacterial-host receptor competition strategy after the pre-exposition of the host-receptor binding pocket to bead-coupled MAM7. The results brought to light a potential application of MAM7 as a prophylactic agent against multidrug-resistant bacterial pathogens [189, 190].
Moreover, elucidating the molecular mechanisms responsible for the anti-adhesive capacity of bioactive natural compounds from plants might give some insights about strategies to block bacteria–host interactions avoiding endogenous impact on cellular host signaling. Some examples are the anti-adhesion activity described for salvianolic acid B (SA-B) against Neisseria meningitidis [191], the use of cranberry proanthocyanidins against uropathogenic E. coli [192, 193], and the identification of anti-adhesive peptides against a H. pylori FnBP obtained by the enzymatic hydrolysis of pea seeds Pisum sativum [194]. The presence of food components contrasting bacterial adhesion has been reviewed extensively [195].
Despite the promising future of anti-adhesion therapy, several considerations have to be made before the application of this concept to patients. First, the redundancy of the interaction between adhesins and cellular receptors represents a challenge. For instance, TAAs such as BadA and YadA show affinity to various ECM proteins [44, 156], while curli and flagellin from E. coli strains bind not only ECM proteins but also cellular receptors involved in immunity [196, 197]. Moreover, many pathogens such as P. aeruginosa express a wealth of adhesion and other virulence factors that may act in concert and/or redundantly. Blocking the function of a single adhesion molecule would, therefore, be an unsuccessful therapeutic strategy. Additionally, the design of high-affinity anti-ligands might be considered as a milestone for the treatment of bacterial infections. The similarity between pathogenic adhesins and extracellular protein domains, as the case of FlpA from C. jejuni and Fn type III domains [63], implies that interfering with pathogen attachment might compete with host signaling pathways leading to undesirable consequences [198]. Another drawback is the fact that adhesins are often expressed only at very distinct time points of the infection process, as shown for YadA and invasin of Y. enterocolitica [156, 199, 200]. Based on this, the successful application of anti-ligands for treatment (once they have been designed) will depend strongly on the time point when these compounds are administered to a patient.
In summary, multiple strategies for bacterial attachment to the host exist and they are highly regulated and orchestrated during the entire course of an infection [201]. Attempts to overcome the limitations of an anti-adhesin therapeutic strategy will thus require also a time-resolved and tissue-specific understanding of the host cell signaling events occurring during the infection process. Even so, and in the light of the global threat of emerging and spreading antibiotic-resistant pathogens, anti-adhesion and in a more general way anti-virulence therapies might be a worthwhile alternative to classical antibiotic treatment.
Concluding remarks
As we gain more and more insights into the interactions that occur during host cell adhesion, colonization, and the invasion processes of pathogenic bacteria, the complexity of these interactions becomes obvious. The evolution of adhesin structures and the redundancy for cellular targets suggest a dynamic interaction and adaptability to the particular conditions in host tissues. This creates a challenge for researchers aiming at the inhibition of host–pathogen interactions. Even though matrix-binding proteins have been studied for more than 40 years, it is still a long way to comprehensively understand the underlying molecular mechanisms important for the bacterium–host interplay. Because of the current limitations associated with the application of any anti-adhesion therapy, further efforts are necessary to better understand these interactions in the search for therapeutic alternatives to overcome the severe threat by multi-drug resistant Gram-negative bacteria.
Notes
Acknowledgements
This research was supported by the Viral and Bacterial Adhesin Network Training (ViBrANT) Program funded by the European Union's HORIZON 2020 Research and Innovation Program under the Marie Sklodowska-Curie Grant Agreement No 765042, by the Deutsche Forschungsgemeinschaft [DFG FOR 2251] and by the Robert Koch-Institute, Berlin, Germany (Bartonella consiliary laboratory, 1369-354). This article is published as part of the Special Issue on "Vibrant ITN".
Copyright information
© The Author(s) 2019
Open AccessThis article is distributed under the terms of the Creative Commons Attribution 4.0 International License (http://creativecommons.org/licenses/by/4.0/), which permits unrestricted use, distribution, and reproduction in any medium, provided you give appropriate credit to the original author(s) and the source, provide a link to the Creative Commons license, and indicate if changes were made.