Abstract
Epstein–Barr virus (EBV) has been identified as a group 1 carcinogenic agent, particularly for nasopharyngeal carcinoma (NPC). The sequence diversity of EBV nuclear antigen 1 (EBNA1) reflects region-restricted polymorphisms, which may be associated with the development of certain malignancies. The aims of the present study were to evaluate EBV EBNA1 gene polymorphisms circulating in NPC, infectious mononucleosis, and isolates from patients with transplanted organs to determine if EBNA1 sequence specificities are useful as viral biomarkers for NPC. Forty biopsies of undifferentiated carcinoma of nasopharyngeal type (UCNT), 31 plasma samples from patients with mononucleosis syndrome, and 16 plasma samples from patients after renal transplantation were tested in this study. The EBNA1 gene was amplified by nested PCR. Further investigation included sequencing, phylogenetic, and statistical evaluations. Eighty-seven sequences were identified as one of the four EBNA1 subtypes, P-Ala, P-Thr, V-Val, and V-Ala, with further classification into ten subvariants. Of these, P-Thr-sv-1 and P-Thr-sv-3 have never been identified in Europe, while V-Val-sv-1 was newly discovered. Statistical analysis revealed significant differences in the distribution of EBNA1 P-Thr subvariants between the three groups of patients, with noticeable clustering of P-Thr-sv-5 in NPC isolates (p < 0.001). EBV EBNA1 showed no sequence specificity in primary infection. This research revealed a newly discovered EBNA1 subvariant. Importantly, EBNA1 P-Thr-sv-5 showed carcinoma-specific EBNA1 variability. Thus, identification of this subvariant should be considered as a viral screening marker for NPC or UCNT.
This is a preview of subscription content, log in to check access.
Access options
Buy single article
Instant access to the full article PDF.
US$ 39.95
Price includes VAT for USA
Subscribe to journal
Immediate online access to all issues from 2019. Subscription will auto renew annually.
US$ 199
This is the net price. Taxes to be calculated in checkout.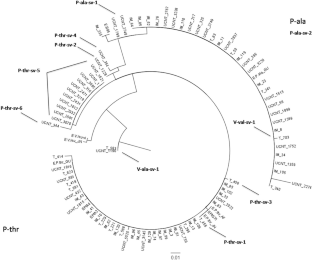 References
1.

Rickinson AB, Kieff ED (2007) Epstein–Barr virus and its replication. In: Knipe D, Howlry P (eds) Fields virology, 5th edn. Lippincott Williams & Wilkins, Philadelphia, pp 2603–2654

2.

Jia WH, Qin HD (2012) Non-viral environmental risk factors for nasopharyngeal carcinoma: a systematic review. Semin Cancer Biol 22:117–126. https://doi.org/10.1016/j.semcancer.2012.01.009

3.

Rickinson AB, Kieff ED (2013) Epstein–Barr virus. In: Knipe DM, Howley PM, Cohen JI, Griffin DE, Lamb RA, Martin MA et al (ed) Fields virology, 6th edn. Lippincott Williams & Wilkins, Philadelphia, pp 1898–1959

4.

Klenerman P, Hill A (2005) T cells and viral persistence: lessons from diverse infections. Nat Immunol 6:873–879. https://doi.org/10.1038/ni1241

5.

Kennedy G, Komano J, Sugden B (2003) Epstein–Barr virus provides a survival factor to Burkitt's lymphomas. Proc Natl Acad Sci USA 100:14269–14274. https://doi.org/10.1073/pnas.2336099100

6.

Sun L, Zhao Z, Liu S, Liu X, Sun Z, Luo B (2015) Sequence variation analysis of Epstein–Barr virus nuclear antigen 1 gene in the virus associated lymphomas of northern China. PLoS One e0140529. https://doi.org/10.1371/journal.pone.0140529

7.

Chang CM, Yu KJ, Mbulaiteye SM, Hildesheim A, Bhatia K (2009) The extent of genetic diversity of Epstein–Barr virus and its geographic and disease patterns: a need for reappraisal. Virus Res 143:209–221. https://doi.org/10.1016/j.virusres.2009.07.005

8.

Bhatia K, Raj A, Guitierrez MI, Judde JG, Spangler G, Venkatesh H et al (1996) Variation in the sequence of Epstein–Barr virus nuclear antigen 1 in normal peripheal blood lymphocytes and in Burkitt's lymphomas. Oncogene 13:177–181

9.

Sandvej K, Zhou XG, Hamilton-Dutoit S (2000) EBNA-1 sequence variation in Danish and Chinese EBV-associated tumors: evidence for geographical polymorphism but not for tumor-specific subtype restriction. J Pathol 191:127–131. https://doi.org/10.1002/(SICI)1096-9896(200006)191:2%3C127::AID-PATH614%3E3.0.CO;2-E

10.

Puchhammer-Stockl E, Gorzer I (2006) Cytomegalovirus and Epstein–Barr virus subtypes—the search for clinical significance. J Clin Virol 36:239–248. https://doi.org/10.1016/j.jcv.2006.03.004

11.

Tschochner M, Leary S, Cooper D, Strautins K, Chopra A, Clark H et al (2016) Identifying patient-specific epstein–barr nuclear antigen-1 genetic variation and potential autoreactive targets relevant to multiple sclerosis pathogenesis. PLoS One. https://doi.org/10.1371/journal.pone.0147567

12.

Banko AV, Lazarevic IB, Folic MM, Djukic VB, Cirkovic AM, Karalic DZ et al (2016) Characterization of the variability of Epstein–Barr virus genes in nasopharyngeal biopsies: potential predictors for carcinoma progression. PLoS One. https://doi.org/10.1371/journal.pone.0153498

13.

Lorenzetti MA, Altcheh J, Moroni S, Moscatelli G, Chabay PA, Preciado MV (2010) EBNA1 sequences in Argentinean pediatric acute and latent Epstein–Barr virus infection reflect circulation of novel South American variants. J Med Virol 82:1730–1738. https://doi.org/10.1002/jmv.21871

14.

Hall TA (1999) BioEdit: a user-friendly biological sequence alignment editor and analysis program for Windows 95, 98, NT, 2000, XP. Nucl Acids Symp 41:95–98

15.

Tamura K, Stecher G, Peterson D, Filipski A, Kumar S (2013) MEGA6: Molecular Evolutionary Genetics Analysis version 6.0. Mol Biol Evol 30:2725–2729. https://doi.org/10.1093/molbev/mst197

16.

Darriba D, Taboada GL, Doallo R, Posada D (2012) jModelTest 2: more models, new heuristics and parallel computing. Nat Methods 9:772. https://doi.org/10.1038/nmeth.2109

17.

Guindon S, Gascuel O (2003) A simple, fast and accurate algorithm to estimate large phylogenies by maximum likelihood. Syst Biol 52:696–704

18.

Rambaut A (2007) Molecular evolution, phylogenetics and epidemiology. http://tree.bio.ed.ac.uk/software/figtree/. Accessed 27 Nov 2015

19.

Chen YY, Chang KL, Chen WG, Shibada D, Hayashi K, Weiss LM (1998) Epstein–Barr virus-associated nuclear antigen-1 carboxy-terminal gene sequences in Japanese and American patients with gastric carcinoma. Lab Investig 78:877–882

20.

MacKenzie J, Gray D, Pinto-Paes R, Barrezueta LF, Armstrong AA, Alexander FA et al (1999) Analysis of Epstein–Barr virus (EBV) nuclear antigen 1 subtypes in EBV-associated lymphomas from Brasil and the United Kingdom. J Gen Virol 80:2741–2745. https://doi.org/10.1099/0022-1317-80-10-2741

21.

Gutierrez MI, Raj A, Spangler G, Sharma A, Hussain A, Judde JG et al (1997) Sequence variations in EBNA-1 may dictate restriction of tissue distribution of Epstein–Barr virus in normal and tumour cells. J Gen Virol 78:1663–1670. https://doi.org/10.1099/0022-1317-78-7-1663

22.

Fassone L, Bhatia K, Gutierrez M, Capello D, Gloghini A, Dolcetti R et al (2000) Molecular profile of Epstein–Barr virus infection in HHV-8-positive primary effusion lymphoma. Leukemia 14:271–277. https://doi.org/10.1038/sj.leu.2401651

23.

Wang JT, Sheeng TS, Su IJ, Chen JY, Chen MR (2003) EBNA-1 sequence variations reflect active EBV replication and disease status or quiescent latency in lymphocytes. J Med Virol 69:417–425. https://doi.org/10.1002/jmv.10305

24.

Chen JN, Zhang NN, Jiang Y, Hui DY, Wen ZJ, Li HG et al (2012) Variations of Epstein–Barr virus nuclear antigen 1 in Epstein–Barr virus-associated gastric carcinomas from Guangzhou, southern China. PLoS One. https://doi.org/10.1371/journal.pone.0050084
Acknowledgements
The authors are grateful to the laboratory technicians Gabrijela Pavlovic and Marija Zivotic from the Virology Department, Institute of Microbiology and Immunology, Faculty of Medicine, University of Belgrade for their technical assistance.
Funding
This study was supported by the Ministry of Education, Science and Technological Development, Republic of Serbia, Research Grant no. 175073.
Ethics declarations
Conflict of interest
The authors declare that they have no conflict of interest.
Ethical approval
All procedures performed in study involving human participants were in accordance with the ethical standards of the Ethics Committee of Faculty of Medicine, University of Belgrade no. 29/VI-12 and with the 1964 Helsinki declaration and its later amendments or comparable ethical standards. For retrospective part of this study, formal consent was not reqired.
About this article
Cite this article
Banko, A.V., Lazarevic, I.B., Karalic, D.Z. et al. The sequence analysis of Epstein–Barr virus EBNA1 gene: could viral screening markers for nasopharyngeal carcinoma be identified?. Med Microbiol Immunol 208, 81–88 (2019). https://doi.org/10.1007/s00430-018-0561-2
Received:

Accepted:

Published:

Issue Date:
Keywords
Epstein–Barr virus (EBV)

EBNA1

Nasopharyngeal carcinoma

Sequence variability

Mononucleosis