Human astrocytes: structure and functions in the healthy brain
Abstract
Data collected on astrocytes' physiology in the rodent have placed them as key regulators of synaptic, neuronal, network, and cognitive functions. While these findings proved highly valuable for our awareness and appreciation of non-neuronal cell significance in brain physiology, early structural and phylogenic investigations of human astrocytes hinted at potentially different astrocytic properties. This idea sparked interest to replicate rodent-based studies on human samples, which have revealed an analogous but enhanced involvement of astrocytes in neuronal function of the human brain. Such evidence pointed to a central role of human astrocytes in sustaining more complex information processing. Here, we review the current state of our knowledge of human astrocytes regarding their structure, gene profile, and functions, highlighting the differences with rodent astrocytes. This recent insight is essential for assessment of the relevance of findings using animal models and for comprehending the functional significance of species-specific properties of astrocytes. Moreover, since dysfunctional astrocytes have been described in many brain disorders, a more thorough understanding of human-specific astrocytic properties is crucial for better-adapted translational applications.
Keywords
Astrocytes 
Human 
Brain 
Physiology 
Neuroglial interactions 
Introduction
Since the early discovery that the range of astroglial functions extends considerably beyond passive structural support, astrocytes have cemented their position as crucial determinants of proper neuronal function. Astrocytes are now considered as full-fledged participants in brain circuitry and processing, and display a large spectrum of functions at the cell level, such as the formation, maturation and elimination of synapses, ionic homeostasis, clearance of neurotransmitters, regulation of extracellular space volume, and modulation of synaptic activity and plasticity (Araque et al. 2014; Dallérac and Rouach 2016). It has additionally been demonstrated that they are involved in rhythm generation and neuronal network patterns (Fellin 2009; Lee et al. 2014; Poskanzer and Yuste 2016). More broadly, it is important to assess the inter-species relevance of this set of findings, keeping in mind the ultimate goal of translational applications. While animal models—mostly rodents—have been critical for determining the aforementioned astrocytic properties, early evidence has led to the hypothesis that their functions may differ somewhat: first, the astrocyte-to-neuron ratio increases with the evolutionary stage of a given species (Bass et al. 1971; Leuba and Garey 1989) and, second, the structure, morphology and diversity of human astrocytes differ greatly from that of rodents (Andriezen 1893). The incredible variety of processes in which astrocytes are involved suggests that a change in their characteristics will alter their contribution to neuronal functions. In this context, it is of crucial importance to define the scope in which data gathered using the rodent animal model might be pertinently transposed to the human species. Limited access to healthy human tissue evidently creates an obstacle to the investigation of human astrocytes, but foetal samples, healthy brain tissue resected from surgical procedures, and post-mortem samples have allowed the study of astrocytic properties in the human brain. Here, we review findings concerning the structure, gene profile and function of human astrocytes, and how they differ from those of rodents.
Astrocyte-to-neuron ratio in evolution
Arguably the most intuitive evidence that glia might play a particularly important role in the cognitive functions exhibited by humans is a correlation between the brain glia-to-neuron ratio and the state of evolution of species (Han et al. 2013). On one hand, C. elegans possess 302 neurons but only 56 glial cells, a ratio of 0.18 (Oikonomou and Shaham 2011), and the rat cerebral cortex contains a mean glia/neuron ratio of 0.4 (Bass et al. 1971). On the other hand, the whole human adult brain was found to contain a one-to-one ratio (Azevedo et al. 2009) and the human cerebral cortex a ratio of 1.4 (Friede 1954; Pelvig et al. 2008). Additionally, comparison of glia-to-neuron ratio in different human cortical areas with that of macaques and chimpanzees also displayed a significant augmentation of the ratio in humans (Sherwood et al. 2006). Herculano-Houzel (2014) provides a comprehensive account of glia-to-neuron ratios across species, and its significance. A major caveat to the phylogenetic theory of glia-to-neuron ratio increase with brain evolution is the report that large mammals show a pronounced increase of glia proportion in the brain, to wit 80% for African savannah elephants (Goodman et al. 2009) and whales (Hawkins and Olszewski 1957). While some argue that the increase in glial number in the human brain does not ensure higher cognitive ability, but merely provide enhanced metabolic support required by the higher energetic demands that stem from larger neurons and brain size (Hawkins and Olszewski 1957), it appears that bigger neurons do not require more energy (Herculano-Houzel 2011). Rather, the correlation between glial number and neuronal density might account for varying glia-to-neuron ratios across species (Herculano-Houzel 2014). Corroborating this idea, it appears that the said ratio might not be uniform in the brain, and even within cortical areas: indeed, the glia-to-neuron index was reported to only reach 0.23 in the cerebellum (against 1.4 in the cerebral cortex) (Azevedo et al. 2009), and the human visual cortex areas 17 and 18 were found to display ratios of 0.6 and 1, respectively (Leuba and Garey 1989). This was posited to be a consequence of varying neuronal densities across structures, and might not be specific to the human brain (Herculano-Houzel 2014). While these studies provide invaluable insight into the cell type composition of the human brain, they mostly fail to distinguish glial classes. Strikingly Pelvig and colleagues report a glial population composed of 75% oligodendrocytes, 20% astrocytes and 5% microglia in the human cerebral cortex (Pelvig et al. 2008). However, this is not in agreement with a study in the Rhesus monkey cerebral cortex which displayed a distribution of 57% astrocytes, 35% oligodendrocytes and 7% microglial cells (Peters et al. 1991).
Complex structure and morphology of human astroglia
Although the implications of a higher glia-to-neuron ratio remain elusive, the structural and morphological properties of human astrocytes have been characterised as clearly different from those of evolutionarily lower mammals such as the mouse. In a pioneering study led in 1893 at University College London, Andriezen and Lond already grasped the complexity of human astrocyte morphology, employing the Golgi staining method to identify distinct groups: the 'caudate neuroglial fibre', the 'stellate fibre cell' and the 'protoplasmic neuroglia cell' (Andriezen 1893). Other pioneering neuroscientists have contributed to the characterisation of human astrocytes in the early days of neurobiology (Martinotti 1889; Retzius 1894; Cajal 1897), but although the evolutionary change of neuronal features were thoroughly studied (Nimchinsky et al. 1999; Yáñez et al. 2005; Prabhakar et al. 2006), data regarding human astrocytes remained sparse. Around the turn of the century, Colombo and colleagues drew attention to interlaminar astroglia—referred to as caudate neuroglial fibres by Andriezen and Lond (1893)—a primate-specific type of astrocytes. Relying on recent advances in imaging technology, Oberheim and associates later provided a more comprehensive account of human astrocytes classes, structures and morphology by studying post-mortem human tissues: human astrocytes are characterised by a heavy expression of glial fibrillary acidic protein (GFAP) that increases with age (Nichols et al. 1993). Furthermore, four classes of structurally and anatomically distinct GFAP+ astrocytes exist in the human brain (Fig. 1a): interlaminar, located in layers I and II; protoplasmic in layers III and IV; varicose projections in layers V and VI; and fibrous astroglia in the white matter. Each class is described below.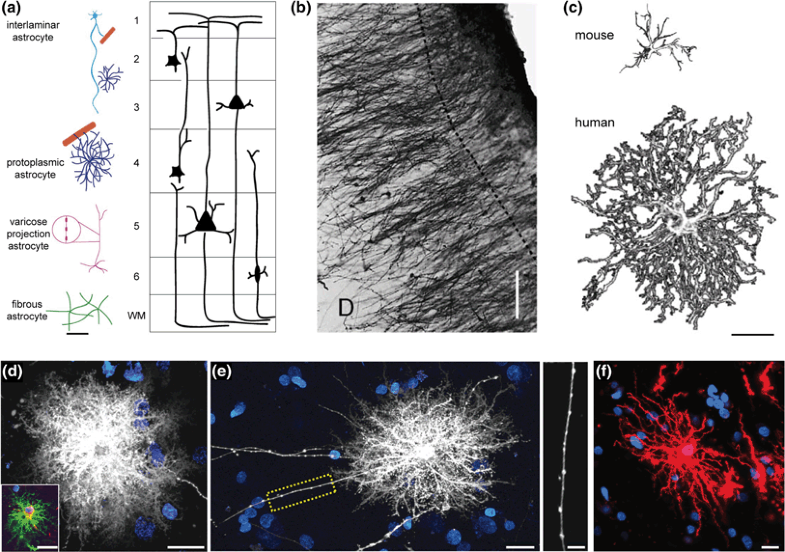 Gene expression profile of human astroglia
While there have been accounts of human astrocyte structure and morphology in the past century, studies of gene expression patterns to infer functional properties of human astrocytes proved to be a greater challenge, for methodological reasons. Until recently, techniques to acutely purify astrocytes lacked physiological salience as they necessitated culturing nervous tissue in serum, which is not part of astrocytes' environment in physiology and consequently induces reactive changes (Zamanian et al. 2012). Zhang et al. (2016) circumvented these limitations by developing a technique to acutely purify human foetal and adult astrocytes using immunopanning (Zhang et al. 2016). Antibodies targeted against HepaCam, a human astrocyte surface protein, allowed obtaining purified cultures of primary human astrocytes and subsequently a transcriptome database. Transcriptomic analysis revealed that a large number of genes that were classically highly expressed in rodent astrocytes, such as GFAP, ALDH1L1, GLUL, AQP4, SLC1A2, SLC1A3 and GJB6, were also enriched in human astrocytes. Interestingly, only 30% of human astrocyte-enriched genes were also enriched in mice and, conversely, 52% of mouse astrocyte-enriched genes were also enriched in human astrocytes. This is supported by transcriptome analysis indicating that glial transcripts show the greatest differences in gene expressions between human and mice (Miller et al. 2010) and that astrocytes-associated genes are less preserved than neuron-associated genes throughout evolution (Hawrylycz et al. 2015). Similarly, this implies putative functional differences between rodent and human brains; investigating the functional properties of proteins coded by the genes specifically enriched in human astrocytes could, therefore, give insight into the specific functional properties of human astrocytes.
Significantly, at least three genes coding for proteins involved in Ca2+ signalling were found to be enriched in human compared to mouse astrocytes: RYR3, MRVI1 and RGN. RYR3 encodes ryanodine receptor type 3, a member of ryanodine receptors (RyRs), which are intracellular Ca2+-permeable channels expressed on the sarcoplasmic and endoplasmic reticula. They are activated by Ca2+ entry through plasma membrane Ca2+ channels and induce a massive and rapid Ca2+ release from intracellular stores (Zalk et al. 2015). RyR3 is mostly expressed in the brain (Hakamata et al. 1992), but RyR2 is the most widely expressed type of RyR in the mammalian brain (McPherson and Campbell 1993; Giannini et al. 1995). One could posit that expression of RYR3 in human astrocytes might allow enhanced or more refined Ca2+ signalling. However, properties of the different RyR isoforms are difficult to compare owing to the different experimental conditions used to study them. RyR2 and RyR3 conductances for Ca2+ and K+ were seen to be similar (Carney et al. 2010). The difference might be a consequence of either the quantity of RyRs and/or their specific location within the astrocyte. Intringuingly, both proteins encoded by MRVI1 and RGN inhibit Ca2+ signalling and intracellular accumulation. The few studies on the MRVI1 protein, also referred to as IRAG, show that in smooth muscle cells, IRAG interacts with inositol triphosphate receptors (IP3Rs) (Ammendola et al. 2001) and inhibits IP3-induced Ca2+ release through a NO/PRKG1-dependent mechanism (Fritsch et al. 2004). IRAG could, therefore, ensure refinement and enhanced temporal resolution of Ca2+ signalling through the negative regulation of IP3-mediated release from intracellular stores. Regucalcin, encoded by RGN, is a Ca2+-binding protein that has been shown to be expressed in rat brain neurons; it is involved in Ca2+ homeostasis through regulation of Ca2+-ATPase activity to prevent Ca2+ accumulation in microsomes and resulting toxicity (Yamaguchi 2012). This regulation was reported to be decreased in aged rats (Yamaguchi 2012), and could, therefore, at least in neurons, be implicated in the cognitive decline associated with ageing. Accordingly, increased expression in human astrocytes compared to both mouse astrocytes and human neurons points towards a particular importance of tight regulation of Ca2+ homeostasis in these cells.
Second, a collection of genes involved in metabolism were found to be highly expressed in human compared to mouse astrocytes: APOC2 encodes apolypoprotein C-2, which participates in fatty acid metabolism by activating the enzyme lipoprotein lipase that hydrolyses triglycerides to provide free fatty acids for cells (Kim et al. 2006). Additionally, AMY2B—also enriched in human astrocytes—codes for amylase alpha 2B, a secreted protein that hydrolyses 1,4-alpha-glucoside bonds in oligosaccharides and polysaccharides, and thus allows the catalysis of the first step in the digestion of dietary starch and glycogen (Omichi and Hase 1993). Notably, in a study comparing gene expression profile of human brain with that of different non-human primates (Cáceres et al. 2003), an upregulation of CA2, expressed in glia and involved in the generation and transport of lactate to neurons for energy supply (Deitmer 2002) was observed in human samples. Drawing on a comparison of metabolic rate data between humans and macaques, the authors proposed that metabolism rate might be unusually high in human brains. It is worth noting that this does not appear to be a result of an increased brain size, since it has been observed that larger brains tend to have lower metabolic rates per unit tissue (Aiello and Wheeler 1995). Consequently, high metabolic rate can be expected to support the complex computation underlying the higher cognitive abilities of humans.
This transcriptomal analysis also discloses information on the developmental regulation of cellular processes and gene expression in human astrocytes. First, it has been shown that astrocyte precursor cells (APCs) had a particularly proliferative phenotype, whereas astrocytes obtained from postnatal tissue resulted to be mature non-proliferative cells. On the one hand, APCs highly expressed a number of proliferative genes such as MKI67 and TOP2A, genes involved in mitosis (e.g. TPX2, NUSAP1), cell cycle (e.g. E2F5), differentiation (e.g. HES6) and migration (e.g. TNC). On the other hand, there was a marked increase in the expression of gap junction genes GJA1 and GJB6, Wnt pathway inhibitory factor WIF1, genes involved in immunity (TLR4), Ca2+ signalling (RYR3), inhibitory neurotransmission (GABRA2), and neurotransmitter recycling (GLUL) in mature astrocytes compared to APCs (Zhang et al. 2016). To the best of our knowledge, an equivalent study on the gene expression developmental regulation has not been carried out in rodents; it, therefore, remains unclear whether this is specific to humans. Finally, a set of genes did not possess mouse orthologues but were found to be enriched in astrocytes compared to other cells types. It is unclear what functions their encoded proteins bare, but it is to be considered that they might contribute to the enhanced functions of human astrocytes compared to their mouse counterpart.
An independent microarray study on post-mortem tissue samples from humans, chimpanzees, rhesus macaques and pigtail macaques uncovered a six-fold and two-fold increase in expression of THBS4 and THBS2 mRNA, respectively, in human brain samples compared to non-human primate samples (Cáceres et al. 2007). Noteworthy, while the existence and direction of change in expression of abundant transcripts can be reliably monitored by microarray studies, quantification of absolute expression levels and detection of weakly expressed genes are challenging using this method (Draghici et al. 2006). Nonetheless, THBS4 and THBS2 genes code for thrombospondin proteins, extracellular-matrix glycoproteins secreted by astrocytes and involved in synaptogenesis and neurite growth (Christopherson et al. 2005), and have been reported to be involved in cortical synaptic remodelling and plasticity after injury (Eroglu et al. 2009). Accordingly, thrombospondins secreted by astrocytes could be responsible for a modification of synapse number/organisation/dynamics and embody an evolutionary change of the human brain.
Functional properties of human astroglia
Conclusion
Major discoveries regarding astrocytes' functional importance relied on studies performed mostly on the rodent animal model, providing a strong but limited foundation for overall understanding of the role of astrocytes in physiopathology. Recent technical and methodological advances allowing the investigation of astrocyte behaviour in the human brain have partially confirmed findings in rodents, but have also unveiled discrepancies, warranting the necessity for verification on human samples. Strikingly, morphological, genomic and functional studies revealed notable characteristics specific to human astrocytes, attributing them properties that might supposedly sustain more complex information processing. Specifically, human astrocytes were discovered to display a remarkable morphological diversity according to cortical layers, which indicates a high degree of specialisation and, therefore, enhanced performance at more specific tasks, such as long-distance communication (interlaminar astroglia), information integration (protoplasmic astroglia), and metabolic support (fibrous astroglia). Importantly, both genomic and functional studies corroborated to show a specific relevance of intracellular Ca2+ concentration fluctuations, revealing a high expression of genes coding for proteins involved in Ca2+ signalling (RYR3, MRVI1 and RGN), more diverse patterns of Ca2+ signalling and faster propagation of Ca2+ waves. In light of findings in rodents establishing Ca2+ transients in astrocytes as a potential signalling system interacting with the neuronal signalling system (Bazargani and Attwell 2015), enhanced Ca2+ signalling may provide the basis for a more sophisticated neuron-astroglia dialogue with faster processing of more complex calculations. As one would expect, an increased energy supply is required to sustain this heightened computational power. And indeed, APOC2, AMY2B and CA2, genes coding for proteins involved in metabolism, were seen to be enriched in human astrocytes. The possibility that astrocytes might have an even more central role in neuronal and synaptic functions, as suggested by these observations, indicates an equivalent involvement in human cerebral pathology. Certainly, astrocyte dysfunction is a characteristic of many CNS diseases such as epilepsy, brain tumours and Alzheimer's disease. To efficiently investigate astrocytic dysregulation in these pathologies, it is crucial to understand the functional significance of the species-specific properties of normally-operating human astrocytes.
Notes
Acknowledgements
This work was supported by grants from INSERM, CNRS, ERC and College de France to N.R., from Observatoire B2V des memoires to F.V. and from Neuropôle de Recherche Francilien (NeRF) and Ligue Francaise contre l'Epilepsie (LFCE) to E.D.
Compliance with ethical standards
Conflict of interest
The authors declare that they have no conflict of interest.
Copyright information
© The Author(s) 2017
Open AccessThis article is distributed under the terms of the Creative Commons Attribution 4.0 International License (http://creativecommons.org/licenses/by/4.0/), which permits unrestricted use, distribution, and reproduction in any medium, provided you give appropriate credit to the original author(s) and the source, provide a link to the Creative Commons license, and indicate if changes were made.