Abstract
We report on 51-year-old woman who presented with brown discharge and postcoital bleeding due to myoma nascens-like polypoid mass distending cervical canal. Histologically, the tumor consisted of high-grade spindle cell component with up to 15 mitotic figures per 10 HPF and also low-grade leiomyoma-like areas with focal myxoid change and so far undescribed cytoplasmic signet ring cell change. Immunohistochemically Desmin, actin, and h-caldesmon were negative. Conversely, BCOR positive expression was coupled with Cyclin D1 positivity and was antibody clone dependent. The molecular NGS and FISH study identified reciprocal fusion gene ZC3H7B–BCOR. In conclusion, these findings further support the idea of routine reflex molecular testing of uterine mesenchymal tumors with unusual clinical presentation or in case malignancy is suspected. Lastly, we suggest ZC3H7B–BCOR rearranged high-grade endometrial stromal sarcoma might be considered as a tumor suitable for BCL6-targeted treatment.
This is a preview of subscription content, log in to check access.
Access options
Buy single article
Instant unlimited access to the full article PDF.
US$ 39.95
Price includes VAT for USA
Subscribe to journal
Immediate online access to all issues from 2019. Subscription will auto renew annually.
US$ 199
This is the net price. Taxes to be calculated in checkout.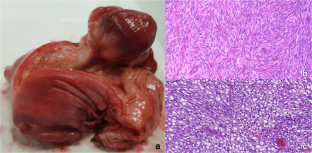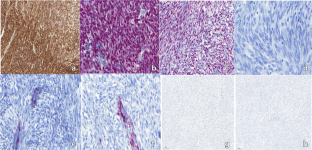 References
1.

Panagopoulos I, Thorsen J, Gorunova L, Haugom L, Bjerkehagen B, Davidson B, Heim S, Micci F (2013) Fusion of the ZC3H7B and BCOR genes in endometrial stromal sarcomas carrying an X;22-translocation. Genes Chromosomes Cancer 52:610–618. https://doi.org/10.1002/gcc.22057

2.

Hoang LN, Aneja A, Conlon N, Delair DF, Middha S, Benayed R, Hensley ML, Park KJ, Hollmann TJ, Hameed MR, Antonescu CR, Soslow RA, Chiang S (2017) Novel high-grade endometrial stromal sarcoma: a morphologic mimicker of myxoid leiomyosarcoma. Am J Surg Pathol 41:12–24

3.

Ferreira J, Félix A, Lennerz JK, Oliva E (2018) Recent advances in the histological and molecular classification of endometrial stromal neoplasms. Virchows Arch 473:665–678. https://doi.org/10.1007/s00428-018-2470-6

4.

Lewis N, Soslow RA, Delair DF, Park KJ, Murali R, Hollmann TJ, Davidson B, Micci F, Panagopoulos I, Hoang LN, Arias-Stella JA 3rd, Oliva E, Young RH, Hensley ML, Leitao MM Jr, Hameed M, Benayed R, Ladanyi M, Frosina D, Jungbluth AA, Antonescu CR, Chiang S (2018) ZC3H7B-BCOR high-grade endometrial stromal sarcomas: a report of 17 cases of a newly defined entity. Mod Pathol 31:674–684. https://doi.org/10.1038/modpathol.2017.162

5.

Nagaputra JC, Chin Hong Goh R, Hong Kuick C, Tou En Chang K, Sittampalam K (2019) ZC3H7B-BCOR high-grade endometrial stromal sarcoma with osseous metaplasia: unique feature in a recently defined entity. Human Pathology: Case Reports 15:54–58. https://doi.org/10.1016/j.ehpc.2018.11.002

6.

Mansor S, Kuick CH, Lim SL, Quek R, Wong APC, Lim-Tan SK, Lim TYK, Chang KTE (2018) ZC3H7B-BCOR-rearranged endometrial stromal sarcomas: a distinct subset merits its own classification? Int J Gynecol Pathol. https://doi.org/10.1097/PGP.0000000000000523 [Epub ahead of print]

7.

Ptáková N, Miesbauerová M, Kosťun J, Grossmann P, Šidlová H, Pavelka J, Presl J, Alaghehbandan R, Bouda J, Ondič O (2018) Immunohistochemical and selected genetic reflex testing of all uterine leiomyosarcomas and STUMPs for ALK gene rearrangement may provide an effective screening tool in identifying uterine ALK-rearranged mesenchymal tumors. Virchows Arch 473(5):583–590. https://doi.org/10.1007/s00428-018-2428-8

8.

Hoang L, Chiang S, Lee CH (2018) Endometrial stromal sarcomas and related neoplasms: new developments and diagnostic considerations. Pathology 50(2):162–177. https://doi.org/10.1016/j.pathol.2017.11.086

9.

Cotzia P, Benayed R, Mullaney K, Oliva E, Felix A, Ferreira J, Soslow RA, Antonescu CR, Ladanyi M, Chiang S (2019) Undifferentiated uterine sarcomas represent under-recognized high-grade endometrial stromal sarcomas. Am J Surg Pathol 43(5):662–669. https://doi.org/10.1097/PAS.0000000000001215

10.

Leeman-Neill RJ, Bhagat G (2018) BCL6 as a therapeutic target for lymphoma. Expert Opin TherTargets 22(2):143–152. https://doi.org/10.1080/14728222.2018.1420782

11.

Huynh KD, Fischle W, Verdin E, Bardwell VJ (2000) BCoR, a novel corepressor involved in BCL-6 repression. Genes Dev 14(14):1810–1823
Ethics declarations
Ethical approval
The study complies with hospital ethical standards.
Conflict of interest
The authors declare that they have no conflict of interest.
Additional information
Publisher's note
Springer Nature remains neutral with regard to jurisdictional claims in published maps and institutional affiliations.
Electronic supplementary material
About this article
Cite this article
Ondič, O., Bednářová, B., Ptáková, N. et al. ZC3H7B–BCOR high-grade endometrial stromal sarcoma may present as myoma nascens with cytoplasmic signet ring cell change. Virchows Arch (2020). https://doi.org/10.1007/s00428-020-02744-5
Received:

Revised:

Accepted:

Published:
Keywords
Female

Sarcoma

Endometrial stromal

Fusion

ZC3H7B protein

BCOR protein

Repressor proteins

Oncogene proteins

Proto-oncogene proteins

RNA-binding proteins

Signet ring cell