Abstract
To determine the impact of pathology review on the management of patients with cervical carcinoma, 264 reports of pathology review from 230 patients referred to Erasmus MC (2010–2012) were studied retrospectively. Discrepancies between pathologic diagnoses were classified as 'major' if they led to changes in treatment, and as 'minor' where there was no change. Patient and tumor characteristics were analyzed to identify the factors influencing these discrepancies. Fifty-eight (25.2%) discrepancies were identified; 28 (12.2%) were major, these resulted frequently from missing essential information, or discordant assessment of tumor invasion. Pathology review prevented under-treatment of 3.5%, over-treatment of 1.3%, treatment for incorrect malignancy of 1.3%, and enabled definitive treatment of 6.1% of patients. This highlights the importance of pathology review for appropriate management. Major discrepancies were rare (1%) for patients with macroscopic tumor and histologic diagnosis of squamous cell carcinoma (n = 100). For these patients, yield of pathology review may be limited.
This is a preview of subscription content, log in to check access.
Access options
Buy single article
Instant unlimited access to the full article PDF.
US$ 39.95
Price includes VAT for USA
Subscribe to journal
Immediate online access to all issues from 2019. Subscription will auto renew annually.
US$ 199
This is the net price. Taxes to be calculated in checkout.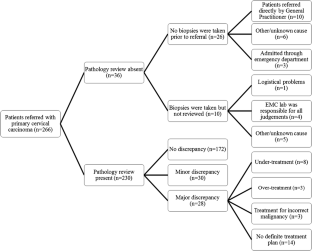 References
1.

Recommendations of the Association of Directors of Anatomic and Surgical Pathology. Part II (1993) Consultations in surgical pathology. Hum Pathol 24:691–692. https://doi.org/10.1016/0046-8177(93)90003-y

2.

Khalifa MA, Dodge J, Covens A, Osborne R, Ackerman I (2003) Slide review in gynaecologic oncology ensures completeness of reporting and diagnostic accuracy. Gynecol Oncol 90:425–430

3.

Rampioni Vinciguerra GL, Antonelli G, Citron F, Berardi G, Angeletti S, Baldassarre G et al (2019) Pathologist second opinion significantly alters clinical management of pT1 endoscopically resected colorectal cancer. Virchows Arch. https://doi.org/10.1007/s00428-019-02603-y

4.

Glabman M (2004) The top ten malpractice claims and how to minimize them. Hosp Health Netw 78:60–62 64–6, 2

5.

Eskander RN, Baruah J, Nayak R, Brueseke T, Ji T, Wardeh R et al (2013) Outside slide review in gynaecologic oncology: impact on patient care and treatment. Int J Gynecol Pathol 32:293–298. https://doi.org/10.1097/PGP.0b013e31826739c4

6.

Chafe S, Honore L, Pearcey R, Capstick V (2000) An analysis of the impact of pathology review in gynaecologic cancer. Int J Radiat Oncol Biol Phys 48:1433–1438

7.

Chan YM, Cheung AN, Cheng DK, Ng TY, Ngan HY, Wong LC (1999) Pathology slide review in gynecologic oncology: routine or selective? Gynecol Oncol 75:267–271

8.

Selman AE, Niemann TH, Fowler JM, Copeland LJ (1999) Quality assurance of second opinion pathology in gynaecologic oncology. Obstet Gynecol 94:302–306

9.

Santoso JT, Coleman RL, Voet RL, Bernstein SG, Lifshitz S, Miller D (1998) Pathology slide review in gynecologic oncology. Obstet Gynecol 91:730–734

10.

Beugeling M, Ewing-Graham PC, Mzallassi Z, van Doorn HC (2014) Pathology slide review in vulvar Cancer does not change patient management. ISRN Surg. https://doi.org/10.1155/2014/385386

11.

Kommoss S, Pfisterer J, Reuss A, Diebold J, Hauptmann S, Schmidt C et al (2013) Specialized pathology review in patients with ovarian cancer: results from a prospective study. Int J Gynecol Cancer 23:1376–1382. https://doi.org/10.1097/IGC.0b013e3182a01813

12.

Minig L, Bosch JM, Illueca C, Zorrero C, Cárdenas-Rebollo JM, Cruz J et al (2019) Relevance of minor discrepancies at second pathology review in gynaecological cancer. Ecancermedicalscience 13:929. https://doi.org/10.3332/ecancer.2019.929 eCollection 2019

13.

Cramer SF, Roth LM, Ulbright TM, Mills SE, Gersell DJ, Kraus FT et al (1991) The mystique of the mistake. With proposed standards for validating proficiency tests in anatomic pathology. Am J Clin Pathol 96:774–777

14.

Hammond EH, Flinner RL (1997) Clinically relevant breast cancer reporting: using process measures to improve anatomic pathology reporting. Arch Pathol Lab Med 121:1171–1175

15.

Kronz JD, Westra WH, Epstein JI (1999) Mandatory second opinion surgical pathology at a large referral hospital. Cancer 86:2426–2435

16.

Leslie KO, Rosai J (1994) Standardization of the surgical pathology report: formats, templates, and synoptic reports. Semin Diagn Pathol 11:253–257

17.

Abt AB, Abt LG, Olt GJ (1995) The effect of interinstitution anatomic pathology consultation on patient care. Arch Pathol Lab Med 119:514–517

18.

Jacques SM, Qureshi F, Munkarah A, Lawrence WD (1998) Interinstitutional surgical pathology review in gynaecologic oncology: I. Cancer in endometrial curettings and biopsies. Int J Gynecol Pathol 17:36–41
Conflict of interest
The authors declare that they have no conflict of interests.
Funding
No external funding was received.
Ethics declarations
The Dutch national guidelines state that no ethical approval is required for the use of anonymous leftover tissue (www.federa.org), and this is also part of a standard treatment agreement with patients at Erasmus MC.
Additional information
Publisher's note
Springer Nature remains neutral with regard to jurisdictional claims in published maps and institutional affiliations.
This article is part of the Topical Collection on Quality in Pathology
Electronic supplementary material
About this article
Cite this article
van Beekhuizen, H.J., Freulings, M.D., Dasgupta, S. et al. Relevance of routine pathology review in cervical carcinoma. Virchows Arch (2020) doi:10.1007/s00428-019-02743-1
Received:

Revised:

Accepted:

Published:
Keywords
Pathology review

Cervical carcinoma

Over-treatment

Under-treatment

Discrepancies