Abstract
The Akt/mammalian target of rapamycin (mTOR) pathway, which plays an important role in regulating cellular functions including proliferation, motility, and invasion, is known to be activated in many cancers. Combined hepatocellular carcinoma (HCC) and cholangiocarcinoma (CC) (cHCC-CC) has wide histological diversity characterized by relatively poor prognosis. Because of a lack of investigation into its molecular mechanisms, no effective systemic therapy is currently available for unresectable cHCC-CC tumors. Here, we retrospectively examined the clinicopathological and activation statuses of the Akt/mTOR pathway in 89 cases of cHCC-CC. Expression levels of molecular markers associated with this signaling pathway, including phosphatase and tensin homologue deleted on chromosome 10 (PTEN), phosphorylated Akt (p-Akt), p-mTOR, p-ribosomal protein S6 (p-S6RP), and p-eukaryotic translation initiation factor 4E (eIF4E)-binding protein 1 (p-4E-BP1), were measured by immunohistochemical staining. In addition, such activation in different cHCC-CC morphological categories was compared by dividing cases into those with HCC (n = 86), CC (n = 78), and intermediate components (n = 60). Comparison of prognosis among these groups revealed that p-4E-BP1 immunopositivity in cHCC-CC cases containing CC a component was a significant risk factor for poorer overall survival (P = 0.041). By evaluating factors in p-4E-BP1 expression in 78 cHCC-CC cases with a CC component, only lymph node metastasis was significantly correlated with positive immunostaining for p-4E-BP1 (P = 0.0222). In conclusion, p-4E-BP1 expression, especially in cHCC-CC cases with a CC component, was a notable Akt/mTOR pathway-related factor associated with poor prognosis. Assessing histological structure and p-4E-BP1 expression in cHCC-CC may be helpful for both predicting prognosis and using molecular targeted therapy.
This is a preview of subscription content, log in to check access.
Access options
Buy single article
Instant unlimited access to the full article PDF.
US$ 39.95
Price includes VAT for USA
Subscribe to journal
Immediate online access to all issues from 2019. Subscription will auto renew annually.
US$ 199
This is the net price. Taxes to be calculated in checkout.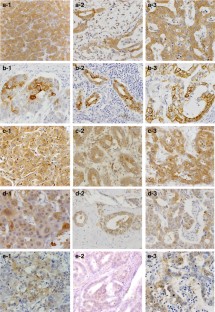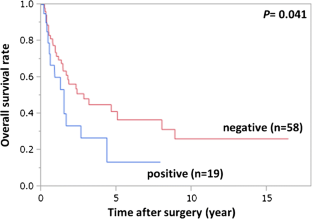 References
1.

Gera S, Ettel M, Acosta-Gonzalez G et al. (2017) Clinical features, histology, and histogenesis of combined hepatocellular-cholangiocarcinoma. World Journal of Hepatology 9:300–309.

2.

Lee SD, Park SJ, Han SS, Kim SH, Kim YK, Lee SA, Ko YH, Hong EK (2014) Clinicopathological features and prognosis of combined hepatocellular carcinoma and cholangiocarcinoma after surgery. Hepatobiliary Pancreat Dis Int 13:594–601

3.

Yoon YI, Hwang S, Lee YJ, Kim KH, Ahn CS, Moon DB, Ha TY, Song GW, Jung DH, Lee JW, Hong SM, Yu ES, Lee SG (2016) Postresection outcomes of combined hepatocellular carcinoma-cholangiocarcinoma, hepatocellular carcinoma and intrahepatic cholangiocarcinoma. J Gastrointest Surg 20:411–420

4.

Kudo M, Izumi N, Ichida T, Ku Y, Kokudo N, Sakamoto M, Takayama T, Nakashima O, Matsui O, Matsuyama Y (2016) Report of the 19th follow-up survey of primary liver cancer in Japan. Hepatol Res 46:372–390

5.

Altomare DA, Testa JR (2005) Perturbations of the AKT signaling pathway in human cancer. Oncogene 24:7455–7464

6.

Stambolic V, Suzuki A, de la Pompa JL et al (1998) Negative regulation of PKB/Akt-dependent cell survival by the tumor suppressor PTEN. Cell 95:29–39

7.

Hsieh AC, Liu Y, Edlind MP, Ingolia NT, Janes MR, Sher A, Shi EY, Stumpf CR, Christensen C, Bonham MJ, Wang S, Ren P, Martin M, Jessen K, Feldman ME, Weissman JS, Shokat KM, Rommel C, Ruggero D (2012) The translational landscape of mTOR signalling steers cancer initiation and metastasis. Nature 485:55–61

8.

Ito H, Ichiyanagi O, Naito S et al (2016) GSK-3 directly regulates phosphor-4EBP1 in renal cell carcinoma cell-line: an intrinsic subcellular mechanism for resistance to mTORC1 inhibition. BMC Cancer 16:393

9.

Wang L, Wu J, Lu J, Ma R, Sun D, Tang J (2015) Regulation of the cell cycle and PI3K/Akt/mTOR signaling pathway by tanshinone I in human breast cancer cell line. Mol Med Rep 11:931–939

10.

Houede N, Pourquier P (2015) Targeting the genetic alterations of the PI3K-AKT-mTOR pathway: its potential use in the treatment of bladder cancers. Pharmacol Ther 145:1–18

11.

Denoyelle C, Lambert B, Meryet-Figuiere M et al (2015) miR-491-5p-induced apoptosis in ovarian carcinoma depends on the direct inhibition of both BCL-XL and EGFR leading to BIM activation. Cell Death Dis 5:e1445

12.

Zhu L, Derijard B, Chakrabandhu K et al (2014) Synergism of PI3K/Akt inhibition and Fas activation on colon cancer cell death. Cancer Lett 354:355–364

13.

Ocana A, Vera-Badillo F, Al-Mubarak M et al (2014) Activation of the PI3K/mTOR/AKT pathway and survival in solid tumors: systematic review and meta-analysis. PLoS One 9:e95219

14.

Zhou L, Huang Y, Li J, Wang Z (2010) The mTOR pathway is associated with poor prognosis of human hepatocellular carcinoma. Med Oncol 27:255–261

15.

Herberger B, Puhalla H, Lehnert M et al (2007) Activated mammalian target of rapamycin is an adverse prognostic factor in patients with biliary tract adenocarcinoma. Clin Cancer Res 13:4795–4799

16.

Bhat M, Sonenberg N, Gores G (2013) The mTOR pathway in hepatic malignancies. Hepatology 58:810–818

17.

Tanaka Y, Aishima S, Kohashi K et al (2015) Spalt-like transcription factor 4 immunopositivity is associated with epithelial cell adhesion molecule expression in combined hepatocellular carcinoma and cholangiocarcinoma. Histopathology 68:693–701

18.

Theise ND, Nakashima O, Park YN et al (2010) Combined hepatocellular-cholangiocarcinoma. In: Bosman FT, Carneiro F, Hruban RH, Theise ND (eds) World Health Organization classification of tumours. WHO classification of tumours of the digestive system, vol 3, 4th edn. International Agency for Research on Cancer Press, Lyon, pp 225–227

19.

Sempoux C, Kakar S, Kondo F et al (2019) Combined hepatocellular-cholangiocarcinoma and undifferentiated primary liver carcinoma. In: the World Health Organization classification of tumours editorial board, editors. WHO classification of tumours .WHO classification of tumours of the digestive system, vol 1, 5th edn. International Agency for Research on Cancer Press, Lyon, pp 260–262

20.

Yamada Y, Kohashi K, Fushimi F et al (2014) Akt/mTOR pathway and receptor tyrosine kinase in patients with solitary fibrous tumors. Cancer 120:864–876

21.

Dormond O, Madsen JC, Briscoe DM (2007) The effects of mTOR-Akt interactions on anti-apoptotic signaling in vascular endothelial cells. J Biol Chem 32:23679–23686

22.

Endo M, Yamamoto H, Setsu N, Kohashi K, Takahashi Y, Ishii T, Iida K, Matsumoto Y, Hakozaki M, Aoki M, Iwasaki H, Dobashi Y, Nishiyama K, Iwamoto Y, Oda Y (2013) Prognostic significant of Akt/mTOR and MAPK pathways and antitumor effect of mTOR inhibitor in NF1-related and sporadic malignant peripheral nerve sheath tumors. Clin Cancer Res 19:450–461

23.

Ishii T, Kohashi K, Iura K, Maekawa A, Bekki H, Yamada Y, Yamamoto H, Nabeshima K, Kawashima H, Iwamoto Y, Oda Y (2016) Activation of the Akt-mTOR and MAPK pathways in dedifferentiated liposarcomas. Tumor Biol 37:4767–4776

24.

Setsu N, Yamamoto H, Kohashi K et al (2012) The Akt/mammalian target of rapamycin pathway is activated and associated with adverse prognosis in soft tissue leiomyosarcomas. Cancer 15:1637–1648

25.

Lee H (2017) Phosphorylated mTOR expression profiles in human normal and carcinoma tissues. Dis Markers 1397063:1–8

26.

Qu Y, Zhao R, Wang H et al (2016) Phosphorylated 4EBP1 is associated with tumor progression and poor prognosis in Xp11.2 translocation renal cell carcinoma. Sci Rep 6:23594

27.

Rojo F, Najera L, Lirola J et al (2007) 4E-binding protein 1, a cell signaling hallmark in breast cancer that correlates with pathologic grade and prognosis. Clin Cancer Res 13:81–89

28.

Lee D, Do I-G, Choi K et al (2012) The expression of phosphor-AKT1 and phosphor-MTOR is associated with a favorable prognosis independent of PTEN expression in intrahepatic cholangiocarcinomas. Mod Pathol 25:131–139

29.

Bakkar RM, Xie S-S, Urbauer DL, Djordjevic B, Vu K, Broaddus RR (2015) Intact PTEN expression by immunohistochemistry is associated with decreased survival in advanced stage ovarian/primary peritoneal high-grade serous carcinoma. Int J Gynecol Pathol 34:497–506

30.

Wang Z, Zheng T, Wu Q et al (2012) Immunohistochemical analysis of the mTOR pathway in intrahepatic cholangiocarcinoma. Neoplasm 59:137–141

31.

Cha Y-L, Li P-D, Yuan L-J et al (2015) EIF4EBP1 overexpression is associated with poor survival and disease progression in patients with hepatocellular carcinoma. PLOS One 10(2):e011749

32.

Armengol G, Rojo F, Castellví J, Iglesias C, Cuatrecasas M, Pons B, Baselga J, Ramón y Cajal S (2007) 4E-binding protein 1: a key molecular "funnel factor" in human cancer with clinical implications. Cancer Res 67:7551–7555
Ethics declarations
This study was approved by the Ethics Committee at Kyushu University School of Medicine (No. 26-232) and was conducted in accordance with the ethical guidelines of the 1975 Declaration of Helsinki.
Conflict of interest
The authors declare that there are no conflicts of interest.
Additional information
Publisher's note
Springer Nature remains neutral with regard to jurisdictional claims in published maps and institutional affiliations.
This article is part of the Topical Collection on Quality in Pathology
About this article
Cite this article
Okumura, Y., Kohashi, K., Tanaka, Y. et al. Activation of the Akt/mammalian target of rapamycin pathway in combined hepatocellular carcinoma and cholangiocarcinoma: significant correlation between p-4E-BP1 expression in cholangiocarcinoma component and prognosis. Virchows Arch (2020). https://doi.org/10.1007/s00428-019-02741-3
Received:

Revised:

Accepted:

Published:
Keywords
Combined hepatocellular carcinoma and cholangiocarcinoma

Akt/mTOR pathway

P-4E-BP1

Immunohistochemistry